Chinese Brides
Chinese Dating - Six Hundred Million Chances to Find The Girl of Your Dreams!
Can't find the woman of your dreams? Well, there are over 600,000,000 Chinese women and the odds are that one of them will be right for you.
The great thing about Chinese dating is that there is so much diversity among Chinese singles.
Yes, about 90% of the population is Han Chinese, which people generally refer to as Chinese, but that means that there are well over 100 million ethnic minorities living in China, which is like a whole other country or two.
Chinese Brides Arein Demand!
Single Chinese girls are really, really in demand these days, but that doesn't mean that you cannot find the stunning girl of your dreams.
There is an actual shortage of single women in China, because so many Chinese families opt to only have boys under China's "One Child-One Family" policy.  Over the last thirty years the birthrate for boys has far exceeded the birthrate of girls and so Chinese girls are really in demand by lonely Chinese guys.
There is one shocking exception to this rule; in China women over the age of twenty-six are considered undesierable as potential brides - this exclusionary phenomenon is so prevalant in modern Chinese society that there is actually an official term for a women over the age of 26.
That term is Sheng Nu and it translates as UNWANTED!  For more information on this strange phenomena check out our article: Sheng Nu - The Unwanted Women of China.
Women's Status in Chinese Society - And Why The Love Foreign Men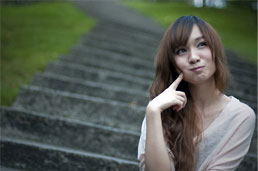 The status of women in China is shockingly low by Western standards.  Many Chinese men still expect women to follow the traditional Three Obediences:
1. Obeying her father before marriage.
2. Obeying her husband when married.
3. Obeying her sons in widowhood.
Obviously, Oprah, Vogue, and Cosmo have a very different take on the role of women in society. Chinese girls are becoming increasingly aware of the higher status of women in the western world and they want to be a part of it.
This can actually help you if you are a foreign guy interested in dating a Chinese woman, because the women in China today are often operating with a different set of expectations than most Chinese men.
Many Chinese women seeking marriage are very attracted to the images of relationships they see in the Western media.  Also, many Chinese mail order brides have traveled outside of the country and they know that things are different in other parts of the world.
Chinese Girls in a Modern World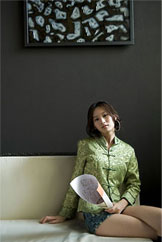 Nearly everyone in China under about forty is an only child and Chinese parents have turned spoiling their children into a high art.  Sometimes this is called the "Little Emperor" issue, because modern Chinese parents move mountains to get anything that their children want.  That means very few Chinese children are used to the word "No".
This means that many women from China are shocked when they start dating and find that Chinese guys are absolutely insistent about always getting their own way on every issue.
Of course, many girls from China have grown up spoiled too, but Chinese boys are widely perceived to operate on a totally different level of indulgent selfishness.
Often successful, well educated Chinese ladies have a very hard time feeling comfortable around men from their own country who sometimes try to run every aspect of their lives from where they work to what they wear.
Further, the traditional role of women that many Chinese men still try to enforce today is in direct conflict with the demands of a modern economy.  After all, it is pretty hard to supervise scores of employees and manage projects worth millions of dollars, as thousands of women from China do every day, but act like a submissive little flower around your husband or boyfriend, which is what most Chinese guys want.
Another issue is that in many cases a well educated Chinese woman can make more than her husband or boyfriend and in China that apparently creates huge problems, because it makes many Chinese guys feel like failures.
This is sometimes a problem in the United States and Europe, but not to the extent that it is in China.
In China, despite the shortage of women, many men will absolutely not date a woman who makes more money than he does.  So, a smart, beautiful Chinese lady is often caught in a vicious cycle where if she is successful professionally she is a failure romantically.
The cognitive dissonance of these competing social dictates is immense, and it is one of the primary reasons that, according to the World Health Organization, somewhere around 500 Chinese women commit suicide every day. That is a truly horrifying fact and it shows how the strange mix of forces in China has created a deeply unhappy situation for many of the country's women.
So, many of these beautiful Asian women signing up to become modern mail order brides are not doing so for lack of romantic opportunity or, given China's rapid economic growth, even financial opportunism.
These Chinese ladies are really looking for love and the chance to fulfill their potential and they believe they stand a better chance of fulfilling these desires with a husband from the West.
Chinese Mail Order Brides - What Do they Want?
Unless you've been living under a bridge in Wisconsin for the last twenty years you know that China's economy has changed from a centrally planned system that was largely closed to international trade to a more market-oriented economy that has a rapidly growing private sector and is a major player in the global economy.
So, unlike many countries, the Chinese ladies signing up to meet foreign men are often not economically deprived or socially isolated. In fact, the hot Chinese babes signing up at Global dating agencies are among the country's most beautiful and intelligent young women; most of them tend to have good jobs in one of the big cities.
Most Chinese men believe these beautiful, successful young women should be happy, but the women have access to the internet and a lot of international television and films.
Chinese singles REALLY want to be romanced.  You might not impress a modern Chinese girl from Shanghai or Beijing with your car or bank account.  In some cases she might even make more than you, or at least have the potential to make more than you.  What most Chinese women want is romance and respect.  There is really not much more to it than that.
The government controls access to a lot of political and news websites, but a Chinese bride can still watch Oprah, or one of her many Asian imitators from Taiwan or Hong Kong, read Cosmopolitan, Vogue, and all of those Nicholas Sparks novels, and sign on to a million women's websites.
Generally, Chinese women have it pretty good by almost any international standards.  BUT she knows that the women have a higher status in Western countries and that is the forbidden fruit that attracts most Chinese singles to the internet.
They are not desperate. There are certainly enough men for them to choose from in China.
In fact, because of the pressures of the one child policy per family policy, there are approximately 40 million more men and boys under 65 than women and girls, but they want men who are going to treat them like the men that they have seen on Western television shows and movies.
They do not want to marry a "Little Emperor" who is going to insist on always getting his way and trying to run every aspect of their lives.
Why are there so many desirable Chinese women on Global Dating sites?
There really should not be ANY Chinese women signed up on international dating sites. An unintended consequence of China's one child policy is that the country actually has a shortage of women and an excess of young men.
Many of China's most extraordinary young women are considered unmarriageable because of an ancient folk tradition that says that any woman who is not married before she is twenty-six is a sheng-nu, an unwanted woman, and therefore beyond marriage.
The video below is the best introduction you could have to Chinese dating. It explains why so many women that Americans and Europeans would judge among the most eligible young women in China, are considered unworthy of marriage.
Best Chinese Dating Sites
The best dating site to find tons of hot Chinese singles is probably AsianDate.  In the past couple years they've formed strategic alliances with hundreds of small agencies throughout China, so their site has thousands of profiles of the hottest Chinese girls on the planet.
Another great site is Cherry Blossoms. They have thousands of beautiful Chinese ladies and it's one of the oldest most respected web sites in the international dating industry.