Kenyan Brides
What Are Kenyan Girls Like?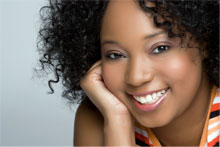 For centuries Kenya was part of a coastal trading zone along the Indian Ocean where Arabic, Indian, African, and later European merchants all crossed paths to exchange goods and the women display the subtle influence of this history.
Kenyan women are the real workers in the family and traditionally work far harder than Kenyan men; and this is a nation of people who have a reputation for being hard workers.
You'll also find that most Kenyan girls are modern and wear Westernized clothing but are quite conservative in their dress sense and how they approach men. That being said dating in Kenya is part of the normal social scene and in private Kenyan women are just as liberated as their Western counterparts.
Kenya, like all of the countries in Africa has a pretty large gap between the vast majority of the local people and the urban elite centered in Nairobi. That breakdown is important if you are in contact with a Kenyan woman, because the girls from Nairobi are going to be much more sophisticated about the world than girls from smaller towns and villages.
Cultural Differences
Being a European colony for several hundred years and also being a largely Christian country means that they only cultural difference that should be noticeable are in the more rural areas, you can still see the British and foreign influences in all the big cities in Kenya.
There are small things you'll need to watch out for like only shaking hands or passing items to a person with your right hand - the left hand is considered unclean and you should also avoid pointing at somebody with your finger.
It's also very important to be aware that around 8% of the Kenyan population, between the ages of 15 and 49, are infected with HIV/AIDS - safe sex is an absolute must when it comes to dating in Kenya.
Language Barriers
Kenya has two official languages - English and Swahili but you'll notice that English will be spoken in most of the bigger urban areas but in rural areas the local dialect (69 in total) will be dominant. The use of English in Kenya is widespread enough to prevent any potential language barriers for visitors to the country.
Even when a Kenyan girl can't understand you she'll do her best to find a friend or colleague who can.
Religion And Your Kenyan Bride
Around 80% of the Kenyan population is Christian, most of them being Protestant, and another 11% of the population is of the Muslim faith. The Muslim component of the Kenya population tends to live by the coast whereas the Christian population is spread pretty evenly throughout the country.
Marriage is a Christian tradition so you if you're travelling to Africa in search of a Kenyan bride then picking a city with a large Christian population is a smart move. Parts of Kenya have been swept by evangelical Christianity in the last twenty years. So, if you're looking for a conservative Christian girl you can probably find one in Kenya.
Kenyan Dating Websites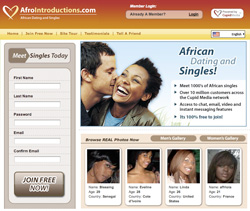 There are only a handful of legitimate dating sites that feature Kenyan women, AfroIntroductions.com is one of them. They're part of the Cupid Media Empire and like all of the CupidMedia sites they are an introduction-only agency, but a VERY good introduction agency.
Every AfroIntroduction profile is reviewed by hand and about 20% of profiles are rejected because they have something in them that makes it appear as if the girls might be scammers. That helps ensure that you don't waste your time or your money with scammers and that concern for customer service is the primary reason we like AfroIntroductions.
Another great African dating agency is AfricaBeauties.com, they have a ton of super-hot Kenyan girls on their site. Most of the women you see in our Kenyan gallery above are from AfricaBeauties.
Have an Adventure - Kenyan Women For Dating or Marriage
Please note: As of July 2012 most foreign embassies are 
advising against travel to Kenya
because of the serious risk of terrorist attacks on Government builds and Western owned hotels.
Kenya is a beautiful East African county noted as a center for adventure travel and hot women. It has the second largest mountain in Africa; its peaks permanently covered with snow, and can also boast of having the second largest freshwater lake in the world.
By African standards the Kenyan economy is very robust but by international standards Kenya is still quite a financially poor country but it still has a very welcoming approach to visitors and tourists alike - you'll find Kenyan people extremely polite - especially the women!
Kenya only gained its independence from British rule in 1964 and has been one of the more successful transitions from colonial control in Africa. Overall the country is quite stable by African standards and the fact that Kenya normally has a booming tourist trade (which makes up a large part of its GDP) is always a good sign in terms of personal security.
Obviously because of the size of the African sub-continent flying to Kenya makes the most sense and you'll find that Nairobi is a hub for international flights and flights serving the rest of Africa also and it's also worth checking for charter flights to Mombasa; these can be ridiculously cheap.
You'll also find that flights to Kenya are exceptionally cheap during Western summer months for some odd reason. You may or may not require a visa for travelling to Kenya but please do check this in advance.
Compared to other African countries Kenya is one of the easiest to travel to and because of the election of Barack Obama as president of the United States Americans are currently very popular in Kenya.
For those of you living under a rock for the last two years, Obama's father was born in Kenya. Obama was of course born in Hawaii, but Obama does have family in Kenya.
Adventure travel, mostly photographic safaris, is the main tourist attraction in the country, and the long beaches along the Indian Ocean are starting to become popular with Western travelers. However, if you are reading this page you are probably most interested in the hot Kenyan women.
Many visitors spend time in Kenya's highlands where the weather tends to be pretty mild by African standards, but the Equator divides the country in two, running just a little north of the capital Nairobi, and most of the country has a classical tropical climate with high temperatures and heavy rainfall.
If you're interested in African dating you can also try our Ethiopian Brides section.