Website: IndianCupid.com
The site description indicates that it is for Non-Resident Indians to meet up with one another for dating and ultimately marriage. The fact that it says NRI (Non-Resident Indians) doesn't mean a western male can't join the site and go searching for an Indian partner.
It's not as if we aren't exposed to many aspects of Indian life in western countries anyway, with restaurants and Indian cuisine, yoga, the comfortable sari and transcendental meditation. There are many beautiful Indian women out there and a few have won Miss Universe (2) and Miss World (5) crowns over the years.
The women have a reputation of being perfect home-makers and remain loyal to their partners and their families.
Approaching women from a different culture usually mean you should do some homework and learn a little before you dip your toe into the water, so to speak. You don't want to come over totally clueless after starting a conversation online with the girl of your dreams and show that you nothing about her country and traditions.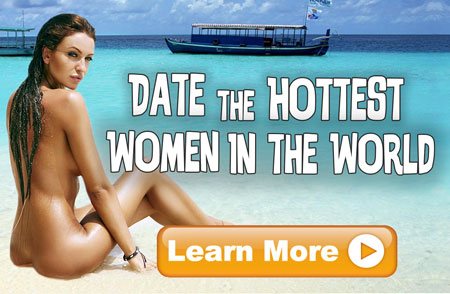 This website gives you an opportunity to look around and make contact with Indian women.
Indiancupid.com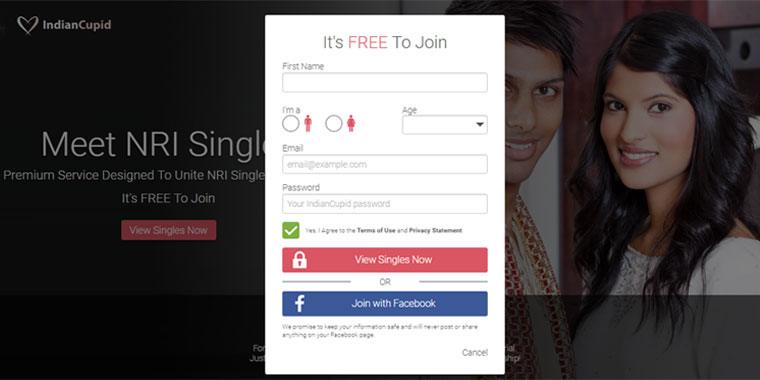 One aspect of the Cupid sites is the ease with which you can sign up then login. It's a simple 3 step system, Christian name, age, and password. You're in! You can then bypass a couple of areas like photos and profile matching details and check out the profiles. You can always go back.
All of the Cupid dating site templates have been updated so that they are far more responsive and look really good once that front page loads on your monitor.
Features:
NRI (Non-resident Indian) people can create and browse profiles.
Thousands of members. Be aware of the time differences. I was online at 9 AM my time but there were only 19 others online as it was the middle of the night in India.
Mobile app allows you to use this site wherever you are.
Free Standard Membership. For 1 month it's $25 and for 12 months it costs $10.00 per month for platinum. There are certain advantages of being a paid member and those wishing to seriously look for a partner will have no problems paying for at least a month.
The site provides safety tips and other helpful advice about online dating.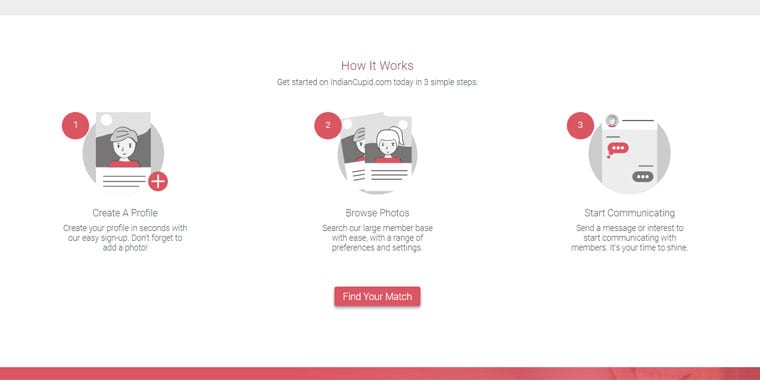 Pros
This site is easy to use and well maintained. Audio and video profiles can be created and instant messaging and on-site email are available to make it easy and stress-free to get to know the new people you find on the site.
The search capabilities are good, as well. You can search by a variety of parameters and criteria. The structure, maintenance, and format of the site give the sense that it is a secure and safe dating environment.
Of course, you must always be careful when getting to know people on the internet but with Indiancupid you will not feel as though you are likely to get scammed. With video, audio, pictures and more you can feel assured that you are speaking to who you think you are.
Cons
In order to use many of the most interesting and exciting features (such as the translator), you must pay for the higher level memberships.
A potential issue with this site is that you may meet someone you like very much who lives on the other side of the world. Because any NRI can sign up for the site they could be in the U.S. or Australia or anywhere in between.
Of course, you can set search criteria to better organize your time zones. However, it is an issue to consider before starting up any new relationships on the site.
Review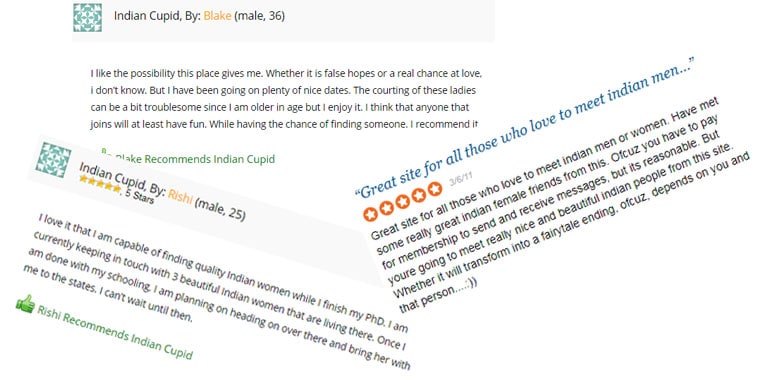 IndianCupid.com is a fun, user-friendly website with lots of great features like a compatibility test, chat rooms, private e-mails, instant messages and other ways to flirt, chat and get to know a prospective friend, partner or spouse.
This is not a site for people looking for a casual flirt or to simply pass the time. It is aimed toward people looking for something more. It is well-maintained, attractive and fun.
On some dating sites, it seems that the profiles are either outdated or even fake but on this site, you will be able to find and chat with REAL people.
Because of the deep tradition of most Indians and the strength of their cultural and religious ties they often want to meet and marry within their own ethnicity.
However, in many countries, there may not be a large number of Indians to meet which limits their dating pool. If you're genuine enough about wanting to meet an Indian woman, this is one of the better sites to get started.
IndianCupid.com is a great site to connect such people with other fun, smart and attractive Indian people living outside of India.
With the exception of a few minor concerns, this site is really a great way to meet a future spouse or, at the very least, make new friends.
IndianCupid Review
Hotness Factor

User Interface

Number of Profiles

Quality of Profiles

Security

Cost
Summary
IndianCupid is a dating site for guys looking for beautiful Indian girls. With thousands of profiles of stunning Indian women, good privacy features, and world class technology it is a great site for guys interested in Indian women to consider.