There are millions of single women spread across Asia. Women who are actively looking for Western guys to date and marry, for a variety of reasons, all of them in your favor.
But Asia is a big place. An incredibly big place, home to 4.5 billion people. So, the only sensible way to approach finding an Asian girlfriend or bride is to use an online/international dating site, so to help in your search…
Here are my top Asian Dating Sites for 2020:
Top 20 Asian Dating Websites
A Foreign Affair (Tons of Asian Women + Translation Services)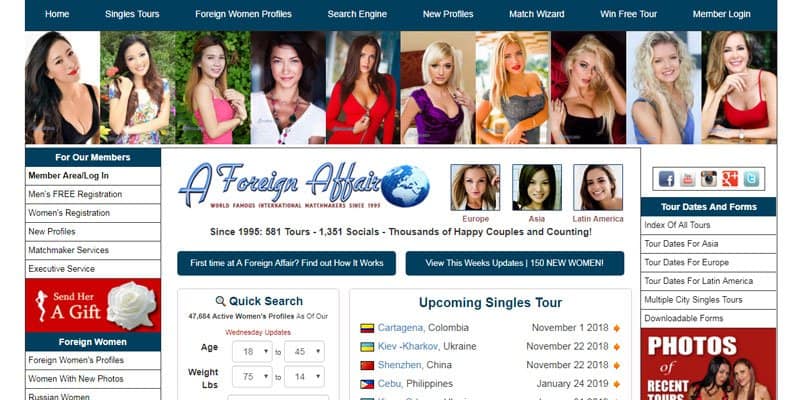 This is one of our favorite dating sites because it covers all of the Asian countries worth the consideration of the single international dater. This includes China, the Philippines, and Thailand, for example.
One neat feature is that you can actually check out the profiles of women without having to set up an account.
Now, if you do actually want to chat with any of the stunning women, then A Foreign Affair does use a credit system. This means you need to purchase credits to have a video chat, or to exchange email with the woman of your dreams.
But Platinum members do receive the additional perk of being able to access all of the women's videos on the site, as well as receiving big discounts on their "communication" credits.
Membership starts at $29.95 per month, but you get an awful lot of value for that money. After all, it's an investment in your future happiness we're talking about here, and A Foreign Affair can help you find the Asian woman of your dreams.
Asia FriendFinder (Millions of Members)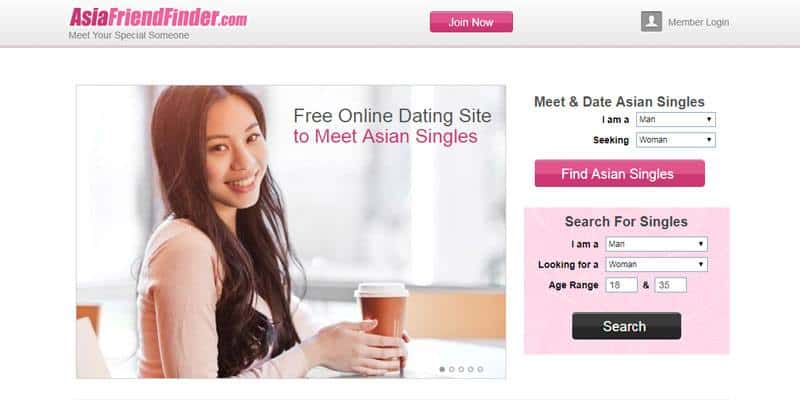 This site has somewhere around 6 million single members right now, making it one of the largest Asian dating sites online.
Its members include Chinese, Taiwanese, Indian, Thai, Korean and Filipino women. And that's without considering women who are of mixed race, adding even more variety to the sheer number of beautiful women you'll find on this site.
Registering an account is free, and allows you to view the profile of any Asian women you're interested in, as well as creating a "Favorites" list so you won't have to start your search from scratch every time.
The only downside here is that free accountsS are restricted to only being able to see thumbnail images of any profile picture.
But then again with plans starting at just $14.99 per month, you can easily afford to upgrade to get all the access you need, including viewing full size photos.
AsianSingles2Day (Unique Ways to Meet Asian Singles)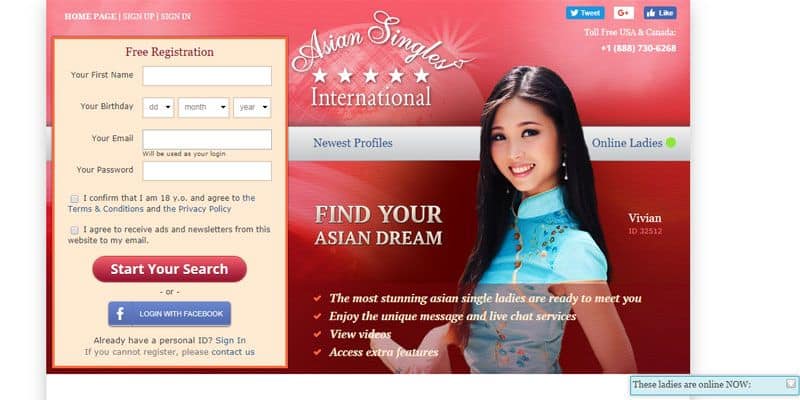 There is a lot to like about this site, including the fact that all the women you find here are real. All-female members have to provide an ID document before they can create a profile, reducing the risk of scams.
The next and most obvious, reason for registering for this site is that it has profiles for women from China, Thailand, Vietnam, and the Philippines who are actively looking for Western men.
Creating a profile and uploading a photo is free for guys, but if you want to email or video chat with a woman then you will need to purchase some credits to do that. Credit packages start at just $15 for 20 credits though, so it's very affordable.
We really like the 'Newest Profiles' and 'Upcoming Birthdays' sections of the site because it gives you the opportunity to welcome new members, or simply wish a stunning Asian lady a happy birthday.
AsianDate (Profiles From Hundreds of Agencies)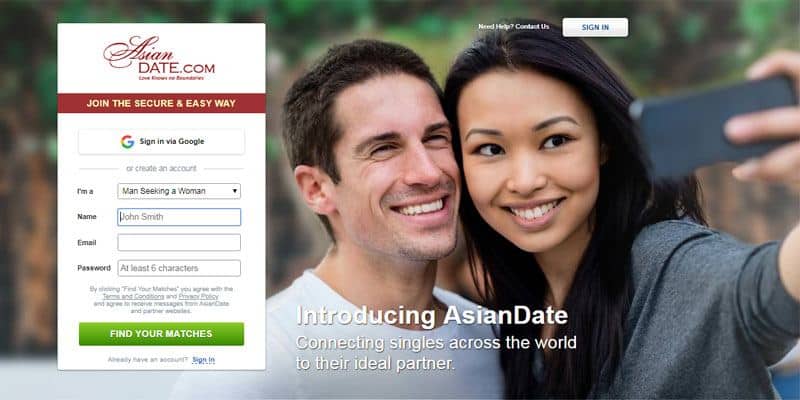 Remember when we said earlier that Asia is an incredibly big place? It is. Now imagine having to try to filter through thousands of different dating agencies to find ones you can trust.
The good news is that you don't have to because the lovely people at Asian Date have already done all the hard work for you. And that includes ensuring that all members are individually verified, so you know you're chatting with real Asian women.
You can have an account set up in a matter of minutes, or even faster if you login with your existing Google/Gmail account. Once registered you can start checking out the thousands of stunning singles on the site.
When you want to take things to the next level with any of these women you'll need to purchase some credits before doing that. This is fairly typical of most Asian dating websites, so it's not something you should be concerned about.
AsianDating (Female Members Throughout Asia)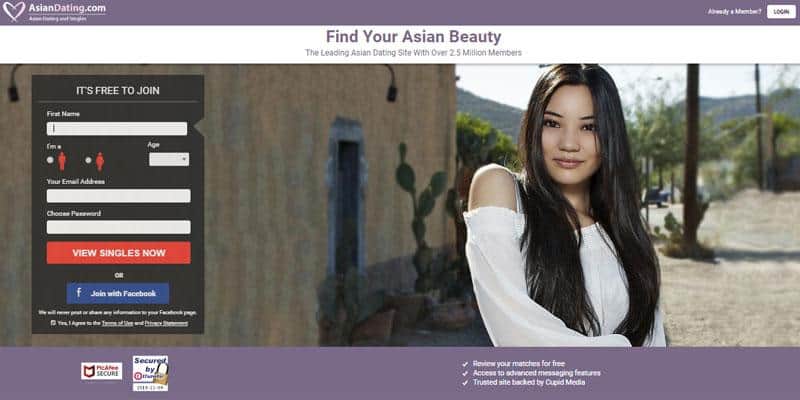 Humans are creatures of habit, whether we like to admit it or not. And when it comes to online dating sometimes you just want to stick to a brand name you recognize and trust – like the Cupid Media network of sites.
AsianDating.com has been around for almost 10 years now. It has 2.5 million members, and more importantly thousands of success stories from satisfied users who found their ideal Asian match via the site.
Registration takes no effort at all, and you can even use your existing Facebook account to login if the idea of typing out your name, email address and choosing a password seems like too much effort.
A free account has most of the features you need, but if you want to take your online dating adventure seriously, then you can get a paid membership plan for $29.99 per month.
Asian People Meet (Partners with Match.com)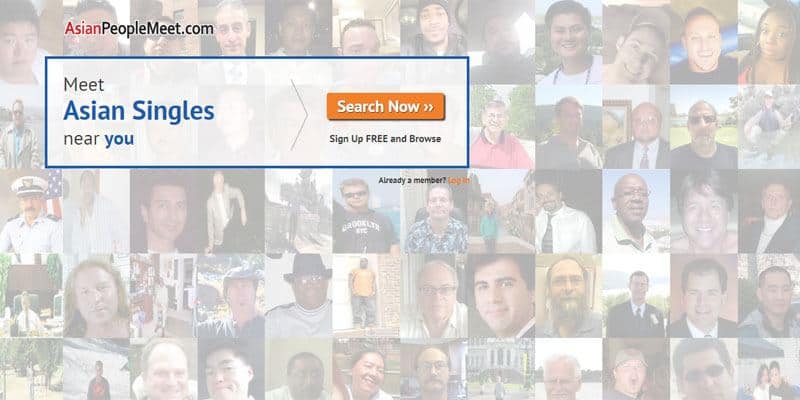 Most guys flock to the busiest Asian dating websites because they're convinced that more profiles = more choices of eligible single women.
But busy sites also mean lots of competition from other young (or old) bucks. AsianPeopleMeet.com might only have 50,000+ members, but this is actually great news for guys looking for Asian singles. This is because most of the single guys are focusing on sites like AsianDating.com, and not on smaller dating websites like this one.
Membership is free, but that only allows you to view profiles, and send 'Winks', but not actually exchange messages or chat with any of the women on the site.
Full membership is extremely affordable at just $14.99 per month, and it's worth checking out even if just to compare it against some of the bigger international dating sites.
Cherry Blossoms (Thousands of Successful Marriages)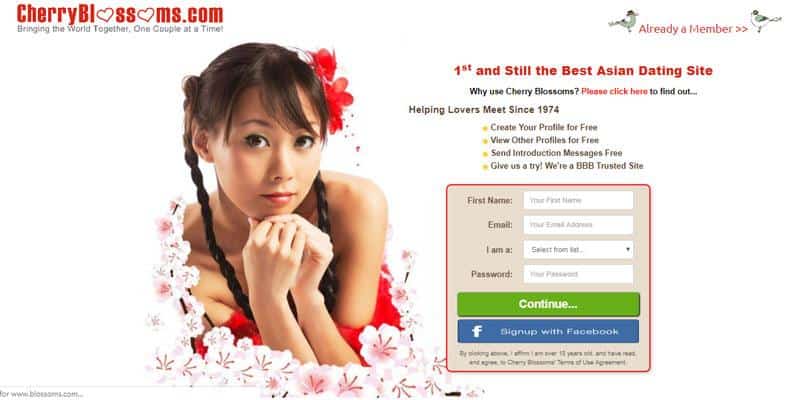 The idea of looking to Asia for your future bride might seem like something that's only become popular in the last few years. Cherry Blossoms has been around since before Asian dating was cool though, helping single guys find, date and marry Asian women since 1996.
This dating website features mostly women from the Philippines, but you'll also find profiles for eligible single women from China, Vietnam and Thailand.
How many profiles are there on the site?
Right now the site has around 75,000 active users, but with more joining every single day. Cherry Blossoms also claims to be responsible for helping to arrange thousands of marriages over the last few decades.
A free account allows you to upload photos, view profiles and send 'Smiles', but you'll need to pay $29.95 if you want to have one-on-one conversations with any of the single women here.
Findmate (Awesome Interface/Tough on Scammers)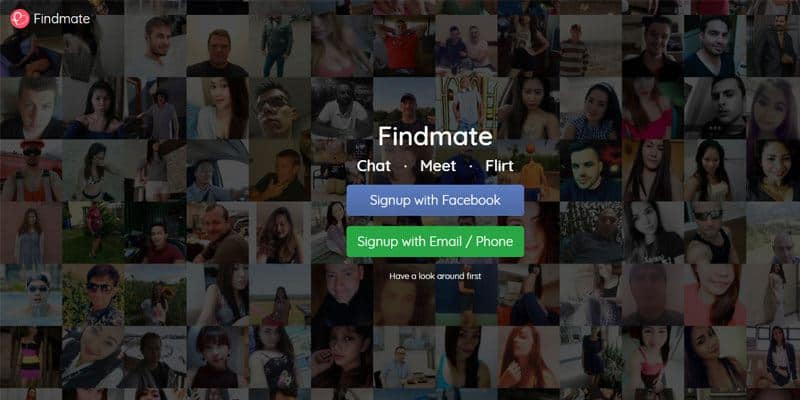 While most dating sites and apps try to get your contact details before allowing you to look at member profile pictures, FindMate does the exact opposite. You can jump straight to the search function from the homepage, then select the exact Asian country or city you want to find single women in.
All the Asian international dating favorites are here, including Thailand, China, Malaysia, Vietnam, the Philippines, Hong Kong, but there are more Filipina members than from any other country.
Once you're satisfied there are enough profiles to keep you busy chatting for a while you can then register for the site, which only takes a few minutes, or seconds if you use the Facebook signup option.
Findmate just released an awesome App that blows away most of their competition, I tried it out the other day and it is a joy to use.
Date in Asia (100% Access, No Charge)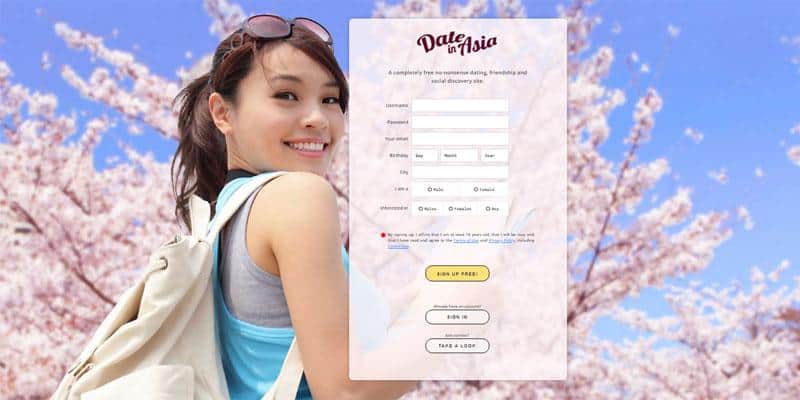 If you want to start your Asian dating adventure, but you haven't got a lot of cash to splash around on it, then "Date In Asia" is a site you should give some serious consideration to.
The reason for this is that it's 100% free, so anyone can afford to use it. Is this a trick to get you to sign up to a paid membership later on? No – you get full access to all of this site's features without having to pay a cent.
Are there any downsides to the site? The main problems stem from the lack of moderation, so the quality of the female users can be kinda questionable at times. Most of the female members are Filipinas, but you will also find a smaller number of women from other Asian countries on the site.
There are quite a few Bakalas (Transvestites) that call the site home, though they usually let you know they are ladyboys right up front, so if that kind of thing bugs you then steer clear Date in Asia.
For me, the biggest drawback of the site is that, because it is free to use, DIA makes money by displaying Google Adsense ads on the site. This means that you will not see any profile pictures that are remotely racy, as this would get DIA in trouble with Google so if you are looking for sexy profile images try one of the paid sites.
If you're looking for a way to dip your toe into the world of Asian dating at no cost then you could do a lot worse than to register for an account on DateinAsia.com.
Facebook (Biggest Social Network on Earth)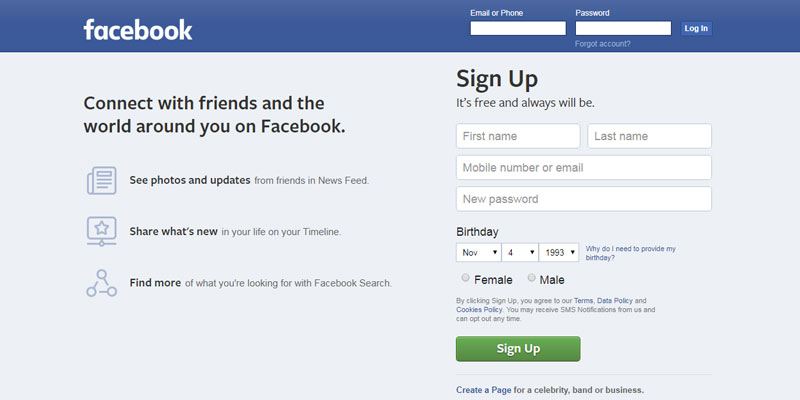 Using a social network to find an Asian girlfriend might not be the first idea that pops into your head when it comes to international dating. But that doesn't mean it's a bad idea.
In fact, Facebook finally realized how far behind the curve they are in the online dating stakes, so are currently rolling out a new dating feature built directly into the interface.
We have no idea when this feature will be released to all users, so in the meantime, you can keep yourself busy by checking out the various Asian dating groups on Facebook. If you're not sure where to start then "East Meets West Club" is one of the first FB groups you should join.
And the additional benefit here is that Facebook is completely free to use, and it seems it always will be.
If you like what you see in terms of female profiles, you'll have to upgrade to a premium membership for $24.95 per month. You can send messages without a paid membership, but you need a paid account to be able to read any replies.
Most Asian dating sites have clunky interfaces, but that's not something you'll experience with Findmate.
Tinder (The Best Dating App Interface)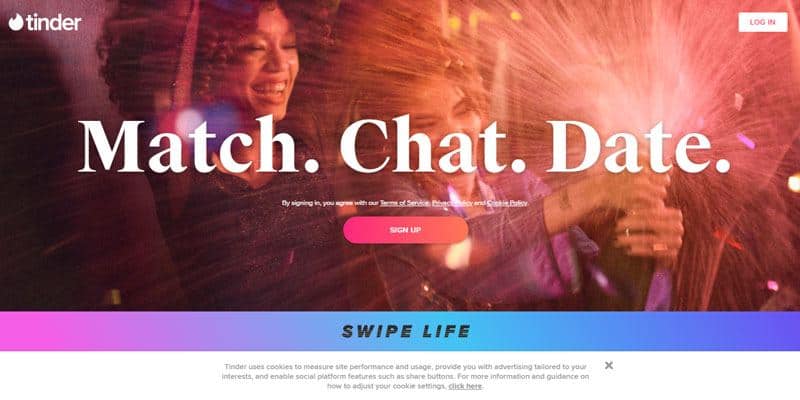 This app turned the online dating scene upside down by introducing the whole idea of "Swipe Left…or Swipe Right" to the world. Tinder made expressing your interest in somebody a split-second decision, and their competitors have spent a lot of time trying to catch up with them.
But, is Tinder useful for finding single women in Asia, and not just hookups?
You can try to work around the regional settings in the app, but you're better off to use 'Tinder Passport' instead – this opens you up to the world of international dating, and all via an app you know and trust.
So, the basic version of Tinder is free, but if you want to find Asian singles to digitally mingle with, then you'll need to pay the extra $10 per month for the 'Passport' feature.
Best Country Specific Asian Dating Sites
If you've already refined your search for overseas romance to a specific country, then you'll find there are plenty of high-quality websites to help you on your journey.
Thai Dating Sites
ThaiCupid (Biggest Legit Thai Dating Site)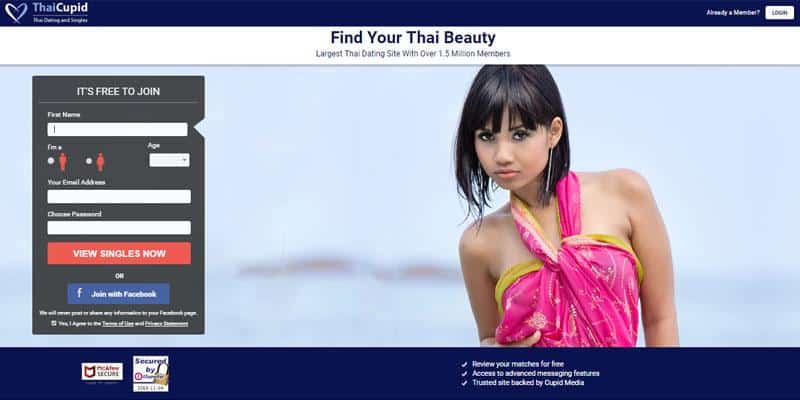 When you're looking for your dream Thai date, then it makes sense to look at a dating site that claims to have 70% of the dating audience in that country.
That slice of the dating pie comes to 1.5 million users. And it's not just about numbers – you're more likely to find your ideal match on Thai Cupid than almost any other Thai dating site.
Why? Because most of the women using the site are in their 30s, so are usually looking for a committed relationship, and not just "fun" with a farang.
You can join and set up a profile for free, and even trade messages with women you're interested in. The only snag is you have to wait 15-minutes between each message.
If you want full access to all of the site's features (including HD video chat), you'll need a paid membership plan. A basic plan starts at $34.99 per month, which is a little over $1 per day.
Thai Friendly (For No-Strings Relationships)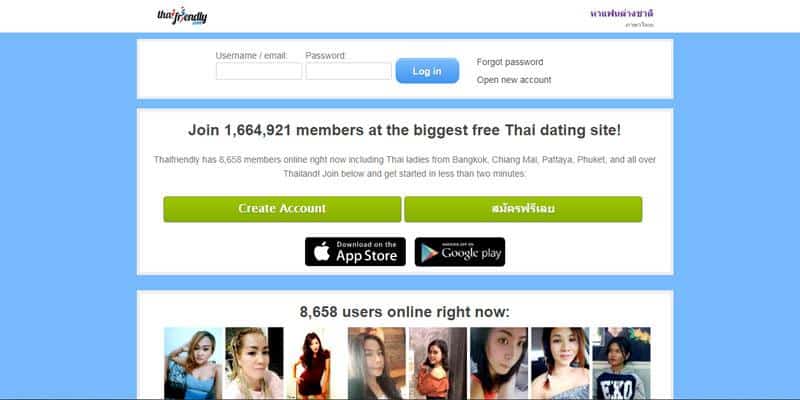 Thai Cupid might seem to rule the roost, but there's always room for a competitor, and Thai Friendly is exactly that. In fact, with 1.6 million members it's a genuine alternative to Thai Cupid…but only for the right audience.
You see, while Thai Cupid is aimed at guys and gals looking for a serious relationship, Thai Friendly is aimed at college students and younger women who are more interested in having some fun with local or foreign guys.
Something else about Thai Friendly that may or may not appeal to you are the profiles of ladyboys. The problem is that they can clutter up the site, especially the ones who don't state up front that they're actually dudes.
This site is popular because you can register and start sending messages straight away without paying for membership. But you do need a paid account if you want to use features like instant messaging and video chat.
Membership fees start at $24.95 per month, but you can get discounts for paying for a 3, 6 or 12-month membership upfront.
ThaiJoop ( Dedicated Thai Dating App)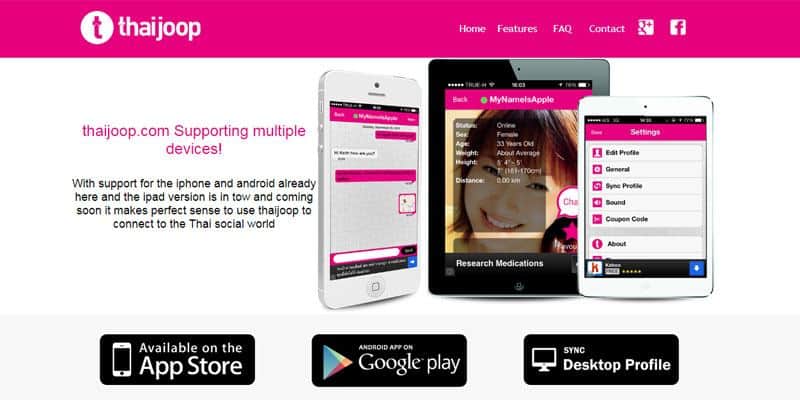 While most other Thai dating sites also have an app you can use, ThaiJoop is only available as an app. And it's a very popular one, with at least 1 million members who have downloaded and are using it.
The free version of the app is available for both iOS and Android, although they seem to keep the iOS app up to date far more than the Android version. Using the free version also means having to put up with the occasional advert.
So, what are the women on ThaiJoop like?
They're the quality you've come to expect from any free dating site or app – you'll have some gems, and then a mix of women who either can't afford a paid site, and ladyboys.
But, this is still a useful tool to have in your dating arsenal, and it won't cost you a cent to try it out. If you want to upgrade to a paid plan the costs are ass follows:
Coin-Plan (Tokens)
500 coins cost $6.40
1200 coins cost $12.80
3000 coins cost $23.05
8000 coins cost $61.46
18000 coins cost $122.93
The great thing is, you can pay for this plan with Google Play.
Filipino Dating Sites
Filipino FriendFinder (All Profiles Manually Reviewed)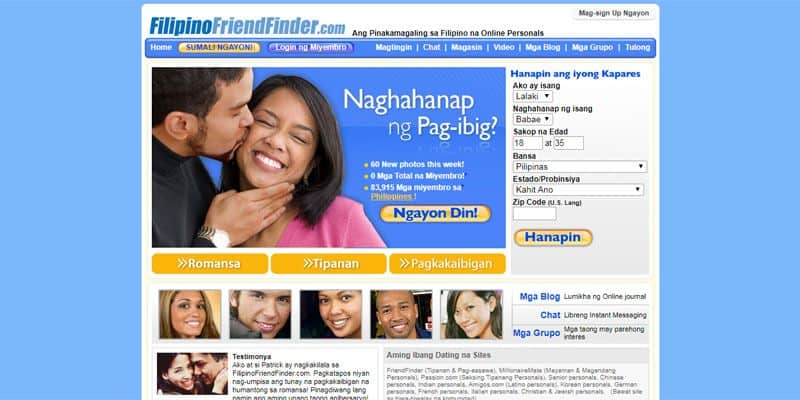 If you've been around the dating scene for any length of time then the FriendFinder network of dating sites will be familiar to you.
So, you know you're dealing with a dating website that's going to be around for a long time. In fact, that kinda shows in the design and layout of the site – it's very 2002, so it could do with an update.
With that being said the site does have 80,000+ active users, so finding the Filipina of your dreams might only be a few clicks away.
Now, when you do find a Pinay with a smile you can't resist, you can only check out her profile but not chat to her. Actually chatting with women requires a paid membership, which costs $24.95 per month.
All profiles are manually reviewed by FriendFinder staff, so that also helps to filter out any scammers or gold diggers.
Filipino Kisses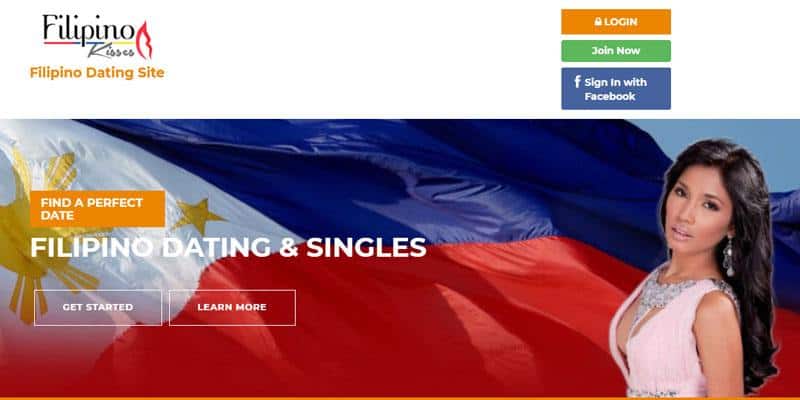 Over 540,000 singles trust their romantic future to the team at Filipino Kisses, and they've been doing that since 2006 when this dating site first went online.
Over half a million members means there are plenty of single Filipinas using the site, but you will find women from other countries in Asia listed on the site too.
Filipino Kisses is free to sign up to, but you have to pay for membership if you want to take your dating game further than just checking out profiles. Registration is a snap if you login using your Facebook account.
Something we love about this site is that they're actively scanning for female scammers. This includes taking steps like monitoring women who contact hundreds of guys in one day.
That extra layer of security and protection alone makes this site stand out from the crowd, and worth the $25 per month to use it.
FilipinoCupid (Huge Number of Female Users)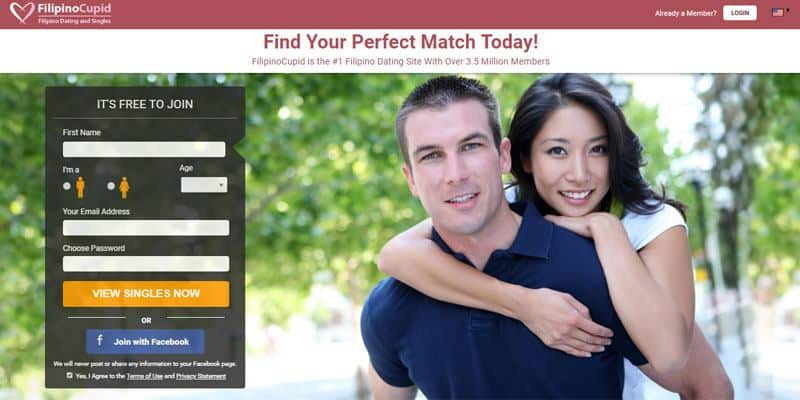 The Cupid Media dating sites have carved out a positive relationship for themselves in the world of online dating. They've done this by offering intuitive user interfaces, transparent pricing, and doing everything they can to protect their users from any types of scams or security threats.
So, without saying anything else, that should be all you need to know about Filipino Cupid.
But let's take things a step further and look at the fact they have 3.5 million singles using the site, with the vast majority of those being female profiles.
The only real downside to the site is that you're limited to creating a profile and "Winking" at women to let them know you're interested in talking to them.
But a Gold or Platinum membership is required if you want to exchange messages or enjoy a video chat with some pretty little pinay – these plans start at $29.99 per month.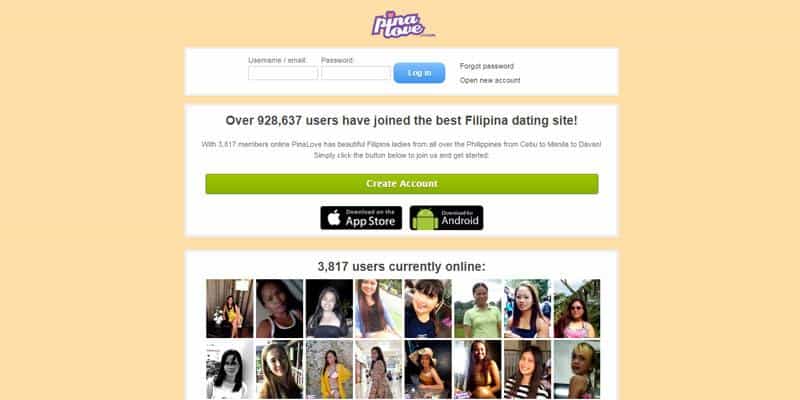 Something worth remembering about Filipino dating sites is that women join them because they want to meet foreign guys. Sure, they might chat to some local guys, but their focus is 100% on finding a Western guy to date and hopefully marry. You are at the top of the dating hierarchy here.
Pina Love has 900,000 single women with that goal in mind. Of course, there are a handful of scammers using the site, but they're few and far between.
This site is from the same people who run ThaiFriendly.com, so you get the same great features in your free account, including being able to send free messages every 15 minutes to the woman you're falling for.
Navigating the site is really easy, and you'll be pleased to see that the vast majority of women on the site are actually from the Philippines, and not women from other countries trying their luck in finding a nice North American or European guy.
Premium membership plans start at $24.95 per month, but it can be as little as $8 per month if you choose an annual plan.
Vietnam Dating Sites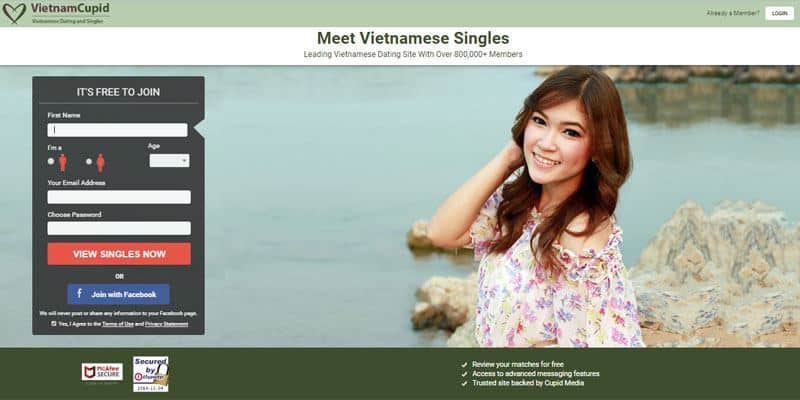 You might be wondering why there are so many sites catering just for guys looking to date Asian women. Culturally Asian women tend to be quite reserved and shy, or at least they are if they're not "bar girls".
Vietnam Cupid allows you to bypass that awkward social hurdle of trying to strike up a conversation with random girls on the street or in bars. Instead, you can spend your time getting to know that Viet hottie you stumbled across online.
Registering for the site is quick and easy, but make sure you upload a great pic of yourself for your profile. Avoid posting any pictures of you in a nightclub or bar, because it can send the wrong message. Viet women are very visual, so play up to that with your profile and pic.
Paid access costs $29.99 per month and allows you to instant message or video chat with as many girls as you want, as often as you want.
What are the Viet women on the site like?
Above average, and don't get weirded out if they're reluctant to meet up – they've had their fair share of creepy foreign guys just looking for sex, so being patient really pays off.
Vietnamese Love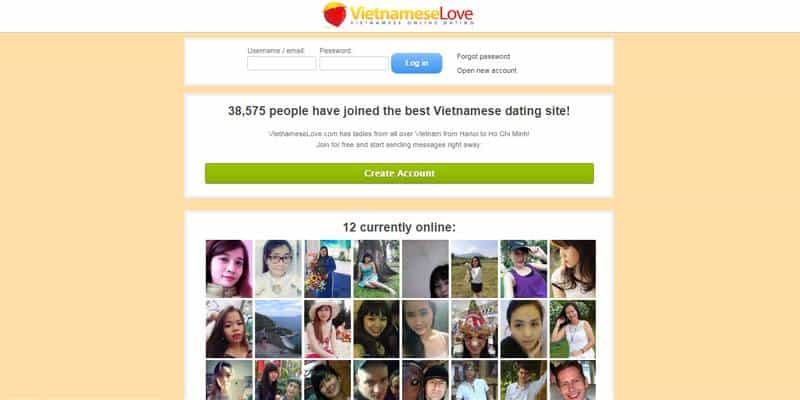 This site claims to be the biggest Viet dating site online, and with over 800,000 members they're probably near the very top of the dating pile. Vietnamese Love has also been online since 2002, so they've promoted international and multiracial relationships for way longer than most sites.
Creating a profile is free, as is searching for pretty Viet girls and sending messages or "winks" to them. The only real downside to the standard membership is that you have to wait 15 minutes between messages, so if you're chatting to a few girls at once (and you should) those delays can really eat into your day.
What are the women on the site like? They're on the younger side of things, so expect to chat with a lot of 20-year-olds. Don't worry though because Viet women don't have any issues with dating guys older than them.
Full membership costs $24.95 per month and is ideal when you've found a few girls you want to chat to on a regular basis, before you arrive in Vietnam to meet them in real life.
Chinese Dating Sites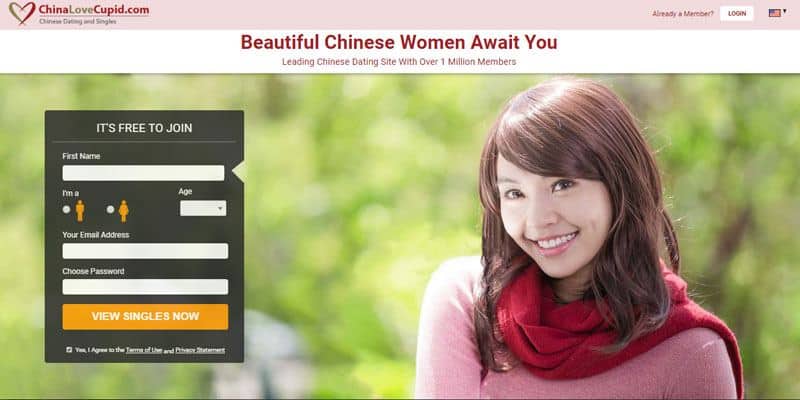 This site was once known as China Love Links but is now part of the Cupid Media network of dating sites. This means you're dealing with a trusted name in the world of online dating.
ChinaLoveCupid.com has around 40,000 members, which is pretty small considering there are literally millions of single Chinese women looking for Western guys to marry. Remember that any Chinese girl who's not married by the time she's 28 is considered sheng nu, a "leftover" woman.
Although we like a lot of what we see on the site, and especially because it's a Cupid Media site, there are some flaws. The main issue is the lack of translation services, which you'll find on both LoveMe.com (A Foreign Affair) and AsianDate.com.
Chinese isn't an easy language to learn, so not having a translator available to you can be a major hurdle in chatting to single girls on the site.
A free account allows you to browse profiles and provides a limited ability to send messages, but you can upgrade to a full membership for $29.99 per month.
Japanese Dating Sites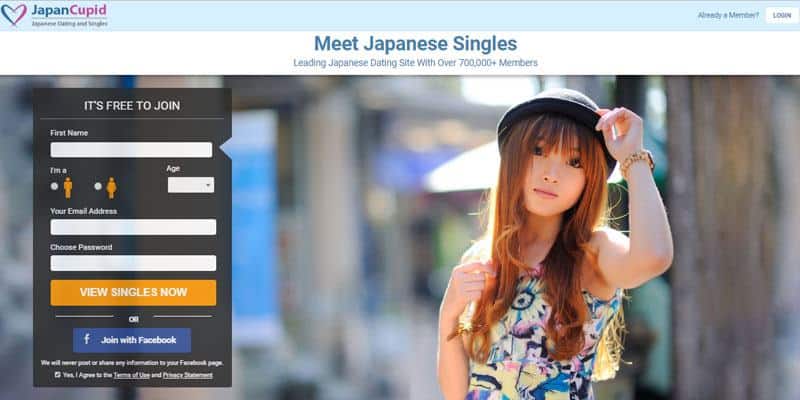 Japan is a country that's very unique when it comes to international dating. The country's birth rate is plummeting, mainly because people are so busy with their careers they barely have time to sleep. Literally – people drop dead on trains from sleep exhaustion.
So, Japanese women are looking for foreign men to date because they can't find them locally. But then you have the social barrier where all foreigners are still referred to as "gaijin", and not every Japanese woman is willing to date guys who aren't white Europeans or North Americans.
The site has over 700,000 members, so it is definitely worth registering for a free account on. Just be prepared for the fact that Japanese women might not be as eager to meet certain Western guys as women in Thailand, Vietnam or the Philippines might be, for example.
A free account allows you to create a profile, upload photos, "show interest" in and exchange messages with women on the site. But if you want the full Japan Cupid experience, you'll need a paid membership.
Something else to factor in is that most Japanese women won't speak fluent English, so lessons in at least basic Japanese are mandatory, and it's a very nuanced language.
Full membership for the site costs $29.99 per month, but membership can cost as little as $10 per month if you pay for an annual account.
Guide To Asian Dating Sites: What You Need To Know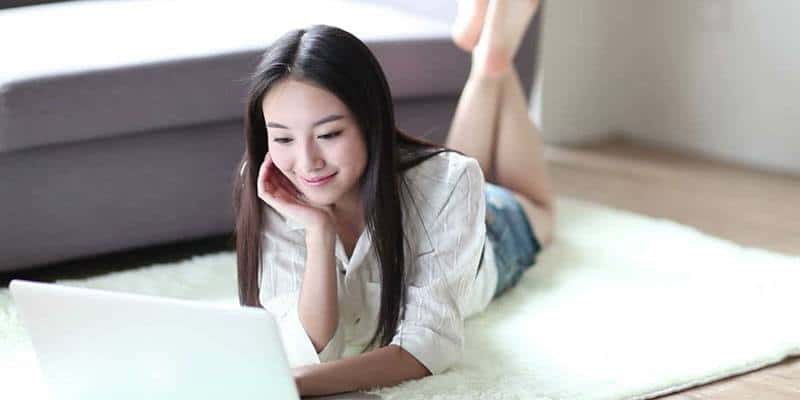 Online dating has come a long way since the days when it was viewed as something only desperate guys used to find a girlfriend.
In fact, somewhere around 66% of all Americans now use online dating. This is compared to around 2% of people who use social networks for the same purpose.
So, you're far from alone in your online search for the love of your life. The stigma that once surrounded online dating has been replaced by guys talking about the hot Asian girl they just found online.
Online dating is now just part of modern life.
The truth is that dating in North America and Europe has become so toxic that it's dangerous to even ask a woman out on a date in many cases. You actually run the risk of a sexual harassment claim for no other reason than talking to a woman.
This is a completely different experience to what happens on Asian dating sites, where gender roles are still normal, and the #MeToo movement doesn't exist.
And something else that makes Asian dating sites a very different experience to Western ones is the lack of lies. Women on Western dating sites lie about everything from their age to their occupation, and even if they have kids.
Asian dating sites have taken some very strong measures to make sure that female users can't lie about important things like their age or what they look like.
Put simply, the dating culture in Asia is far more traditional than anything you'll now find in the Western world.
Dating Site Costs
The temptation to only use free dating sites will be pretty strong, and you might even be successful doing that. But the odds are stacked against you.
Obviously you can't pay for a membership to dozens of different sites all at once, so we'd suggest checking out the free accounts on the paid sites first, and then upgrading once you've found your perfect match(s).
Free sites have their place, but you'll find that you spend more time filtering out hookers, ladyboys, and scammers from the genuine women, than you do actually chatting and schmoozing. This eventually leads to you getting frustrated and quitting the site.
Paid sites have the resources to actively monitor and remove undesirable female members, saving you the headache of having to do it yourself.
Dating Scams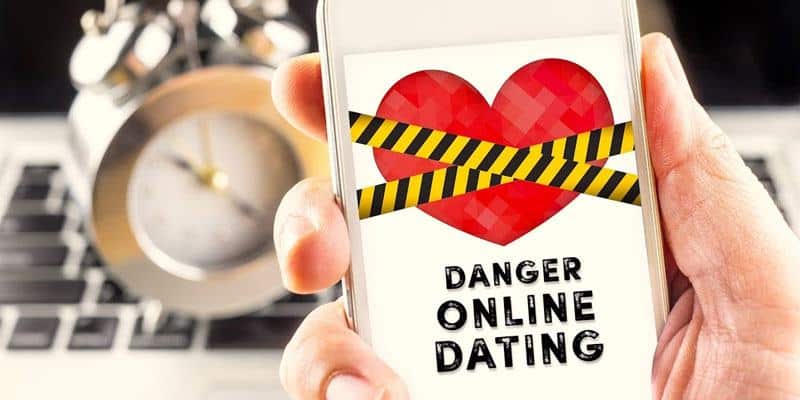 These are part of the online dating culture, and that goes double for international dating. Again, paid sites root out the scammers almost as quickly as they set their profiles up.
But you do need to watch out for the usual things like requests for money, requests for gifts like airline tickets, or any sob stories about sick relatives, storm damage or not having a phone she can use to chat to you with.
Always report any suspicious profiles to the site itself – you're doing them, and every other legit user on the site, a favor.
Data Security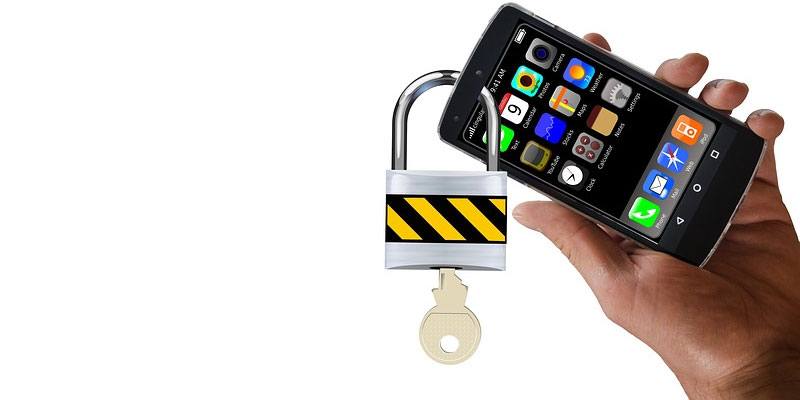 Never sign up to any dating site if it isn't secured by SSL (Secure Socket Layer) technology.
How can you tell?
The site URL (web address) will start with https instead of just http and/or you'll see a tiny "lock" icon beside the site's URL. SSL means that your credit card data, and other personal information, is encrypted when you send it to the site's servers.
Something else to watch out for is the billing structure the site uses. Are there any hidden charges, or do they have a history of billing users even after they close their accounts, for example?
Sticking with mainstream Asian dating sites can help prevent problems with unwanted recurring payments, but if in doubt then ask their support team upfront about how they manage customer billing.
Having a separate credit card (like a prepaid one) to use for online dating is also a good idea. That way, if something goes really badly wrong, you can just bin that card without any real impact on your personal finances.
Site Activity
Almost every Asian dating site you visit will claim to have the prettiest/hottest female members and more of them than any other site. We've learned over the years that the bigger the claims, the less likely the site can actually back them up with results.
The only way you can tell if a site is worth using is to measure how much interaction you have with women on it. There's no point in using a site that has thousands of pretty Asian women if you're only getting a response to 1 in every 10 messages you send.
You obviously need to make sure that your profile is the best it can be, including the best picture you can find of yourself, that you've completed all the different sections, and you're clear about the exact type of woman you're looking for, including age range, kids or not, etc.
But if you've done all of the above, and you're still not seeing a worthwhile response rate, then it's time to look at another Asian dating website instead.
Some dating websites are simply more suited to single men looking for some no-strings fun with an Asian girl, where others are aimed more at guys and gals looking for a serious relationship.
Then you have to factor in that some of these sites are populated by more ladyboys/transgender women than actual women, so they're also a waste of your time.
So, never assume that all Asian dating sites are the same because they're not.