Website: www.blossoms.com
Membership: free; paid upgrade
Verification: no
Platform: website; no apps
Support: excellent
Cherry Blossoms is the oldest "Introduction only" site and it is still one of the very best.  It has literally thousands of profiles, particularly from South East Asia.  It has also recently done a complete site overhaul that made the site much nicer to look at, easier to use, and added new some features.
Established in 1974 as a picture catalog, they moved operations to the web in 1996 and haven't looked back since.
It has its strongest presence in the Philippines, even though you'd find interests from other countries in Asia—China, Thailand, et cetera; Latin America; and Eastern Europe.
Site Functionality
One thing that is very nice about the new Cherry Blossoms is that It's interface is simple and intuitive to navigate.
It also has a great search function that allows you to filter users by more than a dozen details such as age, weight, number of children, last login et cetera. It would be perfect if it just had a keyword search function too. I'm not sure why you would build such a great all around search engine and skip that, but all in all it is an excellent search function.
They have also added a lot of, almost Facebook like social media functions and those are cool too, perhaps the best thing is that the site still seems to run fast in our tests which is also very good, because cool features aren't so cool if they make the site run slow.
Another noteworthy feature is the match feature. You use it to set a profile of the criteria (your preferences) of persons you might be interested in. And then the system sends you an email daily of matching users (personalized matches).
It makes connecting almost painless, as you don't have to surf through an endless stream of profiles to find the right matches for you (looking at you Tinder).
Sign Up Process
Signing up at Cherry Blossoms is easy, fast, and free. It is a two-step process. It begins with entering standard registration details—first name, email, password, interest. And culminates with sharing personal details, including your eye and hair color, height and weight, education, number of children; among other things.
Women's Dating Profiles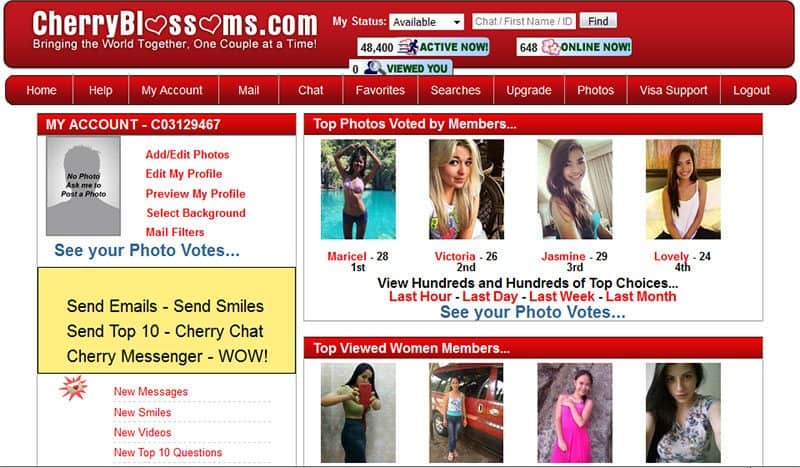 Cherry Blossoms probably has more profiles of stunning Asian women than any site on the web. The profiles used to be one of the sites weak points, but now the photos are large and clear, and it seems like most of the girls are writing longer descriptions than in the past.
An interesting fact about CB that's not often mentioned is that it has a higher ratio of women to men, at more than 3:1 at last count. The ladies are slightly older than say on Tinder, but more often than not are interested in getting married.
More than 250,000 married couples have met through Cherry Blossoms!
Unscreened Profiles – Buyer Beware!
One important word of warning – these are unscreened profiles. The women send in the information and Cherry Blossoms assumes everything is on the up and up.
That means that you must be much more aware of the threat from scammers.
The overwhelming majority of the profiles are legit, but be especially wary of quick expressions of undying love and requests for money.  In fact, any girl that asks for money is by definition a scammer.
CB has implemented several useful safety feature to help weed out the scammers. The first allows you to search the web for profile pictures to ensure the person behind the profile isn't impersonating anyone.
There is also a button on every page to report scammers, so they do take the safety of their members seriously.
This all sounds scary, but it is exactly the same system as Match.com or Chemistry.com. So, as long as you show a little common sense you are probably as safe from scammers on Cherry Blossoms as any normal internet dating site.
They do have thousands of marriages to their credit and they are an American owned company based in Hawaii, so this is really one of the most legitimate companies in the industry.
Nonetheless, you definitely need to be conscious of red flags as CB isn't immune to the scammer plague on dating sites in general.
Price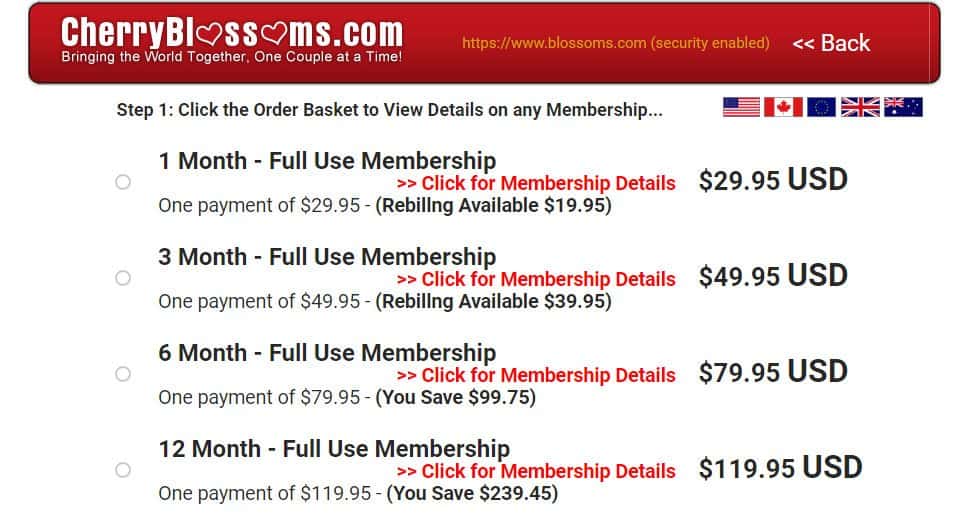 A free account lets you create a profile, view other profiles, upload up to 12 pictures, and send a "smile" to indicate interest. But if you want to message, chat, send video messages, and do more; you'd need a premium account starting at $29.95/mo. when you buy a one-year subscription. You'd pay a higher monthly sub if the subscription period is lower.
Support
Cherry Blossoms has excellent support. For starters, it is based in Hawaii, and you can call and send emails to them. You can even send a postal letter or physical mail to their official address. However, you may not have to as they've furnished their "Help" section with most of the common requisite information you'd need.
Extras
CB goes further and above the competition to also offer immigration support for those who've found their better halves and want to bring them to the states. This is part of the perks of operating in the US, and since they've been doing this for decades, you simply can't go wrong with them.
You can find critical information on getting visas for your significant other on the site; or you could call or send an email to CB to connect with a Visa Specialist at no extra charge.
If you decide to use CB's immigration help—whether it is for Fiancée Visa, Spousal Visa, or Adjustment of Status—you can pay a lump sum or in installments of up to five times.
Cherry Blossoms Guarantee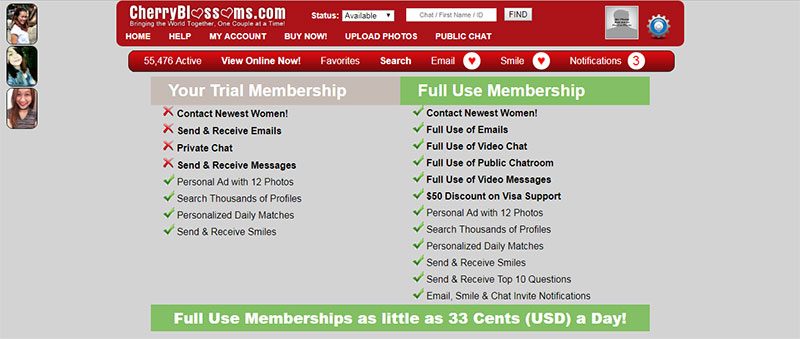 The price is great, only $29.95 for the first month or better yet six months for $79.95 with a guarantee that you will find a great girl or they will give you six additional months for FREE. That's one of the best deals anywhere online.
In summary, Cherry Blossoms is the poster child of what a legitimate, experienced niche dating site is all about. It unsurprisingly holds its own against the competition and is frankly, without reservation, one of the best places on the web to meet serious-minded Asian women.
Cherry Blossoms is certainly a great place to start looking for Asian singles.
Cherry Blossoms Review
Hotness Factor

User Interface

Number of Profiles

Quality of Profiles

Security

Cost
Cherry Blossoms Review
Cherry Blossoms has a ton of profiles, particularly from South East Asia, however these are unscreened profiles and therefore you must be much more aware of the threat from SCAMMERS….
Pros
Plenty of remarkable features, including search, match, translation services, sending video messages, who's viewed your profile (and the number of times the person viewed your profile) etc.
More women than men on Cherry Blossoms. Furthermore, more than half of its user base are active monthly.
Simple and intuitive to use.
Support is excellent with a number to call and a detailed help section.
Based in the US – offers decently priced visa services.
Cons
CB has no mobile apps.
Profiles mostly from the Philippines