Website: ThaiCupid.com
ThaiCupid is a leading dating site for single guys trying to meet single Thai women. It's also part of the Cupid Media network, so you're dealing with a brand name you can trust.
ThaiCupid is one of only a handful of legitimate Thai dating portals and has been around since 2002.
There are way too many overnight Thai dating sites popping up with fake profiles and a cash-grab mentality. That's not something you need to worry about with ThaiCupid. And you'll understand exactly why by the time you finish reading our ThaiCupid review.
Who Is ThaiCupid Best For?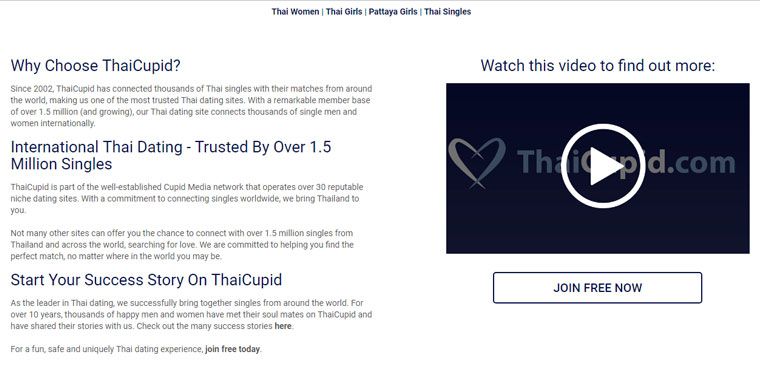 This might sound like a case of stating the obvious, but it's for guys who are actively looking to date cute Thai girls.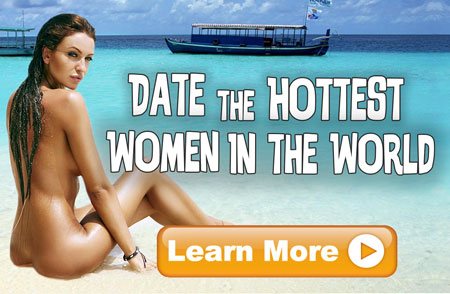 But we know that "dating" can be construed any number of different ways, from hook-ups to a prelude to engagement and marriage.
ThaiCupid is for Western guys who desperately want to find the woman of their dreams, but have come to the sad realization that they can't do that at home.
If you're looking for "short term" relationships or bar girls, you'll find them on ThaiCupid, but they're in the minority.
Just be aware of what you're getting yourself into if you hook up with a bar girl i.e. your wallet is going to be a whole lot lighter, at best.
At worst you could wind up paying for her kids to go through college.
Overall ThaiCupid is far better suited to guys who are looking for serious dating and long-term relationships.
Our reasoning behind this is because there are so many professional women on ThaiCupid, and we don't mean pros in that sense.
The women on this site are doctors, lawyers, engineers, business owners, etc – these aren't the type of women who are looking for a cheap night of passion between the sheets with some random farang.
Who should join
ThaiCupid is a great site for single Western guys who want a serious relationship, even if it takes months to reach that level of commitment.
The only caveat here is that you will need to filter through the usual selection of ladyboys with fake profiles, and bar girls looking to do a hit-and-run on your bank balance.
Once you get those out of the way you'll see just how many attractive and available Thai women there are on ThaiCupid.
Who should not join
The sheer number of members might tempt guys from the PUA and international male gigolo set into joining, but that would be a waste of their time and money.
All they'll meet is a professional Thai woman who has no interest in playboys, or a bar girl who's 10x as cunning as them.
ThaiCupid Members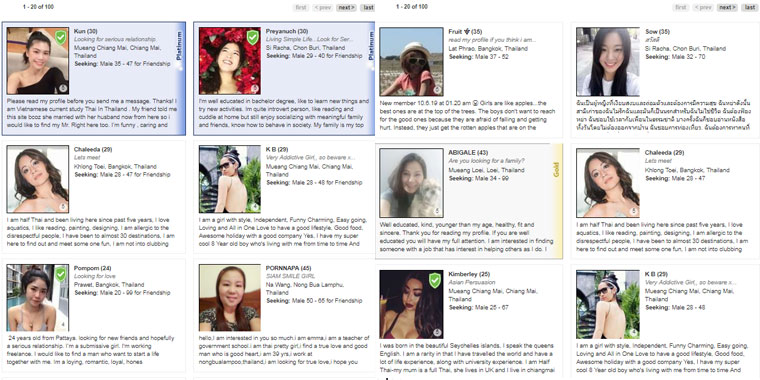 "So…what are the women *really* like?" is the $64,000 question every guy who has ever joined a dating asks himself before typing in his credit card details.
First off, the site boasts of having 1.5 million members, making it pretty much the biggest of its type. There are other Thai dating sites that claim to have more members, but we cover them a little later.
You have to dig a little to get at the facts, like eliminating fake profiles, and understanding the ratio of male members to female members on a site.
So, of that 1.5 million let's assume there 250,000 profiles that are either fake, ladyboy con jobs, bar girls looking for a sugar daddy, etc.
That leaves us with 1.25 million real profiles.
Of that we'll estimate that 75% of the profiles belong to Western dudes looking for love.
This leaves 312,500 eligible Thai women in your potential age range.
And that my friend is a whole lot of Asian beauties looking for somebody just like you.
These are the women who are just as eager to meet you as you are to meet them.
They are the Farang Hunters who are students, nurses, office workers, teachers and government officials who are sick of Thai guys.
Signing Up For ThaiCupid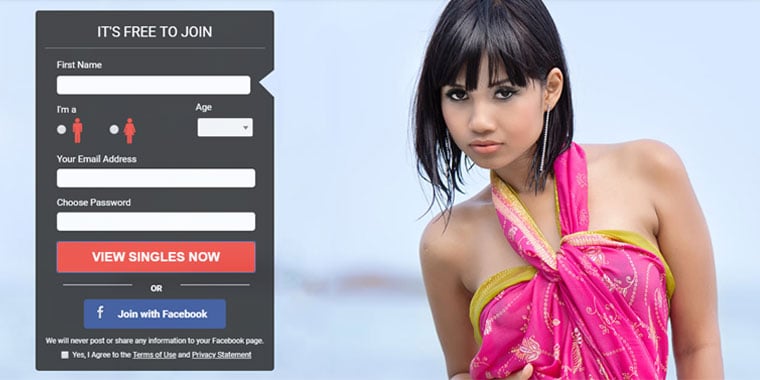 You have two basic choices when registering for the site :
Use your Facebook account
Use a personal email address
We've never been a fan of using social media profiles to create accounts on dating sites, especially in light of all the recent data privacy concerns and leaks.
Using your Facebook account does make the entire process a lot quicker though, but that choice is yours alone.
We typically suggest creating a new email address when you're registering for these sites, just as a way to keep your personal email address and your online dating adventures separate from each other.
Plus, ThaiCupid don't actually verify your email address, which is a bit of a novelty if you've had to deal with the fallout from the recent GDPR farce in Europe.
So, what's the registration process like?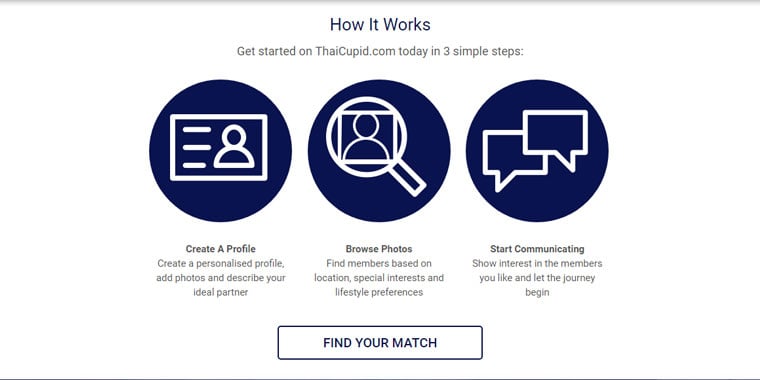 We received two messages while we were trying to find a picture of ourselves to upload, so the spammers are quick off the mark for new accounts.
Having a complete profile is best practice on sites like this, but ThaiCupid ask for a stupefying amount of information.
The "questionnaire" section covers everything from hair color and length, to social habits (drinking, smoking, etc), your children and their ages, your pets, your job, where you live, languages you speak, and even your star sign.
Mind you, that's not surprising because Asians are a superstitious lot at the best of times.
The very last section you complete is a few words to describe yourself, which seems a bit counterintuitive. It would make more sense to complete a brief bio first, and then fill in all the extra detail later on.
That's a minor gripe though.
So, all told you'll need to put aside 30 minutes to complete your profile, and that excludes the time needed to find a decent photo to upload.
Overall, completing your ThaiCupid profile isn't tough, but it is time-consuming.
Once you've completed registration you automatically have a 'Standard' account, which is the ThaiCupid version of a free account.
Making Contact With Female Members
One nice feature is that you can see how many members are online at any one time, and we counted 1,290 during our last session.
That gave us almost 1,300 potential girls to message and get to know a bit better.
This is a breath of fresh air compared to other dating sites where there are maybe a few dozen women online at any one time, and they're all busy chatting to other guys.
Basically, the numbers play in your favor here.
Now, the first thing that jumped out at us was that all of the single women on the site are Thai…but they're not all based in Thailand.
In fact, some of them were living as far away as Sweden and Germany. So that makes them either ex-pats or they're fake profiles.
In terms of profile quality though, you can see that most of the personal pictures and descriptions are absolutely genuine. We couldn't find any instances of "copy and paste" profiles, or the same "stock" photos in use by different women.
The profiles are also pretty exhaustive in terms of how much detail they give on each girl. It's actually overwhelming in a way – but it does allow you to filter your potential dates down to the tiniest detail of their personality and looks.
That's the first sign that you're dealing with a real dating site – the women all look different, and their profiles have unique content on them, even if it's only a few words.
How hot are the girls?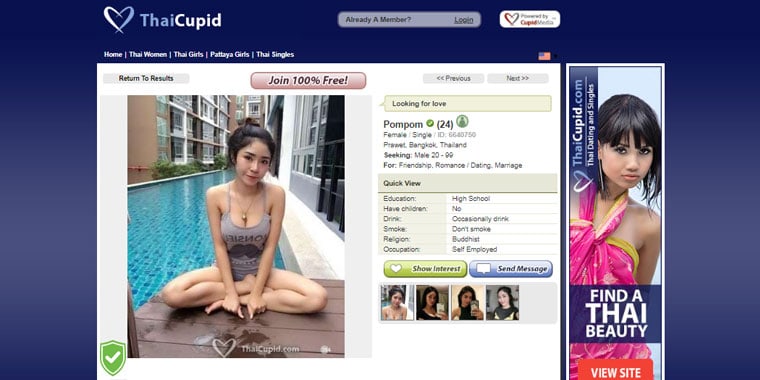 Look, let's be honest here – not every Thai girl is the drop-dead beauty you've been dreaming of. Some of the women on the site are just regular girls with no supermodel qualities.
And we also found a few worryingly obvious ladyboys in the first few pages of results – they looked more like drag queens, to be honest.
But, with that being said, there are plenty of very pretty Thai girls on the site.
Note: We got our first private message as we were writing this part of our ThaiCupid review. She's a 40-something professional Thai woman, and all of her photos are real. Cool!
And this is the point where you'll notice how slowly most Thai women age – the 40-year-old women can sometimes pass for their mid-20s.
Responsiveness isn't really an issue on ThaiCupid because the girls on there actually want to meet you. You can obviously discount the women who message you during the registration process because they can't be legit.
But outside that, we've found that if we sent 10 messages, we'd normally get 7 responses and at least 5 of those were worth following up with.
But, as with any dating site, you'll need to sift through the no-hopers until you find the absolute keepers.
The Site
What you'll experience on most dating sites is that "Free" accounts allow you to do almost nothing except maybe view profiles.
That's not the case with ThaiCupid – you can actually start sending messages straight away with a 'Standard' account. You do have to wait 15 minutes between messages, but that gives you enough time to daydream, or catch an episode of Archer or Always Sunny in Philadelphia.
And yes, those messages are direct contact with no middleman relaying messages between couples.
If you're wondering why we bothered to highlight the fact that you can chat directly with girls on ThaiCupid, it's because not every dating site allows that.
Certain types of dating sites operate on the "Pay per Letter" idea where you pay for every message sent to the Thai cutie that caught your eye.
You won't need to worry about that while using ThaiCupid.
ThaiCupid's interface is pretty much what you'd expect from a modern dating site, although it's a lot more functional and bright than say Plenty of Fish or some of the older, legacy online dating sites.
The site navigation is located on the left-hand side of the page, allowing you to:
Quickly filter through profiles
Pick up new messages
Check out who recently viewed your profile
See if anyone has tagged themselves as "Interested" in you
The matching algorithm on the site also works pretty well.
Most of the women it matched me with made sense based on their age range, my actual age, and general interests.
ThaiCupid does seem to default to matching you with women closer to your age, which in my case meant a lot of women in their late 30s (not bad).
But some women were obviously visually older than me. Everyone lies a little on their dating profile, but some of these "girls" had trimmed more than a decade off their actual age.
And some of the matches I received later were for women who are in their 60s and 70s. Everyone deserves love, but I've never been into women old enough to be great grandmothers.
One unique feature of the site are the "Cupid Tags" which allow you to tag your profile with certain words that give you more visibility on the site when people search for them.
We also like the pop-up overlays that appear when you receive new messages – they're semi-transparent so they don't cover up anything on-screen.
ThaiCupid on Mobile
You can get the ThaiCupid app for Android devices in the Google Play Store, but currently, there doesn't seem to be a matching app (no pun intended) for iPhone users in their App store.
This can happen from time to time, so be sure to check if the app has been released from "app jail" in the future.
Site Security
Nobody wants to put their data at risk for any reason, which is why so many of you are reluctant to sign up with yet another dating site.
We totally get that.
But Cupid Media have been around since 2002, so they take their security very seriously. In fact, they probably take it a little too seriously because they've been known to shut accounts down without warning.
These include accounts that haven't been used for a while, so are at risk of being compromised, accounts that are obviously spamming people, and fake profiles.
This is a very different experience to smaller sites where you know it's basically run by two guys out of their house, and their "security policy" means their Windows Defender software is up to date.
Price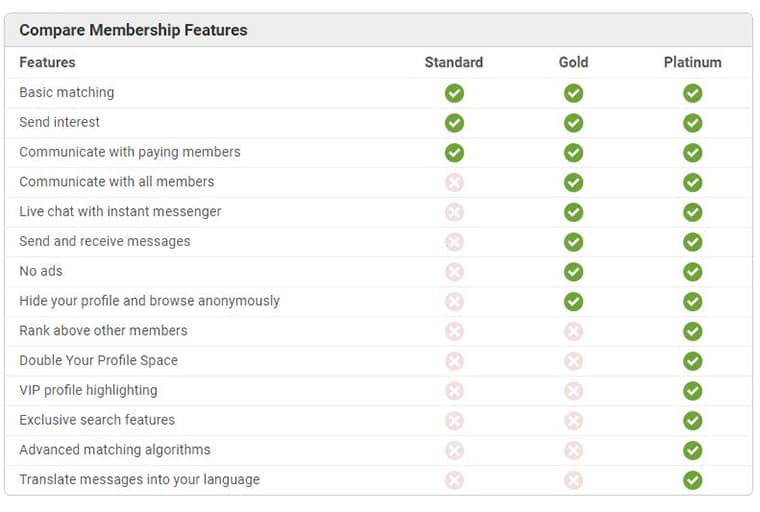 You have a few options when it comes to upgrading from a 'Standard', or free account on ThaiCupid.
The first of these is to choose between Gold and Platinum membership.
A single month of gold membership costs $34.99, but you can get 3 months for $69.99, and an entire year for $139.99
Platinum membership is a little pricier, with one month costing $39.99, 3 months costing $79.99 and a full year's membership costing $159.99
What's the difference between gold and platinum membership levels?
Platinum membership places your profile above either Gold or Standard accounts so women running searches will see your profile first.
Other perks are that it puts some extra algorithm matching magic to work for you, and you also get more space on your profile to talk about yourself and who you're looking for.
And lastly they'll even translate messages from native Thai girls into English for you – not every Thai woman speaks fluent English, after all.
Is it worth the extra money?
That's entirely up to you, but it's literally an extra $20 per year in the difference.
ThaiCupid Alternatives
But is ThaiCupid the only site of its type, or are there other Thai dating sites that are better?
To be honest, there are lots of other Thai dating sites, but most of them struggle to compete with ThaiCupid – it's the most popular by quite a long stretch.
That doesn't mean you're without options though, so let's take a look at two similar sites: Thai Friendly and Farang Date.
ThaiCupid vs. Thai Friendly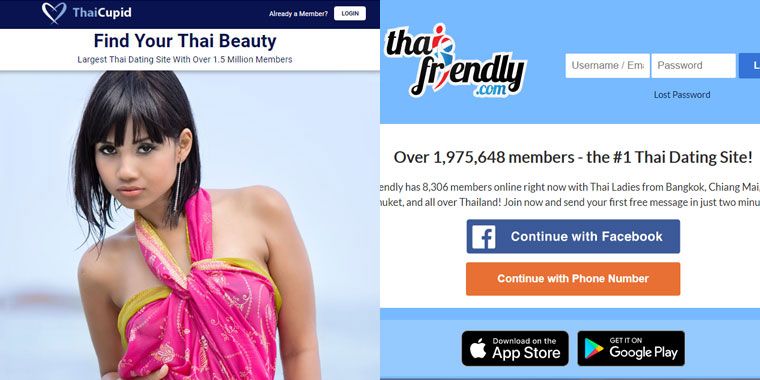 The main difference between ThaiCupid and Thai Friendly is their target audience.
ThaiCupid is aimed squarely at Western guys who want to find a Thai woman looking for a serious relationship. That's why they have such strict policies on fake profiles, bar girls etc.
Realistically the men and women using ThaiCupid are in their late 20s to early 30s, and have their life in order – now they just need to fill their romance "gap".
Thai Friendly, on the other hand, has a different audience in mind, namely younger Thai girls and students who aren't looking for anything serious.
There's obviously a ready market for that because Thai Friendly claims to have almost 2 million members, but we have no idea how many of those profiles are fake.
In terms of costs, Thai Friendly is slightly cheaper than ThaiCupid at just $24.95 per month or a difference of about $5.
ThaiCupid vs. Farang Date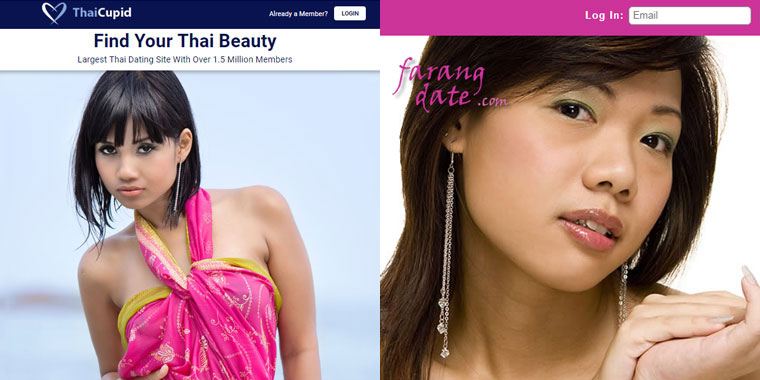 Another site doing the rounds right now is Farang Date.
For those of you that don't know, a Farang is Thai slang for a European guy. It's basically the same as being called a gringo in Latin America – it's not a slur, so don't get weirded out by it.
First things first, this is a free dating site, so you can bet that at least 50% of the profiles are fake, bar girls, ladyboys, and with some hookers thrown in for good measure.
There's also a separate category for "Ladyboy" when you register, so you can expect to find a lot of them on the site.
Farang Date is really only suited to guys who want to do a bit of virtual "window shopping".
Apart from that, it's pretty typical of what you find on most free dating sites – women who are more trouble than they could ever be worth.
ThaiCupid FAQ
Is ThaiCupid legit?
We're happy to recommend ThaiCupid based on the fact that it's part of the Cupid Media network of sites, and has been in operation since 2002. Most current Thai dating sites have been online for 3 – 5 years on average.
Can I get a free account?
You get a "Standard" account when you register for the site, which is the same as a free account. You can then upgrade to either a paid "Gold" or "Platinum" account if you want to make the most of the site.
How much does ThaiCupid cost?
Monthly gold membership starts at $34.99 per month, while platinum membership costs $39.99 per month.
How many single girls are there on the site?
By our calculations, there are at least 300,000 legit profiles on the site, and many of these are professional women e.g. nurses, bankers, government officials, business owners, etc.
Do they have a mobile app?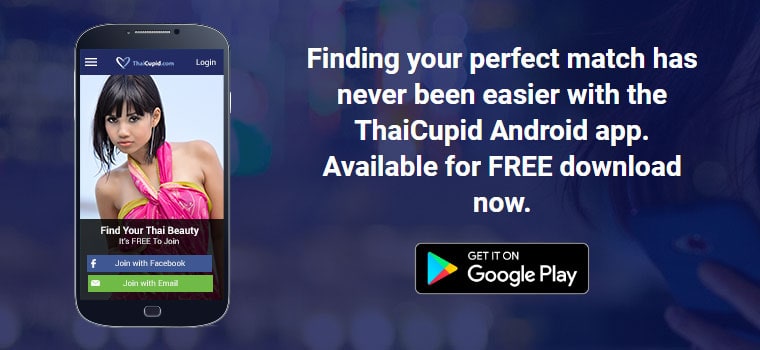 ThaiCupid is currently only available for Android devices.
How secure is the ThaiCupid site?
The Cupid Media network has stringent security and anti-spam policies, to protect both your data from external threats, and to prevent the headache of being contacted by fake profiles.
Conclusion
And that's where we draw this review to a close – hopefully, it covered everything you needed from us.
Something that stands out about ThaitCupid are the real testimonials from real couples who met and fell in love with each other thanks to this site.
That's not something you can say of most other Thai dating sites.
And remember, foreign brides are quickly becoming the norm in our multicultural world
You have nothing to lose by taking a look at what ThaiCupid has to offer, so why not try it out?
ThaiCupid Review
Hotness Factor

User Interface

Number of Profiles

Quality of Profiles

Security

Cost
Summary
ThaiCupid is an easy to use dating site with thousands of sexy Thai women. It has great security and privacy features because it is part of the Australian based Cupid Media network. ThaiCupid will remind you why so many men consider Thai girls the most beautiful in the world.