Features:
1,000s of Vietnamese singles are members
Mobile App lets you use the site on the go
Free Standard Membership
Summary
Vietnam Cupid is fun, user-friendly, attractive and well-maintained. Nothing less would be expected as it is a member of the family of sites owned by Cupid Media.
Cupid Media is a well-known and well-respected company in the internet dating world. You can rest assured that the site is secure, safe and that your money is not being stolen or misused.
Whether you are looking for friendship, a pen pal or marriage your chances of finding what you want or need are much better when using this site. With the free standard membership you really have nothing to lose.
Check out the site and see how you like it. You can browse profiles, create your own and contact singles without paying a dime. Later, if you choose, you can upgrade.
This site is more suited to people looking for a girl primarily based in Vietnam and, preferably, looking for a long-term relationship. It has been known for hookups, supposing you can make the journey all the way there to meet up with them, but as you might imagine, it's not exactly convenient.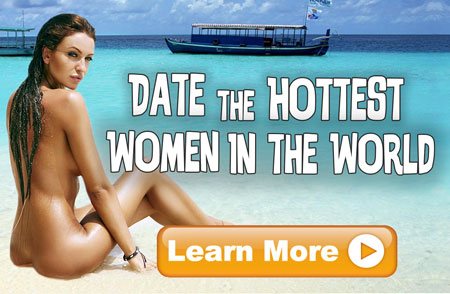 Most connections formed on the site usually end up as long-term relationships with the possibility of marriage if everyone is for it. This leads to attracting specific kinds of people – those looking to create a lasting relationship will find themselves right at home — those on the other end of the spectrum – hookups and nothing more, a little less so.
Member Information
Vietnamese people are hard-working, attractive, and smart. They have a lot to offer, so it is no wonder that there is a dating site devoted to them!
If you love the gorgeous skin, sleek hair, and mesmerizing eyes of Vietnamese singles, then this site is a great fit for you. Vietnamese women of all shapes, sizes, and ages are ready and waiting on this site
What usually brings up this site on most people's radars is the fact that it has close to a million active million users every month. On top of which, there are about 25,000 or more new accounts created every month. About 35% of these are estimated to be women – a lot of whom are specifically in search of a relationship with a foreigner.
This is somewhat made up for by the fact that the women are a lot more active on the site than the men, vastly increasing the chances of anyone getting a date.
Most people you run into on the site are going to be from Asia – not necessarily Vietnam though since anyone is welcome to join. Out of every ten or so Asian women, you will likely bump into one or two European matches, who are likely going to be based somewhere in Asia.
Almost all age groups are represented on this site, though those in the 24-34 represent the largest demographic on the site.
Signing up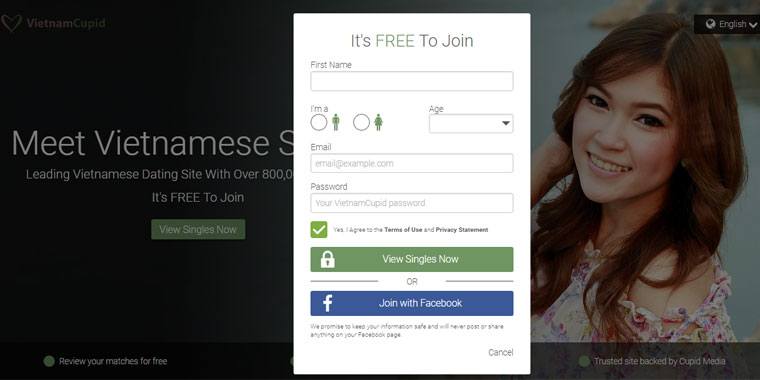 Signing up for the website is a surprisingly simple experience. We're in the internet age where every single website online needs a credit card and tons of personal information to register. It's thus a great relief that this website doesn't need much from you other than an email address. You have to be 18 and over, though, of course.
If you'd rather not go through the hassle, there's a convenient Facebook login method for anyone willing to explore it. The fact that they don't use any email verification service to authenticate the identity of users is a bit concerning, but not a deal breaker.
Something that a lot of people overlook and end up regretting later is not uploading proper photos (or not uploading a photo at all). You may still get matches and messages without a photo or verifying your profile, but they are not going to be very high-quality ones.
Large swathes of the site are hidden behind a verification process. If they can't trust that you are a real human being and are who you say you are, you won't be exposed to the site's core users.
Making Contact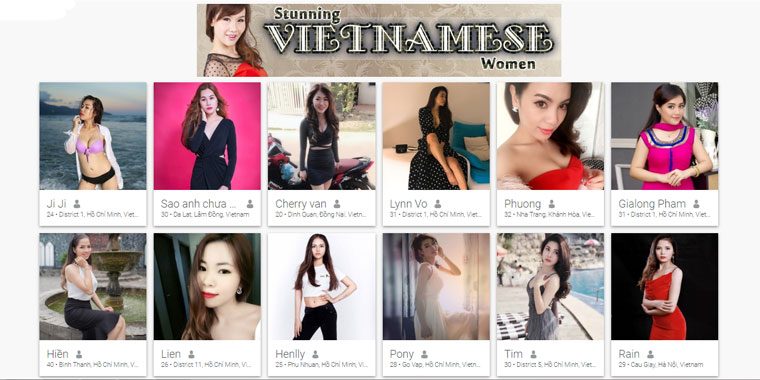 Once you've created an account, the next course of action should obviously to make contact with someone that catches your eye. It's not uncommon for the girls to message you first, however, because, among other things, Vietnamese culture is very different from our own.
The girls' profiles are arranged such that as many relevant details as possible can be displayed to visitors or potential suitors. It does tend to display information that a lot of people may find irrelevant such as their living status (whether they live alone or with their family), interest in pets and other personal details the girls may choose to include.
The inclusion of such minor points tends to increase the feeling of authenticity and creates a few easy conversation starters. It's a definite plus in terms of quality. Other finer points include the girl's annual income and how fluent they are in English. All these can be viewed in either English or Vietnamese.
These details aren't mandatory, as the user is allowed to expose just as much as they want to, so a great number of them end up being left blank. All the same, the platform does a good job of exposing as large a number of details as they want to.
An essential part of the communication process that mustn't be glossed over is the profile pictures. A human supposedly vets every girl that joins the site at one point or another, which has led to a conglomeration of a large number of high-quality pictures. A lot of them tend to be selfies while others are professionally-taken photos, supposedly by photographers hired by the site itself.
The girls on this site are unbelievably hot. So much so that you might find yourself doubting the person you're talking to on the other end is legitimate. This can, however, be verified by purchasing a few credits and chatting the girl up and hopefully getting her Skype tag.
They almost always pick up the phone call and respond to messages pretty fast. If anything, they will often make the first move. The secret is to have a good profile picture and fill in as many details as possible yourself.
The Site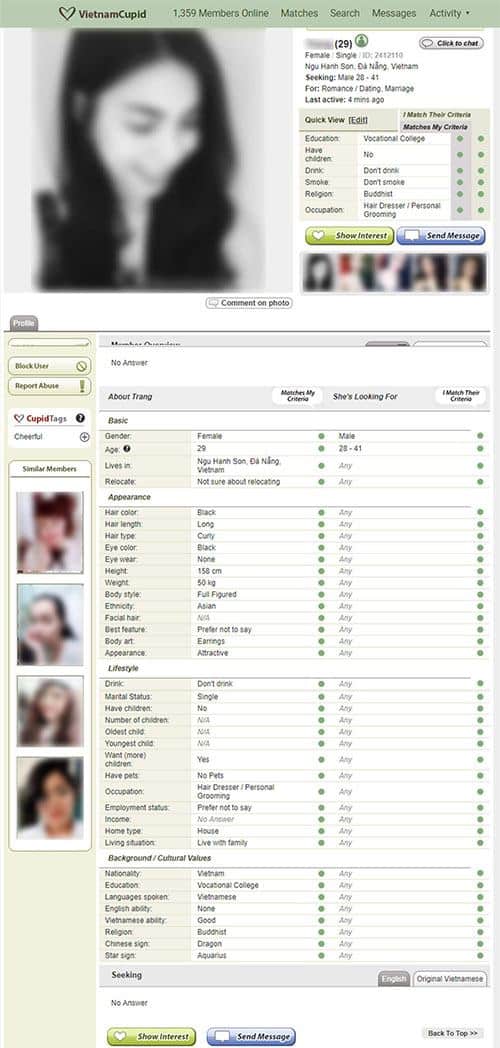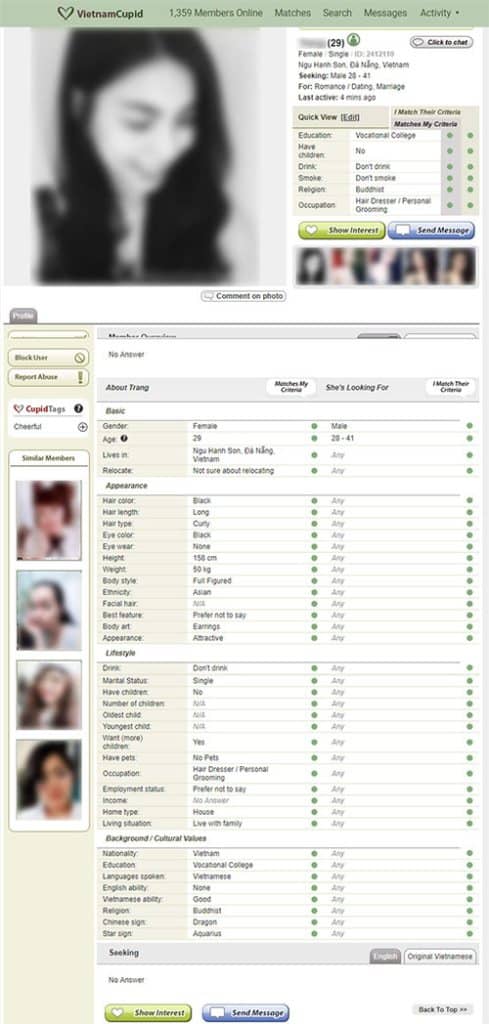 The site's design isn't what we'd call modern by any means, but it does expose important functionality early on, so you know who to contact and how to get in touch with them.
For instance, obvious weight is put into making you recognize that you should message people based on how recently they were last online.
There's nothing quite as annoying as trying to talk to someone and not getting a response, only to later realize they haven't been active on the site for years. That's the reason for the inclusion of a 'last online' timestamp.
It doesn't have a walkthrough for new users, which is a bummer, so you have to get used to all the functionality on your own. It's not too bad, however, because the features are pretty standard – pretty much the same features you're going to come across on other dating sites, too. These include a real-time messaging function, and commenting on user photos.
For the most part, everything is intuitive, and even beginners will have an easy time getting around.
Do note that as a standard user, you're enjoying a watered version of the site more than anything. Certain functionality is either restricted or missing altogether.
For instance, the messaging feature can only be used between paying members. You'll also not be able to comment on users' photos. If you're not sure, you want to talk to them just yet, add her to your 'interest' list and message her later on.
Perhaps the most useful aspect of this website is the search filter, which you can use to perform basic searches using relevant phrases or a more detailed search using parameters like what kind of relationship they want or a platonic relationship. The search filters are incredibly accurate most of the time, which works well for people with a very specific taste.
The site also has a companion app for people that would love to use it while on the move. However, it's currently only available for Android users. Since the app is rated 18+, it might be a while before we see a port showing up on Apple devices.
Security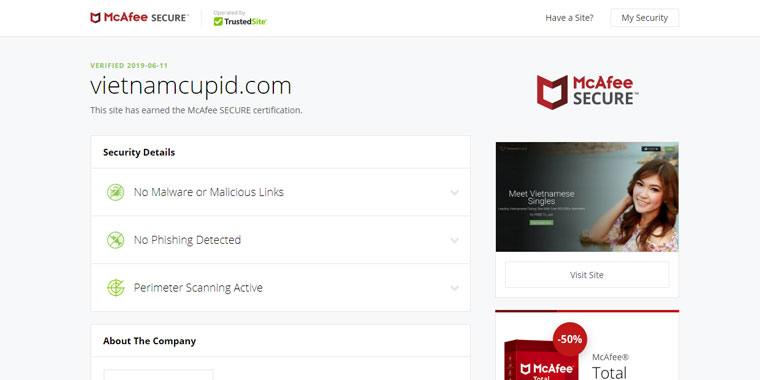 The site has industry-grade encryption for all details being transferred to their servers from your computer. This makes it substantially harder for your details to get exposed to a bad actor, for instance, ransomware brokers. Payments are handled by trusted third parties, too, so you don't have to worry about your credit card details with this regard, either.
Do not, however, that you should always be careful about what information you put online because nobody can protect you from being social engineered. For instance, if someone asks you for your credit card number for whatever reason, the answer should always be 'no' regardless of the situation.
Price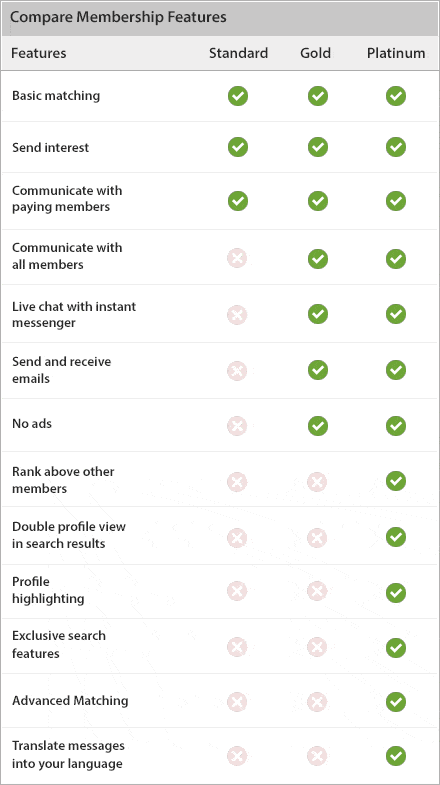 Basic membership on the website is free, but doesn't afford you a lot of flexibility. You can add details regarding yourself, add a photo or two and search for matches using the most basic criteria. Features like favoriting profiles and sending messages (but not receiving them) are also available.
A lot of the features that make this site so enjoyable to use are hidden behind a paywall. You're really better off chucking a few dollars if you want to have the full VietnamCupid experience. In order to start live chats, send as messages as you want in a day, get rid of ads, browse profiles without leaving a trace or hide your profile, you'll have to pay up.
The premium membership also gives you a chance to rank higher in searches, translated messages and better matches. The Gold membership package starts at $29.99 per month, $59.99 for three months or $119.98 for the whole year. The Platinum tier starts at $34.99 per month, $69.98 for three months or $149.99 per year.
Payments can be made through your credit card and are processed by third-party services like Paypal, Paysafe or by bank transfer.
Alternatives
Being a niche site, there are few alternatives to fill this void. Most services out there work on the basis of location tracking. Therefore, you won't be able to talk to someone who's all the way in Asia if you're in the US for example. In addition, the few that do exist do not offer as many features as does VietnamCupid, either.
VietnamCupid vs OkCupid
When using search filters OkCupid allows you to change filters such that you can include people from all over the world, including various parts of Asia like Vietnam. However, this only works if the person on the other end has set their profile as discoverable, which is more often than not the case.
OkCupid thus doesn't work very well as a medium for meeting foreign people. In addition to which, chances are pretty high the people you're going to run into don't speak English, and the site doesn't have an auto-translate function.
VietnamCupid also performs much better in terms of quality of profiles because it prompts for the addition of a host of more detail than OkCupid does. While OkCupid does a good job of asking relevant questions to judge matching potential, fake accounts and people that never respond altogether are very common on the site. VietnamCupid does a much better job by vetting individual profiles for fakes and bots.
VietnamCupid vs YMeetMe
A more direct competitor to VietnamCupid is YMeetMe, a Vietnam-based app that was built from the ground up with the intention of letting Vietnamese people meet. It's similar to VietnamCupid in a lot of respects, save for the fact that it's a lot more stringent in terms of language, photos and user behaviour. It also requires users to verify their profiles manually by submitting their profiles.
Inactive user accounts are automatically purged from the database, so you won't come across very many fakes on the website. It also has a few more interesting features like lottery matches.
A large percentage of the site consists of genuine profiles from Vietnam. However, the site does not include any translation features and everything is in Vietnamese. If you can't speak the language, you won't have a positive experience at all.
FAQ
Are there fake accounts and scammers?
There's no site on the internet that's 100% free of vulnerability or any vetting process that's going to be absolutely foolproof. However, VietnamCupid does a great job of filtering out so many fake profiles that chances are pretty high you'll never come across them.
Scams are a thing that will happen on virtually every site, though it's pretty rare on this site. As a rule of thumb, don't send anyone money for whatever reason unless you're sufficiently sure you can trust them.
Is VietnamCupid for real?
As real as they come. There are tons of sites out there that try to explore a similar niche as VietnamCupid does, but do a terrible job at it. These are filled with fake profiles and don't allow you to exchange contact information with the girls. VietnamCupid does not have any of these arbitrary restrictions. There are tons of relationships formed on the site every day, and the number is only going to go up.
Is the paid version really worth it?
The fact that a lot of features are hidden behind a paywall is a total bummer, but paying for the Gold or Platinum version is an investment you're not going to regret. Better quality matches and higher quantity of messages.
It might be a tad more expensive than a lot of other sites out there which it either directly or indirectly competes with, but that money should pay itself back twofold thanks to the kinds of experiences you'll enjoy.
Is it easy to get matches on Vietnam Cupid?
Like most other places where a large number of women congregate, there are all types of women – some want serious relationships while others are just looking for a one-time fling. The kind of women you match will depend on how you set up your profile and the kind of search parameters you use.
If you do everything right, it shouldn't be hard at all to get as many as twenty messages a day from very active profiles.
Conclusion
If you are looking for a Vietnamese woman then this site may be a great way to meet a fantastic lady. With some dating sites you will find outdated profiles and may never hear back when you send messages to some women.
On this site, however, women are online at all times and your chances of getting to know and meet a new friend or lover are much higher. The detailed profiles give you great insight into the people you are speaking with and you can rest assured that you are not wasting your time.
VietnamCupid.com is an easy and fun way to get to know new people in a safe, low-pressure way. You can keep the relationship casual and flirtatious by messaging online and chatting and flirting OR you can build a strong relationship and eventually arrange to meet and see where your feelings go.
Caution in regard to your information is always a must but this is a fact of any dating site and should not keep you from giving this site a try.
As long as you are aware of the dangers of online relationships and dating there is no reason that they should keep you from finding the Vietnamese girl of your dreams!
Vietnam is known for being one of the most friendly places in the world – the people are always welcoming of foreigners. It's no wonder that so many men all over the globe are out in search of a Vietnamese wife or girlfriend. If you're one such person, the perfect place to start your search is going to be VietnamCupid.
The site is full of quality profiles and even better quality women who won't hesitate to start a conversation or take things off the site. It's an easy and fun way to either meet people who live halfway across the globe or meet locals if you happen to visit the country. It's a completely low-pressure environment and you're free to approach girls in whichever way suits you.
VietnamCupid Website Review
Hotness Factor

User Interface

Number of Profiles

Quality of Profiles

Security

Cost
Summary
VietnamCupid is part of the Cupid Media empire, so they offer a good solid dating service for a reasonable price. But what really sets them apart from other Asian dating sites is the sheer number of stunningly beautiful Vietnamese dating profiles available.