Cape Town is undoubtedly one of the most beautiful cities in the world. Besides the New York Times voting it "Best Destination in To Go To", it consistently appears on Top Destinations lists around the world. And there's a good reason why.
Cape Town sits at the bottom corner of Africa. Affectionally known as "The Mother City", it is flanked by two oceans – the warm Indian Ocean and the Icey Atlantic Ocean, and the city is built around its central focus – the iconic Table Mountain. The flat topped mountain is one of the New7Wonders of Nature and a UNESCO World Heritage site, and it's the first thing to welcome you as you fly into Cape Town and look out your window.
Cape Town offers almost everything you can imagine, making it an ideal vacation destination. There is exceptional and unique nature (just on Table Mountain alone, there are more plant species than the whole of the UK!), a vibrant, modern, world-class city mixed with quaint heritage buildings. It's steeped in culture and art.
There are unbelievable beaches – some of the best on the plant – many of them are rated as Blue Flag beaches (the highest award rating for a beach's quality). There are lush mountain hikes, vibrant inner-city sites, and plenty of dare-devil adventures to be had – from paragliding to abseiling, as well as the famous Great White Shark tours (where you experience the ocean beast in a cage below the water!)
You'll find a fascinating melting pot of cultures here, all of which are famously welcoming and friendly to foreigners. The Cape has legendary night-life, it's very much a party city, and especially in the summer it is thronging with activity everywhere you go. There is a distinctive Cape Town "vibe" which is both electrifying and laid-back – it's hard to explain without experiencing it.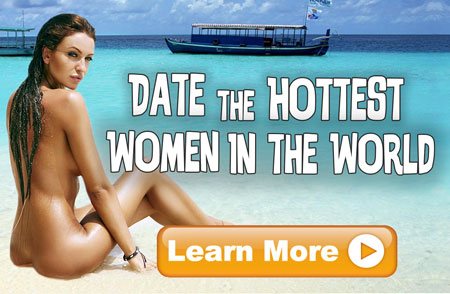 One of the notable things about Cape Town is that it is very much separate to the rest of Africa. It's known as a "little piece of Europe in Africa" or a "French Riviera of Africa". Unlike much of Africa, Cape Town is very much a first-world ultra-modern city. It's clean, largely safe, and well-run, and its natural beauty is simply unrivalled anywhere on the continent (and arguably in the world).
The city never disappoints – everyone who goes, falls in love with Cape Town, and statistics show that there is a particularly high rate of return visitors. It's called "The Cape Town Bug" and often one visit simply isn't enough to explore everything.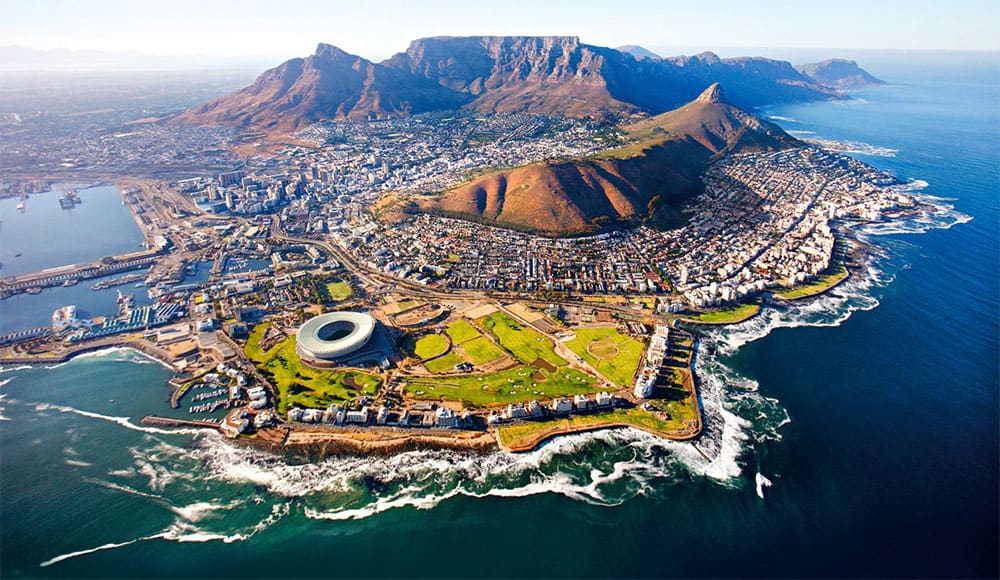 WOMEN AND DATING – INTRODUCTION
Women in Cape Town are some of the most beautiful you will find anywhere – the city is famous for its gorgeous girls and from the time you land, you'll be gawking within minutes.
Cape Town girls spend a lot of time and effort on their beauty and fitness – it's big currency in a city like this. So you can expect Cape Town girls to generally be fit and active, tanned, and well-dressed.
There are different ethnicities that you will find here. But often not together. Cape Town is quite divided in terms of where you will find different ethnic groups. Historically different ethnic groups were separated because of the infamous period of Apartheid – a dark era of systemic government-controlled racism.
Today South Africa is known as "The Rainbow Nation" – it's all inclusive and racism of any kind is not tolerated by its people. That being said, because of the historical separation of ethnicities and cultures, today Capetonians still largely prefer to stay in their separate areas based on culture.
The main ethnicity groups you will find here are White, African, Indian and Coloured. The last one might at first be a confusing term. Around the world, "Coloured" is often used to describe African/Black people, but in South Africa, it is an entirely different race of people. Coloured people (by the way, the term Coloured is not seen in any way as racist here, people are proud to be call Coloured), are mixed-race. They have lighter skin than Africans and fine features, and their own very specific culture and language.
In terms of languages spoken here – English is the main language and is understood by everyone. Even those that speak other languages will almost always understand English fluently. White South Africans speak as their first language, either English or Afrikaans (which is similar to Dutch).
Coloured South African's usually speak Afrikaans as a first language but with a unique Cape Town twist (the language is wonderfully colourful). Black Africans speak a large number of different languages and dialects (South Africa has 11 different official languages!). These include Xhosa and Tswana and Venda.
Dating girls from different ethnicity groups in Cape Town is very distinctive in every way. So below we have compiled a guide of the unique differences between local cultures.
WOMEN AND DATING – AFRICAN WOMEN
Black/African women in Cape Town are usually very attractive and striking. The typical body-shape is an enticing mix of both thin and voluptuous at the same time. African women absolutely love to party and socialise. They are friendly, lots of fun, and very easy to approach. One half-decent pick-up line and you'll find yourself chatting, laughing and dancing the night away.
African women find Caucasian men very appealing. To be seen in public with a foreign man is big social currency here, so your chances of finding romance is high.
Because of the historical past of Apartheid and separation, the African community is very new-middle-class. This means that they are often attracted to money and the high lifestyle. So a hint of some luxury goes a long way. Order your date the more expensive drinks – champagne will always go down a treat.
African Women love to dance – it's deeply embedded in their culture – and you'll be surprised at the unique rhythm of local African women and how they move their bodies. It can be quite intoxicating. So a night-club date is a good idea, and if you've got dance-floor moves then don't be shy – you'll get a lot of points!
In general, African women in Cape Town are quite easy to flirt with and take things further. This is because the African culture is often quite promiscuous and partying and drinking is a favourite pastime.
As for long term romance – African women can make great partners. They are always fun and optimistic and love the idea of romance, especially a foreign one.
WOMEN AND DATING – COLOURED WOMEN
Coloured women in Cape Town make for a wonderful and memorable summer romance! Many coloured women are absolutely gorgeous, with their mixed-race influence and fine features.
Coloured women generally take very good care of themselves and they are almost always an absolute joy to socialise with. As with African women, to be seen with a foreigner is big social currency for Coloured girls, so finding romance is very easy. Coloured girls are very approachable and quick to engage in conversation right away.
The Coloured culture is very much focussed on fancy sports cars. They love them and a lot of socializing is done around driving and meeting in the latest cars, revving engines and making a noise. So if you would like to meet a Coloured woman, hiring a smart car could be a good move.
WOMEN AND DATING – WHITE WOMEN
White girls in Cape Town will surprise you with their incredible beauty. Particularly girls with Afrikaans heritage are simply gorgeous with blonde hair and blue eyes. White girls in Cape Town spend a lot of time and money and looking after themselves – from regular exercise to tanned bodies, pedicured nails to chic clothes.
Flirting with white women is definitely a worthwhile pursuit but it can be somewhat complicated. Firstly the good part – White women in Cape Town are often very attracted to the idea of a romance with a foreign man. Local white women are often very frustrated with the attitudes of local South Africa men – which can be unsophisticated, poor at romance and self-obsessed. So white women here often dream of meeting a foreign man that has a more international attitude and education.
The flirting game here is definitely one of gentlemanliness and sophistication. Show kindness and interest and you'll gain many points. If you speak a foreign language, that's a sexy bonus.
As opposed to African and Coloured girls, white girls are sometimes a little stand-offish at first. Not all the time, there will be many instances where you will immediately have an instant connection. But they are generally not an "easy" target. It will take some effort to prove yourself and you may need to take things a little slower than with South Africa's other ethnicities.
White women look care very much about appearance, so you will want to dress in your best clothes and look neat and well-groomed.
A great way to meet and connect with White South African girls is through dating apps such as Tinder and Bumble. Be sure to say you're in town for a short time and looking for romance (if that is what you are after). Many girls will jump at the idea of a foreign summer romance.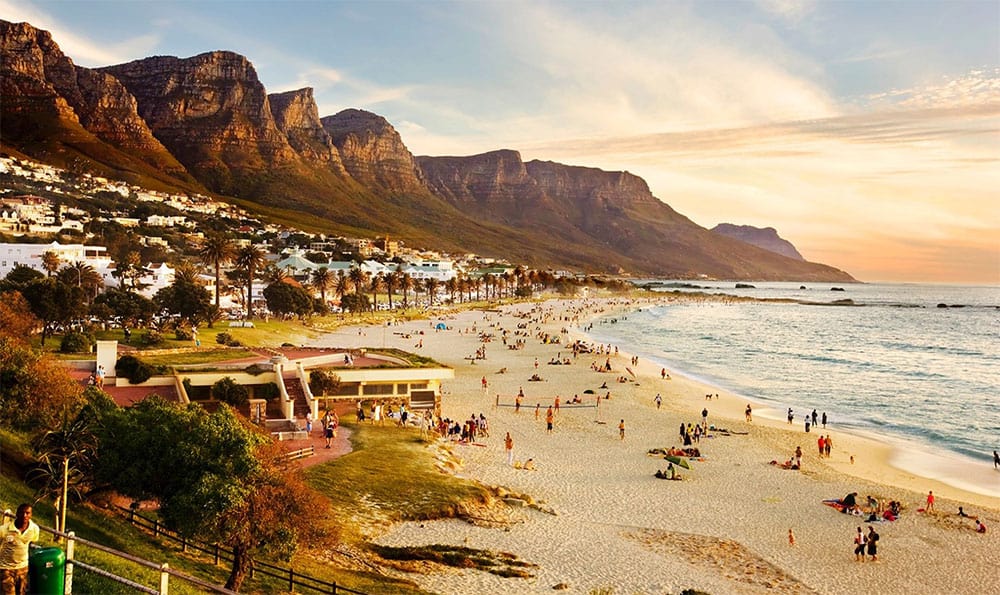 WHERE TO MEET CAPE TOWN GIRLS
There are many different places that are great for meeting local Cape Town girls as Cape Town is a very social place. Here are some ideas:
COFFEE SHOPS
Coffee Shops are a big deal in Cape Town. They are hugely popular with locals, many girls will pop in to a coffee shop every day as part of their daily routine. Coffee shops provide a great place to flirt over a steaming cup with a pretty girl sitting next to you.
A great place to meet local girls is at Bootleggers in Sea Point (Regent Road). Go to the back of the coffee shop and you'll find a door that leads to a small outdoor courtyard. There you will find a long bench and table and it's a great spot to flirt. Bootleggers is a very popular coffee chain and any one is a good bet – they are trendy and somehow always attracts beautiful women.
Giovanni's Deli World (Somerset Rd, Greenpoint) is a bustling Italian deli that's very much a spot for the who's who. It has a great local community vibe with a regular crowd and here you'll find an endless stream of beautiful and sophisticated local and foreign women.
A block away, another hot spot coffee shop is Shift (Somerset Rd, Greenpoint). Besides one of the best cups of coffee you'll find in the city, it never fails to disappoint on pretty girls, often sitting alone. Perfect for a day-time flirt!
CLUB / RESTAURANTS
Cape Town has several establishments that are a mix of restaurants and clubs – very vibrant, loud and fantastic for meeting local women.
Café Caprice (Camps Bay strip) is the most famous spot. It's always hip and happening, whether during the day or night. Sunday nights at Café Caprice are a big part of the week for many local girls.
Tiger's Milk (Camps Bay strip) is a new addition to the busy Camps Bay strip and it's as trendy as it gets. Great food, great drinks and great women.
Cubaña (Somerset Rd, Greenpoint) is where you'll want to go if you are looking for romance with an African/Black woman. It's Latino vibes with lively Cuban music, great cocktails and cigars, makes it a guaranteed fun party and an easy spot to flirt with success.
BEACHES
During the summer tourist season months (December – March), a trip to the beach is a must and it's a great place to meet women and also to simply marvel at the impossible-seeming eye-candy. Camps Bay Beach has a great vibe for a younger crowd and it's located along the famous Camps Bay strip so it's perfect for a post-beach cocktail or dinner.
Clifton Beaches are amongst the most beautiful on the planet and are the heart of Cape Town's beach scene. It's pulsating with energy, filled with beautiful local and foreign girls, generally in itsy-bitsy bikinis and sometimes topless. The sands of Clifton are impossibly white and the sea a rich blue – but be warned, the sea is seriously cold.
Although a brave dip proves to be very refreshing! Clifton is made up of 4 beaches, separated by granite rocks (which can be easily climbed over or through). Each beach has a very distinct crowd:
Clifton 1st Beach: Where many of the locals and old-timers go. It's the least crowded of the four beaches
Clifton 2nd Beach: Quiet and not too crowded. It's a good option for those that want a hassle-free few hours of tanning without too much hype.
Clifton 3rd Beach: Very much the "gay" beach. However, a local trick is to go here to see and flirt with the most beautiful women of Clifton. Exceptionally beautiful girls often choose this beach to relax because they want to escape constant badgering by men. Thinking that most men are gay on this beach, they are generally the most open and friendly to chat to.
Clifton 4th Beach: This is the "rock star" beach of Clifton. It's been awarded "Blue Flag" status, making it recognized as one of the most beautiful beaches in the world. Here you will find the most beautiful and trendy crowd, made up of both locals and foreigners.
On the other side of the Cape, along the False Bay coastline, is the popular Muizenberg Beach. The water's here are that of the warm Indian Ocean, so it's a great place to swim and very popular with the surfing crowd. If you're looking to meet African / Coloured girls, this is your best bet.
THE PROMENADE
The Promenade (or Prom as it's commonly known) is a long boardwalk along the ocean-edge in Sea Point. It's magnificent, especially at sunset, and many locals include a prom walk in their daily routines. There are many cute girls walking dogs here and it's very accepted to approach them for a chance to pat their dog (and of course start a conversation!)
FIRST THURSDAYS
On the first Thursday of every month, hundreds of locals take to the streets in the centre of Cape Town's CBD. On this night, all of the many art galleries in town open there doors until late in the night. There's an infectious energy on every corner and although there is a little art-viewing, it's a big party night with huge crowds and beautiful women looking for a man!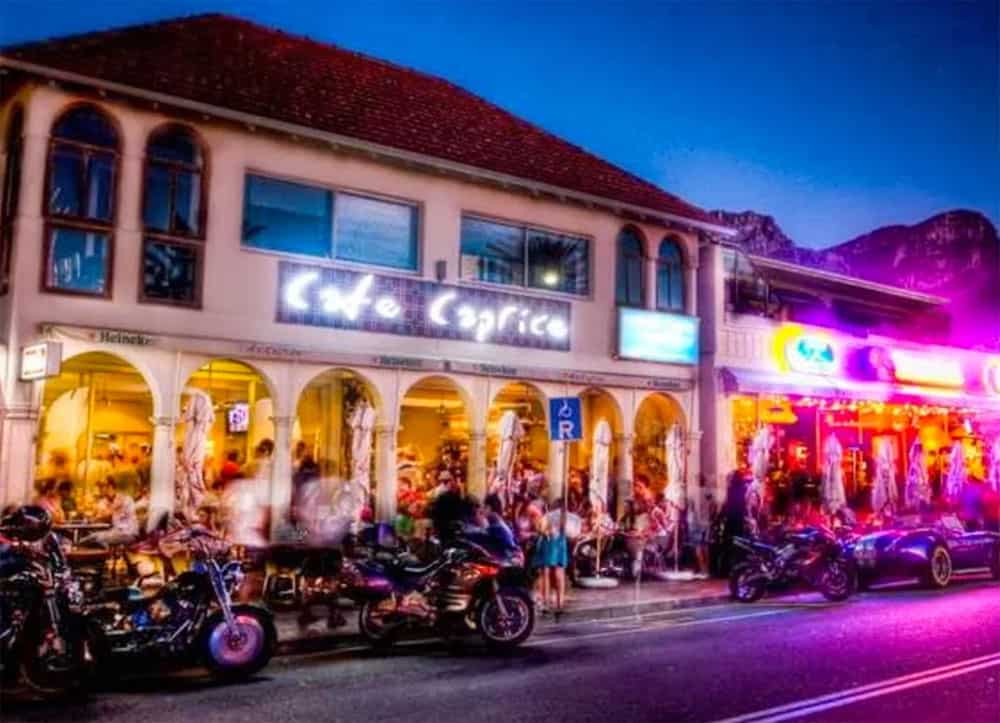 NIGHTLIFE
If you're looking for nightlife, you've come to the right city! Cape Town has always had an exception night life offering, and you'll never be disappointed. There are famous local spots that have been around for years, but also regular new-kids-on-the-block. So when you arrive in Cape Town, take a look online or ask a local to find out if there is something new that's trending.
There are essentially three main nightclub 'precincts" in Cape Town:
Victoria Road, Camps Bay
Known as the "sunset strip", Victoria Road runs along Camps Bay Beach and is always a buzzing hotspot for the hip and happening. Here you'll find great al-fresco restaurants, bars and clubs and being all along the same road, it's easy to pop in to all of them.
Long Street / Loop Street
Cape Town's most famous nightlife streets (they run parallel to each other in the city's CBD). Filled with clubs and bars, it is a good bet for a party, and you'll find a good mix of ethnicities here.
Bree Street
Here you'll find the densest concentration of hip bars and trendy casual eateries. The Bree street vibe is quite "hipster".
Some of Cape Town's most popular nightlife spots are:
Asoka (Kloof Street)
A great lounge-bar with a fantastic vibe. The crowd is usually a little older and sophisticated and there are always many beautiful local women to chat to at the bar. Food is really good too. Thursday nights are particularly popular.
Orphanage Cocktail Emporium (Bree Street)
Expect bowler-wearing bartenders and a hip crowd. On weekend nights the resident DJ plays deep house grooves.
An ever-popular spot for hip, young, creative Capetonians. Plenty of people-watching to do here, and the bar is a well-known spot for flirting with the finest of Cape Town's women. Get their early over weekends, to get your spot before it fills up.
Cosy, New York-style jazz and cocktail club, with live music every night of the week. It's very much an older crowd and it's a sophisticated spot to meet more upper-class women. The Piano Bar is a great place to start your night before exploring the clubs.
A very trendy yet unpretentious bar with a more hipster crowd. Always full and buzzing with excitement, and a popular spot for girls to go in the hope of meeting someone.
If you want to dance, this is the place. Fiction is a true Cape Town landmark of party. Here you will find top international DJ's and a truly partying crowd. The balcony (complete with foosball table), overlooks Long Street and is great for meeting beautiful local women looking for a fun time.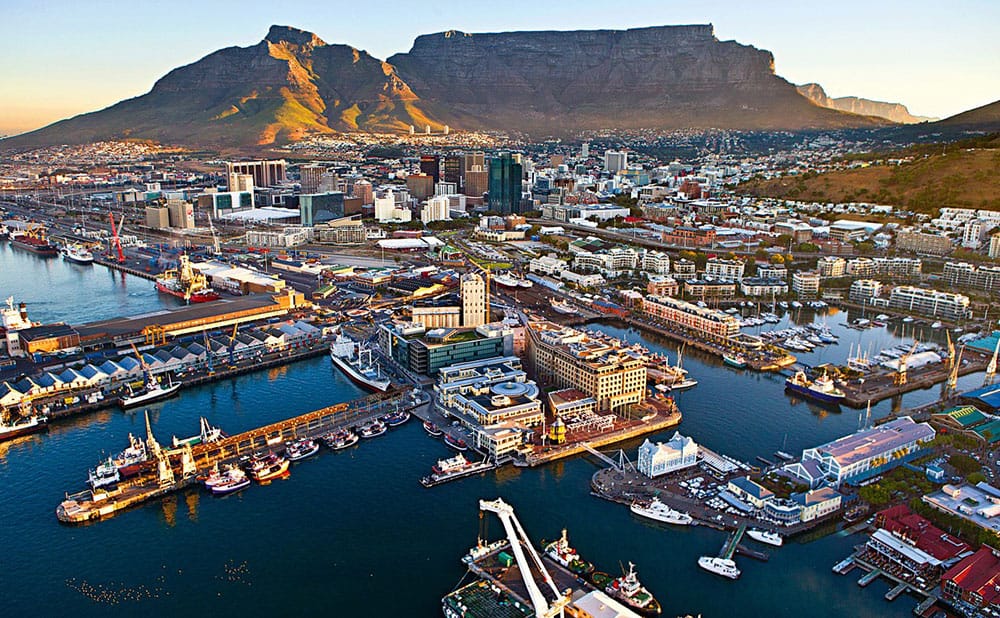 SHOPPING
Cape Town is a shoppers paradise – one can find everything you can dream of, from authentic African souviniers to high-end luxury brands and everything in between. The big plus is that the local currency (South African Rand) is weak against most foreign currencies.
Your first stop should be the Victoria & Alfred Waterfront. It's a huge space in the middle of Cape Town, part world-famous shopping mall – part world-famous working harbour. The Waterfront (as it's more commonly known) is the most visited site in the entire continent of Africa. It's just as popular with locals as it is with tourists and the vibe is wonderful.
You can easily spend a full day here or even two, exploring all that it has to offer. There are shops, restaurants, buskers, a huge Ferris wheel with amazing views of Cape Town, seals, hotels, art museums, exhibitions and just about everything else here. At the Waterfront, for authentic homemade African crafts, head to The Watershed.
Cape Town is also a great place to buy jewelry and precious stones such as diamonds and tanzanite and they can be purchased at good prices from Shimansky and Charles Greig. Of course, Cape Town is famous for its wines and taking some home will make a great gift. It's also not a bad idea to have a few bottles stashed away for a romantic date. The best place to buy wines is at Vaughan Johnson at the Waterfront. Ask for Vaughan by name, he's usually there and he offers great advice.
For an authentic and vibey outdoor market experience, head over to Greenmarket Square in the centre of town. Here you'll find all sorts of handmade crafts and there is a great buzz with locals and foreigners, to the backdrop sounds of Cape-style buskers.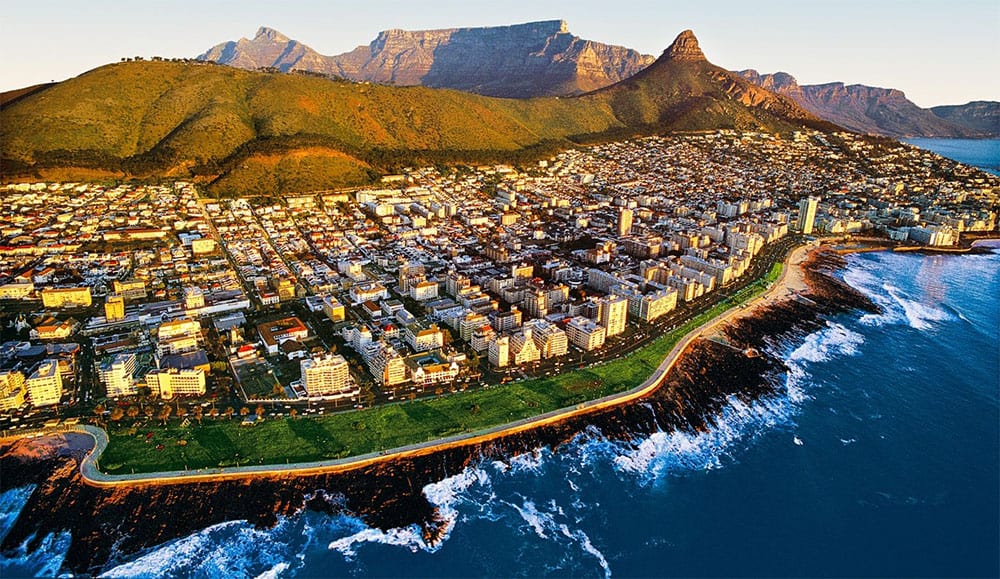 WHERE TO STAY
There are many excellent accommodation options throughout Cape Town. The city has truly world-class hotels. In fact Conde-Naste named the Cape Grace (Victoria & Alfred Waterfront) as the number one hotel in the world! There are a number of hotels located at the Waterfront and the location is ideal for exploring the city. Great hotel options here include The Table Bay Hotel and Raddison Red.
Cape Town's most famous hotel is the Mount Nelson. Lovingly referred to as "the pink lady" it is a colonial-style 5-star institution that has been around for over 100 years. This is where celebrities and politicians (even kings and queens) stay. If you aren't staying there, you can still have a Mount Nelson experience by visiting for an exceptional high-tea on a Sunday.
Airbnb's are also a good option for accommodation in Cape Town. But be sure to stay in the right areas so that you are central. We recommend the following areas: Greenpoint, De Waterkant, Camps Bay, Bantry Bay, Sea Point, Hout Bay.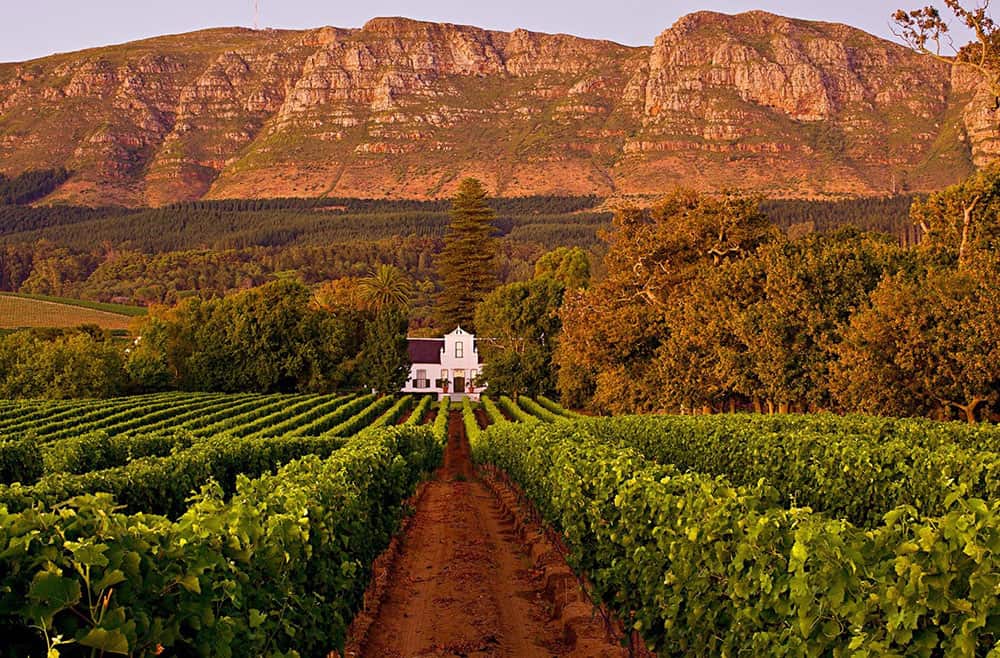 WINE COUNTRY
The Cape is famous all over the world for its incredible wines.
Constantia is a wine region within Cape Town and its most famous winery is Groot Constantia. It's well worth a visit and has several great outdoor restaurant options (also good for a picnic!) Outside of Cape Town (generally about a 40 minute – 1 hour drive) are several world-famous wine regions. Each is unique and worth a visit if time allows.
The regions are Franschhoek, Stellenbosch and Paarl, and they are all filled with wineries and restaurants of every kind. There is also great accommodation options in the winelands – useful if you plan to do a lot of sampling. Cape Town's wine country is perfect for a romantic weekend getaway.
In Stellenbosch, we highly recommend a visit to the Delaire-Graff Winery. Owned by the world's number one diamond dealer, it is a feast for the senses, with an incredible art collection on display, stunning views and possibly the best restaurant the winelands has to offer.
Cavalli is also a spectacular winery to visit. It has an ultra-modern haute cuisine restaurant (absolutely amazing for a special date) and prize-winning horses in its expansive gardens.
TRANSPORT
To get around Cape Town, there are several options – some good and some to be avoided.
A great way to get around Cape Town is via Uber. They're everywhere, safe and inexpensive.
Renting a car is a great idea, as public transport is not advisable. Although remember that in South Africa, cars drive on the right side of the road.
You will see many "minicab" taxis everywhere. They are white vans, usually with a young guy screaming the destination from an open sliding door. These taxis are the most common mode of transport in South Africa. It's cheap and quick. However, they drive notoriously badly (if you do rent a car, stay clear of taxis on the road as the break and turn without warning).
Many are not in roadworthy condition and usually they are packed beyond capacity. There is an argument for trying them out at least once, so you can get a feel for a typical South African experience. But generally we don't recommend them for regular travel.
SAFETY
One definitely needs to be aware of one's valuables and surroundings when in Cape Town. There are safe and dangerous areas, and you'll usually get a feel for this straight away. Be wary when you are in the CBD centre and try avoid interacting with street kids, who can be more dangerous than they first appear.
Where possible, choose an Uber taxi over hailing one from the side of the road. There are many unlicensed taxis around and there are incidents of mugging by taxi drivers to unsuspecting tourists.
Areas such as The Waterfront, Camps Bay, Sea Point and Bantry Bay are relatively safe and one can walk around here with valuables such as watches and cameras without much trouble.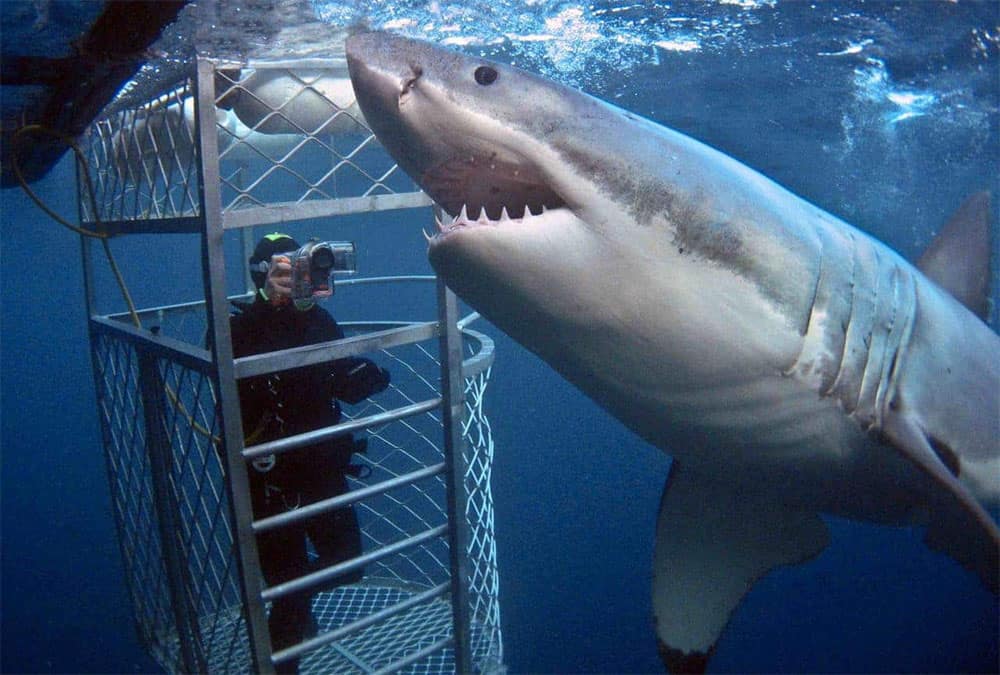 THINGS TO SEE AND DO
Cape Town has plenty of places to see and things to do. Here is a short list of some ideas:
Signal Hill – Signal Hill is the largest hill in Cape Town. A drive to the top will give incredible views of the city below. At night time, Signal Hill is something of a "lovers lane". You'll see many parked cars along the road that winds to the top, with lovers holding hands and making out. A night-time trip to Signal View with a date is a popular option and never fails to impress! One can also paraglide off of Signal Hill, a very popular activity for locals and tourists.
Table Mountain – Table Mountain is the most famous and instantly recognizable thing about the city. It's a must to go to the top and there is a fantastic ultra-modern cable car to take you to the top.
Kirstenbosch Botanical Gardens – One of the most famous botanical gardens in the world, Kirstenbosch is a wonderful place for a casual picnic date, followed by a hand-holding stroll through the many pathways.
Shark Cage Diving – a popular and once-in-a-lifetime experience. The False Bay coast is home to many Great White Sharks – famous for being the only Great White Sharks to propel their entire bodies out of the water! Experience these mammoth creatures up close from the safety of an underwater cage. If anything, it will be a great conversation starter when chatting to a girl!
All in all, Cape Town is a wonderful place to visit and offers something for everyone. It's a romantic city with many different ethnicities and kinds of girls to choose from, and having a summer romance is a high possibility with locals being so friendly and approachable.