The fact that you are looking for the best Colombian dating sites and apps is a sign of the times – a good sign for single men.
When Tim Berners Lee created the World Wide Web in 1989 he never imagined how it would change the world. From the United States and Europe to Colombia and the other nations of Latin America the internet reaches into all aspects of our lives.
The Internet is a library, shopping mall, playground, and meeting place. It's helped make the world a smaller place and helped Western guys find love and romance in exotic locations like Bogota, Medellin, and Cartagena without ever having to set foot in Colombia.
So, in this article, we are going to look at the best Colombian dating apps and websites for 2020 and beyond.
There's something for every need and every budget.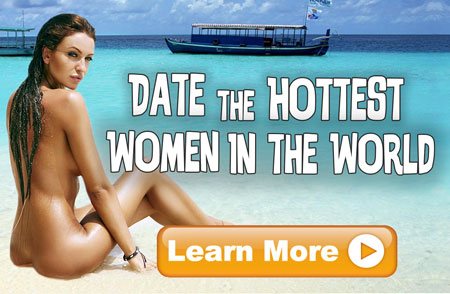 Let's get to it.
Colombian Dating Sites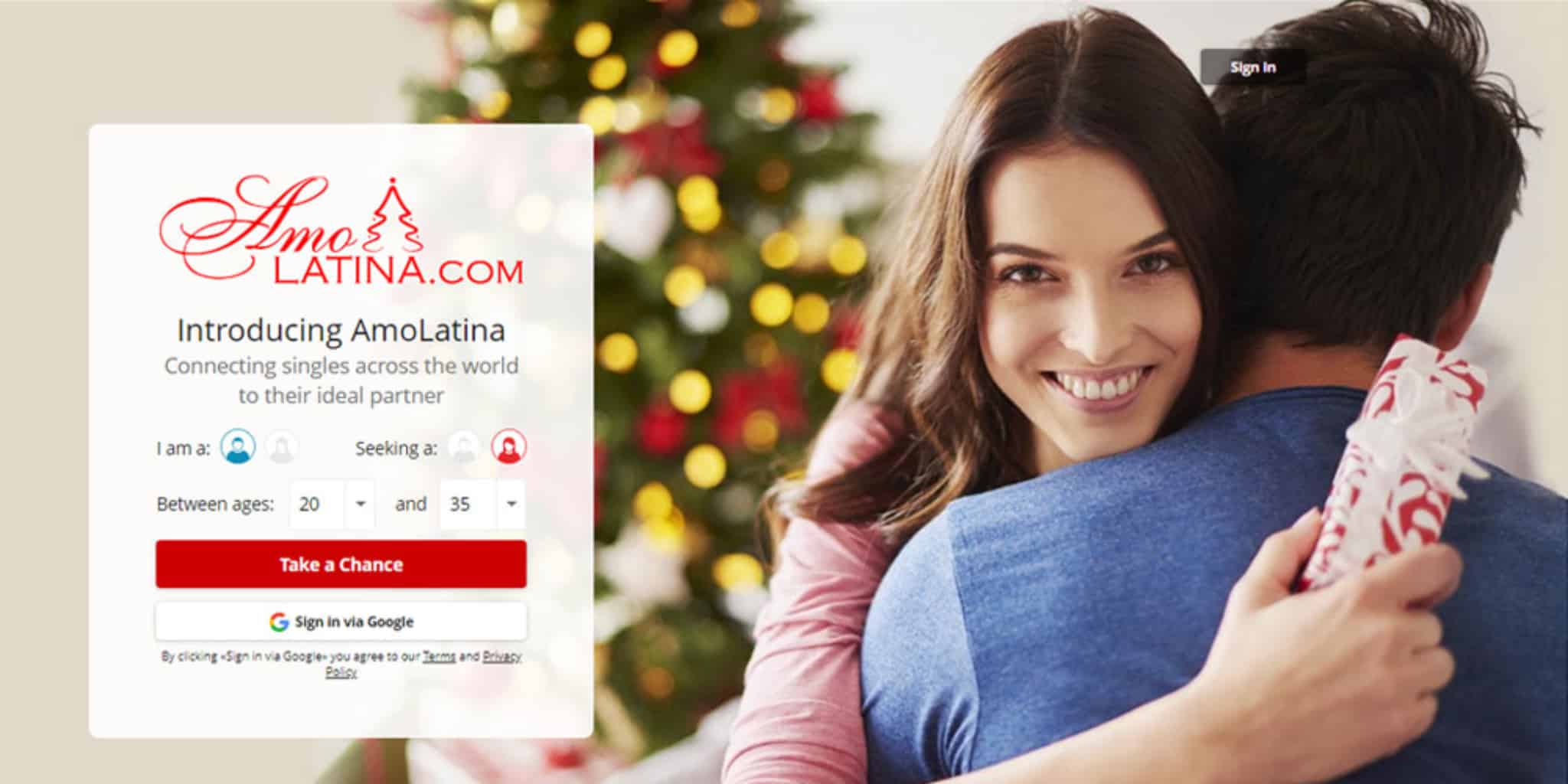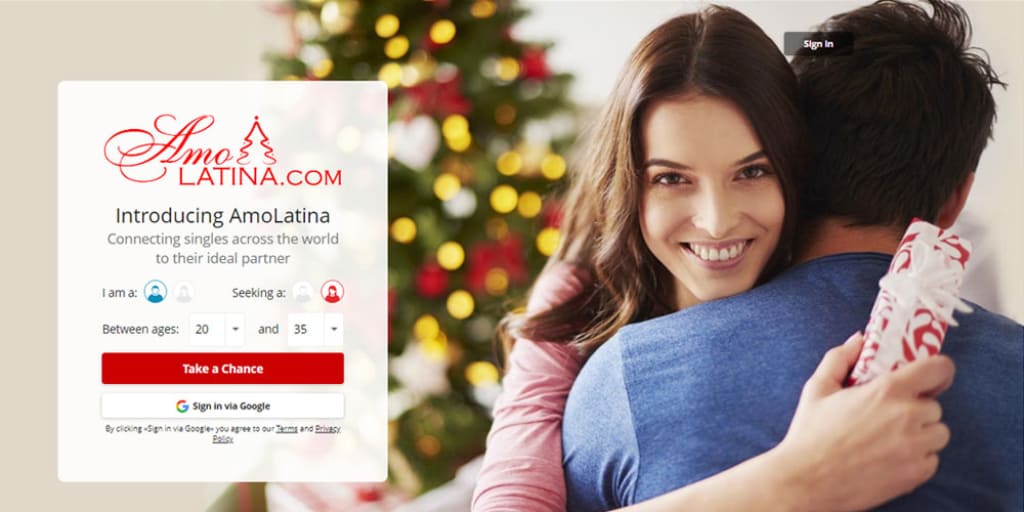 Although the goal of this article is to focus on the Colombian online dating scene, AmoLatina is an example of how regional and international dating can blend together seamlessly.
Basically, the brand name might lead you to believe it's only about Latina dating, but they actually have a presence in 35+ countries as of the time of writing.
The simple reason for that is that the majority of their female members are from South America, but the bulk of their male users are either from North America or Europe.
And these women are amazingly hot. That is the huge advantage of Amolatina. They recruit more hot women than anyone else in Latin America.
If you want to meet a woman who looks like Sofia Vargas – probably the most famous hot Colombian bride – no site is better than Amolatina.
It is the most expensive site on this list, but you can register for a free account to take a look around the site and what it has to offer. The site is very well laid out and you can see quite a few photos of stunning women before you have to pay.
Colombia is home to a very culturally and ethnically diverse population, so you might to stumble across a stunning blonde as well as the stereotypical Latina – a curvaceous brunette with sultry eyes.
Basically, if you can picture the Colombian woman of your dreams, there's a very good chance you'll find a profile on AmoLatina that will make you want to dance the Macarena and download a good foreign language app.
The best feature of Amolatina is its video chat function. If you want to see the hottest Latina you have ever dreamed of on camera interacting with you the Amolatina is the place for you.
If you need even more details check out our full-length review of Amolatina.
If you already know that you want to chat with the hottest Latin women anywhere you can head straight on over and sign up at: AmoLatina
You could be chatting with a stunning Latina in five minutes!
Cost: Credit-based.
Minimum Credits Purchase: 20 ($15.99)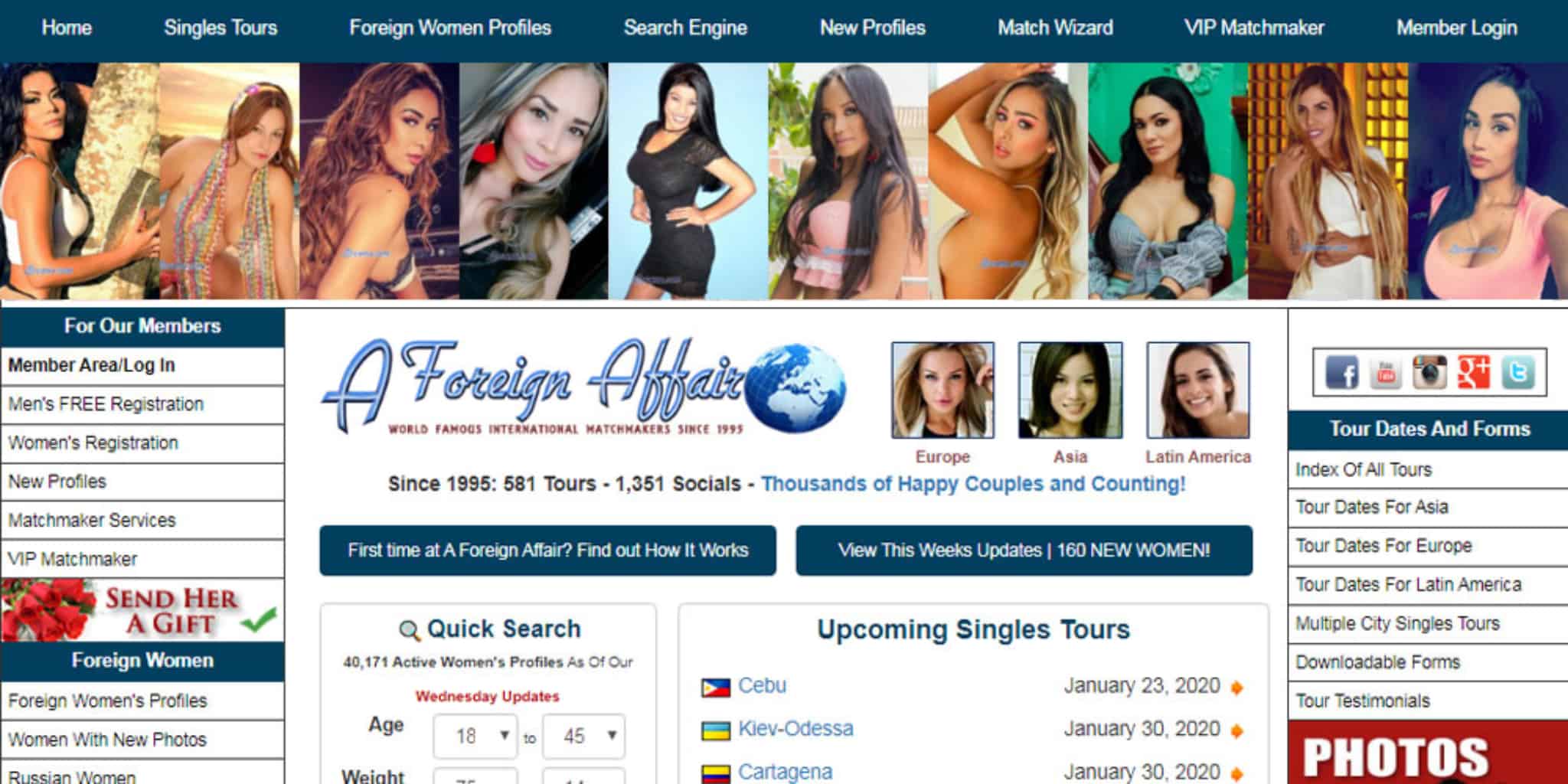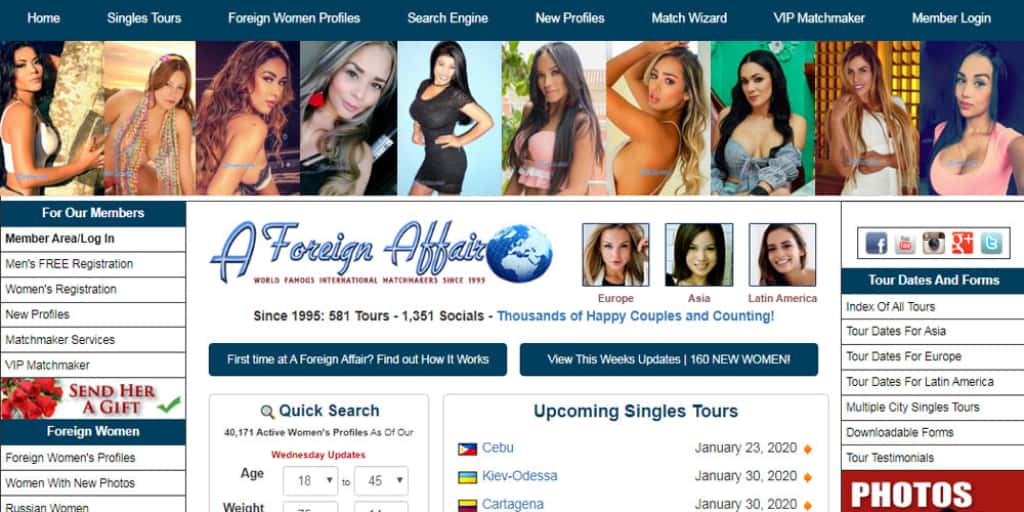 A Foreign Affair is different from any other website or dating app out there because they actually help you meet women face to face in person. Yeah, really.
Their romance tours are world-famous, because they overcome the logistical, cultural, and, most importantly, the financial hurdles to meeting incredible Colombian women.
Check out the video below and you will see what we mean.
The tours are amazing. In fact, they are so great that nearly one-third of the men are usually repeat customers.
That's where A Foreign Affair stands out from the crowd. They've been offering their international dating and romance tour services since 1995, long before most dating apps ever existed.
In terms of the site itself, the first thing you'll notice is that you can browse through thousands of profiles without having to do so much as sharing your email address. This is another nice feature.
This is a refreshing change when you compare it to the pay/data walls many of the more mainstream dating sites hide behind.
They even have a section focused solely on Colombian women, so you can click through and check out the profiles of the roughly 40,000 single women using the site. And the numerous filters make it easy to select women by age, and weight, so you can narrow down your search pretty quickly.
And the profiles stand out because they're a mixture of semi-professional studio photos, and then just lots and lots of genuine selfies.
We mentioned earlier that LoveMe.com is part dating site and part romance tour operator, so how does that work?
Well, you pay a flat monthly fee to access the premium version of the site, but every cent of that goes towards paying for your first overseas romance tour. And it also entitles you to discounts on their paid-for services, such as phone translations and letters.
If you need more information check out our full review of Loveme.com.
Site: LoveMe.com
Cost: Free to register but credit-based after that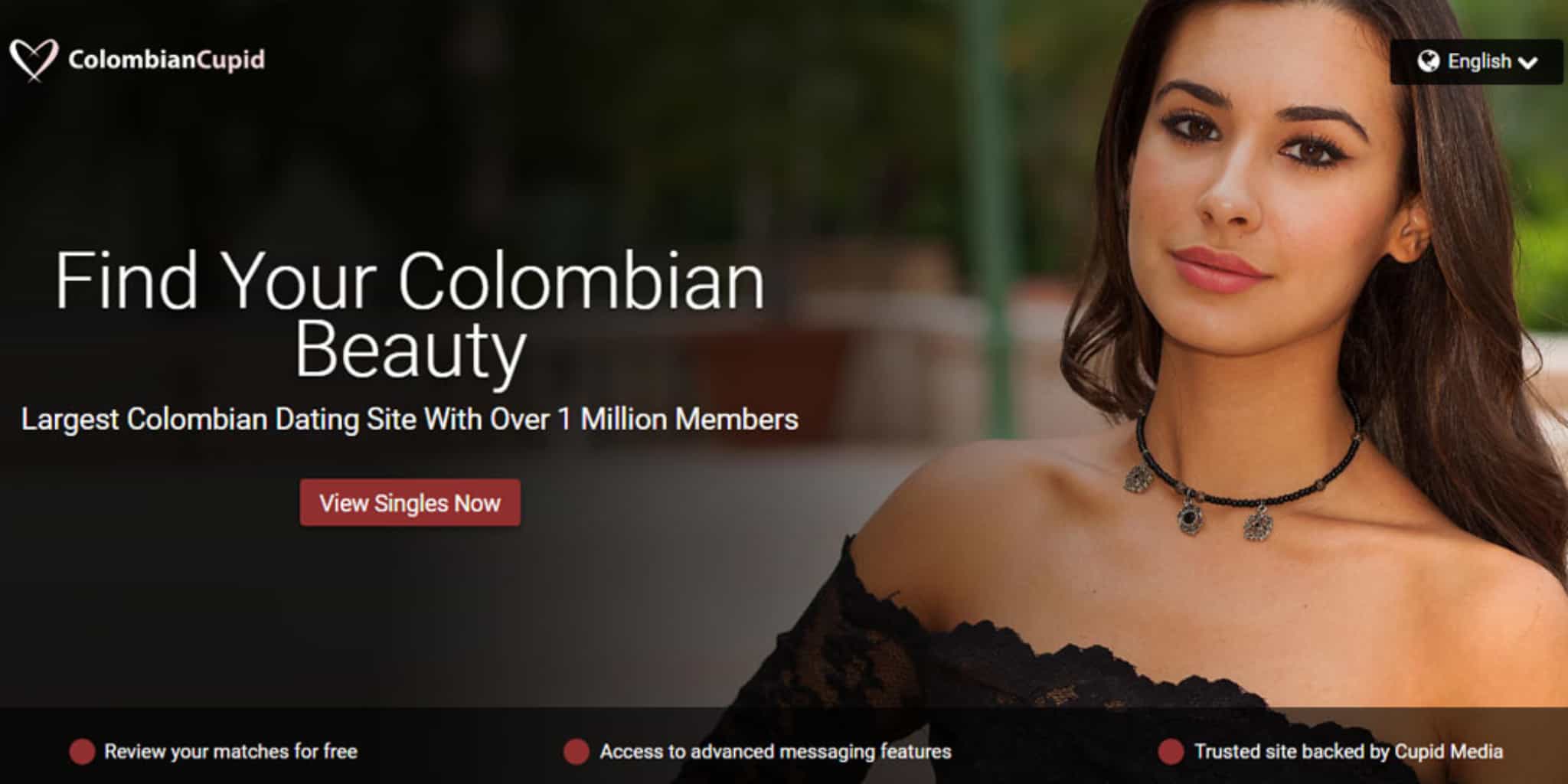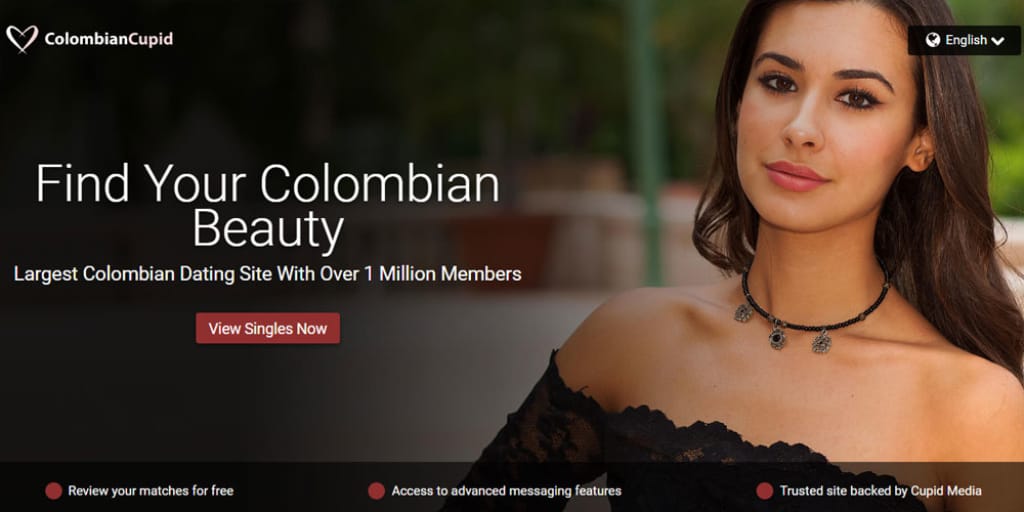 Colombian Cupid works on the typical flat-fee model where you pay a fixed amount every month for full access to the premium version of the site, so it's a different experience to the sites listed above.
You can "cheap" things and use a free account instead of a paid one, which is where most guys start.
And there's nothing wrong with that approach, by the way.
But it's at this point we need to mention that free users can only chat with Gold or Premium members, and not with other free users. That means anyone hoping for nothing but freebies will need to go fishing elsewhere.
Colombian Cupid is obviously part of the Cupid Media network of online dating sites, so there's implicit trust here. One of the other perks of being part of Cupid Media is the sheer number of members the site has – estimated at 1 million, with at least 250,000 active female members.
But outside the stats, what's the site like?
One of the best parts of Colombian Cupid is that you won't have to play the "I wonder if she'll wait 3 days to get back to me" game – the women using the site actually want to meet single guys.
They're paying for it from limited financial means, so they're not online to waste your time.
And the profiles combine both quantity and quality – a surprising number of these girls are drop-dead gorgeous. They're 9/10 with some of them drifting into 10/10 territory, but that's obviously without meeting them in the flesh.
The free version works perfectly well, even if it's somewhat limited, so a paid subscription is worth considering. , The extra money covers features like highlighting your profile, message translation and providing you with better matches based on your requirements.
Site: Colombian Cupid
Cost: Free, but limited access
Monthly membership: Gold membership costs $29.98 per month and Platinum costs $34.99 per month.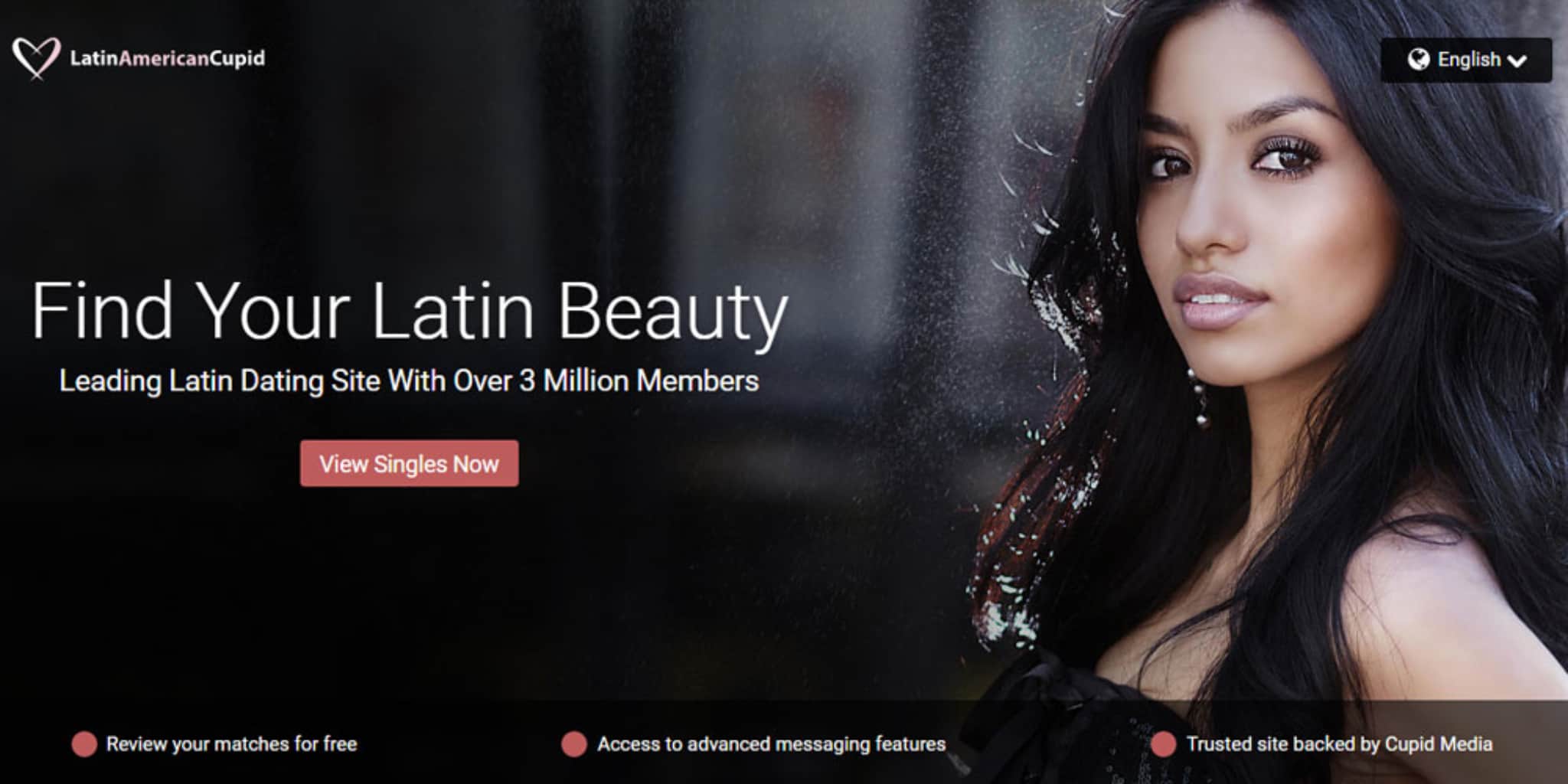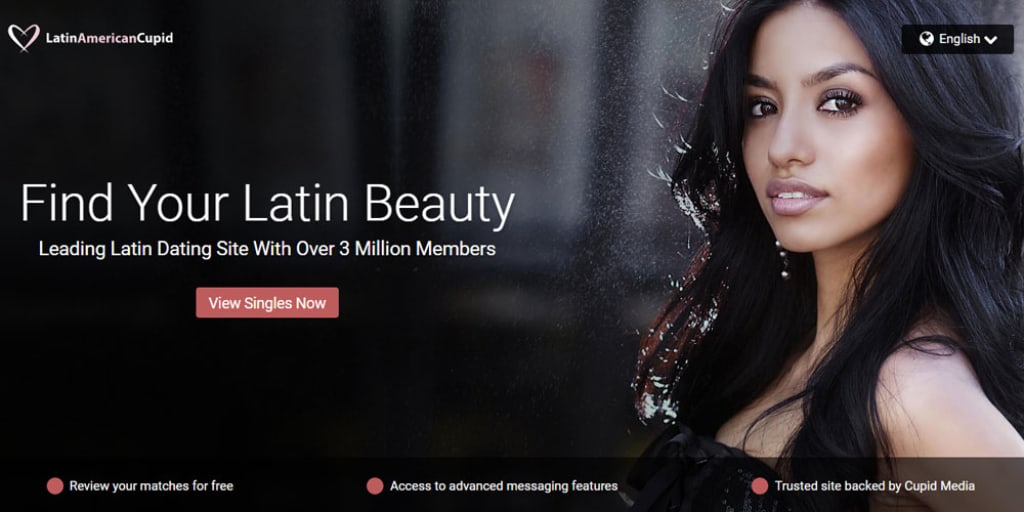 Latin American Cupid is ideal for those of you who want to broaden your search pattern to include Colombian women not currently living in Colombia and/or other Latinas.
We know you're here to read reviews of Colombian dating sites, but there's a whole big world of Latina beauty out there for you to experience.
And we'd hate you to miss out on any of that.
Once you're logged in you get to see a random selection of profiles for women all over Latin America, with some living in North America and even Europe.
The profiles look very genuine because most of the pictures are informal selfies. In terms of looks most of the women are above average, but not all of them are stunning. Some of the women are a bit on the "thick" side, but a lot of guys dig that.
One suggestion though is for women to stop doing that "duck face" for profile pics – it doesn't do anyone any favors.
You can also see how many single women are online at any one time, and during our tests there were 3,800. That's pretty impressive considering we tend to run tests on dating sites late at night.
They've made the sign-up process as easy as possible – you simply enter your email address, choose a password and that you're a "man looking for a woman".
And that's it.
You can then filter through profiles based on a number of factors, including when they joined, which profiles have photos, age, body type, ethnicity, and many others
Again, as with Colombian Cupid, you'll need to upgrade from a free account to interact with Gold or Platinum members.
Site: Latin American Cupid
Cost: Free, but limited access
Monthly membership: Gold membership costs $29.98 per month and Platinum costs $34.99 per month
Latin-Wife.com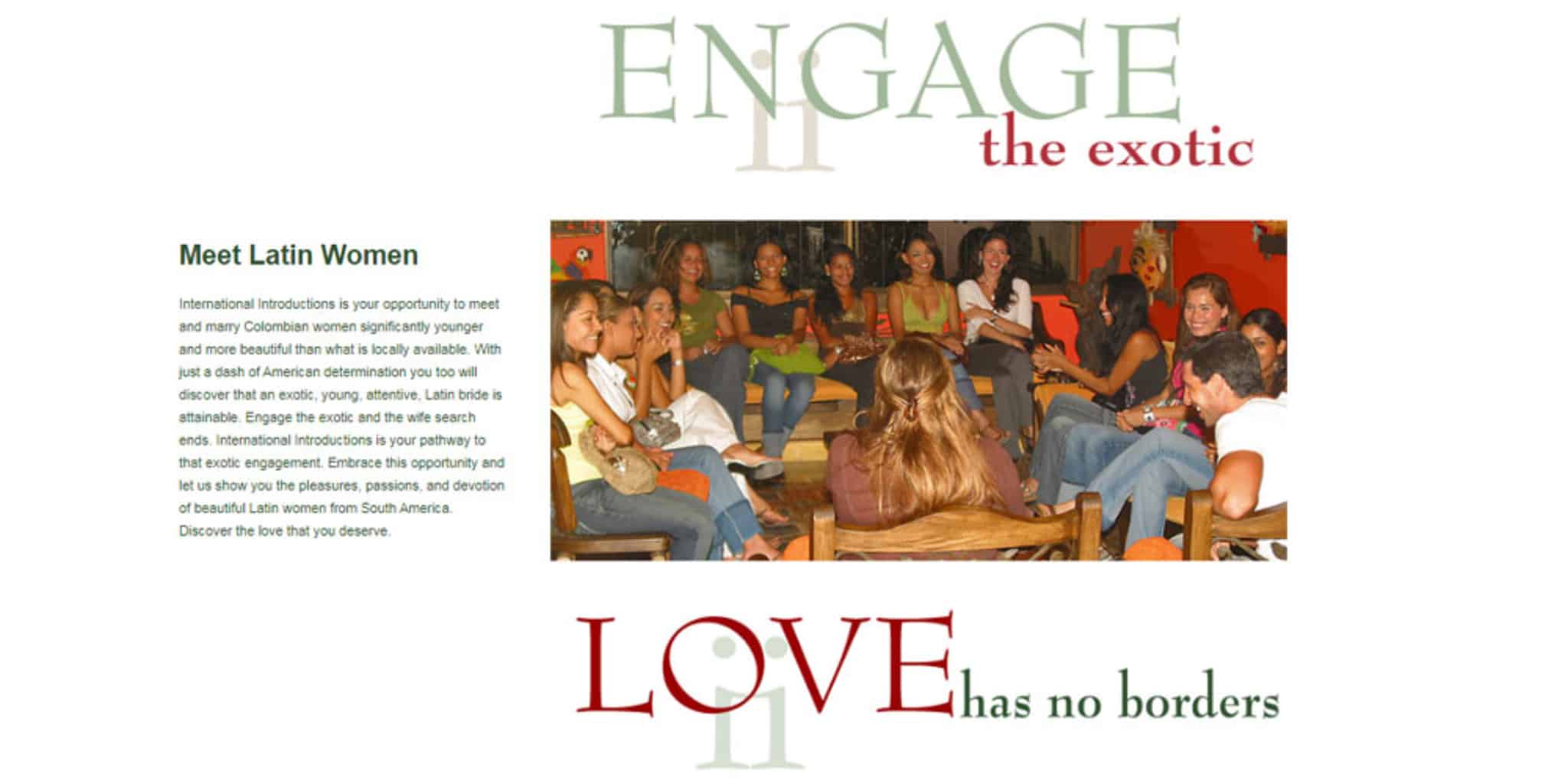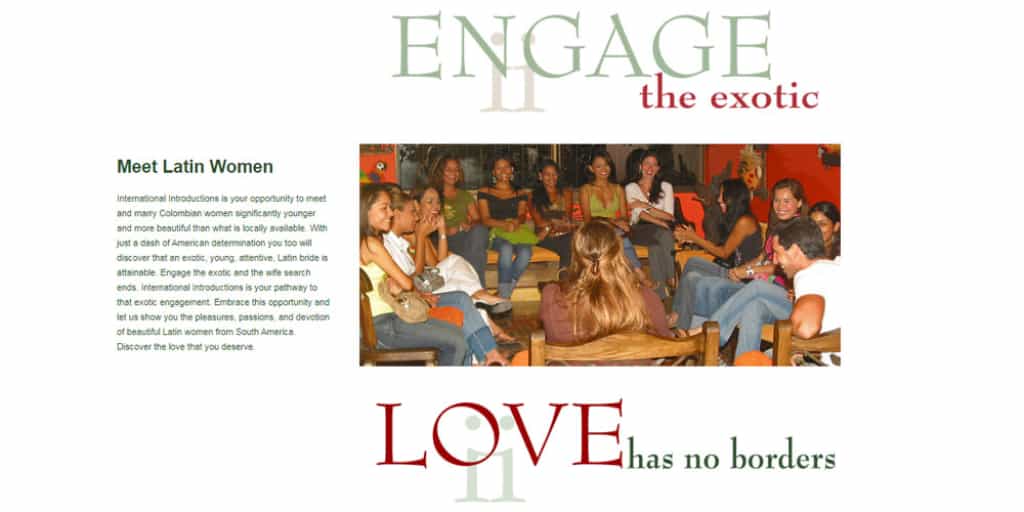 If you ask men why they're signing up for Colombian dating sites, they'll tell you it's to find a loyal, family-oriented woman to date and hopefully marry.
It's not that they haven't tried to find their future wife "back home" – they have, but far too many women still think the "Sex and The City" lifestyle is realistic.
It's not, at least not once women hit their 40's and 99% of men lose all interest in them.
What is very realistic though is the opportunity to meet a beautiful, exotic and eligible Colombian girl through a site like Latin-Wife.com. And we do mean "meet" in the most real sense of the world. This isn't just another dating site where you pay your monthly fee and swipe around on your smartphone.
This is a professional international dating and introductions agency. You'll get to travel to Colombia and meet these women face-to-face, with professional translators present to make sure no important messages or sentiments slip between the cracks.
You see, it's all too easy to spend months or years on non-committal dating platforms where you can just exchange messages until one of you loses interest.
With Latin-Wife.com you book your place on a romance tour, and because you're investing $1,400 you're simply going to take the whole thing more seriously.
Yes, there are lots of introduction agencies operating in Colombia and across South America, but very few of them have as many satisfied customers as Latin-Wife.com
Site: Latin Wife
Cost: Free access to profiles, but you have to pay to chat
Tour Cost: US$1,475, with accommodation from US$100 per day.
My Colombian Wife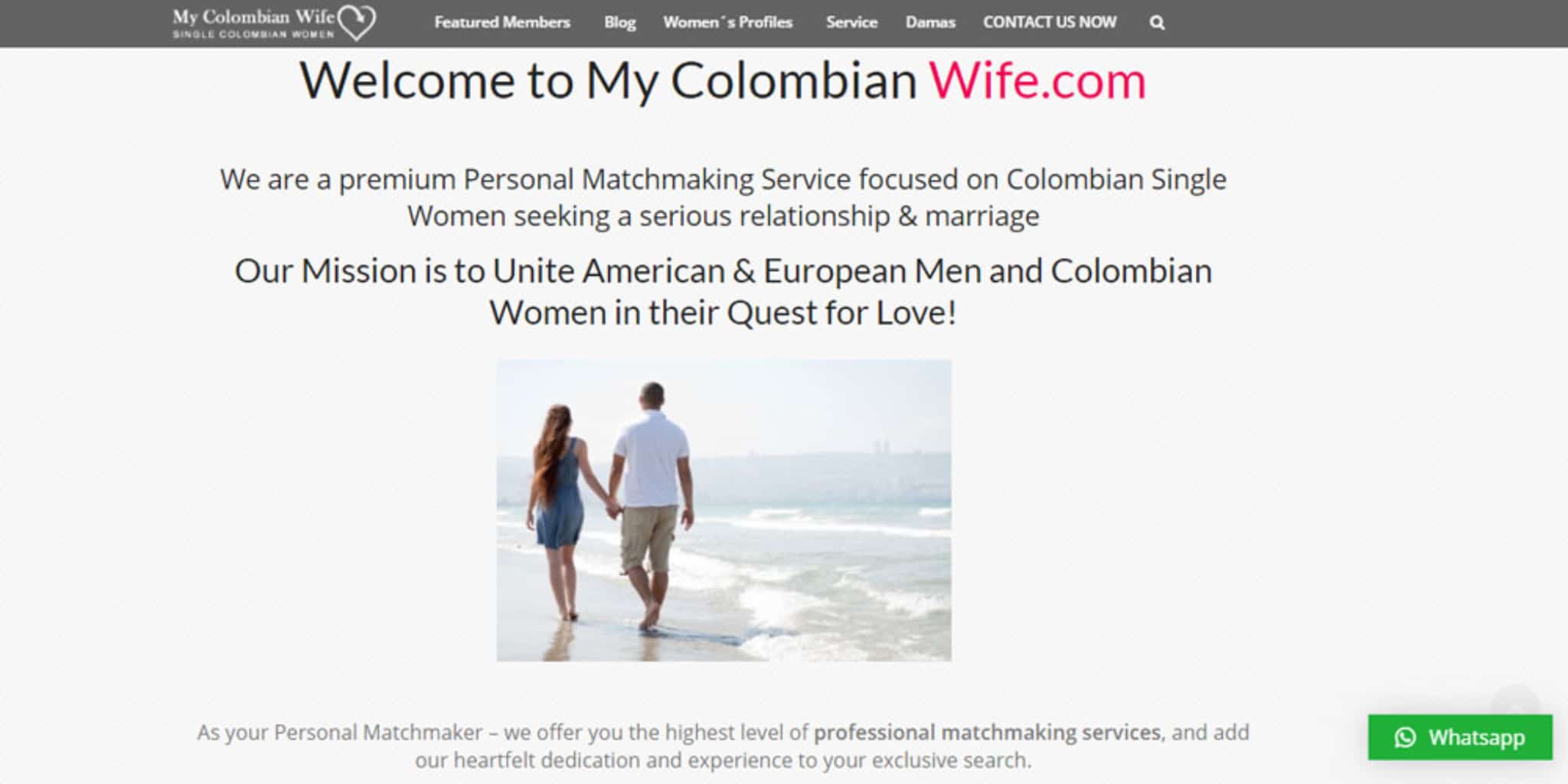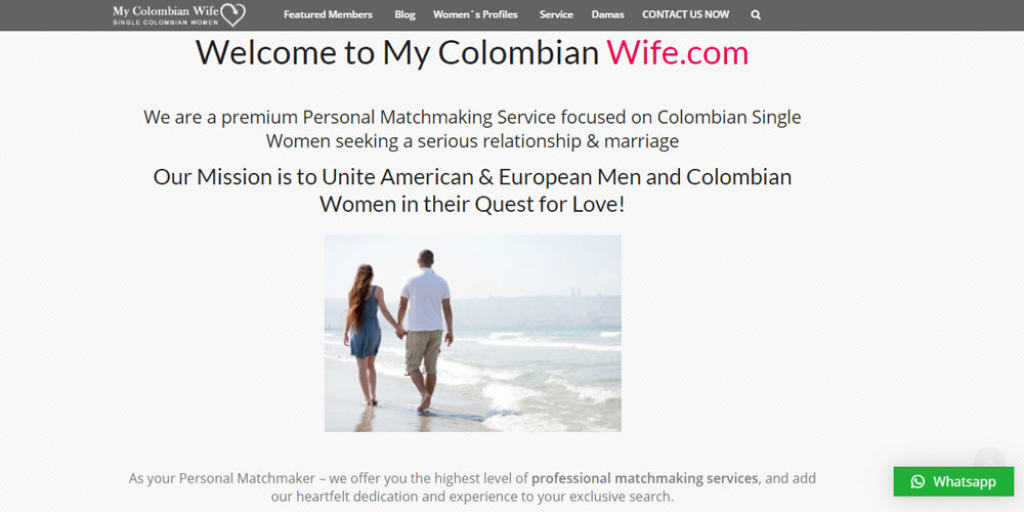 You only have two real options when it comes to finding and dating your future Colombian wife.
The first of these is to use a regular dating site, and then chat to a few dozen girls over the course of several months until you find at least one girl you want to actually meet.
Then you organize flights, hotels and do your best to figure out the Bogota, Colombia dating scene as you work through it.
Or you could use a professional introduction agency like My Colombian Wife to do all the hard work for you.
They have roughly 4,000 pre-screened women on file who are looking to meet gringos from all over the world. And pre-screened means just that – they had to undergo an interview to get listed.
You can get a very brief glimpse of the type of women you can expect to meet if you click on 'Featured Members", and as you'll see the majority of these women are extremely attractive.
The difference between using a dating site and an introduction agency is that they have dates lined up for you before you arrive – the girl has seen your photos, knows who you are and what you do, and wants to meet you.
But this isn't some group romance tour – it's a personal tour designed just for you, where you get to meet anywhere from 3 to 12 women in a given trip. Also, don't worry if you no habla Espanol because there's a professional interpreter on hand to help in those situations.
They even provide a dating coach for guys who have been out of the game for a while, or for those men who simply don't know how to act around women. You even get your very own PA to help you make the most of every moment in Bogota.
How many regular dating sites offer that level of service?
Colombian Dating Apps
Next up we're going to take a look at the dating apps you can use to find a Colombian girlfriend/wife.
Just please do bear in mind that free sites and apps tend to be where all the prepagos lurk – that's local slang for a gold-digger.
These women tend to be unbelievably beautiful, but are also experts at separating smitten guys from large sums of cash, all of this used to pay for expensive hotels, meals, clubs, jewelry, and clothing.
In Colombia, if she seems too good to be true, then you can be 99% certain that she is. So proceed with caution, and learn at least some Spanish if you want to make the most of these apps.
Badoo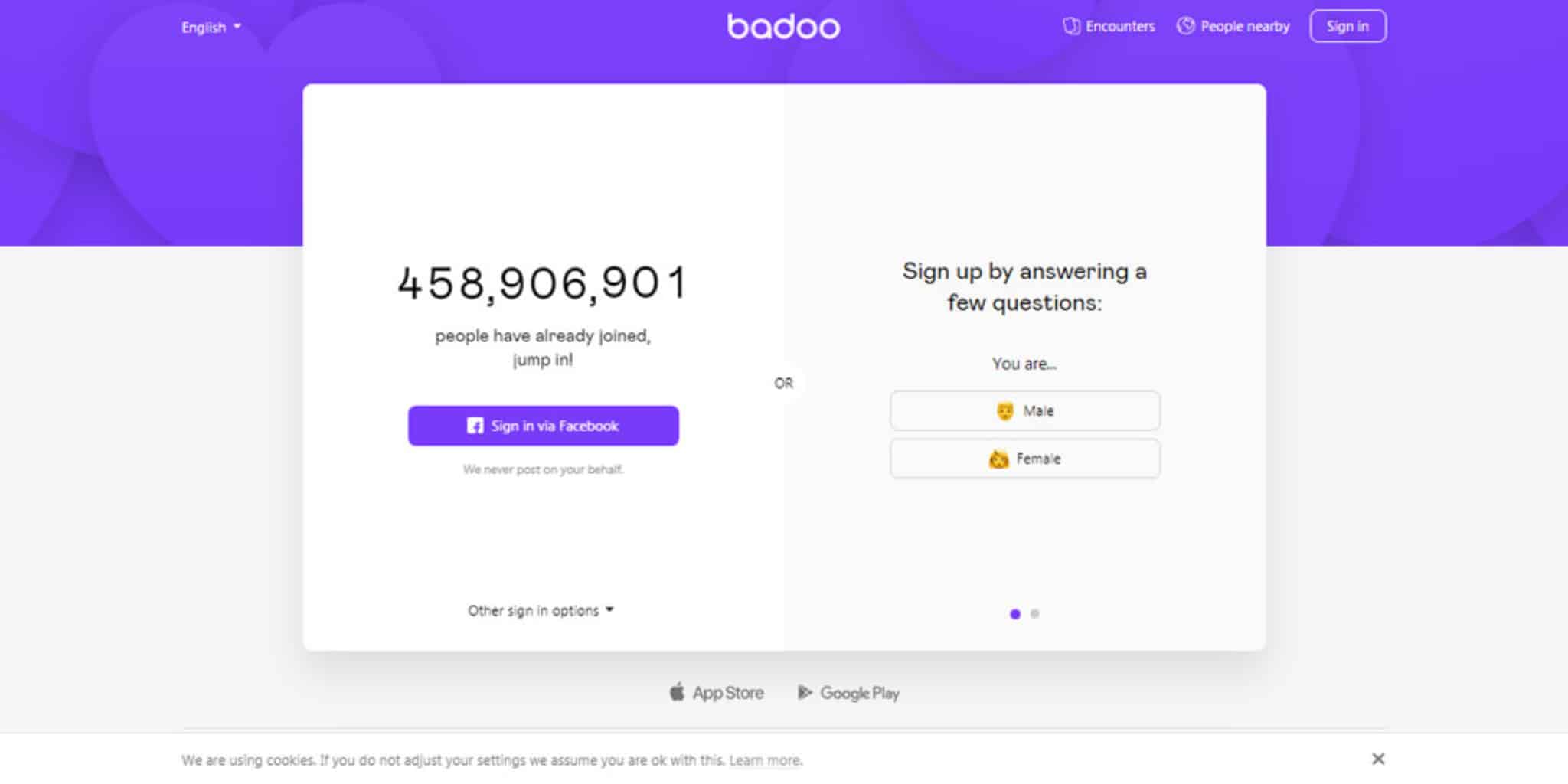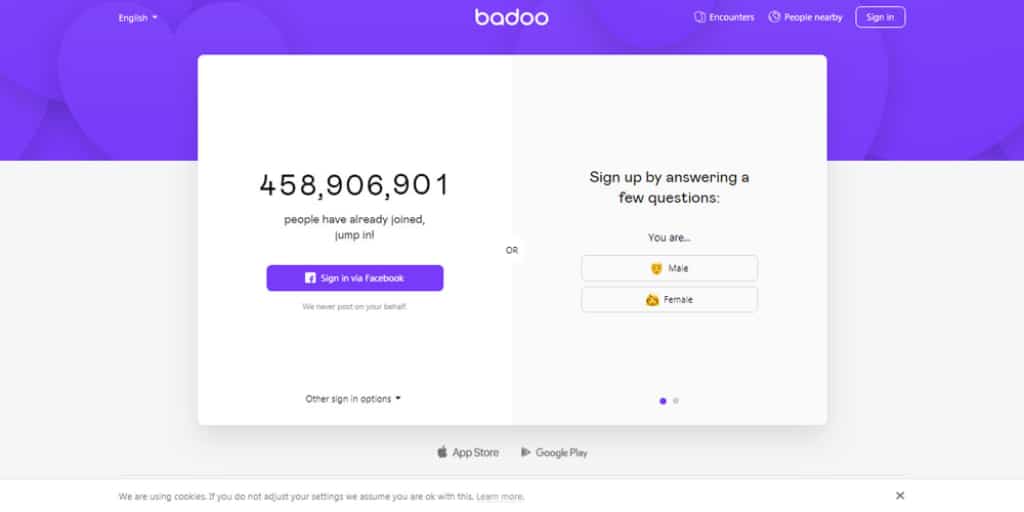 It's always funny how certain dating apps take off in some countries but die a quick death in others.
Badoo is a great example of this because it's incredibly popular in a number of countries across South America – it's almost the default "free" dating app in Colombia.
Which is weird, because it's not actually a dedicated dating app, even though it encourages people to use it for that purpose.
In fact, it's a hybrid social networking app with dating functionality kind of bolted on for good measure – that's what you'll find in 'Encounters' section of the app, in case you're wondering.
So what's it like for dating?
Great, just as long as you're not looking for a serious relationship. The entire (well 99% of it) Colombian dating scene on Badoo is about flirting and hooking up, with barely a handful of women on it actually looking for a long-term boyfriend.
And that also impacts the overall quality of the women you'll find on the app. It's not that they're ugly, but they're no match (no pun intended) for the women you'll find on LoveMe.com or ColombianCupid.com, for example.
You're also going to have to invest time in filtering out the no-hopers and prepagos when you tap on 'Encounters' to find the genuine girls on the site, and that's just for very short-term relationships.
You can use Badoo free of charge for browsing and chatting, but you can only see who "Liked" your profile if you have a premium account.
There are other perks to having a paid membership including having your profile shown more often to people in your area, for example.
Site: Badoo
Cost: Free to browse and chat
Premium membership: $9.99 per month
Availability: iOS and Android
Tinder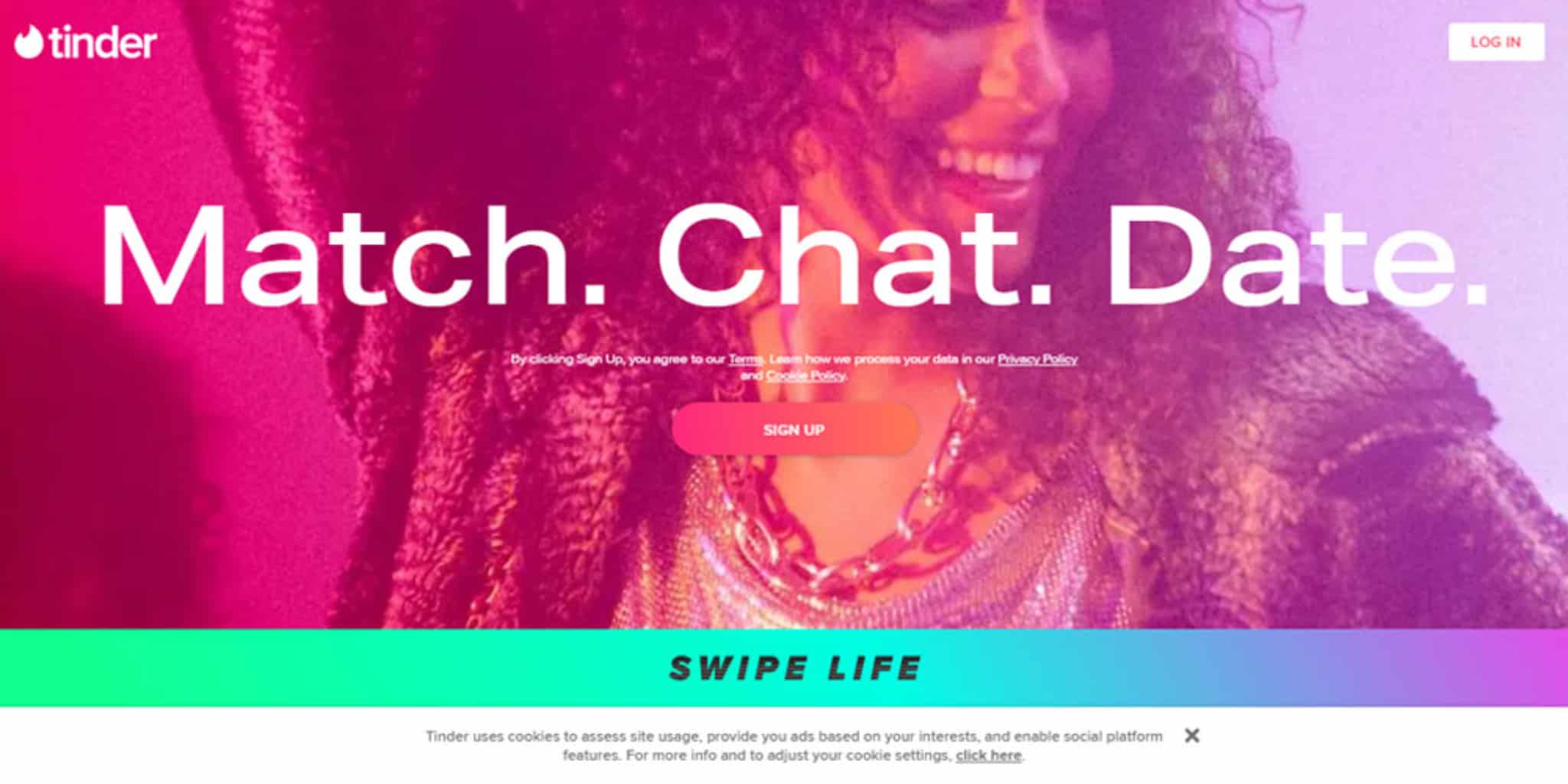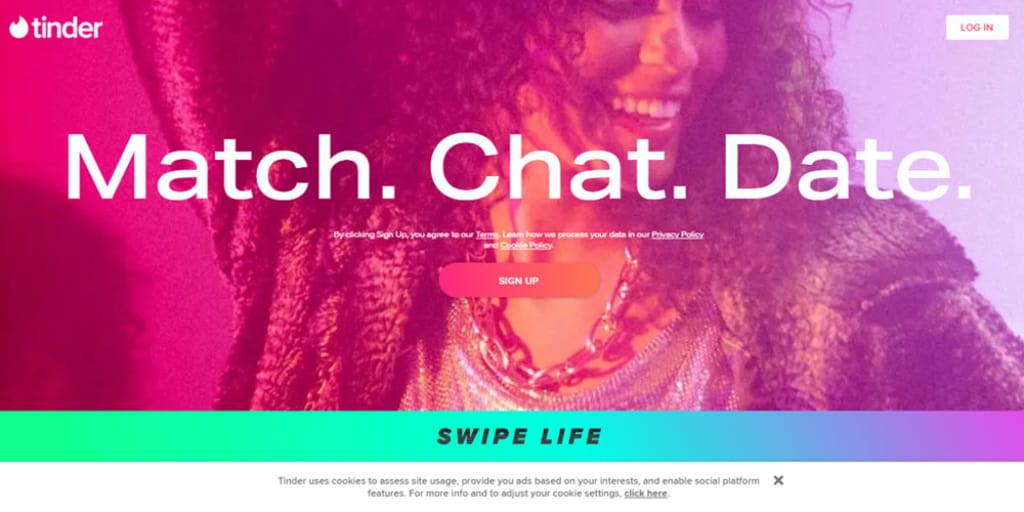 Tinder changed dating apps forever by introducing the idea of "Swipe Left" and "Swipe Right" when browsing dating profiles.
That one change made so much of an impact that pretty much every other dating app has tried to mimic it, but Tinder remains the king of "swiping" in the online dating world.
But are there any other reasons apart from this for using Tinder to find Colombian cuties?
Of course – like the fact that anyone on the dating scene in Colombia is also on Tinder, that the app is free, and has somewhere in the region of 50 million active members.
Colombian girls will typically pick an app and a dating site and focus on meeting guys through those. Now, while Tinder is aimed at people looking for both long and short-term relationships, the Colombian women using Tinder will often tell you they're just looking for "a friend".
What that actually means is they're open to meeting you for a drink, and possibly more. Actually, it's almost always the "more" part they're most interested in.
The long and short of it is that finding your future Colombian wife on Tinder is going to require a lot of gatekeeping work on your part because it can be hard to tell if the local girls are looking for a hookup or a long-term relationship.
As we said earlier, free apps tend to attract tons of women, both the good and the bad. But you can use the abundance of girls on the app to help you figure out the dating scene in the area, and most importantly, what makes Colombian girls tick.
Although Tinder is free, you can upgrade to either Tinder Plus or Tinder gold, both of which allow you to do things like 'Rewind', which unswipes a user, block ads, and display your profile more prominently by boosting it once per month.
Tinder offers you a great, free way to meet Colombian women in any of the major cities, but only a handful of them will be interested in anything long-term.
Site: Tinder
Cost: Free
Premium membership: $9.99 for Tinder Plus, or $21.99 for Tinder Gold
Availability: iOS and Android
Happn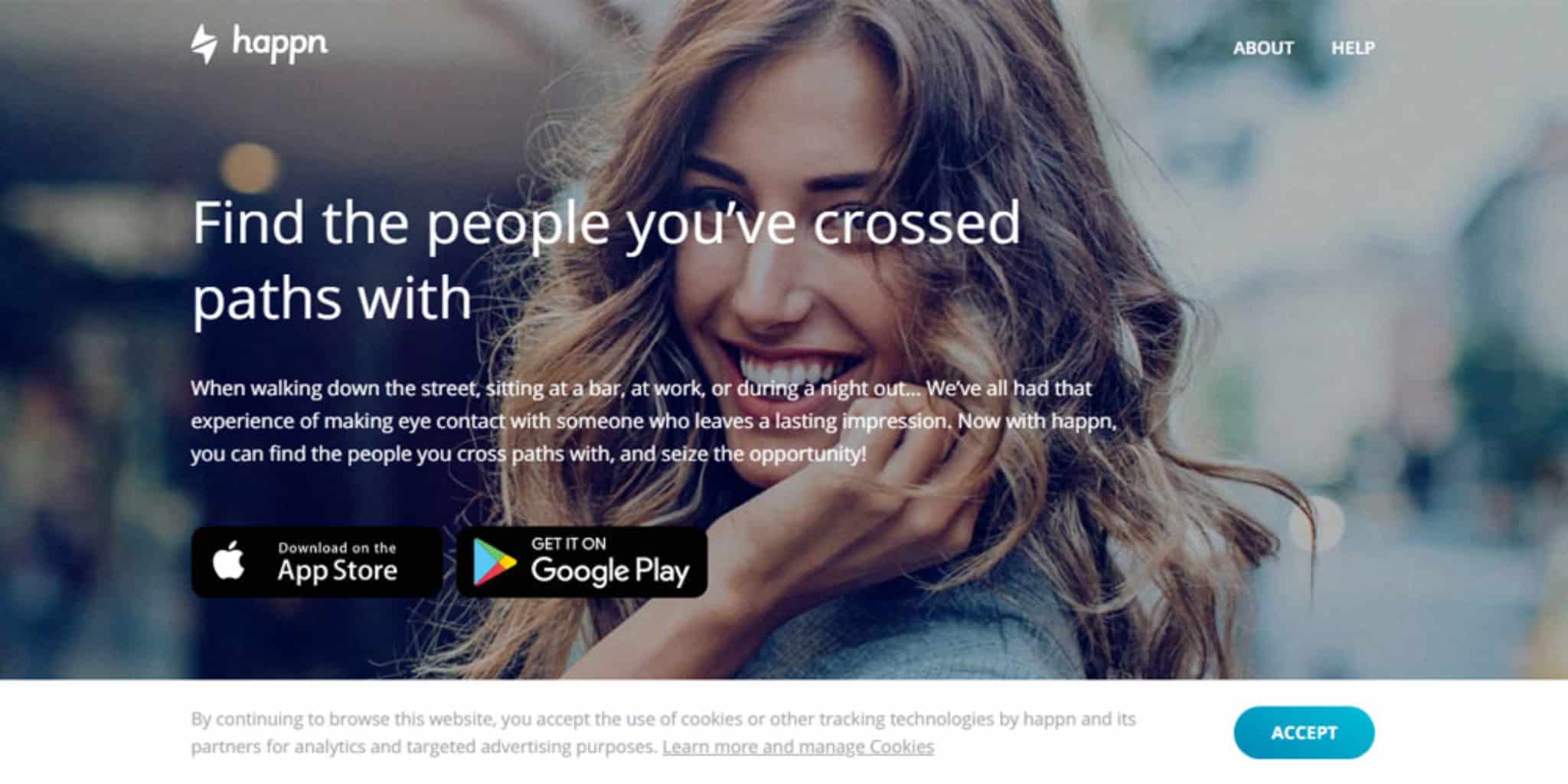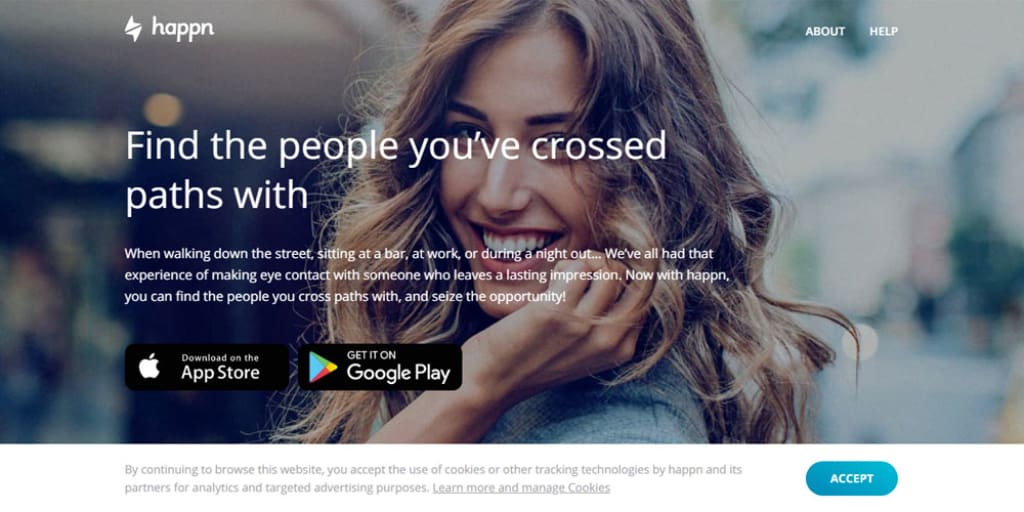 Every guy I know has had the experience of a chance encounter with a woman that they know they should have spent time with.
A shared glance or smile that should have resulted in a date.
Or a coffee, at the very least.
But it didn't, for a variety of reasons.
And it's those chance encounters that tend to haunt us later in life – they're the ultimate "What if".
Happn can help ensure that those accidental meetings with beautiful women aren't just a once-off event.
It does this by matching you with other female Happn users you've come within 250 meters of on a given day. This works really well in big cities, but not so much in smaller towns. So make sure you only use it in areas like Medellin, Bogota, Cali, Barranquilla, or Cartagena
Obviously you both have to be open to the idea of being matched, and you can only message a woman who has "Liked" your profile. So that stops things getting creepy.
Registering for an account is pretty straightforward – you log in using your Facebook account. You can use the free version of the app to send Likes, chat, post a profile, and enjoy basic matches.
But if you want to access everything Happn has to offer then you'll need to pay for a subscription and then also purchase Happn Coins to spend.
That's $24.99 per month for a premium account, and $1.99 for 10 coins, with most interactions (chat, etc) costing 1 coin.
Happn is a great app for guys trying to figure out the dating scene in Colombia – it can turn those smiles and glances into a series of dates with beautiful women.
Site: Happn
Cost: (Facebook account required)
Premium membership: $24.99 per month
Availability: iOS and Android
Bumble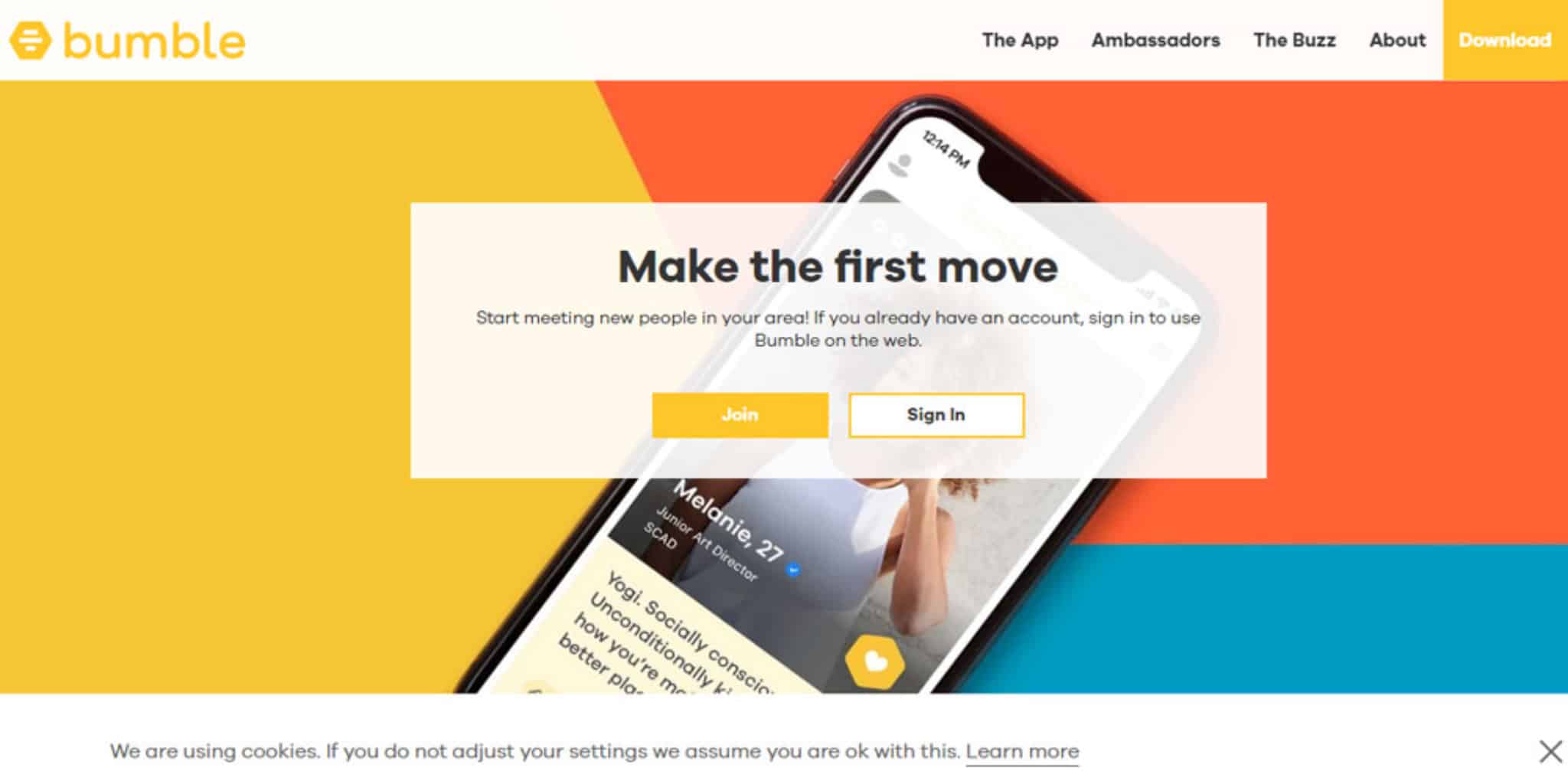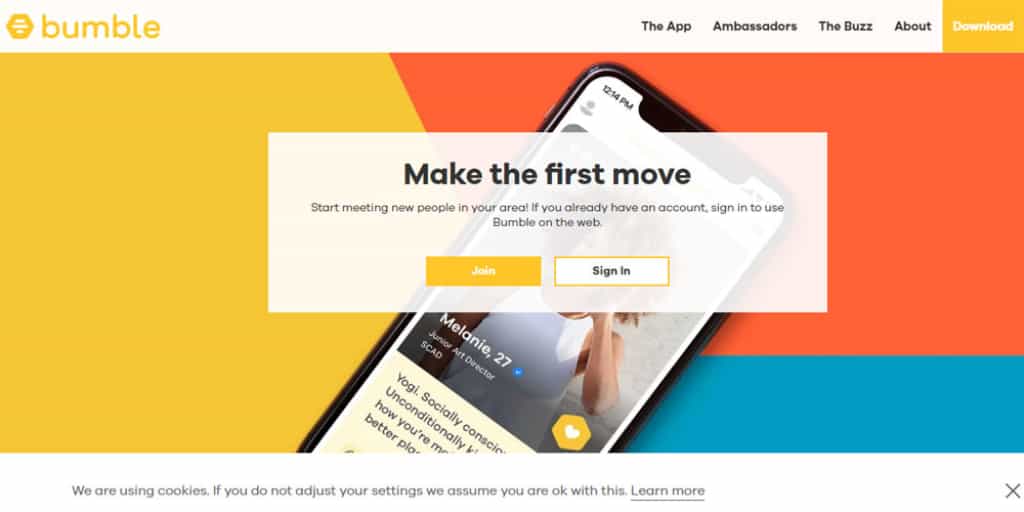 At first glance, Bumble appears to be a dating app designed by feminists for feminists.
Basically, when you're matched with a single woman, it's up to her to make the first move in contacting you.
But here's the kicker – she has to do that within 24 hours.
And once she replies to you, then you only have 24 hours to keep that conversation open, otherwise, it expires. Your conversations are color-coded though, so you know which ones are active and which are about to expire.
Apparently this has to do with "…shifting power dynamics" and "…something, something equality" because God knows that every other dating app prevents women from making the first move online or offline.
Now, we're going to turn that idea on its head because this app was designed by Western women and not Colombian women.
Colombian women know what they want, and aren't afraid to show it verbally, emotionally and physically.
That means any Colombian girl who contacts you on Bumble isn't there to waste your time or have her ego massaged. She wants a relationship. Period. You won't have to jump through hoops or play guessing games with her.
So that makes this silly play on empowerment actually work in your favor.
Bumble Free should be enough for most guys, but there's also a premium version of the app available called "Bumble Boost".
For $8.99 per week (not cheap) you can take advantage of features like "BeeLine", which only shows you the profiles of women who have already liked you and "Rematch" which allows you to connect with a match you allowed to expire.
All in all, Bumble is an interesting app, but we'd recommend using it in addition to something like Tinder or Badoo.
Site: Bumble
Cost: Free (Facebook account required)
Premium membership: $8.99 per week
Availability: iOS and Android
Summary
And that brings us to the end of our roundup of the best Colombian dating apps and websites for 2020 and beyond.
You now have multiple ways to find and date some of the most beautiful women in the world, including a number of free options.
But the truth is that they only way you can know which app or website is best for you is to actually try them out, so do let us know with a comment what your experience of each app or site was like.
We wish you luck on your dating adventure!