Wow!
Nadejda is a beauty and she is a doctor; a pediatrician to be specific. For those of you in north Baldwin County, that's like a veterinarian for little kids. Got it?
Was your pediatrician hot?
My pediatrician was a bald guy who looked like Howard on the Andy Griffith Show and gave out lollipops.
At seven years old, I would have been a lot more interested in him if I had known he flew 56 missions over Germany in a B-17 during World War II, but I didn't know that until my dad emails me his obit a few years ago. He was a good man and a fine doctor.
But Nadejda is hot-hot-hot!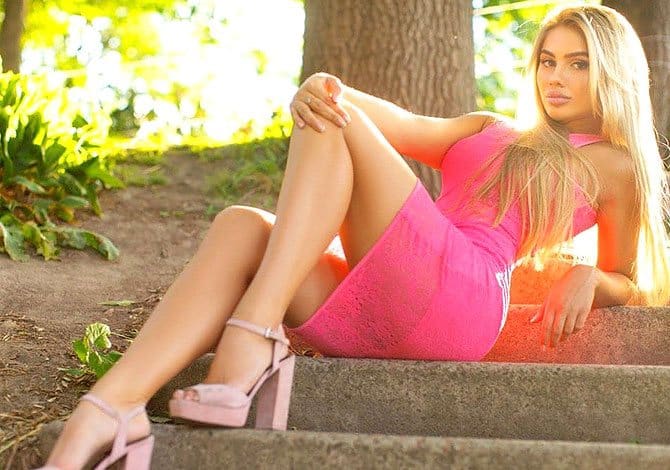 She is so hot that it has to contribute to widespread outbreaks of Munchausen Syndrome by Proxy. Oh, you don't know what Munchausen Syndrome by Proxy is?
It's a disease. Here's what the National Institute of Health says about it:
Munchausen syndrome by proxy is a mental illness and a form of child abuse. The caretaker of a child, usually a mother, either makes up fake symptoms or causes real symptoms to make it look like the child is sick.
And you have to think there would be some single Ukrainian dads who would want to make extra certain the little Uri's runny nose wasn't developing into a cold or go in and talk about little
Nadejda's  problem getting up in the morning for school or something – anything really – so they could chat with the beautiful Dr. Nadejda.  It would also be Munchausen Syndrome by Proxy.
But you don't have to do that, because you can chat with Nadejda over at one of our favorite sites, Anastasiadate.com.
Nadejda say that, I am good at most things which interest me.  And you know she is just being honest, because medical school is tough.
She goes on and explains,
I adore cooking and my dishes can satisfy even the most extravagant tastes. I will treat my future soul mate with the tastiest homemade dishes of Ukrainian cuisine. I enjoy when my home is clean and I keep it comfortable.
So, she is smart and she can cook.  Can this woman get more amazing?
Yes, she is a fitness buff – no a fitness pro.  She explains,
A physical activity is a part of my healthy lifestyle and I go to gym to exercise. I like step aerobics most of all. I enjoy canoeing and swimming. I love being outdoors and I enjoy going outside the city or just walking along the streets of my city. I read a lot
So, Nadejda is smart, beautiful, physically fit, and obviously a sweet lady, because no one becomes a pediatrician if they aren't a deeply compassionate person and really love kids.
Oh, yeah, Nadejda is not particularly demanding. She even says, His appearance is not important for me, and that probably gives you a shot, because if she needed a man as good looking as her –
Well, let's just say 99.999% of the men reading this wouldn't qualify. So, you can be ugly, but you've got to want kids. She says "I like spending time with kids". In the future, I want to have children.
Maybe, you didn't want kids when you started reading this profile review, but if you go over to her profile at Anastasiadate.com you just might re-consider.
Trust me this lady is hot enough to make W.C. Fields consider his dislike of children and he's been dead since 1946!
Check her out!