Bogota, Colombia – The Capital of Colombia in More Ways Than One
Wow! Look at those hot Latin bikini girls. Bogotá, Colombia is full of girls like that. And here is the crazy thing: many of those girls would love to meet a man a lot like you. That sounds crazy, but it is true.
So, you have a strong desire to visit Bogotá, but the only thing you know about Bogotá is that it is the capital of Colombia and the capital of the international drug trade.
No, it WAS the capital of the cocaine trade from the late 1970s until the late 1990s.
I know, if you've been binge-watching Narcos on Netflix you could easily assume that the city is still in the middle of a war between drug lords, but nothing could be further from the truth – Pablo Escobar died in 1993, and the drug war died with him.
Well, the government also killed or imprisoned about 10,000 of Pablo's pals too and the Colombian government flat out won the war and made Bogota about as safe as any other major city.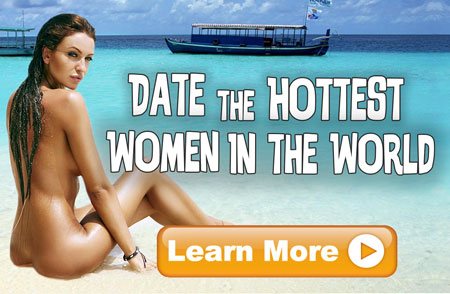 Yes, you can still get in trouble if you want to, but, generally, if you do not go looking for trouble you will be fine.
Bogota, a city of about eight million people, is now viewed as not only the capital of Colombia but its beating cultural heart too. To put your mind at ease, it's also considered to be far safer than many North American cities, including tourist meccas like New Orleans, which isn't hard to believe when you look at the violent crime statistics for the United States.
It is an easy city to get to and it is not expensive to visit. So, the cost to marry a mail order bride is not high at all in Bogota. It is also a city with great nightlife, unique cultural attractions, world-class restaurants, and hotels in every price range.
With hundreds of thousands of single Colombian women – is currently in the middle of a boom, with an emerging gourmet food and craft beer scene it is a great place to visit.
One other important factor. You are essentially still in the Eastern Standard Time zone.
That may seem minor, but simply flying south means there is no jet lag, and, far more importantly, if you want to watch Oklahoma vs. Texas or LSU vs. Alabama you don't have to get up at 3:00 AM or some God awful hour.
And it makes it easier to call your mama and check on your hunting dogs. Or ring up your ex-wife and tell her how much fun you are having!
Seriously, running a business or doing anything that requires real-time communication is easier in Bogota than in Kiev or Bangkok, because you are on the same clock as the New York Stock Exchange, the IRS, and ESPN.
And you will have fun in Bogota, because, your dating value is higher in Colombia than you can begin to imagine and marrying a younger woman can have incredible benefits for middle-aged men.
Colombian Men
Relax, you haven't landed on some gender-fluid, non-binary dating site, but it's important that you understand the dating competition in any city you visit. You might be wondering how is there a gap in the dating market for Western guys if all the women here are so hot.
Wouldn't it be easier for a Bogotá girl to data a local guy instead? Nope, and in fact, there are a lot of reasons why women treat many men here like they have Ebola.
The first thing is that Colombian men behave like Casanovas in how they treat women. What we mean by this is that a Bogotá guy will see no problem with dating several women at the same time – cheating is rampant.
It's almost like they're expected to cheat on their wife, fiancé or girlfriend.
They're also extremely macho in their approach to life, but get so carried away in the effort to be THE Alpha male in any group that they just come off as arrogant asshats instead. A Colombian guy will have no problem with making insane promises to a woman, but they rarely, if ever, deliver on them.
Can you see the gap in the market now?
Dating Bogotá Women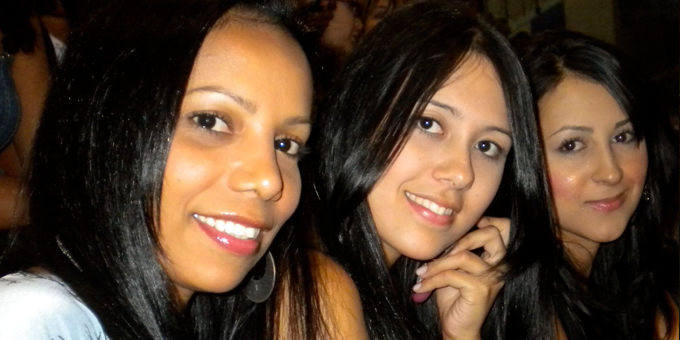 So, you want to know what it's like to date a girl from Bogota? Their looks are hard to compare to anything you'll find outside of South America. Their Spanish, European and Native American heritage is obvious.
Pretty doesn't really do them any justice in terms of how beautiful they are, so maybe a more accurate description is they possess the kind of smoldering sensuality that would make a dead man stand up and pay attention.
They have slightly lighter colored skin than most other Colombian women, but the usual flowing dark hair and hazel eyes you expect to find with pretty much any South American girl.
And it's not just about their looks either, it's the whole package. Colombian women don't believe in sitting around and eating their own weight in Doritos while complaining that you don't take her anywhere anymore – that's what North American and European women do.
Instead, Colombian women work hard on their appearance, as much out of personal pride as knowing that most guys aren't interested in dating an overweight ditch pig that can drink 12 beers faster than he can.
The women here are friendly, intelligent, cute and completely open to meeting, dating and even marrying gringos. That doesn't mean they're easy though – you're not going to arrive here and get laid on your first date.
Well, not unless you get yourself wrapped up with a prepagas (Latina gold digger), in which case you're in for a rough and expensive couple of nights.
What do Latinas want in return for their charming and exotic company? That's the easy part because all you need to do is look sharp, be kind, act like a gentleman and don't turn up at the bar or restaurant dressed like a schlub.
They expect their men to look and act like men, so metrosexuals and hipsters are outta luck here. But they don't want the same macho arrogance they get with Colombian guys, so you need to look for the sweet spot between being assertive and a complete doormat.
They also have no problem dating guys who are older than them because as far as they're concerned men don't mature until they're in their 30s or 40s. Financial stability is also important to them, so don't go flashing your bank statement unless you can back it up.
Remember, Colombian guys, are big on making promises but pretty bad at keeping them.
We mentioned prepagas a little earlier – Latina gold diggers – and you really need to keep your wits about you when dealing with them. They're masters of their craft, and can be found lingering, looking for attention, in the best bars and the most expensive restaurants.
It works like this – if you're approached by a completely random Colombian girl who looks like she's just taking a break from a porno flick, and who instantly starts treating you like you're the only man in the room, then you've found yourself a prepagas. Make your excuses and leave. Quickly.
You've heard that Latinas have a reputation for being hot-tempered and jealous? Damn straight they do! They'll view every other woman who is brave enough to flirt with you as a direct threat. Based on that you should NEVER attempt to play two Colombian girls off each other – you'll live to regret doing that.
Colombian women love compliments but don't overdo it because they can small BS and PUA tactics a mile off. If they feel like they're being rushed into something with you then they'll lose all interest.
Cultural Barriers
There are no cultural barriers to you hooking up with Bogotá girls. Zero. Well, not unless you're a player looking to bed as many women as you can in a long weekend, but that's true of women in any culture. There are no religious barriers here to worry about, and you're set once you've learned to speak at least some Spanish.
Do bear in mind that Colombian women are very family-oriented, so you absolutely will be introduced to her family once she sees you as her boyfriend.
So be careful about dropping the "L Bomb" on women here – they'll assume you're being completely sincere when you say it. If and when you are introduced to her family then do your very best to make a good impression the first time around because you probably won't be given a second chance.
Communicating
English obviously isn't their native tongue, but Bogota is one of the few cities where women will usually speak at least a little English. Fortunately, Spanish is one of the easier languages to learn, and you can learn it at no cost using an app like Duolingo, which is available for both iOS and Android.
Communicating with women here is more than just knowing the local lingo – dancing is a huge part of their culture, so learn how to dance if you want to make a good impression. And not that awkward dancing Western guys do in clubs – learn proper South American dancing like salsa.
This is a form of non-verbal communication that can go on all night if you're lucky.
Places To Meet Women in Bogota
When you stay or hang out can help a lot in your search for dates or hookups. Renting an apartment when visiting the city has a number of benefits, namely that you can invite your date back for a late-night drink, or just to hang out, plus it can be a hell of a lot cheaper than paying for a hotel room.
Barrios (neighborhoods) like Zona Rosa, Chapinero and Candelaria are some of the cooler places to rent in, and women here do pay a lot of attention to the quality of your accommodation. Financial stability, remember?
These neighborhoods have lots of cafés to hang out in, looking as urbane and cool as you possibly can, dance schools to take lessons in, plus these are where local students tend to spend their afternoons and evenings too. Basically, you increase your odds of striking up conversations with girls by staying in the better barrios.
Spending a few hours in one of the local malls is also a great way of passively meeting local girls. This gives you a chance to practice your Spanish, and break the ice with them while you're doing that.
The biggest malls in Bogota are Centro Comercial Andino, Centro Comercial Santa Ana, and El Retiro Mall. Women feel more comfortable when shopping in a mall, so they tend not to feel intimidated by some random gringo speaking to them in terrible Spanish.
Best Places To Go On A Date in Bogota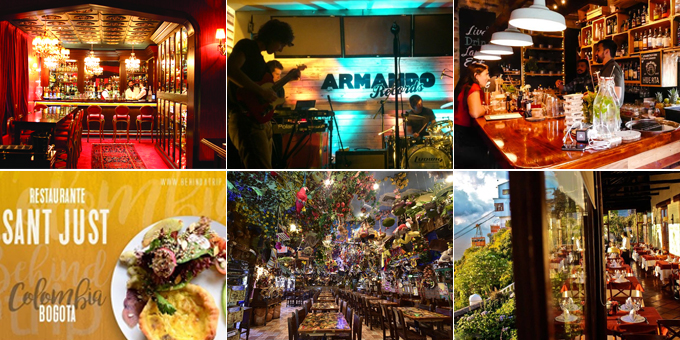 Choosing Bogota as your destination for meeting and dating a hot Latina was a wise move because this city has the best nightlife in Colombia. If this is your first date with a particular girl then don't be surprised if she brings along a friend, or maybe one of her sisters.
This is the norm here, so don't think you're being set up for some kind of elaborate scam. Just make sure you have enough cash to pay for dinner for three people, otherwise, you're going to wind up looking like a cheapskate.
Bogota is fairly typical in terms of where you can bring your date during the evening: bars or restaurants, although both are of a higher quality than you might have expected.
Bogota Bars
When people go out here they tend to do it later in the evening and stick to a number of neighborhoods because their favorite bars are all within walking distance of each other.
The most popular barrios for nightlife include Zona Rosa, Candeleria, Chapinero, and Zona Tolerancia – just bear in mind that Zona Tolerancia (Zona T) is Bogota's red-light district, so don't go there on a date unless your new girlfriend insists on visiting a specific bar.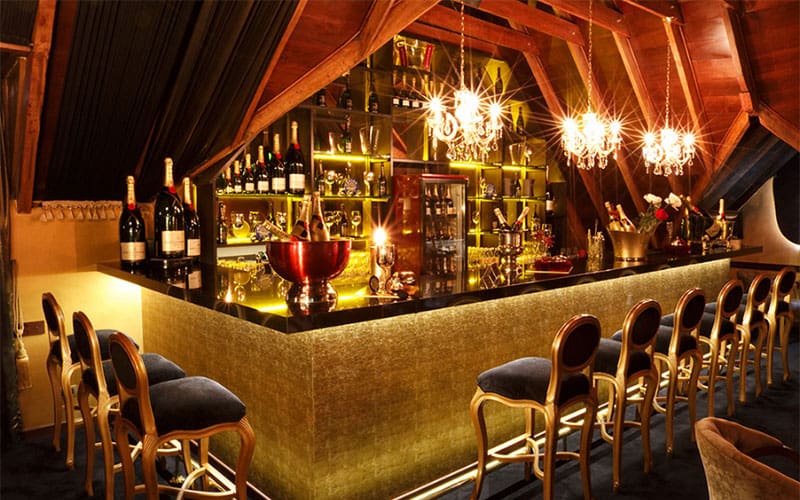 If you're a fan of great whiskey or cocktails then this is one bar you need to check out.
There are three different floors to visit, the first floor serves cocktails, the second floor has the best selection of whiskeys in Bogota, and live music to enjoy, and then cavas on the third floor. Amazing decor, very friendly service, and a night you won't forget in a hurry.
Address: Calle 70A #11-64
This bar is situated right at the edge of Zona T, so you'll be in the middle of the heaviest partying in downtown Bogota. If you want a livelier atmosphere with a different style of music on each floor – from electronic dance to jazz – then this is the right place for your date.
Armando Records has a really friendly vibe and great staff. Just watch out for drink prices here, and you can expect to pay a $15 entry fee at the door.
Address: Calle 85 No. 14-46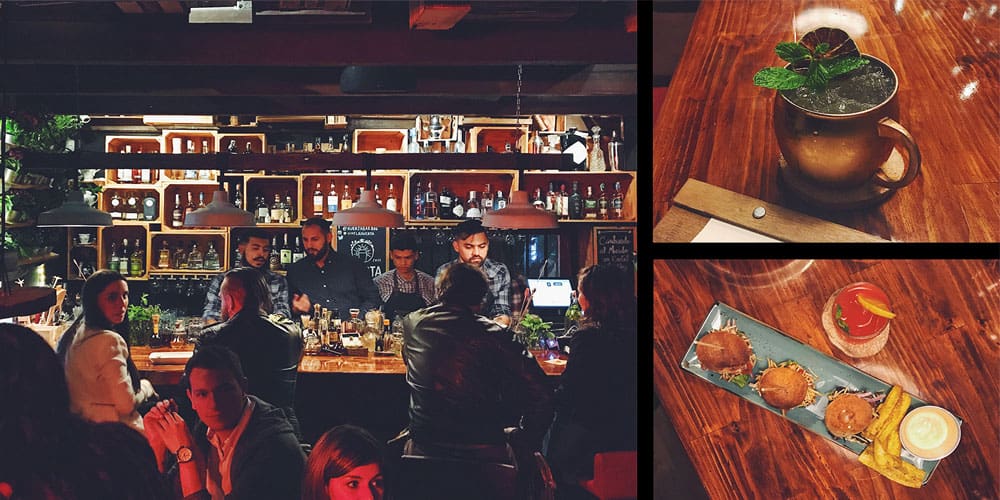 This is another cocktail bar, but one of the best kept secrets in Bogota. It's actually located in the lobby of a hotel but don't let that put you off.
The mixologists here are just shy of being magicians, and the owner of the bar hangs around to chat with guests. If you're looking for a low key cocktail experience – with some tapas thrown in for good measure – you'll enjoy the vibe of Huerta Bar. This is one of the more stylish venues in Bogota for going on a date, but still informal enough so that you won't feel out of place.
Address: Calle 69a # 10-15, 2do. Piso – Casa Caudillo.
One thing we need to mention here is aguardiente, which is the local drink of choice. This literally translates to "hot water", and it's neat alcohol brewed from sugar cane.
Just about anyone you meet in Bogota will drink it at least once during a night out, including women. It's extremely potent, so if you're not a seasoned drinker don't get carried away with this stuff, or you will be literally getting carried away after about 6 shots of it.
*Do Not* sit at the bar drinking all night unless you want your date to lose all interest in you. You can get away with that with Western women, but in Bogota, you're either partying with your Latina beauty, or you're going home alone.
Bogota Restaurants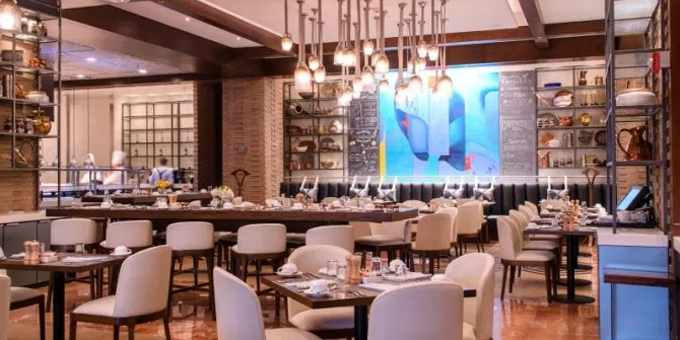 Although bringing your date for a meal might seem like the ultimate cliché, it's still the best way to spend some cozy, intimate time with each other – the food is just a bonus. It also gives you a chance to show your Latina girlfriend that you care enough about her to show her off in public.
Plus Colombian women are extremely social, so love being wined and dined by a well dressed man.
But if you're not from Bogota, or spent a considerable amount of time living there, then you're probably going to have a tough time trying to choose a restaurant that makes the right impression on your girl, but which also won't give you food poisoning.
To help you along, we've picked out two of the best restaurants in Bogota – all you have to do is pick the one that suits you best.
This extremely popular eaterie is located in the JW Marriot Hotel on Calle 73, and serves breakfast, lunch and dinner. This place is ideal for single guys because asking a girl to meet you for breakfast or lunch is far less intimidating for her than if she has to meet you for dinner. Just an idea.
The menu here offers everything from gourmet lamb burgers to a full range of vegetarian options. It's not cheap to eat here, but it's more than worth it. The JW Marriot Hotel is located on Calle 73 Nr 8-60.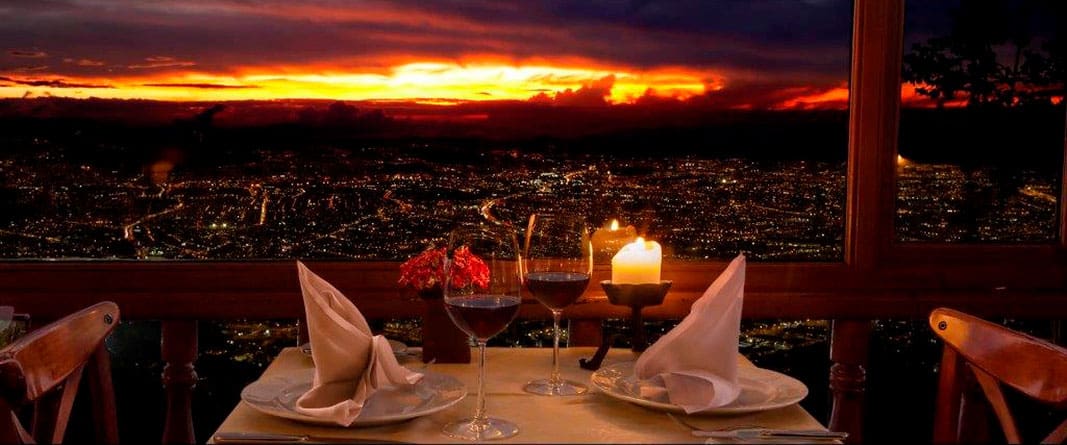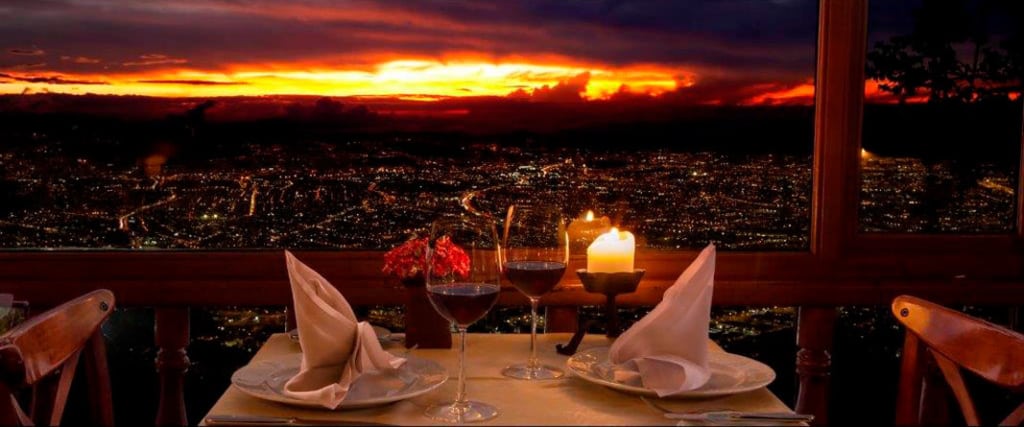 If you're looking for a candlelit restaurant, with great views and even better food, then you'll want to add Casa San Isidro to your list of potential locations for a future date.
The restaurant itself is an old colonial house that sits on top of Mount Monserrate, so words don't do the views any justice. In terms of food you get to enjoy a full range of European dishes, but with strong French influences.
Casa San Isidro is on the slightly expensive side of things by Colombian standards, but bringing a woman here is going to win you some serious brownie points.
Address: Carrera 2 Este No. 21-48 Paseo Bolívar.
Best Places to Stay in Bogota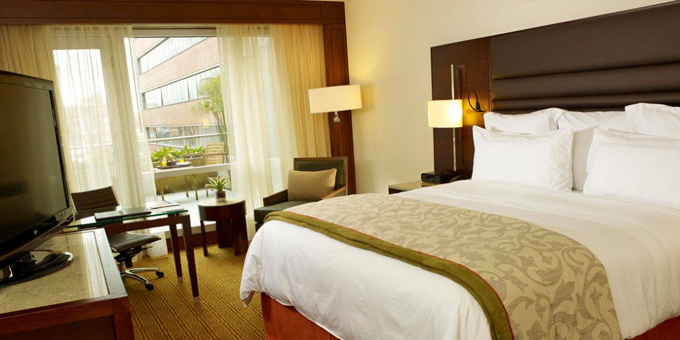 You're going to need somewhere to rest after a busy day at the mall, chatting in cafés, or especially after partying until the sun comes up.
Fortunately, Bogota has hotel accommodation to suit every budget, but remember that some Bogotá women will judge you based on where you stay, so choose wisely.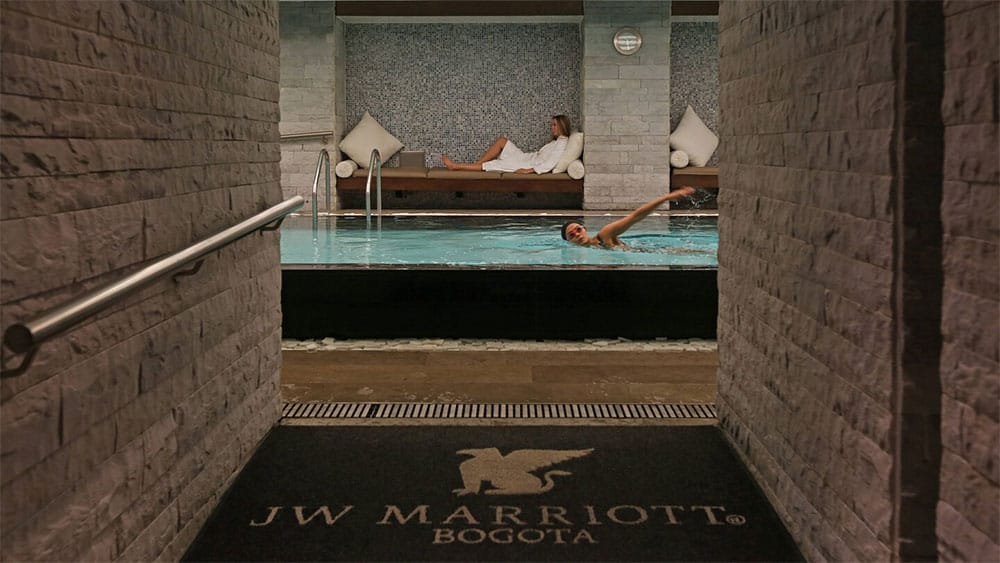 This swanky hotel is at the upper end of the hotel market in Bogota, with rooms coming in at around $300 per night. So if you can afford the room rate, this is the kind of hotel that tells your Latina that you have the financial means you bragged about.
It features several different restaurants, including The Market, and Tamarine Asian restaurant, and also has its own fitness center and spa. Located within walking distance of the old town, the staff always make you feel like you're the only guest staying there.
This is more in the mid-range accommodation market, but it's not exactly a hovel either. A room here will set you back around $120 per night, and because it's aimed more at business travelers, you'll find the rooms are always clean, tidy and more than comfortable.
This hotel is also situated on a quiet street, so you won't have Bogotá party animals keeping you awake half the night. Some of the best restaurants in the city are just a short walk from the hotel, and you even get a complimentary massage just for being a guest.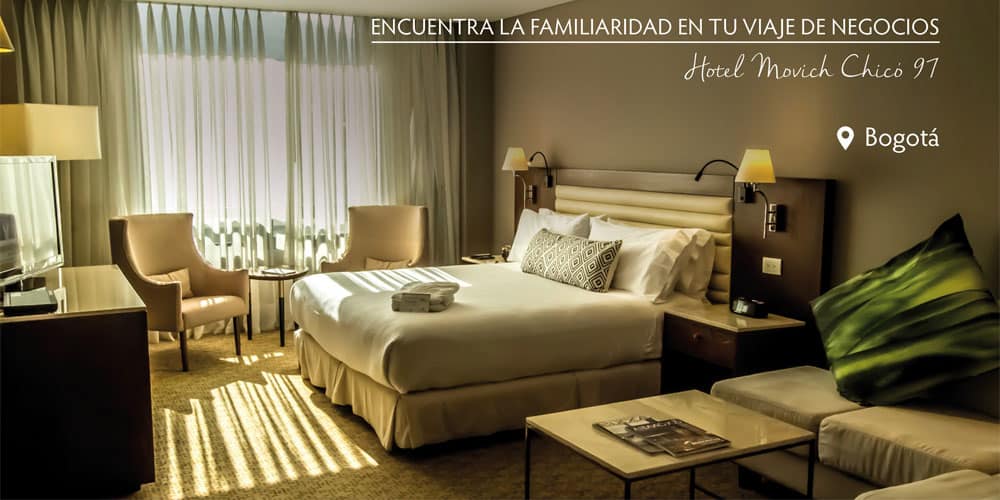 If you're looking for a more budget-friendly hotel, then check out Movich Hotel Chico 97, on Carrera 11 97-03. Rooms start at around $70 per night, and you get a lot for your money in terms of room quality, breakfast and dinner options, and how friendly the staff is.
The rooms are way bigger than you might expect for this price range, plus you get all the usual amenities that normally come with a higher price tag.
Your final option is to simply rent an apartment instead, which is ideal if you want more privacy and the option of cooking your own meals.
A basic studio apartment in Bogota costs about $40 per night, but for about $70 per night you get access to really nice apartments, some of them even featuring a shared swimming pool. You can rent daily or monthly, depending on how long you plan on staying in Bogota.
Money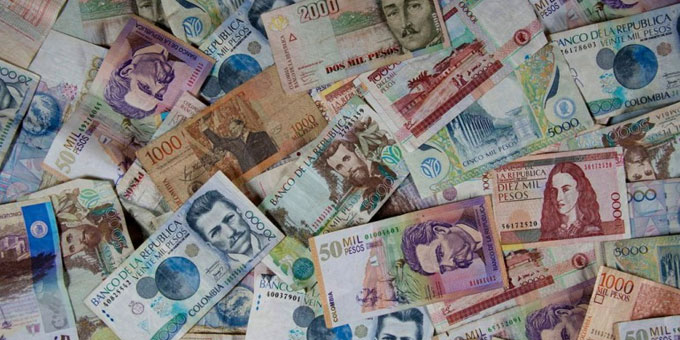 The unit of currency is the Colombian peso (COP), and $100 gets you about 290,000 pesos. There are lots of ATMs dotted around the city, so you won't have any trouble getting your hands on cash – just don't go making withdrawals late at night in areas you're not familiar with.
Also, avoid carrying around large quantities of cash with you, but that's the same advice we give for every foreign city.
Now, your daily budget will depend mostly on your accommodation choices, so if you're okay with staying in a hostel, or really cheap hotel, you can get by on about $50 per day. That's $15 for the hostel, and the rest on food and drink.
If you want to actually enjoy your trip then a sensible daily budget is about $150 per day – that will get you a nice hotel, and still leave change for drinks and meals in the better bars and restaurants.
After that, it's down to your personal financial circumstances, so $500 per day will cover a room in the best hotels in the city, and cover all your meals, drinks and taxis during the day and well into the night.
General Bogota Safety Tips
Don't go walking around the southern parts of Bogota late at night – you're literally asking to be mugged. If you absolutely have to visit this part of the city after dark, then only do it in a group, and know exactly where you're doing and how you're getting there.
The public transport (bus) system has a serious problem with pickpockets, so avoid using a bus unless you have absolutely no other choice. Taxis are very cheap here, so make the most of them.
HIV is a fact of life in Colombia, with at least 100,000 people infected with the virus. The real problem with HIV here is that a Colombian guy with several girlfriends infects every single of them, but they have no idea they're carrying the virus.
Long story short here is to keep it wrapped in a condom, even if she seems like the sweetest, most polite, sincere girl in the world – her last boyfriend could be a walking virus farm.
Getting To Bogota
The vast majority of North American, European and Australasian citizens do not require a visa of any kind to visit Colombia unless you plan on staying for longer than 90 days.
Most single guys traveling here plan on staying for a few weeks max, so you can scratch getting a visa off your "to do" list.
You can expect to arrive at Aeropuerto Internacional El Dorado when you land in Colombia. This is a brand new airport and is located just a short drive from downtown Bogota.
A flight from most North American locations to Bogota will take about 6 hours, but any guys traveling from a European airport can expect flights of between 10 and 14 hours.
You can book flights to Bogota through a number of international airlines, including Air Canada, Delta, British Airways, United, KLM and Turkish Airlines, among others.
A taxi from the airport to your hotel should cost no more than $10, but probably more like $5. There are no trains serving the city, so unless your hotel offers a shuttle or pickup service for the airport, book a taxi instead.