Overview
The basic review of Elena's Models is simple. This company is one of the oldest and most reliable international dating sites. It is a large operation, but it retains a certain mom and pop feel.
Elena Petrova was born in Russia and married a western man, so she has a deep understanding of what it is like for a Russian woman to seek a foreign man. And Elena's focuses exclusively on Eastern European women.
There are not Elena's sites for Latin or Asian women. Elena's is all about matching women from Slavic countries with men from developed countries around the world. If that's not what you are looking for, then you should look somewhere else.
International Love Scout has worked with Elena's since 2009. They are a reliable company and they are based in Australia. For Australian men that may make them a particularly attractive dating agency, because you can actually visit their offices in person. That is a huge attraction for me.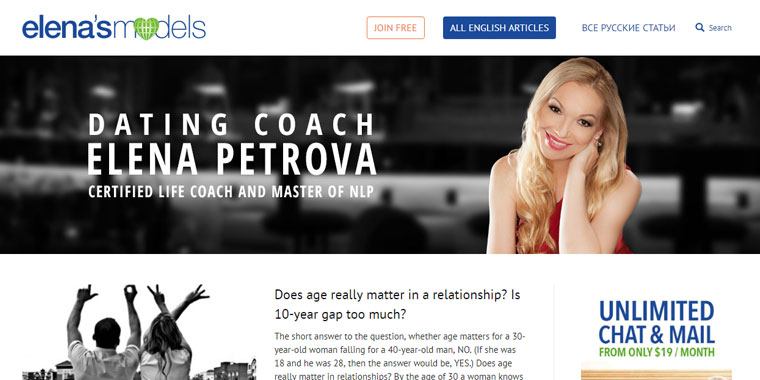 Elena's Blog is a great source for information on dating women from Eastern Europe, particularly Ukrainian and Russian women. She has all sorts of articles about visiting and living throughout the region, not just dating advice.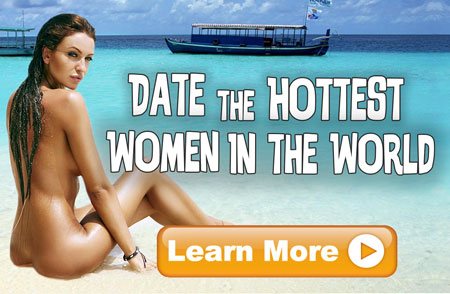 But of course, there is also tons of great dating advice from someone who knows what they are talking about.
Also, if you really want to get a feel for who Elena is and what she is trying to accomplish with Elena's Models, you should give our interview with Elena a read.
Services
Elena's Models service is simple and straight forward. You pay a certain amount at each membership level, and you get to contact so many women that month. The plans start at $19.00 and go up, but it is a real
You can send the ladies an email, but today most guys will use the video service. Longtime readers of International Love Scout know we are huge fans of video chat because it allows you to see the woman you are chatting with and observe how she reacts to your comments in real time.
But letters have their place too, and one of the great things about Elena's is that when you receive a letter from a woman in your inbox at the site, it was actually written by the woman, not by the agency.
Mostyagencies have the woman write a general "introduction letter" that sounds vaguely like the woman looked at your profile.
Then the agency will send it out to anyone that meets the, often very broad, criteria of the woman who wrote the letter with the hopes that you will perhaps pay to read it and pay to send a reply.
Some poor saps will feel like they need to reply to every letter, and some agencies will send you hundreds, which can be incredibly expensive.
Though most agencies tell you their policy about introduction letters in the fine print of their registration page, this practice really sullies the industries reputation, because it is at best misleading and can easily lead to a man feeling he was scammed.
However, Elena's does not participate in this practice. If you get a letter from a woman at Elena's, it is not one of these somewhat misleading letters of introduction. In fact, Elena has personally campaigned against these letters.
Furthermore, Elena's Models lets you know a woman's response rate to inquiries from men. This is an incredibly useful tool because it allows you to see if a woman is likely to respond to your letter or not.
Some women get tons of interest, and others do not, but at the same time, some women rarely answer men, and others are very serious.
It is a great tool, and it will save you a lot of wasted effort and annoyance.
And that is the sort of attention to detail that makes Elena's stand out from the crowd. It is an agency that tries very hard to be open and clear. That is really nice.
Cost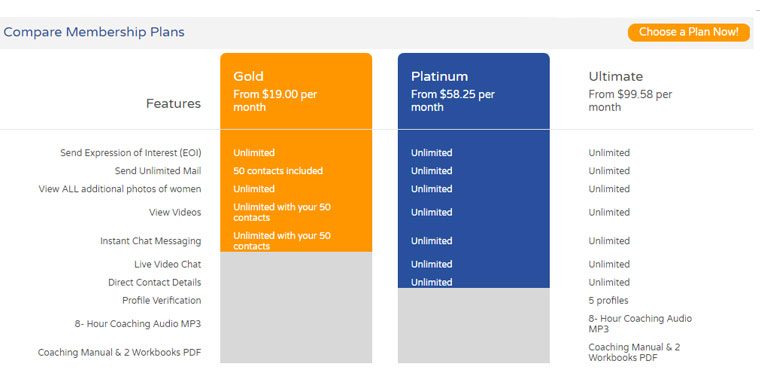 Elena's recently streamlined their payment plans, and that makes them much more user-friendly. You can sign up for their Gold Plan for as little as $129 for three months or $228 for a year, which works out to about $19 a month.
This is a super value and pretty much the best deal in the entire universe of legitimate international dating. The only important restriction is that you are limited to contacting fifty women.
You can send as many emails as you want to those fifty women, but to correspond to more than fifty women you must upgrade to the Platinum Plan.
The Platinum Plan allows you to contact an unlimited number of women for three months for a payment of $259.00, which works out to $86.00 a month.
One of the benefits of signing up for the Gold or Platinum plans is that you now get unlimited instant chat on mobile devices for the term of your membership.
However, the best part of the Platinum Plan is that your profile automatically goes to the top of the results when the women search the sight and that is a great signal to send out to the women.
Also, you get an advertisement on their Russian language web site, so if you are serious about looking for a mate and the money is no big deal this is one of the best plans in the business.
Is Elena's Models a Scam?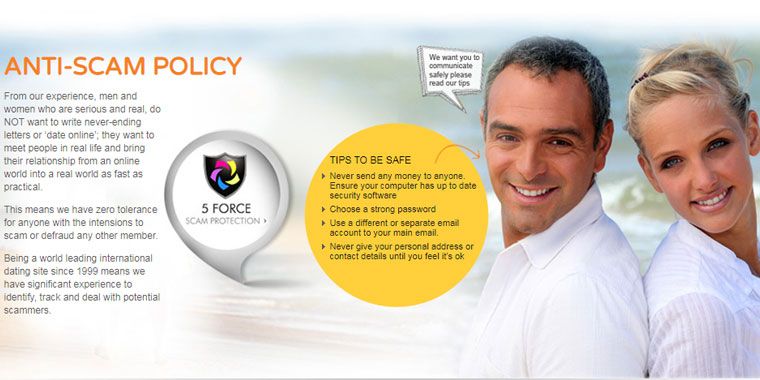 No, Elena's Models is not a scam. They pride themselves on being absolutely transparent. Elena wrote that "We are ready to open our books, databases, computer code to any legitimate media representatives or federal agency," to prove they are completely forthright and honest.
However, if you go on SiteJabber, TrustPilot, or several other review sites they get hammered as a fraud. It is shocking. There are a ton of extremely negative reviews, but you should take those negative reviews with more than a little grain of salt.
Some of the negative comments are former affiliates still angry with Elena's over the elimination of its affiliate program in 2014. They are obviously still angry.
International Love Scout was also an affiliate when this happened, and we were NOT happy with this change. But we did not change our review, because Elena's is a great company that tries hard to keep down fraud.
But it appears a lot of the burned affiliates were not as philosophical as we were.
Elena's eventually invited us back into a far less attractive affiliate program. And, yes, despite our general disappointment with how they handled this business decision we went ahead a joined, so if you sign up for Elena's and spend money there, we will earn a commission.
But a bigger problem is that someone is buying hundreds of negative reviews. You can tell because many of the negative reviews are short like this masterpiece…
SCAM! SCAM! SCAM! This website is full of scammers! Very rude owner Elena. Stay away!
To me, that seems like a fake review because if I am angry enough to bother writing a negative review, I am going to slam the company in detail.
There are hundreds of similar short reviews on nearly every review site, many personally attacking Elena.
That is suspicious because it is easy to buy fake reviews these days. You buy fake positive reviews to help your site and fake negative reviews to crush your competitors.
This happens more than you would believe on Amazon, Yelp, Booking, and every other site you can imagine because it works.
There are boiler rooms in India and the Philippines full of low paid workers who pound out these reviews for clients.  They are usually not particularly well written.
That is one of the biggest giveaways. And before 2014 there were very few fake reviews, so something is going on.
Elena's Positive Reviews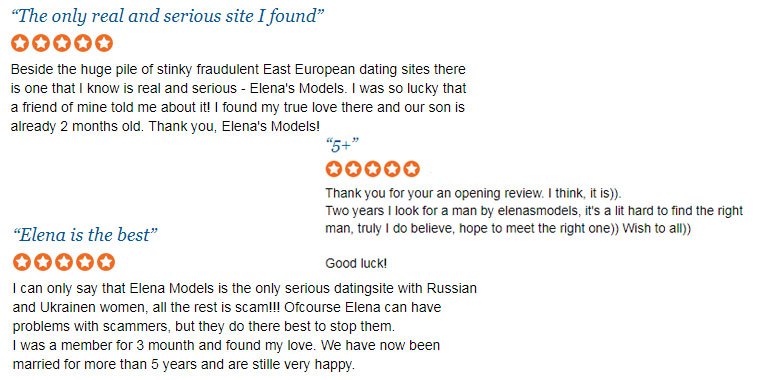 But there are also a large number of positive reviews, and they tend to be everything that the negative reviews are not. The positive reviews tend to be long, detailed, and provide a story about one man's experiences with the site.
Here is an example of a positive review from Trustpilot:
I found my wife after about 1 year on this site. I had dreamed of finding that perfect east Europe wife a real Russian in particular since before I graduated, and having much expericence with American women that were all about material things I had my mind made up, there was just something about their accent and their beautiful tear drop eyes of a slavic women that drove me insane. After wasting much time and money on all of the other scams out there. Even though I was not sure of the authenticity I decided to try Elana's because they seemed the most fair as they did not charge you for every communication…
This guy goes on for another 500 words, and you can see why I am pretty certain this is a legit review. This man is pouring out his heart and soul.
And there are a lot of reviews like that where men go on and on about how wonderful Elena's Models is.
Of course, a cynic would argue that Elena's could also be buying positive reviews. They could, but these sorts of long, passionate, original reviews would cost them a small fortune.
Negative – Positive Reviews
There is one more type of review that is unique to Elena's: negative-positive reviews from women. These reviews occur because Elena's does not use dating agencies to recruit women like so many of the agencies do.
Instead, Elena's rigorously screens its female applicants to stop scammers from signing up. Some women hate the screening process, so they go to review sites and give the company bad reviews.
For instance, one lady explained that…
If you a woman and want to register, you'll have come hell and high water for your profile to be approved.
Another woman wrote…
They never happy. All the time they need more and more. They asked to show Russian passport with name, date of birth and address in skype and I showed."
Both those reviews came off of Trustpilot, and they helped drive Elena's rating to "Bad"on that site.
But if you are a Western man, those are great reviews. Super reviews!
Why?
Because they PROVE that Elena is serious about stopping scammers from joining her site. So, if you start communicating with a woman on Elena's you can be sure that she has been rigorously vetted.
That does not mean you will find the great love of your life, but it does give you a better chance of finding a good woman who is not simply trying to make dating foreigners her job.
In fact, no company makes more of an effort to fight scam artists and provide an honest service than Elena's Models.
Elena's Models is almost obsessed with rooting out scammers and keeping other international dating and mail order bride services on the up and up.
However, like all internet dating companies, they do occasionally end up with some unhappy clients. That is just the name of the game,
Security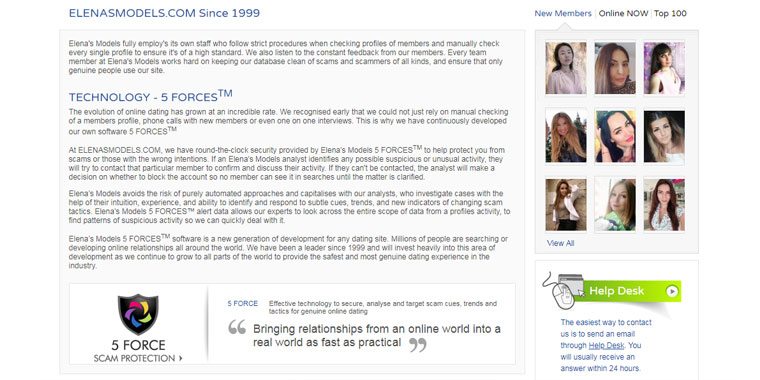 Elena's Models has been in business since 1999 and clearly makes an effort to be the most reliable company on the Web. More importantly, they never see your credit card number.
All of their billing is processed through Clickbank, which is about as safe a way to pay as you can find.
They also deserve credit for clarity and honesty in how they handle profiles.
At many agencies, it is hard for you to know if a woman is serious about finding a guy, but for a woman's profile to appear on Elena's she must have been active in the previous ninety days.
This means that the women on Elena's are serious and active about finding a husband.
Profiles that have been marked as "Confirmed Profiles" are girls that have actually met a representative from Elena's Models in person, and finally, they do review the women's profiles for known scammers.
If you are concerned about being scammed, Elena's is a great choice because they make every reasonable effort to keep everything on the up and up.
Final Analysis
Elena's sterling reputation, good selection of reviewed profiles and efforts to combat scammers are the main reasons Elena's Models ranks so high in our review.
Their reputation for honesty and their efforts to root out scam artists makes them a great agency for guys who are worried about getting ripped off.
In terms of the basic services, Elena's is the market leader in security, clarity, and customer service.
Also, because they are covered by the laws and regulations of the government of Australia and that provides you an extra layer of protection, particularly if you are Australian.
They also have a ton of great profiles, if you can't find the girl of your dreams at Elenas, then there's something seriously wrong with you!
Elena's Models Website Review
Hotness Factor

User Interface

Number of Profiles

Quality of Profiles

Security

Cost
Summary
Elena's Models is a classy Australian based Eastern European dating site. They have a sterling reputation and their chat system is simple and easy to use. Elena's Models offers a straight forward system of plans and a simple chat system making them one of the leading international dating sites.
Pros
Elena's Models has some of the hottest women in the business.
They offer a full range of services, and their testimonials are outstanding.
They offer a lot of photos in their profiles, often as many as eight or nine.
Cons
Elena's needs to provide longer, more detailed profiles.
A more logical payment plan would make them the best in the business.