Kristine is a sexy 25 year old brunette babe from Vinnitsa, Ukraine.
I just love all of that curly brown hair. She says she has blue eyes, but it's hard to tell from her photos. Damn! That's exactly why Mr. Kodak invented color cameras!
Her English is probably not so great, but she's 5'9 and man does she fill out that bikini!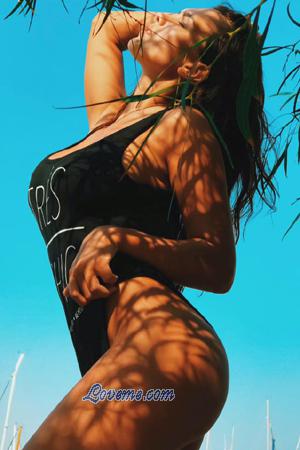 Tall girls rock!
Kristine is a student that describes herself as kind, gentle and intelligent. Honestly, I would be concerned about any student who doesn't describe themselves as intelligent, but I will let her slide this time.
She's got the whole tall and sexy thing going on, even if she is not actually intelligent.
If you are particularly attracted to tall Ukrainian babes, here are a few others we would recommend.
They may not come from a "respectable family" like Kristine, but you never know, maybe they left that part off of their profiles.
Kristine says she is searching for a real man, who will be able to make me happy and whom I will be able to present my love.
She's not fluent in English, but don't worry – A Foreign Affair (the international dating agency where she has her profile) provides top notch translation services, so I encourage you to reach out to this beautiful Ukrainian woman so you can find out what her definition of a "real man" is.