Chaliha is a sexy young artist from Havana Cuba.
This Latin beauty is looking for a man who is loving, caring, attentive and generous.
Now, normally when I see that word Generous" in a dating profile it sets off all kinds of alarm bells. Nine times out of ten that is a code for "I'm looking for a Sugar Daddy
But I do not believe that is the case with Chaliha.
When a girl is looking for a Sugar Daddy her profile is usually jam packed with very risqué pictures of the girl in lingerie or a string bikini.
While Chaliha's pictures over at Amolatina definitely reveal that she is a VERY beautiful woman, they are not what I would consider adult in nature.
And she is smiling a lot.  She really looks positive, kind, and generous.
When Chaliha says "Generous" she is probably just looking for the kind of guy who would spend the day helping a friend move (I'm not sure I would qualify for that one).
And she is an artist.  She does not say what sort of an artist she is, but artists by nature are romantic, emotional, and visionary.
Yes, even the grunge artist covered in tats is really a romantic, because they think there could or at least should be a more beautiful world.
And I doubt Chaliha is a dark, brooding sort of artist.  She is probably more of a positive, enthusiastic artist.  Look at the smile on that woman!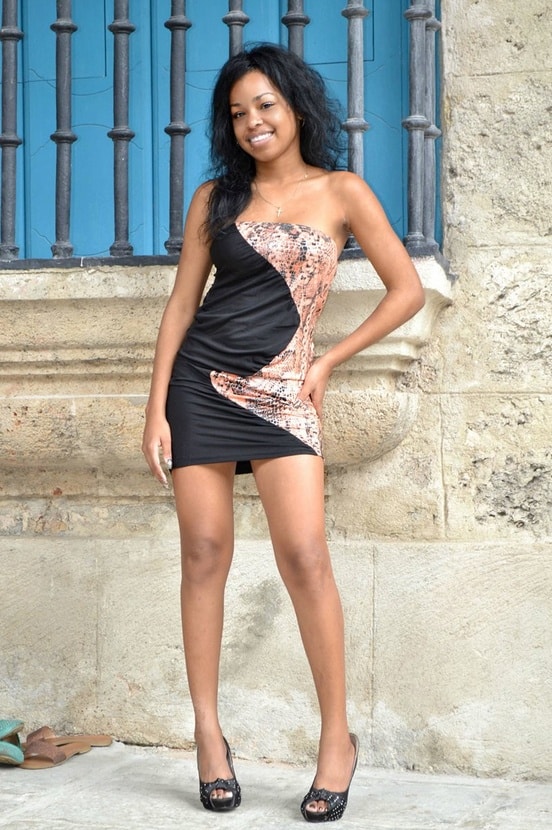 Chaliha lives in Havana which is the vibrant, colorful capital of Cuba, it's full of life and entertainment, with some incredible architectural gems from the Colonial period.
In 1982 UNESCO declared Old Havana part of the "cultural heritage of humanity" and after two centuries of neglect, restoration work is finally returning the old town to its former glory.
There are  to foreign men, but the logistics of dating a Cuban woman are a bit more complicated than say a Colombian girl.
At least for those of us from the good old USA.
Because travel to Cuba is restricted by the U.S. government, relatively few Americans visit the island each year.  And yes, this whole Cuban travel ban is a total mess.
Kennedy first imposed it and I don't think he ever imagined it would still be in place almost sixty years later.
Yes, you probably remember something about Obama overturning it, but he only overturned part of it.
What you probably missed was that Trump reimposed most but not all of the travel ban.
But he left a gigantic loophole for Cuban Americans.
Cuban Americans are among the most reliable Trump supporters in the country and they liked part of Obama's changes, because it made it much easier for them to visit "relatives" in Cuba.
Or hot Cuban girls who could become relatives!  Oh, well.  Other Americans are still living with essentially the same travel restrictions JFK imposed.
While our counterparts from Europe, Canada and Latin America frolic in the hot Cuban sun, most U.S. citizens still have to enter the country thru roundabout routes, like Mexico or Canada.
Once you get to Cuba, they are very accommodating and will not stamp your US passport, BUT remember this is still illegal.
If you lie to the United States Immigration and Customs Service and you get busted don't say International Love Scout made you do it.  Really, the whole thing is crazy.
Hopefully this silliness will all go away soon and U.S. citizens will enjoy unlimited access to Cuba (and it's beautiful ladies).
If you want to contact Chaliha just click on her photo up to the right.  It will take you to Amolatina and you can send her an email or maybe even chat with her.
Good luck!