Melina is a sexy 22-year-old Mexican lady. She is fit, sexy, and seems optimistic.
She writes that she is, Young, but mature, responsible and serious lady! Full of life, energy, dreams and plans for the future. Believing only in the best, very friendly, kind and optimistic.
Optimistic…. That is a word you don't often hear from guys when they are thinking about women, but it is probably something every guy should think about. The Merriam-Webster dictionary defines optimism as: "a feeling or belief that good things will happen in the future."
And really isn't that what we all sort of want in a woman? You know, a woman who knows that you are just the fry cook, but sees that you have everything it takes to make assistant manager – night? Or sees your beer belly and thinks, "If he just lost twenty pounds he would look just like George Clooney!"
You know the sort of girl that believes you are smarter, kinder, and generally better than you ever really are.
In his heart, every man really wants a girl who believes in him and when he finds her he often finds that with her support he can become smarter, kinder, and generally better than he ever imagined he could be. And that's why there is nothing including money that contributes more to a man's overall health and well-being than getting married to a good woman, particularly a sexy-younger woman.
Don't believe that? Read our article, Live Longer – Get Married!
She writes that, I still believe in true love, honesty and possibility to find happiness with only one man! And if I ever find this man, who is at the same page as me, with same dreams and values, I will do everything to make him the happiest person on this planet! You have simply got to admire her drive and how she fills out that bathing suit!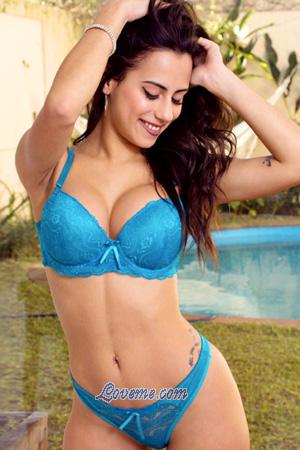 Oh, yeah! This senorita is sexy!
And she lives in a place you would probably like to visit, Yucatán's capital, Mérida. The New York Times described the city as, …a languid city of pastel mansions and evening promenades. The city, now one of the safest in Mexico, is an architectural jewel, and has one of the country's largest historic centers outside Mexico City.
So, check out Melina's profile over at A Foreign Affair. Here is our review of A Foreign Affair. It is one of our favorite agencies and it gets very high customer ratings and there are more sexy photos of Melina over there!