Olga is really unique in that she's honest, genuine, passionate, and right up-front with what she wants out of a man, relationship, and future.
Although she has one son, she indicates on her profile that he is successful, independent, and not present in the home. Olga, understandably—like many people—simply wants to fall in love, and have her king next to her each night before she goes to sleep.
While Olga requests that she be treated as a queen, she does specify that it be a mutually beneficial relationship and future built on love, passion, and trust.
Not only does Olga have a strong sex appeal, but she also is very fit and active, loves yoga, sports, and gym!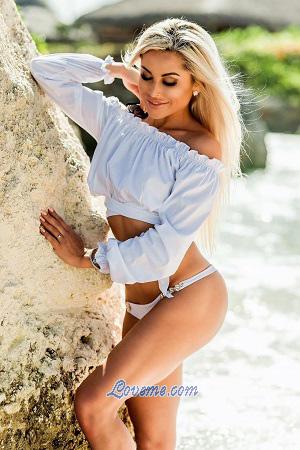 It's obvious and also very attractive that Olga has class and as such has a profound interest in theatre, museums, traveling, and nature.
Not only does Olga give the strong impression of an independent woman and adventurer, but she also openly touts that she is big on self-development—which is arguably not as common with many western or foreigner women in comparison.
Olga seeks a man she can trust, whom she can grow with, and she openly admits that she is ready to re-learn a man from inside out, and dedicate herself to being the wife that such a deserving man would desire.
We love how active and sexy Olga is, and her fascination with ballet and dancing just adds to the attraction!
If any man is seeking a seriously beautiful, inside and out, religious Ukrainian woman that fluently speaks Russian, Ukrainian, and strives to understand and learn English, then Olga is a great choice!
She shows a genuine interest in getting serious with whomever she corresponds with, openly expresses she has enough friends already, and is seeking something much more—so we admire her forwardness!