Here's a fair warning for those of you that read this profile first before heading to the extra photographs.
Be warned! Anastasia in a bikini by the pool is going to cause you serious heart palpitations.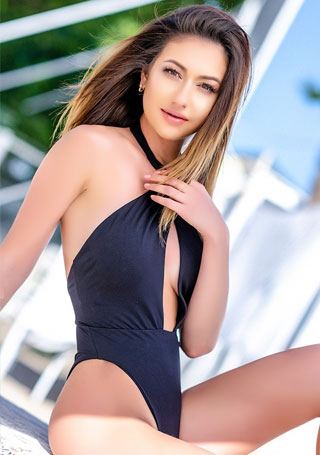 A body like that in a tiny bathing suit is a bit like a lethal weapon. This 27-year-old blonde bombshell with blue eyes and the body of a goddess is looking for a man.
Just how fussy is she? Well, if you are honest, faithful, have some self-confidence and some romance and charm, then you're liable to win her heart.
It should be mentioned that you will need some patience as well because Anastasia, a beautiful Russian name too, cannot speak a lot of English. Fortunately, translation services are available.
This lovely lady enjoys sports like running and swimming, and that's probably a reason that her body is in such good shape.
She doesn't list any hobbies or other interest, but you can be assured she has some. And isn't that exciting as you chat to her and try to discover just what she likes and dislikes?
There will no doubt be some activities or hobbies that you have in common, even something as mundane as going to the movies or romantic walks in the evening.
Anastasia describes herself as a non-typical Russian in that she is affectionate and warm-hearted.
She likes to spend time with her friends and seems to be a very well organized person that uses her phone and even the fridge to make sure she remembers stuff.
That sounds like a pretty common system all around the world.
If you're a warm-hearted, energetic, honest and faithful kind of a guy, then it's a possibility that you might have a great chance to see Anastasia in that bikini at the local pool in your country. Now wouldn't that be a great day out?