So, what sort of man should pursue a lady on an international dating site? That's hard to say, but many of the men who visit International Love Scout are busy professionals who don't have the time to find a mate in more traditional ways, doctors, lawyers, and small business owners.
Successful guys like J.J. Watt.
Yes, J.J. Watt, perhaps the NFL's most dominant defensive player since Lawrence Taylor is the perfect example of a guy who might really do well on Anastasia or A Foreign Affair.
You see, like a lot of other successful professionals, J.J. Watt is having a hard time finding a girlfriend.
He is a busy guy. It takes a lot of time and effort to beat the blocking schemes every team that plays the Texans throw at him week after week. And there are those commercials. And the man has a workout routine as tough as anyone, anywhere.
So, it is hard to find time to find the right girl. For a while he was dating the Danish tennis star, Caroline Wozniacki, but she has a busy schedule too. He says, I'm trying. I'm just unsuccessful. My schedule's so crazy and life's busy, it just hasn't worked.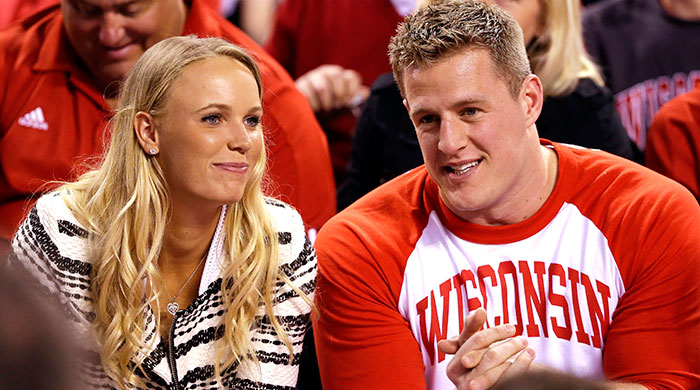 J.J. Watt seems like a nice guy. He has talked before about being bullied as a kid it seems like he transformed himself into the sort of player that makes Peyton Manning and every other quarterback he faces check for his position just before they snap the ball through ferocious hard work.  He seems a little uncomfortable with his celebrity status.
Since he seems to like athletic girls maybe he should start by checking out our Fit Chicks?
And he also he is worried about the women he meets. He said, "You don't know who wants you for you, who wants you for the money who wants you for the fame. You have no idea,"
J.J. Watt could overcome a lot of these problems by signing up for Anastasia since apparently he has a thing for blonds. He could create an account using his first name Justin.
More than likely none of the stunning Ukrainian women would recognize him. He could use instant chat and the cam share service at will and with his salary never even notice the cost. Heck, it is probably cheaper than what he would have to do to meet a girl in Houston.
You can't really take the girl to Outback on your first date when she is going to know you signed a $100 million contract.
Then in December or early January he could travel to Odessa to meet the woman of his dreams since the Texans have no chance at the Superbowl.
It is not much of a stretch. Most Ukrainian girls have no idea who he is and that might be just what he need.
So, if J.J. Watt could potentially benefit from pursuing international dating why not you?

Editor-in chief – An over educated international traveler, he sets ILS' light, positive tone. Chuck constantly pushes to ensure every article is supported by good sources, preferably from peer reviewed journals, government reports, or top-flight newspapers and magazines.