Dating in the military is often a nightmare. This article is a review of the best military dating sites because dating on active duty is tough.
But before we go there, let's talk about dating for retired officers and NCOs. Every soldier, sailor, airman, and marine can tell you their own dating horror stories.
And a lot of men retire from the military so scarred by the process that they have a very hard time building good relationships after they are done with the challenges of long deployments, unplanned moves, and the stress of the whole situation.
That should not be the case, because there is a GREAT solution for retired officers and NCO's – at least for the men – international dating.
International Dating for Retired Military Members
Early in your career you are separated from your friends and family and trying to decide if the military is really going to work for you. If you try to date civilians, you usually meet people who don't really understand what it means to be in the military. Dating other young service members causes a whole additional set of issues.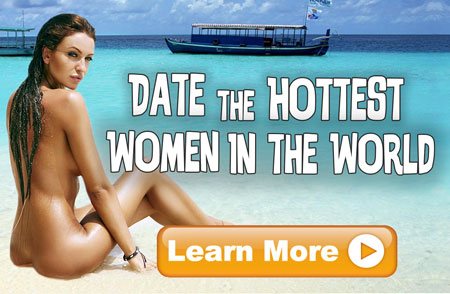 The schedule, the obligations, hectic shifts, constant travel, and relocations are just some of the things that partners of military personnel have to deal with. For enlisted personnel below E-4 there are not a lot of privileges or benefits to soften those challenges. Officers below 0-3 face a lot of the same pressures.
That leads to a lot of broken hearts and divorces. Everyone knows that there is a lot of truth in the stereotype of the much-divorced master chief or first sergeant.
But after those men retire, they are in a completely different situation and they do not realize how attractive they are to foreign women.
Why Foreign Women LOVE Retired Military Men
For a lot of foreign women, military retirees are exactly the sort of Western men they want to meet. To understand why you need to realize that most women who sign up on international dating sites are exhausted with the behavior of there own men.
For instance, in Russia, there is no law against domestic violence. If a man murders his wife he might go to prison, but if she lives after her husband tosses her off the roof of their apartment building or cuts her hands off, he is probably not going to jail.
So, for a Russian woman, a man who is used to following rules and living by a code of conduct is extremely attractive. The same is true of women in many other parts of the world.
They like knowing that they are dating a man who has self-control and no one retires from the military without developing a strong sense of self-control.
Foreign women also appreciate that military retirees are real men who can protect them from harm. They like the notion that they are dating a capable man who has successfully faced a lot of stressful situations and she the training to succeed in emergencies, natural or man-made.
They like guys who are willing to make decisions and nobody is better at making decisions than senior NCOs and field grade officers.
And, after years, in a command slot, good officers and NCO know how to recover after making bad decisions too, and that might be the best trait to indicate who is going to be a successful husband.
Also, foreign women like the notion of reliability and when they understand that a retired military member has a pension they are often amazed that the military gives pensions to such young, fit men.
For many of them, only the very old have pensions. And they like the fact that it is backed by the government. It makes them feel safe about trusting a retired guy.
If you want to understand more about why foreign women want to meet retired military men read this article about Why You are More Desirable Overseas.
Best Military Dating Sites in 2020
A Foreign Affair – Best Dating Site for Retired Military Men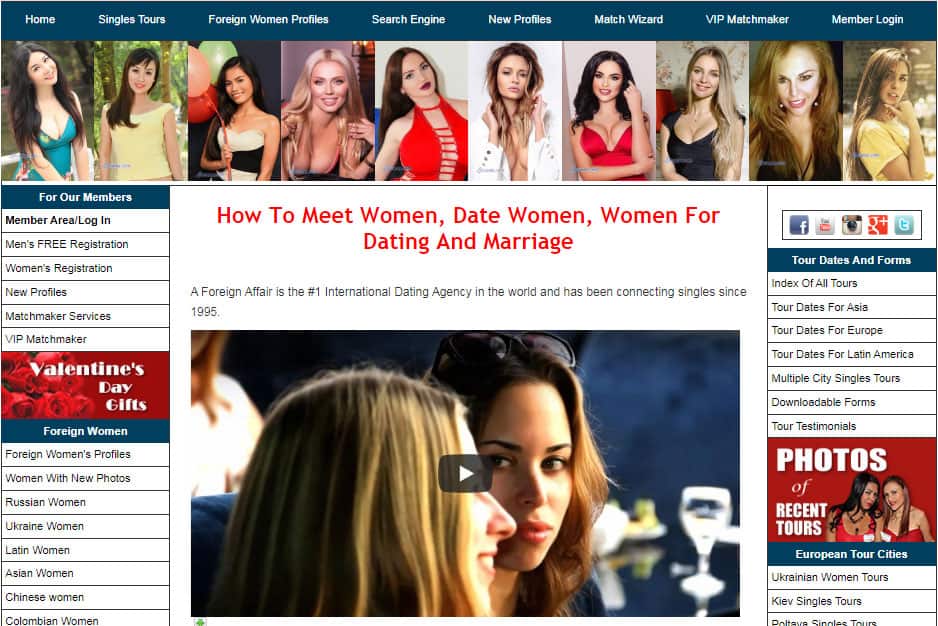 The best dating site for retired military men is A Foreign Affair because there is no better place for a military retiree to meet – actually meet – a beautiful foreign lady than at a Foreign Affair.
You can meet a woman on their website in through emails and phone calls like you can on a hundred other sites, but A Foreign Affair is one of the very few companies that will actually help you overcome the legal, administrative, and logistical hurdles to meeting a beautiful foreign woman face to face.
That is the AFA difference.
They help men meet women both individually, but also on their famous romance tours. AFA tours are amazing, but rather than trying to explain it watch the video below: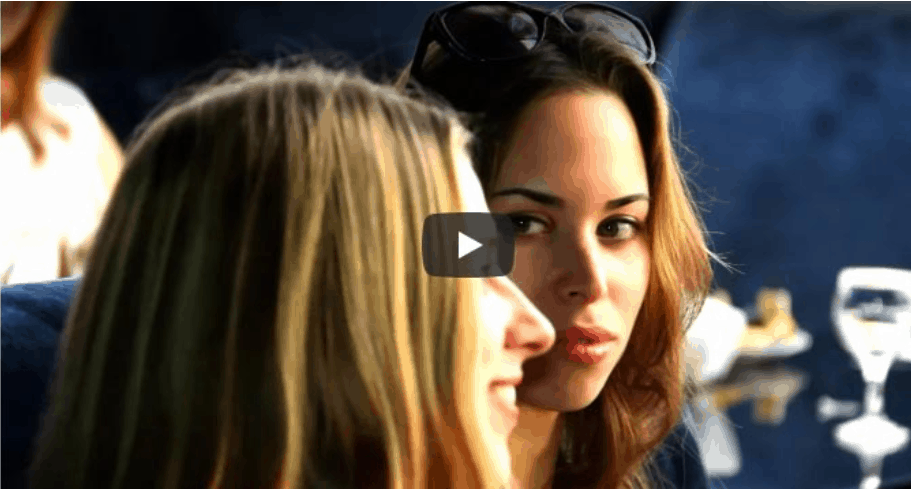 If you watch that video you will understand why there is no better way for a retired NCO or military officer to meet an amazing woman.
If after watching that video you still need more reason to sign up with AFA then check out the Best Damn Guide to Romance Tours!
On most tours, there are at least a few vets and AFA's staff has been doing this for years and it is very vet friendly. And, you don't have to be retired to take a romance tour, but it makes the scheduling easier.
Now, for people who are not really interested in marrying a foreign woman lets take a look at the best military dating sites.
MilitaryCupid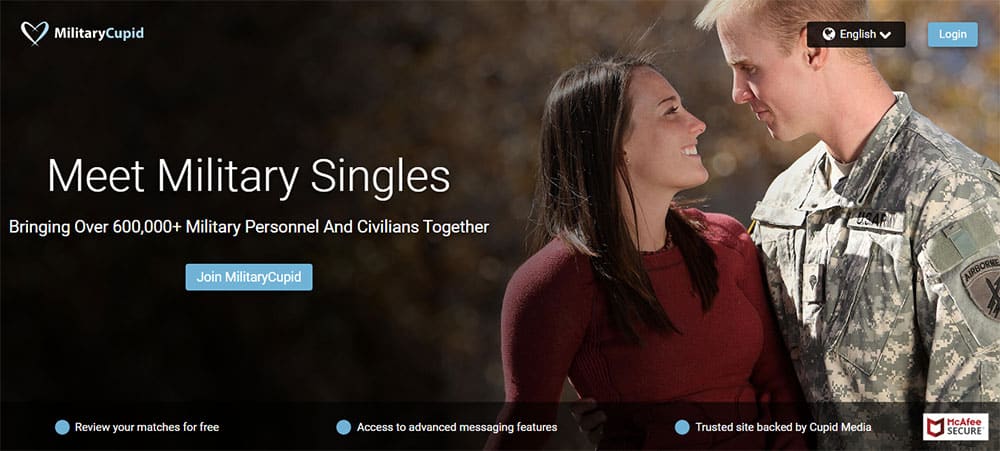 When it comes to best military dating sites, MilitaryCupid reigns supreme. It's one of the most popular ones out there, with thousands of active users from the military field.
MilitaryCupid has over 600,000 profiles of civilians and personnel from all branches of the military. Its popularity doesn't diminish, it seems, as it has over 15,000 new monthly memberships. That makes it an ideal dating pool and the proverbial sea where you'll surely catch the right fish for yourself.
Because it's a part of CupidMedia, one of the biggest dating enterprises on the market, MilitaryCupid knows its stuff. With almost 15 years of experience, this website has been tweaked to perfection and offers fantastic features to all its users.
Although the site caters to all ethnicities, genders, and sexualities, it's mostly geared toward the straight male audience. White, male soldiers will find it particularly appealing.
Should You Invest — Premium vs. Free Membership
There's a big difference between a free membership and a paid one on MilitaryCupid. Free members can like other profiles and add people to their "Favorites" list. However, all other features are unavailable.
If you'd like to chat privately with people, search by military branch, or get matches suggested, for example, you'll have to pay for a Gold or Platinum membership.
A free membership leaves you with limited options because you'll have to like Gold and Platinum members and then wait for them to message you.
Pros
A reasonably extensive questionnaire about interests, values, and preferences
Extended search options
Extensive search filters (that allow search by military branch, for example)
Easy sign-up
ID verification
Extra features (displaying online users, users that viewed your profile, and the last time a user was online)
Additional features for communication (such as video chats)
Cons
There is a mobile app available but is android-only
Some features are limited for standard users (as opposed to paid membership)
The absence of military-specific features
Biggest Selling Point
MilitaryCupid has a free app that you can download to your phone. It's easy to use and has all the features that the desktop version does.
Coupled with hundreds of stellar reviews and testimonials of soldiers who found love and partnership thanks to this site, MilitaryCupid's high rating comes as no surprise.
Military Friends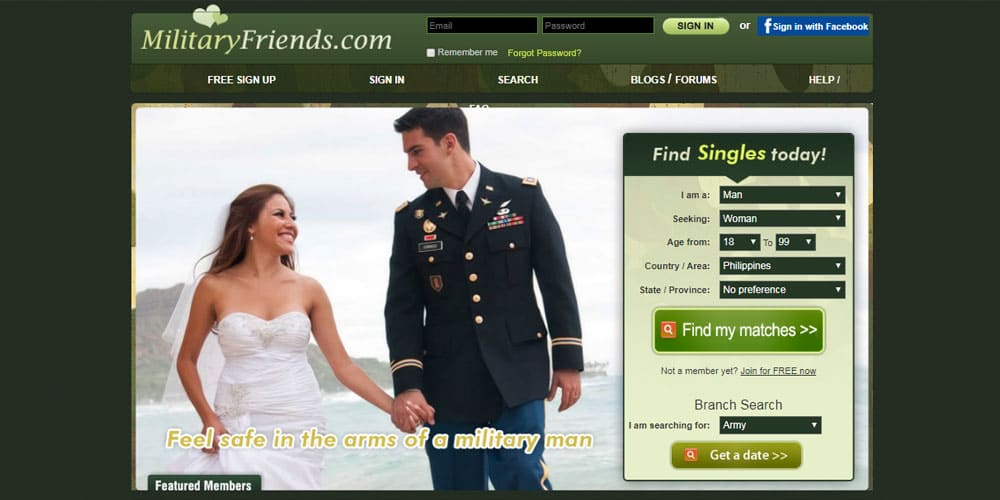 Although it looks a bit rudimentary and outdated at first glance, Military Friends is one of the best military dating sites out there. It has excellent features, it's versatile, and it is entirely free.
Because the website is a bit outdated, it has a straightforward interface, and it's effortless to use. But keep in mind that the site doesn't offer a corresponding app.
Although an app would make things easier, you'll have to push through with just the website. It is, however, mobile-friendly and easy to navigate on all devices.
Military Friends doesn't offer that much in terms of features and other options. You don't have to fill out a questionnaire, which means you can't execute a highly targeted search.
You can, however, search the users by location and send them messages.
Pros
Easy to use
Has a lot of satisfied users
Has adequate messaging options
Entirely free
Cons
No options of targeted searches
Quite a few ads per page
No matches based on interests, values, and similar filters
No screening or verification of members is required
Biggest Selling Point
Although it has some decent features, the fact that Military Friends is a completely free dating website is its main selling point. However, that does come with specific drawbacks.
Given that they don't take any money from their users, the site is funded primarily through displayed ads on their pages. So if that's something that you mind, then this might not be an ideal choice for you.
Black Military Dating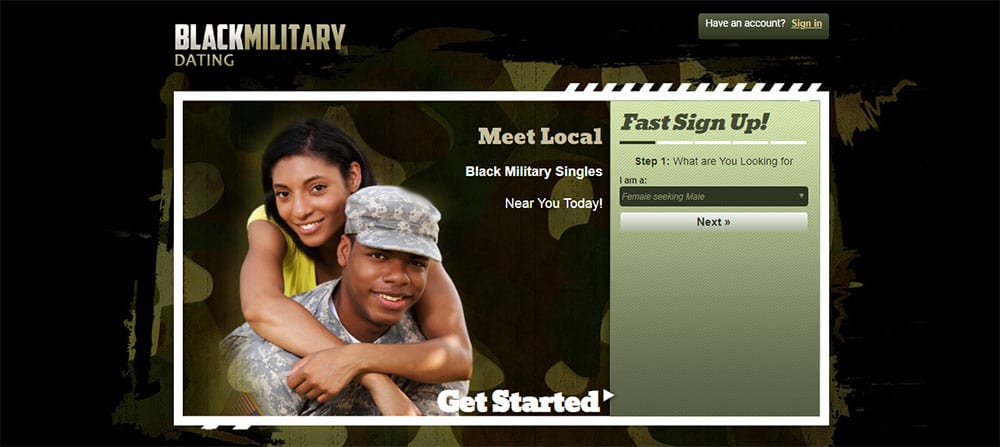 Although we all like to fish in a huge pond, sometimes, we're looking for a pretty specific fish, so to say. That means that narrowing down our search is a smart move.
Black Military Dating is a narrowed search incarnate! It's a niche dating site that, as the name suggests, caters to African-American and multiracial military personnel and people who are interested in meeting them.
Sometimes, we have no time to waste, and we know exactly what we're looking for. Black Military Dating offers people a chance to meet like-minded potential partners, who have been brought up in a similar fashion and culture, and who share the same values as they do.
Black Military Dating is a location-oriented dating site. You can select a city you're in (or in which you'll soon be) and search for potential local partners.
The website offers several different chat options. What's more, you can filter through users based on their location or interests. Like all the best military dating sites out there, this one offers variety.
Should You Invest — Premium vs. Free Membership
The website works on the basis of "flirts" that members send to each other to get the conversation going. As a free user, you can send up to ten flirts for free and communicate with those users (if they flirt back or reply). You can also browse everyone.
However, if you want the free range to contact whoever you want, you'll have to upgrade to a paid membership.
A paid membership will also boost your profile. Boosts are a staple feature of many dating websites, and they prominently feature your profile on the front page or the main chatroom. That increases the number of "flirts" and your chances of scoring a chat with an exciting person.
Pros
The website caters to all sexualities
Filtering by interest or location is possible
Several chat options available — live, private, webcam
Safe and secure payment channels
Cons
Doesn't have a lot of members
It isn't exactly up to date or of an appealing design
There's no mobile app available
Biggest Selling Point
The fact that Black Military Dating is such a niche website is its main appeal. It knows its target audience and does everything to cater to it.
>>Visit Black Military Dating<<
Military Passions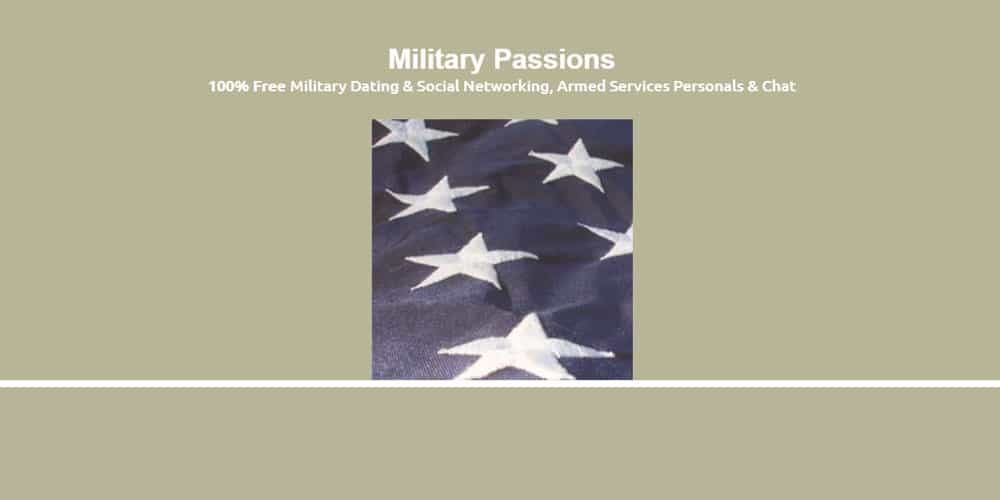 Let's get this out of the way from the get-go — Military Passions isn't the most visually appealing dating website out there. But when it comes to best military dating sites, it still scores quite high due to its ease of use and uniqueness.
So the creators of Military Passions decided to relocate their design budget and invest in developing exclusive features instead. As far as we're concerned, that's an excellent investment because it sets the website apart.
The main feature that makes Military Passions unique is the fact that it's geared toward military personnel. In other words, it connects people working in the same field, rather than connecting soldiers and civilians.
Trying to achieve the reputation of exclusivity, Military Passions has members who are actively serving in the Army, Navy, Air Force, and the Marines.
Of course, the website allows troop supporters and civilians. No matter which category you'd put yourself in, the site has a hefty group for you to join. That's one of the main features that facilitate filtering through potential partners based on their specific occupation.
These groups have mainboards and public chats, but you can also connect with people for private chats as well.
Should You Invest — Premium vs. Free Membership
Military Passions is another entirely free dating site. As soon as you sign-up, you can access all the features and users.
Pros
Unique public features that build a sense of community
Free membership
Cons
Outdated design
No mobile app available
The website often has a lag
There's no screening or verification of members
Biggest Selling Point
When's the last time you found something that's functional, unique, and free? Probably a long time ago! Military Passions is a website that can be defined just like that, which is its most significant selling point.
Uniform Dating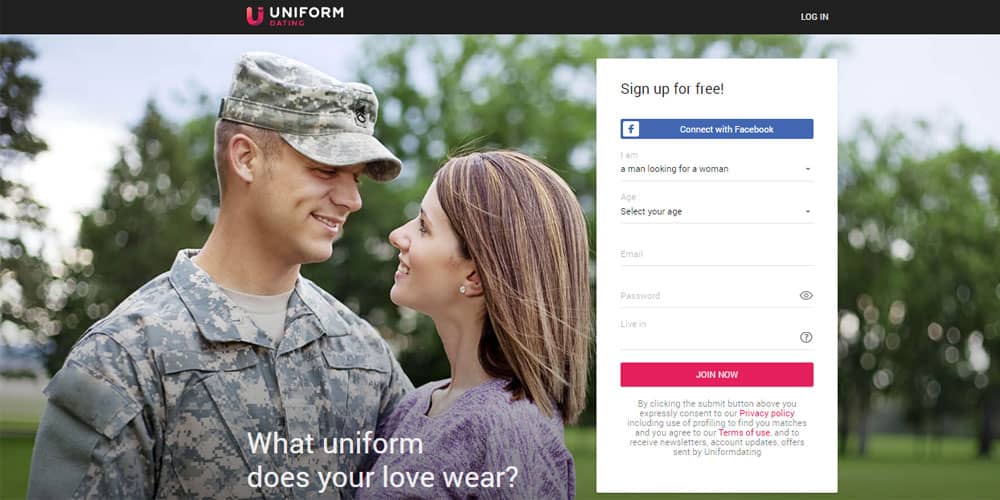 When it comes to best military dating sites, versatility is critical. Few do it better than Uniform Dating. With plenty of options to choose from, both in terms of uniformed personnel, niche interests, and other filters, Uniform Dating offers you an opportunity to find love, a fling, or anything in-between.
This site is somewhat different than the previous ones on our list because it caters to everyone who works in a uniform (or likes a uniform on a partner). That means that, aside from military people, you'll also find profiles of doctors, pilots, firefighters, police officers, and all other professionals who wear uniforms.
Of course, there's always room for appreciative civilians as well.
With over 400,000 active members, Uniformed Dating is one of the most popular military niche dating sites on the market.
Should You Invest — Premium vs. Free Membership
Uniform Dating offers both free and premium membership. Given that free membership doesn't require much from the user, it also doesn't provide much.
You can chat, flirt, or wink at other people as a free member. However, if you want to access the advanced chat options, you'll have to pay for the premium membership.
So private chats or private messaging is available only to premium users. However, these users can instigate a private conversation with free users as well.
Pros
A wide variety of professions to choose from
Sleek and elegant design with an easy-to-use interface
A wide user base
Neatly divided groups that allow easy navigation
An Android and Apple-friendly app is available
Cons
No SSL certification, which diminishes the site's security
No verification or background checks
Biggest Selling Point
The number-one feature of Uniform Dating is its variety. The website caters to a much wider audience than merely military personnel and enthusiasts, which makes it that much easier to find a match (or the love of your life).
Army Dating Service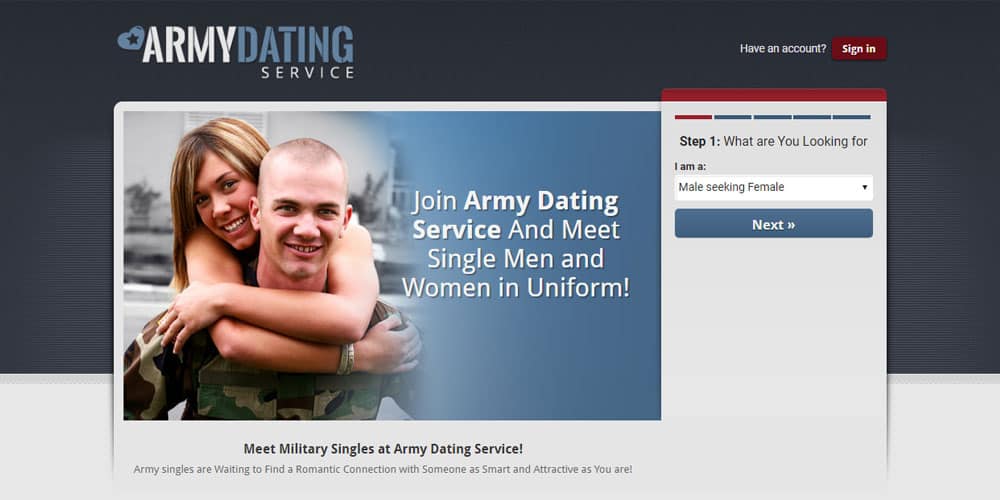 Another niche-within-a-niche site, Army Dating Service, caters to the members of the Army and their admirers. It is one of the new kids on the block.
However, even though the website doesn't have a lot of years under its belt, it's still an excellent option for those looking for the best military dating sites.
As far as features are concerned, Army Dating Service offers the standard ones. On a beautifully designed website, you'll find the option to sign up for their services and then filter through a steadily growing user base.
You can search potential partners by interests and professions, search for people nearby, or just chat away in a public chat room.
Army Dating Service also offers features that allow you to track who liked or flirted with you, who viewed your profile, etc.
Should You Invest — Premium vs. Free Membership
Most of the features on Army Dating Service are available to free users. However, some features, like featuring or boosting your profile to get more likes and connections, are reserved for premium members.
If you pay for the subscription, you'll probably get more messages and profile views, given that it boosts your profile quite aggressively.
Pros
A big user base
Great features available for free
Extensive communication tools available
Caters specifically to the Army
Cons
No mobile app is available
The website doesn't require background checks
Biggest Selling Point
Aside from offering most of its features for free, this website also caters exclusively to Army personnel and Army admirers. The narrow focus allows for a more successful search (if you are so inclined, of course).
US Military Singles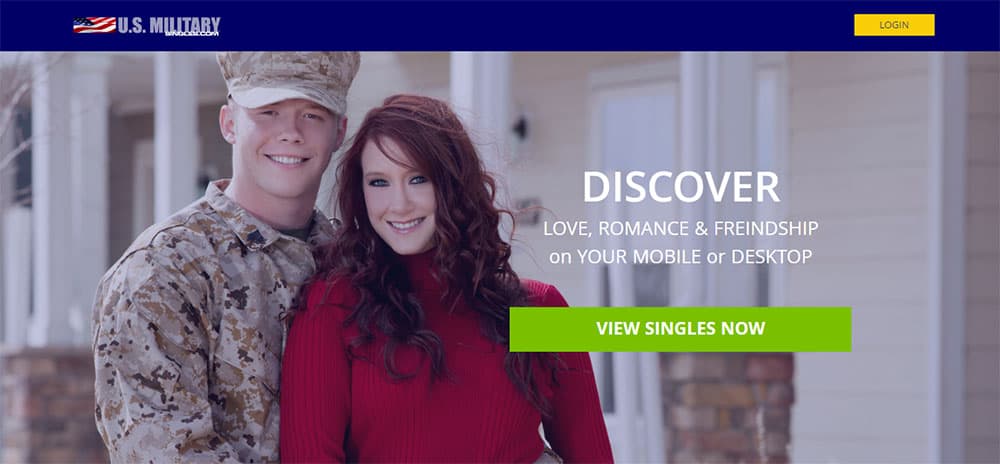 Rarely do we see a beautiful design, an easy-to-use interface, and a functional website that comes at no cost. US Military Service managed to do precisely that. One of the best military dating sites available, US Military Singles, has a huge member base and caters to most military branches.
Although it does offer free membership, the premium version is still superior, at least for those who are seriously looking for companionship. Allowing search by location, this site provides a swift and secure connection with military personnel in your area.
What's more, although it doesn't let you connect with soldiers all over the world, it does cover every nook and cranny in the United States.
Should You Invest — Premium vs. Free Membership
Most of the features on the US Military Singles website are free. You can browse people's profiles, view them, and flirt with the users.
However, if you're looking to unlock all of the communications features, then you'll have to pay for a premium membership. Namely, if you're looking to be the conversation instigator, you'll have to pay the membership fee. Otherwise, you won't be allowed to message people.
Pros
A wide user base
No browsing restrictions
Plenty of free features
Broad location-based search is available
Mobile-friendly interface
Cons
Some features are premium-only
No mobile app available
Biggest Selling Point
With an extremely mobile-friendly site and plenty of free features, US Military Singles is slowly becoming the biggest name on the market. With a decade of experience under their belt, the website dominates its niche.
Soldier Match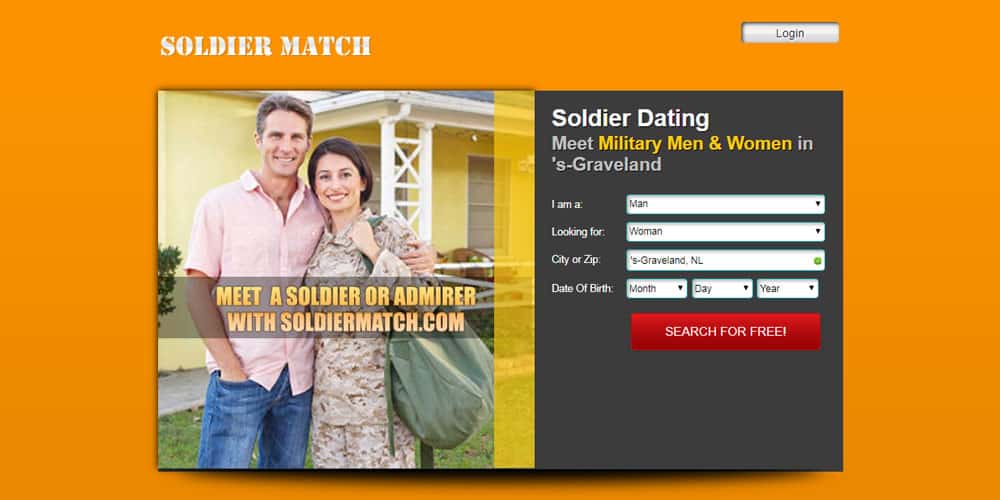 A rudimentary and quite plain-looking website, Soldier Match offers the basics of online dating within the military niche. You can sign up relatively quickly and make a profile that includes basic information about you. Then, you can browse profiles of users in your vicinity and start up conversations with them.
Of course, you don't have to limit yourself to your current location. Like many military personnel, you might be traveling a lot.
That's why a straightforward, location-based website like Soldier Match might be the perfect fit for you. No matter where you are, you'll be able to find eligible soldiers in the area.
Should You Invest — Premium vs. Free Membership
Soldier Match is an entirely free website. It doesn't have many features, but those that it does have are free.
Pros
A simple interface
Easy to navigate
Cons
No mobile app available
Rudimentary features
Not many search and filter options
No verification and background checks
Biggest Selling Point
The simplicity and the free aspect of the Soldier Match website are definitely the main reasons people flock to this service.
What to Look for in a Military Dating Website
Ideally, the best military dating sites serve the needs of their customers. However, that's not always the case, and making a choice can prove to be a difficult task. Therefore, you have to pay attention to specific features and factors before you pick a website and create a profile or pay for a subscription.
Size Does Matter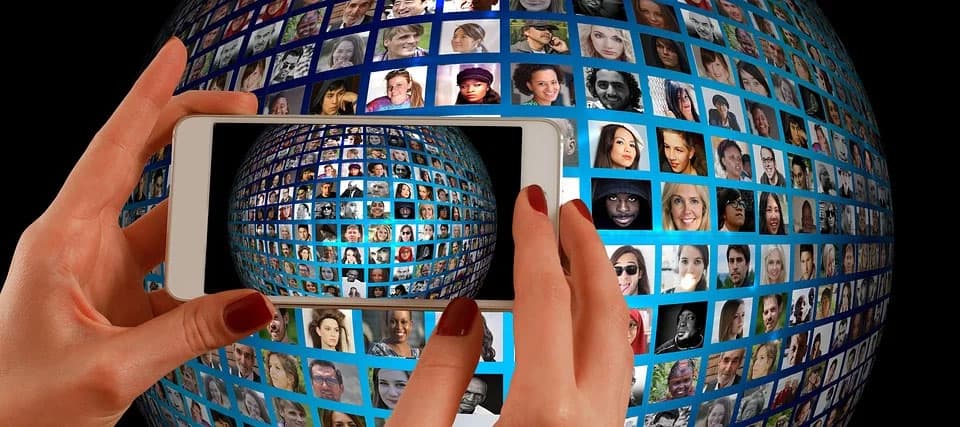 Don't be fooled by the age-old saying — size does matter. At least when it comes to dating sites and their customer base. It doesn't matter if you're in the military and looking for love or a civilian looking for a soldier — you simply have to choose a site that has a lot of users.
Why? Well, whether you're a member of the military or not, your time is valuable. So why waste it on a website that only has a handful of prospects? It might sound crude to talk about finding love and statistics in the same breath, but we have to be realistic. With a schedule that's hard to keep up with on the best of days, the precious free time you have shouldn't be wasted.
Thus, pay attention to the number of people on the site. What's more, be on the lookout for satisfied users. In the world of modern technology, numbers are easy to fake.
However, the good old word of mouth rarely fails. So see how others reacted to the website you're considering. High praise from many users is always a good sign, and the best military dating sites will have plenty of testimonials.
But keep in mind — too many 5-star reviews that seem off might indicate that they are fake.
You're Always On the Go — the Site Has to Be As Well
Let's face it — military life is a fast-paced one. You never know what tomorrow brings. What's more, the office is often everywhere and anywhere. That's why it's vital that your online dating profile can travel with you.
Of course, that isn't as important as some other things, but choosing a website that has both a desktop and a mobile version is a wise decision.
Gone are the days of exchanging love letters in the Army (thankfully). Today, information exchange is swift and can happen on the go.
Thanks to modern smartphones, we carry our entire world (business and private) in our pockets, and we should be able to access all our data wherever we are.
Of course, you only need a stable internet connection to access any website via your phone. However, if the site has an app or is mobile-friendly, it's much easier to manage. So pay attention to that feature when choosing the right one for you.
Compatibility (Also) Matters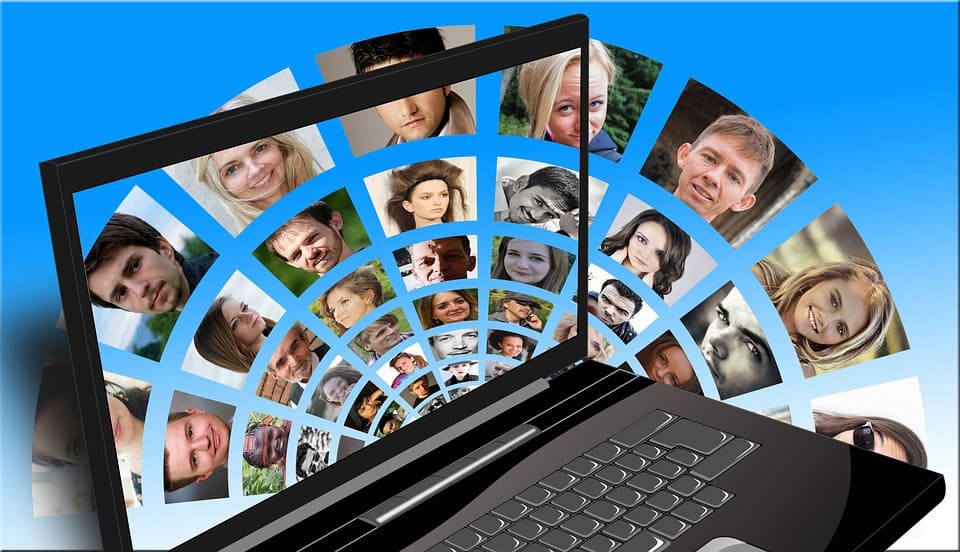 We're not talking just device compatibility here (although, as mentioned, that's also highly important). When you're looking for love and you're in the military business, you need to find someone who's understanding or at least aware of what your job entails.
What's more, you need someone who shares your values and interests. Just like any other reputable dating website, a military dating site should have a personality test that will help you get matched with people similar or compatible to you.
If a site only asks you for your age, location, and a picture, it's not very likely that it will be effective in finding you a suitable partner.
Being Able to Pick and Choose Has a Nice Ring to It
The best military dating sites will be very niche. In other words, they will be explicitly targeting military personnel and people who wish to connect with those in this field.
However, some of them will offer a chance to sort through matches or users by profession, location, interests, etc. All these filters allow you to pick and choose who you match or start a conversation with.
These filters aren't mandatory, but they allow for a more detailed search. If you're looking for a specific type of person, these will be immensely helpful.
Additional Features and Bonuses
Look into the type of communication the site allows. For example, does it enable picture exchange? That is somewhat important given that we mostly communicate with pictures, gifs, and memes today (thank you, the emoji generation).
Furthermore, pay attention to other features that have to do with communication. For example, some websites are less restrictive than others. Namely, some will allow you to message any person you see, while others will restrict you to your matches.
Safety First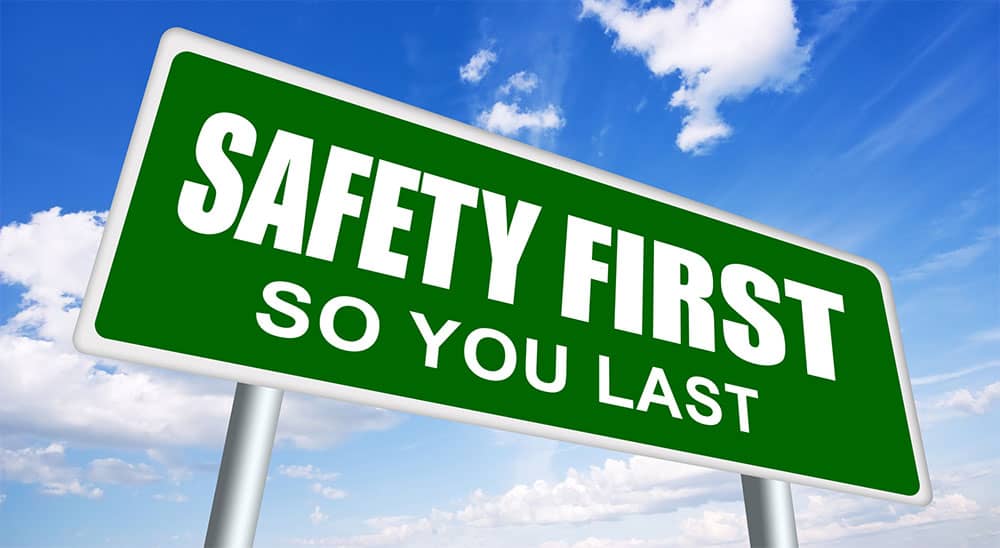 Of course, this goes without saying, but the safety of both information and use should be a high priority. This kind of ties into the first factor on our list. Best military dating sites will always have a lot of users that leave good reviews. That's also a good indicator of safety.
A reliable site should also verify your information in a specific way. That's how you know that it verifies all its users and that you won't fall victim to a scam. Unfortunately, scams and catfishing aren't uncommon on dating apps, and military sites are no exception.
Furthermore, pay attention to various features that allow you to block or delete particular users from your lists, profiles, message boards, etc.
It's vital that you know you won't be forced to communicate with anyone. That way, if someone gets too pushy or inappropriate, you have options. Ideally, the site will have thorough Terms of Use with safety protocols in place and a person or a service that you can talk to should something like this ever happen.
Red Flags Your Shouldn't Ignore
When it comes to dating sites, there are some things that you simply shouldn't ignore. Asking for too much personal information is a definite number-one on that list. Best military dating sites will always ask for specific details, but never anything too personal or too private.
If a site is asking for your financial information (via an unverified payment link or directly in written form), your home or work address, specific details such as your mother's maiden name, etc., it's probably best to avoid it as it's most likely a scam.
Also, avoid websites that offer a quid-pro-quo exchange and are willing to trade premium membership for personal information. That's never a good sign.
Aside from the requests, pay attention to the people on the website. If they all look like supermodels with professional photos or photos that look eerily stock photo-like, proceed with caution.
There are quite a few fake military dating sites out there that are explicitly built with data mining in mind and are a massive scam.
A Few Parting Words
Dating while serving your country is a hardship; there's no doubt about it. Looking for love in this fast-paced field can seem impossible, especially if you keep meeting people who don't understand the sacrifices that military personnel make daily.
This list of best military dating sites will hopefully make finding love, companionship, or just a chatting partner who understands you at least a bit easier.
In the world of online dating, niche websites are the quickest and most painless way to find what you're looking for. So take your pick among the best military dating sites, join one, and put an end to your lonely days and nights.