Viktoria is an incredibly sexy Ukrainian woman.
We have lots of beautiful Ukrainian women listed on out site, but this woman is hot, Hot, HOT!
Is she the most beautiful woman in the world?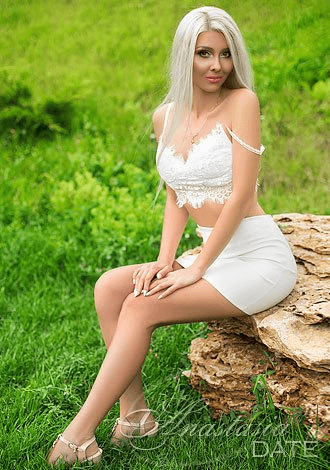 Well, if you wanted to make the argument I would not really be willing to argue about it. Yes, to some extent beauty is subjective.
The most beautiful woman in the world to you may not be the most beautiful woman in the world to me, but Viktoria is certainly stunning.
Where in the world can you meet a sexier girl than Viktoria? Are you a successful Hollywood movie producer or world class fashion photographer?
Most guys don't meet a woman like Viktoria very often.
In fact, some guys may never meet a girl this beautiful. Have you ever met a woman this beautiful?
Probably, not one who is actually interested in meeting you and that is of course what is so amazing about international dating.
So, someone argued that she was the most beautiful girl in the world, I certainly couldn't just say "No."
But there is more to this lady than her sexy Ukrainian girl than just her good looks. She writes in here profile that…
I am kind, attractive, intelligent girl. I am an optimistic girl. I'm trying to find something good even in unpleasant situations. I always believe the best.
So, she is beautiful and positive. That is a super good. Why? Because if you can convince a positive woman that you and her are really meant to be and that you really love her she will fight for you.
Pessimism is the first step on the road to losing, so you have to be positive. You have to fight on and Viktoria is saying she will fight on. She continues:
I am purposeful and sociable. I treat each person as the man to treat me. My friends say about me as a good friend who is always ready to help and support in difficult situations. I think we must help the people around us, and did not ask in return
She says she is a make-up artist who lives in Kiev. Usually, being a make-up artist means that she was a model. She doesn't sound like a super complicated woman with a lot of baggage.
Her hobbies and interests are pretty straightforward.
She explains that,
Traveling and spending time with pleasure and benefit is my lifestyle. Like every woman I like shopping, I think that good style and well-chosen clothes can make any woman an icon of beauty.
And obviously, you could not begrudge a woman this hot from being well dressed in short skirts, high heels, and sexy lingerie. Really, for a woman who is already in the fashion business, you have to budget something for her clothing budget even if your yearly clothing budget only exceeds $100 a year when your college football team wins a championship and you buy a couple of commemorative tee-shirts and a hat.
Anyhow, Viktoria goes on and explains that:
I love animals very much. I like reading, listening to good music and watching TV – this is how I usually spend my free time when the weather is bad.
So, she is saying she is not a party girl. That she is really more of a homebody and in my experience very few women are more likely to be homebodies than ex-models, because for them going out is a major operation and generally more of a hassle than it is worth.
Luckily, is sitting around the house is not all she does. She continues:
But when it is wonderful outside and sun is shining, I like to go to the seaside, to go to the park or forest, to walk along the river bank. Active way of life is very important to me. Though I can't say that I am a sportswoman, my body is always in perfect shape.
Yes, I think we can all agree on that. Her body is in perfect shape!
As for the man she is looking for she is pretty straightforward there too. She explains that,
I'd like to meet a man with strong character, who really new what he wants from the life. He should be goal-oriented, responsible and a bit romantic. I am sure, the person, who like kids, animal, nature must be very kind open-minded.
That really is not too much to ask. I mean what do you expect her to want? She is looking for a nice older guy. That is about it. Do you fit the bill?
If you are looking for the real thing, then you really couldn't do much better than this beautiful Ukraine girl.
And if you are worried that a regular guy like you wouldn't stand a chance with a stunner like Viktoria then take a look at this article which explains some of the reasons why a regular guy from the West can date and marry an incredibly beautiful foreign women who would be "Out of his league" back home.
Viktoria's just a total stunner. And she wants to meet a foreign guy like you. If you want to meet her check out her profile over at Anastasiadate.