Want to know the number one reason why most American, European, and especially Australian men do not travel to Ukraine to try to pick up the incredibly sexy Ukrainian women we have on our site?
Because these sexy ladies only speak Ukrainian or Russian!
Yeah, we understand that.
To quote the great American humorist Dave Barry, Americans who travel abroad for the first time are often shocked to discover that despite all the progress that has been made in the past 30 years, many foreign people still speak in foreign languages.
Yeah, it sucks that all of the super-hot Ukrainian women do not speak English, but that makes finding a hot English speaking Ukrainian woman extra special!
Nothing is hotter than a sexy foreign girl who speaks fluent English!
Aliona speaks English fluently!
That means she can pronounce banana perfectly!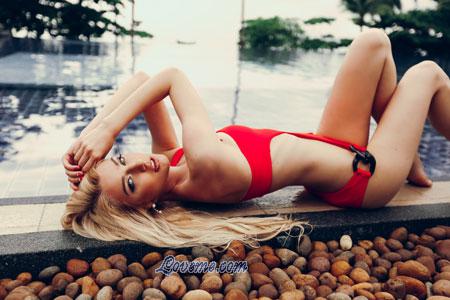 Wouldn't you love to hear her talk about your banana?
LOL!
No, let's not go there right now.
Aliona is an events manager. She says that, I like music. My musical tastes depend on my mood. I play guitar, not professionally but for fun.
That is cool. It is nice to have a woman with some musical talent, so you never have to show yours or your utter lack thereof.
Aliona goes on and states the obvious by saying that, I enjoy the fresh air and exercising. I wish I had more time for doing sports. However, going to the swimming pool twice a week and skiing are great.
Are you the great humanitarian who can give Aliona more time for sports? Because I bet you wish she had more time for sports too, so you had more time to watch her doing sports.
She seems like a very sweet lady. She explains that, I have a big range of interests. I`m very sociable. But most of all I love my family. We are great friends and deeply attached to each other.
There is something to be said for a woman who grew up in a happy family, because often she will move mountains to create a happy family of her own.
You can see that by her explanation about what she wants in a relationship. Aliona explains that, I want to be a princess in my man`s life. And he will be my prince. I want him to become my best friend. If you are reading this, you can do another step – write me a letter! I`m tired of being alone in my palace.
See that is pretty much exactly the attitude you want in a woman. Aliona is going to work very hard to make a relationship work out.
She also asks a brilliant question: Do you believe that two self-sufficient people can get on with each other?
That really goes right to the heart of the matter.
Well, Aliona's profile is over on A Foreign Affair. There are a lot more hot photos of her and they have a great chat program so maybe you can ask her about her pronunciation of banana.
Take Care!