Inna is a beautiful, inspirational, and 33-year-old Ukrainian woman looking to find her other half.
She has light, gorgeous green eyes, long, tantalizing black hair, is petite, and clearly takes pride in her health and appearance.
Respectfully, Inna is seeking the same in her future partner, and while a 'health nut' per se isn't required, one who is health-conscious, serious about dieting, and fitness would make the most sense.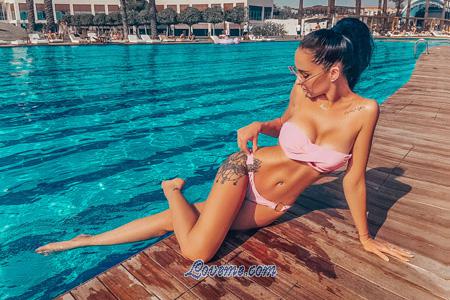 AHHHHH!
This woman is HOT!
This woman is a an honest to God fitness model. If you have ever wanted to date a fitness model here is your chance.
If that photo doesn't make you at least think about getting up and going to the gym you might as well then you are on the wrong website.
I am not sure what website you thought you were going to, but International Love Scout is not the right place for you.
You were probably looking for a site on International Harvester Scouts – the old four wheel drives vehicles from the 1960s.
Well, good luck with that. Here we are all about the hot girls!
Inna does not smoke or drink, but, this doesn't mean that you can't either.
In fact, she is relatively open-minded, and OK with her future soulmate occasionally smoking and drinking with friends.
Most importantly, she wants a man she can trust, and one that is confident enough in himself to trust her too – no matter how mesmerizingly beautiful she is.
If you enjoy outdoor sports, tennis, and horseback riding then you and Inna will have lots in common.
And at 33 years old, she doesn't look a day over 21. She is very talented, enjoys being a Model, and is sophisticated.
Inna also enjoys reading, traveling, and loves to cook – which is always a huge plus.
Inna is educated, and has achieved university level education – which means she can have meaningful, intellectual, and insightful conversations.
More impressively, Inna not only speaks both Ukrainian and Russian fluently, but, is also pretty fair at Basic English, writing, and reading.
Inna is the perfect woman for any man also interested in learning the local language in her Kiev, Ukraine.
Inna is big on men who strive to improve themselves, and those that believe in spiritual meaning and happiness.
Inna is an Orthodox Christian, and proud of it.
She is also a motivational speaker, and strives to inspire others and help build both social and business relationships.
In fact, she conducts her very own self-development courses. Any men serious about, or at least familiar with spiritual harmony would be ideal.
After all, what do you have to lose?