What can you say about a woman who has long blonde hair, brown eyes and is tall and leggy with a glorious body?
Beautiful seems a rather inadequate word for this Colombian model, Mila.
Maybe we should be creating some more suitable descriptive phrases for women like this. How about 'sexy national treasure' or 'Colombian Venus'?
Yes, we just made those up but they seem rather fitting doesn't it?
This sweet looking young lady has never been married, but she claims she speaks English, which is going to help a lot chatting with her.
And she doesn't hedge her bet by saying she speaks 'fair English' or 'intermediate English.'
No this lady says she speaks English and provides no wiggle room. That probably means she speaks better English than me or any of my friends from Baldwin County.
And unless you have had the incredible frustration of sitting next to a beautiful woman you cannot communicate with you have no idea how nice it is to know that this hot Colombian mail order bride is fluent in English.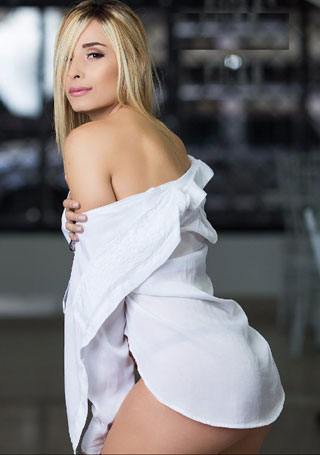 This magazine editor and professional model is unique. I have been doing this a long time.
I have reviewed thousands of profiles now and I have cannot remember a lady who seemed so… authentic perhaps.
She is isn't just a professional model. She has modeled for the Coca-Cola Bottling Company!
This reminds me of a time I met a guy on a plane who sheepishly admitted he played in the NFL, but was never a starter.
Then after some questioning revealed he played for the Cowboy under Tom Landy from 1971 to 1980.
I laughed and told him, Dude, so you were a backup on one of the most storied teams in NFL history!
So, Mila is not just a 'professional model.' She is a Coca-Cola model.
That means that she is one of the top models in Latin America, because Coca-Cola, like Tom Landry's Cowboys teams, is absolutely a top operation.
They do not hire second tier models. Mila must have a huge modeling portfolio to land that gig. She is one of the most amazing Colombian women I have ever seen!
Mila seems like a real top shelf lady and all though she does make a big deal about modeling, and rightly, so I think you might understand her better if you remember she is also a magazine editor.
And I do not know how many real magazine editors you have met but magazine editors tend to be organized, detail oriented, and very intelligent.
Mila explains…
I consider myself a woman beautiful enough, I do not mean physical appearance, because I have clear that I have the attention of many men for my outward beauty, but I am emotionally stable and a confident woman, I like to take the initiative always, Even among a group of people or with my man. I am entrepreneurial, dynamic, strategic, I have my project of life well established and armed and many dreams to fulfill.
To me that description sparkles with intelligence. This Colombian mail order bride is brilliant. I do not know how Amolatina manages to find all of the most stunning Latin women.
She needs a man in her life and that man might just be you, but you won't achieve a change in your life without taking some action.
Are you the type of guy that ogles the women on Amolatina but never has the confidence to initiate a conversation?
Maybe you're over fifty and feel that a woman as beautiful as Mila would not even consider someone like you.
That is why international dating is so great! She would consider you.
I think she would be especially interested in men who are successful professionals or small business owners and I know there are a lot of them on the site.
Maybe if you are a recently retired major general you might be a good match for her, but I believe this is a very special Colombian lady.
Think again. There are many men around the world moving away from their local girls to start relationships with younger women in different countries.
You might be surprised at just how many guys are now in loving partnerships with what started out as the women of their dreams.
The first step is always the hardest. Get to know the lady in question with a simple letter or email to get the ball rolling.
Check out her interests to see what your common ground is. She likes the movie Titanic, which is a bit old, and enjoys listening to rock music.
There's a start. If you've never traveled far from home, then a trip to Colombia is probably going to blow your mind.
Just remember your country's currency is a lot stronger than that of the country you visit. So things will be a lot cheaper.
If you think Mila is the one for you, then do something about it whether you are a 55-year-old retired major general or own the top car dealership in Northeast Mississippi or are just a smart, successful guy who is looking for a beautiful wife.