Indian women are hot! There is no denying it. With their dark sultry eyes, beautiful skin and silky black hair, they are hard to beat when it comes to beauty. With more than 661 Million Indian women, it was pretty hard to choose just 20 for this list. But, that's my job!
So here are my Top 20 Hottest Indian Women of 2019:
NOTE: If you want to do more than just look at pictures of hot Indian women, be sure to check out our Indian Dating Galley.
---
Urvashi Rautela is one impressive twenty-five-year-old. She's not only a famous Indian beauty, but also a humanitarian.
Although Urvashi Rautela is best-known for her cinematic achievements, she's much more than a great actress. Interestingly enough, if she weren't an actress, her choice of career would be aeronautical engineering.
Not impressed yet? This piece of information should sweep you off your feet — Urvashi Rautela is also a basketball player. Although she's not playing right now, this beauty managed to go national in her time.
We can watch her in a number of Bollywood movies, and it's quite common to see her face in ads because Urvashi Rautela is also a model. Her success is based on a healthy lifestyle — this non-smoker stays away from alcohol.
Her lifestyle agrees well with her training in different dance styles — contemporary belly dance, ballet, and hip hop are just some of the styles she excels at. Besides, Urvashi Rautela does yoga, likes water sports and biking, and she also goes to the gym regularly.
Urvashi Rautela Foundation is also her doing — its point is helping the needy, increasing the education quality, and improving health standards.
---
When your father is a highly successful businessman, and your mother is a fitness expert, you're pretty much predestined to be a gorgeous overachiever.
Alanna is an Instagram star — over three hundred thousand people go crazy every time she posts a new photo. Her style is known for extravagance; Alanna likes to experiment, and she keeps on surprising her fans.
Her fame didn't distance her from her family, though — she's constantly posting content that includes her family members, and you can honestly see how close they all are.
This ambitious fashionista plans on opening a clothing store. In case you want to see more of her, rumor has it she'll start acting soon so we'll be able to see her as a Bollywood actress in no time.
Alanna also likes to travel, she's enthusiastic about photography, and she also loves spending her time dancing.
---
Not all university dropouts throw their lives away — Disha Patani only threw away her education. She did it in order to chase her dream and she managed to make serious achievements.
Disha Patani is a talented actress, but she's famous for her beauty as well. She participated in the Miss Indore competition and ended up as the first runner-up. She also became the first runner-up in Ponds Femina Miss India — she's very well known in the modeling world.
Other than dancing and doing yoga, Disha Patani also likes spending her time with her nose in books — she's a passionate reader.
Becoming an actress wasn't her first aspiration; her childhood dream was to become a pilot and join the Air Force.
Impressively, she co-starred with Jackie Chan who was pleasantly surprised with how passionate she is about acting. These two parted with a gift — Jackie gave her his jacket for both motivation and memories.
---
Padma is considered to be one of the hottest Indian Women on Earth not only because of her looks but also because of the sexy things she does. This beauty is a model, actress, author, and TV host.
She stays in the limelight, and the world does not mind, because she's definitely nice to look at. Perhaps the most impressive thing about Padma is the fact that she is a sexy and gorgeous chef.
Everyone knows that the way to man's heart is through his stomach, and Padma has been delighting both eyes and appetites. Padma isn't just your everyday pretty girl.
She stays busy in her career as an actress and TV host. As the host of the US reality show, Top Chef, her cooking background and acting skills helped earn the show an Emmy for "Outstanding Reality Competition."
It probably also helped that the show is hosted by one of the most beautiful women on Earth. Padma has also acted in the movies Boom, Glitter, The Mistress of Spices and Exclusion.
---
Actress and model, Deepika Padukone started out as a badminton player. As the daughter of a successful badminton player, it was an obvious career choice. Lucky for the rest of us, this beauty decided to enter show business instead.
In college, Depika began her career in modeling, but quickly made the move to acting. Deepika has been the Indian face of many brands including, Close-up, Tissot, and Maybelline.
As an actress, she starred in Bachna Ae Haseeno, Chadni Chowk to China, Love Aaj Kal, and Karthik. Depika isn't just your ordinary model/actress. She has won awards in both categories. She was named "Model of the Year" at the Kingfisher Fashion Awards.
She was also nominated for "Best Actress" and won the Filmfare Best Female Debut Award. Depika continues to receive Bollywood movie offers because of her strong personality, and good looks.
---
Not many people know who Reema Lhamba is. That is because she uses the screen name Mallika Sherawat. If you are wondering where she got the name from, Mallika means empress and Sherawat was her mother's maiden name. The actress chose to use her maiden name as a show of gratitude for the support she received from her mom.
This was a welcome change from the initial response she received from her strict family. Lucky for Indian film viewers, she persevered in her goals. Mallika was determined to enter the entertainment industry.
She began with television commercials after finishing a degree in Philosophy. People took notice of her beauty when they saw her in Amitabh Bahchan and Shahrukh Khan. From there, she moved into the film industry appearing in top box office films.
Her big break was in the 2004 movie entitled Murder. Since then, Mallika has been steadily moving to the top.
---
Freida Pinto is a classy actress that has been working for numerous years. She is known for her simple beauty and talent and best known for her role in the Academy Award Winning film, Slumdog Millionaire.
Even with a low budget, the film won lots of rewards, and Freida's involvement in it was not overlooked. Following the success of Slum Dog, Freida appeared on television and in other publications.
She also worked as the spokesmodel for L'Oreal. Aside from her acting work, Freida has received a lot of attention for her beauty.
She was listed in People's Magazine's "Most Beautiful People List" and also in Vogue's "List of World's Best Dressed Women." Online, Askmen.com also listed has as one of the most desirable women.
If you add these with the Screen Actor Guild award she received, it is easy to see why she is the highest paid Indian actress.
---
Indian fashion model Model Poonam Pandey is best known for enticing the World during the 2011 Cricket World Cup. The 2011 Kingfisher Calendar girl offered to strip naked in front of the stadium if India won the competition.
Her comment earned her obscenity complaints filed with the police. Worst of all, she didn't even strip in the end. Poonam is not a stranger to media grabbing behavior using social media.
The cricket fan posted pictures of herself in a bikini during the India v/s England series, hoping that she could inspire a win. She was a top search string on Google in 2011 and now plans to launch her own website, where the World could watch her live 24×7.
Who wouldn't love that?
---
Koena is a sexy dancer that easily makes the list of hottest Indian women. She began as a ballet dancer but now is known for her roles in Bollywood films. In addition to dancing, Koena is a former pageant queen, winning her first pageant in 2003.
She went on to model while in college, participating in fashion shows and commercials. You may have seen her representing Clinic All Clear, Maruti Alto, ACP Whisky and Mirinda.
Koena has appeared in music videos and films since 2002. Her first starring role was in the movie Musafir. She is best known, however, for her roles in Ek Khiladi Ek Haseena and Apna Sapna Money Money While her acting is great, she didn't make our list for her top skills. A body like hers is simply hard to overlook.
---
Bipasha started out as a part-time model but was able to convert that into a successful career. While a student at Bhawanipur Education Society College, she entered the Godrej Cinthol Supermodel Contest and the Ford Models Supermodel of the World Contest.
She won both. The Ford Models completion launched her career as a professional model. She was quickly seen in commercials for Calida and held the cover of different magazines.
Bipasha decided to also give acting a try. She found that she was able to portray different roles ranging from seductive to classic roles. Her acting skills quickly won awards and roles in box office hit films.
It may have been a slow start for her, but she was able to bring her name to the peak of her career. She has proven that she is not only beautiful and hot but also talented.
---
We first saw Neha when she entered the Femina Miss India contest. At that, she won a qualifying spot in the Femina Miss India Universe contest. Neha took home the crown for the event and represented India at the 2002 Miss Universe competition. At it, she placed in the top 10, giving India the attention as a country for beautiful women.
After her success in beauty pageants, Neha began to appear in TV commercials.
She made the move into the film industry with the movie Qyamat : City Under Threat. Although it performed averagely, Neha continued to act. Her next movie, Sheesha was a success, and critics took notice of her acting skills. In addition to acting, Neha does charity work for the less fortunate. She proves that beauty can be both inside and out.
---
You won't see Aishwarya in scantily clad clothing, but that doesn't keep her from making our list. She initially wanted to study either medicine or architecture but followed a career in modeling instead.
For some, her conservativeness is what leads to her appeal. We all wonder what she is hiding, but still, have no problem acknowledging that she is a goddess. Aishwarya didn't need to show it all to win Miss World. Her beauty and intelligence were enough to win it for her.
Following the win of Miss World, she was featured in commercials and guest-starred on television shows. Eventually, she began acting in movies and has appeared in over 40 Hindi movies. Now a successful actress, Aishwarya has won the Best Actress award two consecutive years. She is living proof that beauty, intelligence, and talent can take you far.
---
We are well aware that our list includes a lot of beauty queens, and here is another one. Puja Gupta held the title of Miss India Universe and competed in the Miss Universe pageant. As Miss India Universe, Puja worked as the tourism ambassador for India.
She also joined Donald Trump's Miss Universe Organization which helps spread information about AIDS.
Outside of her pageant commitments, Puja also models and acts. She is even a trained martial artist. Puja has appeared in the movies F.A.L.T.U., Shortcut Romeo, and Goa Gone. As a model, she has appeared in Cosmopolitan, Marie Claire and Elle magazine.
---
Hello Nurse! Our next Indian beauty, Celina, is a nurse in the army by profession. She was motivated to become a nurse because her father and brother were both in the army. She also worked at a cellphone company.
How did this nurse come to our attention? She entered a beauty contest. Celina won the title of Femina Miss India Universe and also Miss Margo Beautiful Skin, India Time's Surfers Choice, and MTV's most wanted award.
She also placed high for India in the Miss Universe pageant. Following the pageant, she went on to model and act. Her good fortune was tarnished however by a stalker attempt in 2003. Despite the experience, Celina continued in her career and also participates in many community activist programs around India.
---
The world definitely owes Priyanka Chopra's mother some gratitude. Chopra's mother believed that her daughter had the potential to be a beauty queen. She sent her pictures to Femina Miss India contest without Chopra's knowledge.
There was a definite surprise when they received a callback. Priyanka ended up qualifying for the Miss World pageant and brought home the title for India.
Her mother definitely had a good eye. Following the Miss World competition, Priyanka began modeling and acting. As an actress, she has won the National Film Award and four different Fanfare awards.
She has appeared in both Tamil and Bollywood films. Priyanka is now taking her career to another level. In 2012 she released her first record single. This beauty sings too! Once again, thanks to Priyanka's mom.
---
Nikita began searching for the limelight young. As a child, she was raised in an Army family that traveled frequently. At the age of 13, she started her career when she entered her first beauty contest. That year, she won the title of Miss Ranchi.
She went on to represent India in the Miss Universe pageant but did not place. Nikita didn't let her loss discourage her, and she returned home to many modeling and acting jobs.
She was the face of companies such as Rayban and Indian Airlines, has modeled in numerous fashion shows, and has hosted many shows. She has also acted in a few movies. Nikita started early and she shows no signs of slowing down.
---
Many of the beautiful Indian women we have featured have gotten there start in beauty or modeling competitions. Vidya Malvade is a little bit different. She studied law in school and later worked for an airline company. While at the airline company, she met and married Capt. Arvind Sing. A tragedy occurred, and Capt. Arvind Singh died in a plane crash.
The widow was forced to start over. Vidya left the airline industry to venture into modeling and acting. The petite beauty began working in commercials, advertisements, and movies. It was a hard start, and she was not successful at first.
Movie critics gave her negative reviews and it seemed like she would never be famous. Her big break finally came in the movie Striker, where she acted as a goalkeeper for an Indian women's hockey team. Vidya has definitely caught our attention.
---
Divya is an Indian beauty with a backup plan. She finished her engineering degree before she started modeling. Most anyone can agree that was a good decision. While this beauty is perfectly capable of modeling (she made our list) many models eventually move into another career within a few years. If she does manage to drop out of the spotlight, don't expect her to be struggling.
As a model, Divya has represented some notable brands and walked the runway wearing the famous designs of well-known designers. She also placed in the Miss India Worldwide competition. Although it wasn't the crown, her participation was enough to gain the attention of many.
She quickly made the move to film and has appeared in films such as Ponar Shankhar.
---
Indian film actress and model Actress and model Anjana Sukhani, is another college-educated Indian beauty that made our list. The Bollywood star holds a management degree in International Business but decided to act instead.
She began her career in commercials, where she was cast for a Cadbury Dairy Milk advertisement. Following that commercial, she appeared in a music video for the song Ghar Jayegi.
Although Anjana doesn't have much of a film background, it did not keep her out of top films. She appeared in the 2007 hit Salaam-e-Ishq and then landed a part in the movie Golmaal Returns. Since then, she has continued to act and catch the eyes of many like ourselves.
---
Indian film actress, model, and former beauty queen American Richa Gangopadhyay may not be from India, but it did not stop us from putting her on our hottest Indian women list. This nutritionist gained worldwide attention after being crowned Miss India USA.
At the Miss India Worldwide pageant, she won the award for Miss Beautiful Eyes and Miss Photogenic. She moved to India in 2008 to pursue an acting career. While in India, she studied acting technique and began modeling.
In 2009, she was featured in her first commercial. In 2010, Richa made her film debut in the political drama, Leader. The next year, she won the Vijay award for best debut actress for her role in Mayakkam Enna. Richa is on her way to being a sought after Indian actress. She is already one of the hottest.
---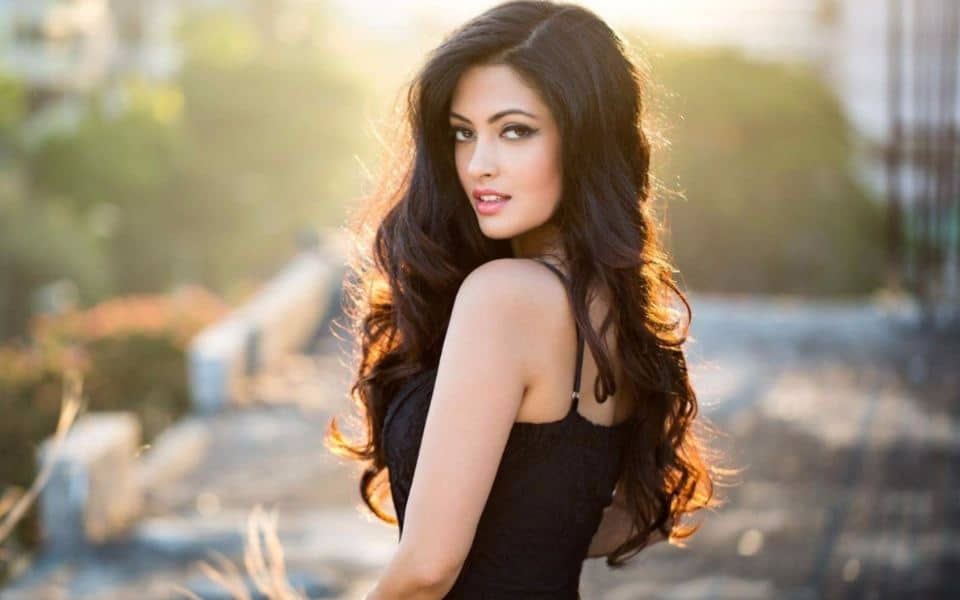 Riya comes from a family of great actors and actresses. That is why it's not a surprise that she ended up where she is. She may have had a background that helped her success, but Riya makes it clear that she can stand on her own.
Regardless of her upbringing, Riya has created a name for herself based on her own beauty, talent, and charm. Her acting career began at the age of ten where she acted in the film Vishkanya. Since then, this beauty has been showing off her body and acting in numerous films.
Riya has been active as both a model and actress. Many Indians are familiar with her from the films Jhankaar Beats, and Ananthabhadram. She has also worked as a model, despite her short stature. She has been the face of many Indian brands, even replacing Deepika Padukone as the ambassador for the soft drink, Limca.
Although her modeling career has included music videos, magazines, and runway shows, she is known by many for appearing partially nude in Daboo Ratnini's annual glamour calendar.