Irina from Kiev, in the Ukraine, is one of those lovely ladies with the 'wow' factor. Seriously hot and beautiful she says that she is 'feminine'! Never a truer word was spoken because this sweetie is ALL woman that's for sure.
The city of Kiev must be a great place for a single guy to wander around in and be bumping into these gorgeous ladies all looking for a man like you. Yes you! Are you caring, kind and honest?
Can you make Irina laugh and smile? Are you ready to build a serious relationship with this hottie?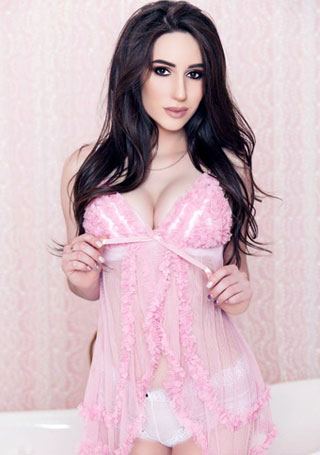 Does she have your attention enough to make you want to contact her to see if she's interested in you? The truth is, she is VERY interested in you and wants desperately to chat to you.
Irina loves stuff outdoors and the Ukraine offers her a lot of opportunities to do things like hiking, camping and backpacking through mountain ranges.
You can do that there with her or bring her back home to your country and find similar places that will make her happy.
Snowboarding, cycling and the more mundane but not less enjoyable pastimes of art, theatre, cinema and meeting friends all get a mention in things she likes to do.
If you want to catch her, you're going to have to start running before she does because with 10 years of track and field in her past she might be a bit too quick for you. The 'catching' would be great fun, though, we bet!
Don't be shy, start the chase now and get in touch with Irina to show her you're interested. She is tolerant, warm-hearted, kind, responsive and cheerful and that's enough positives to give you the courage to make a call, be it email, chat or a letter.
Be careful as her English is not really great so you will need to show a lot of patience as well. Be warned that she says she likes 'active rest' and if that doesn't get your heart beating faster you must live in a refrigerator.
It's the type of term that can make the imagination run wild. Start running!