Alena is one smart cookie.
There is no doubt about that. This beautiful young model speaks Russian, but she also speaks fair English.
I am impressed!
Chinese is a no bullshit hard language for foreigners to learn and Alena has picked up enough to say she knows some.
I know enough Chinese to order at Mr. Chow's, but that is about it.
How much Chinese do you speak?
I suppose you might be Chinese.
We get a decent amount of Chinese traffic here, but assuming you are not Chinese there is about a 99.999% chance you speak no Chinese because it is so different for most Western languages.
A Simple Russian Girl
Alena, like all of the super-hot, well educated, and graceful young ladies we meet here is of course just a simple peasant girl at heart.
A Russian girl may eat nothing, but foie gras terrine and truffles; drink nothing but Don Perignon champagne and Kopi Luwak coffee, and have a degree from MIT, but all she is still probably going to claim she wants to be a simple peasant girl.
She is not lying. That is a big part of how she probably sees her future as a great wife and mother.
The simple virtues have a very strong pull on the current generation of Russian women. It is a huge part of the reason why so many of them want to marry Western men.
And Alena's dating goals seem very simple and straightforward. She writes that,
I will only say that I am here to find a reliable partner in life. I am not a jealous person. Not a cheater, not a drama queen, not cash-hungry. I am rather independent and enjoy life, but enjoying it and sharing with somebody you love is the best thing that life can give us.
That is sweet and beautiful. And let's not forget: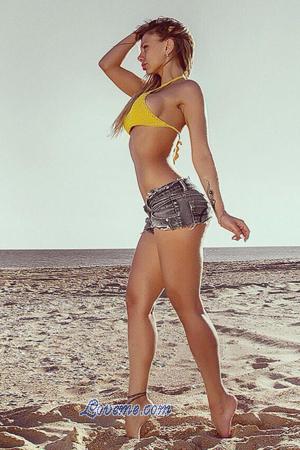 Alena is sexy! Talk about a Russian bikini model!
Wow!
She is a true Russian 10 and she seems like a sweet, honest, and very wise young woman.
She writes, Do you think it is possible to describe the person you will fall in love with? I don't believe it… and that is a very wise approach.
But Alena goes on and explains that,
Well, of course there are some qualities which I appreciate in people… like faithfulness, honesty, kindness… I also love people with good sense of humor and bright fantasy! Wink But love is so unpredictable!
As I have written many times, if you cannot commit to that you are probably one of the guys that probably should not be using online dating sites or offline dating or being recommend to girls by your grandmother.
If you are not faithful, honest, or kind and you know it I suggest you become an Alaskan fur trapper, so that you can avoid talking to more than a dozen people each year.
Come on guys. This is an amazing girl. She is cool, smart, and hotter than July in Houston!
Wow!
Well, Alena's profile is over at A Foreign Affair, our overall #1 international dating agency. Check her out.
She Alena is exactly the sort of bride that makes international dating such an amazing opportunity.