Wow!
Ester Yap is a fit young Filipina. She is definitely a stunner.
Ester lives on the island of Cebu in the second largest city in the Philippines, Cebu City. So, she is not living back in the provinces somewhere, but she is also not a Manila girl.
In some regards the provinces in the Philippines are still among the most isolated places on earth, because the country contains thousands of small islands that are almost impossible to visit.
A girl from the provinces might will probably be operating from a very different cultural perspective and sometimes that can be a big leap.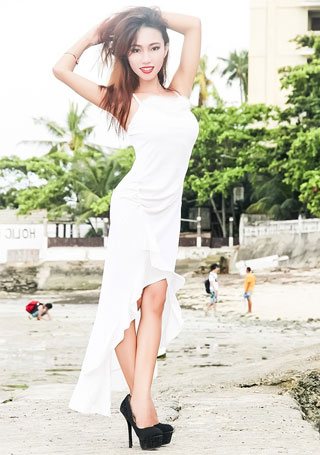 On the other hand, Manila is a gigantic international city, and a lot of Manila girls might as well be from Southern California as Southern Luzon. They are extremely modern with a very Western outlook, but a girl from Cebu is likely to be somewhere in between.
It is probably a good situation. Ester seems very up front about her hopes and dreams.
She writes, "I look for a strong man who can carry me on his back." I am not sure she means physically carry her, but she only weighs about 90lbs. No, I think she means take care of her and allow her the chance to raise a family.
This is important to a lot of educated Filipinas. The Philippines is a poor country and this makes a lot of sense.
Anyhow, Ester seems funny. She says that, "I like adventures. I like climbing high mountains." So, she would be fun to hang out with. Well, unless you like hunting.
She writes, "I like nature, but I don`t like hunting. I don`t know why people do that." So, she is clear, opinionated and she seems very smart. And you can see she is super sexy!
What more could you want in a lady?