Cebu is known as the jewel of the south in the Philippines. And Mary Ann here is one prime example of why the city deserves that name.
Not that the island was named for its beautiful girls (or maybe it was) but there's a beauty and composure that these girls carry that is uniquely Cebuana.
I shouldn't give away my preferences for one country's girls over another but, hell, why not! I'll admit I am a true Filipinaphile and consider Filipinas the sexiest, friendliest (YES!) girls in Asia, if not the world.
Mary Ann is only 19 so probably not real worldly but if you have game and a mentor's heart, you could be her next teacher.
Mary Ann tells us, I'm simple and kind by nature. I am sweet, caring understanding and honest.
She is 4 ft 10 in tall and weighs just 77 lb. She loves to show off her slender 30-22-30 figure beside the pool in her polka dot bikini.
Mary Ann is just out of high school and looking for a big hearted man who will love her and accept her. She is unmarried and she already knows what kind of man she wants to find.
She says:
I'm looking for a man who will love and accept me for who and what I am. Someone who is nice, kind, caring, understanding, sweet, honest and loyal. Someone who's serious and sincere in handling a relationship. A man who's fun and easy to get along with. Someone who will be there for me all the time. A man who's willing to share his love and whole life with me. And someone who will never, ever, leave me behind.
Stretching out by the pool side (look at her additional photographs) Mary Ann reveals a little more of what she has to offer.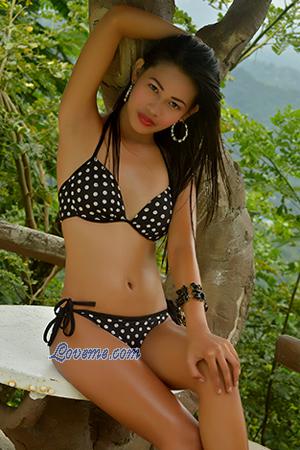 Mary Ann loves to keep fit playing badminton and relaxes watching romantic movies. When she has a free day, she'd love you to take her on an excursion somewhere.
The desirable Mary Ann is waiting for your letter.
If you want to meet a whole slew of sexy Filipinas in Cebu City you are in luck: there's a tour visiting Cebu City in August.
Have a look at THIS PAGE if you want to book a place and encounter some really gorgeous women.