Maria Victoria has style, pure and simple. She's from Medellin, land of the Paisas, and one of Colombia's most beautiful cities.
Most Colombians, even women from other parts of Colombia, label Paisas as the most sophisticated and beautiful women in the whole country, it's no wonder that Medellin is one of our "Top 10 Best International Dating Destinations"
CLICK HERE for more information about what makes Medellin such a great city for foreign men to meet incredibly beautiful Latin women for dating and marriage.
I once dated a Paisa from Manizales, right down the road from Medellin; and I will definitely concur. A lot of these women carry ancestral Spanish blood in their veins and that Castillian beauty definitely shows through.
If you are new to International dating you may fall into the trap of only considering the really young, single girls – but in my opinion the more mature ladies make better companions, especially with kids.
They are usually much more serious about finding a stable relationship and will be more open to dating older men.
And if you are one of those guys who think matures women can't be sexy I say, you sir, are dead wrong, and I give this picture as exhibit 1: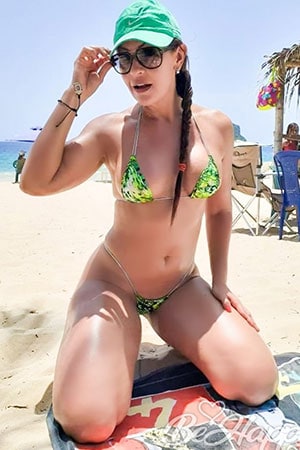 There's something really hot about a woman in her 30's that can look as good as this divine Colombian beauty.
Maria Victoria is such a gorgeous girl who has already been through a separation so it's going to take a particular kind of guy that can take this mature Medellin Flower and nurture her forever.
Maria Victoria is a bit of a perfectionist and you can see that from her body in that she has taken great care of herself, looked after her physical side and stayed strong on the mental side.
She is looking for a hardworking, thoughtful man who is loyal to her. She is petite, weighing less than 50kg (101lb) but they say the best gifts come in small packages.
If you're a romantic sort of a guy, you are in luck because so is Maria Victoria. She is also tender and a bit of a dreamer and at the moment, she is dreaming of a man like you making some move to contact her.
It doesn't take a lot!
Just a click on her picture will probably start you on an adventure you will find hard to believe. It might even see you holidaying in Colombia in a few weeks' time to say 'hello' to this sweet lady.
Without a word of a lie, she is waiting for you. She is the type of person that will reply to your emails and letters and stay by your side for as long as you want.
It's not easy to take on a ready-made family as would be the case with Maria Victoria. Look at the upside. How would you like to be at the local Walmart shopping with your new wife who looks like this!
Think about that for a minute.