Wow!
Inna is a doctor who looks like a fitness model!
What more could you want?
This lady is amazing!
If you're in the market for a single, young, and beautiful woman from the Ukraine then Inna is likely right up your alley.
She has a stunning, elegant look to her, and is a doctor, inspired to help others in her home country.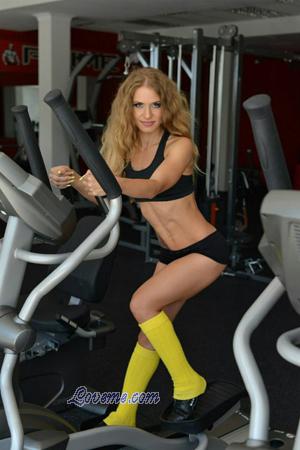 Inna is very petite, sweet, and sexy and desires a courteous, classy man that is stable, and understanding.
With beautiful, long brown hair and sensual gray eyes, it won't be hard to fall in love with her.
Inna has a very mature, professional demeanor and outlook on life.
If you are a family man, have children, or are looking to have and make a family of your own, then Inna wants to talk to you.
Inna is currently divorced, and does not smoke or drink, but does enjoy cooking, and is looking for her other half to cook for, delight, and take care of.
Why does a woman become a mail order bride?  Inna is beautiful, intelligent, driven, and has a body to die for but she is still ready to leave the Ukraine.
On one hand it is really sad, but at the same time it is an incredible opportunity for you.
Currently, Inna lives in Kherson, Ukraine, and has one daughter – just 7 years old.
She adores children, and respects as well as desires a man that knows how to not only treat a woman, but is also good with children.
If you are attracted to feminine women, then Inna will likely spark your interest.
She is very petite, at just a little over 5 feet tall, and is looking for a man to love, protect, and treat her right. Inna also speaks fairly good English, which is a nice bonus.
Although, a little love and patience on both parts will go a long way.
Inna wants an honest, sincere man that while strong enough to protect her and secure a life together, still confident enough to be open about his feelings and share a happy, loving life together.
Any man would be lucky to start a life together with a professional, beautiful doctor like this, and her Ukrainian heritage, beauty, and culture are evident.
Inna knows how to take care of her man, and is looking for someone to share both emotional and physical support.
If you like an insightful, cultured, experienced, and educated woman, then definitely consider dropping Inna a line and expressing your interest.