There is well documented media bias against mail order brides. Newspapers and magazines regularly slam international dating without referring to any of the mountains of positive academic research on the subject, but movies have been far more balanced in their coverage of arranged marriages, mail order brides, and international dating.
This might be because movies cost so much to make that they have to do more research before they start production and tend to be more accurate. Hmmm…. No, Hollywood has never been too wound up about accuracy.
Perhaps, it is precisely because the news media portrays arranged marriages and similar types of courtship so negatively that audiences are surprised and interested in stories showing mail order bride success stories? That is probably closer to the truth, because Hollywood loves a good story.
Believe it or not, people are starting to soften up to the idea of finding love overseas. The stigma around arranged marriage is slowly becoming a thing of the past. As a result, we've seen more and more people talking about it. In addition, many movie directors have already taken inspiration from this idea and made movies about arranged marriage a thing.
Not every one of these mail-order wife movies are great. Some of them mix up the concepts of arranged marriages and other forms of courtship. Some of the stories are about the old west and others are contemporary stories, but they are all generally entertaining.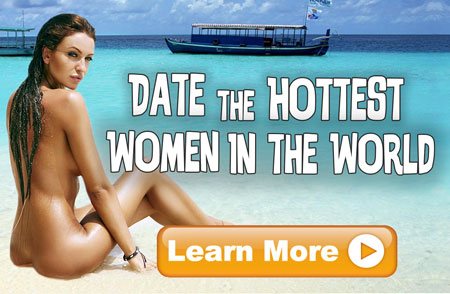 If you are really considering pursuing a mail order bride watching a few of these films could really be helpful. These films actually give a good idea of the challenges that two people who barely know one another have building a relationship. It is a challenge, but it can be done.
In our opinion, these 14 arranged marriage movies depict international love perfectly, and we highly recommend that you watch them.
Birthday Girl (2001)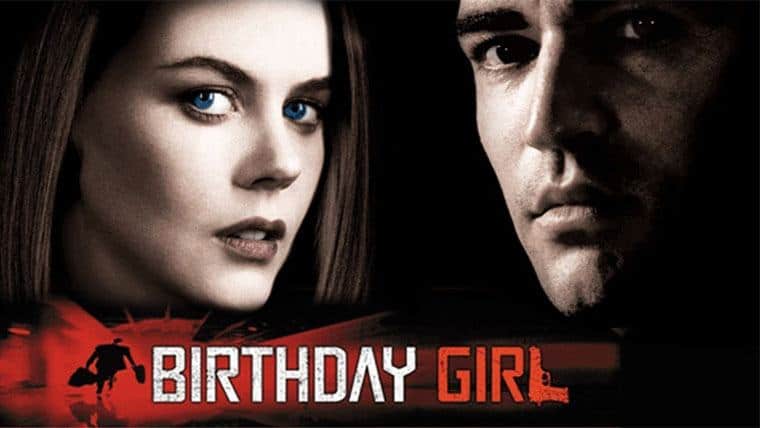 Birthday Girl is a charming story about love that conquers all cultural and language barriers.
The plot begins with John Buckingham, a typical Englishman, bank clerk, and lonely soul. His life completely changes when he meets his mail-order bride, Nadia. Nadia is gorgeous, a picturesque Russian beauty, but she is rather mysterious. The fact that the two can't understand each other only contributes to that.
The next part of this mail-order wife movie introduces us to Yuri, Nadia's brother, and Alexei, his friend, who come to visit Nadia for her birthday. Soon enough, Alexei's bad side comes to the surface, and he turns violent. He kidnaps Nadia and demands a huge ransom for her. Thus, John, who has fallen in love with Nadia over time, decides to rob the bank he works at.
John really does rob the bank and manages to pay the ransom. However, that's only the beginning of his misfortune. He also gets kidnapped and finds out that Nadia is pregnant. What's more, he discovers that she has been lying to him all this time. Nadia's real name is Sophia, and she does, in fact, speak English.
Instead of reporting her to the police like he first intended to, John rescues Nadia from Alexei. The end of the movie shows the two fleeing the country together in disguise.
Although this mail-order bride movie doesn't necessarily display the benefits of arranged marriage, it does prove that you can find love where you least expect it. John and Sophia met online, and despite all of their differences, they formed a strong bond.
The Outsider (1994)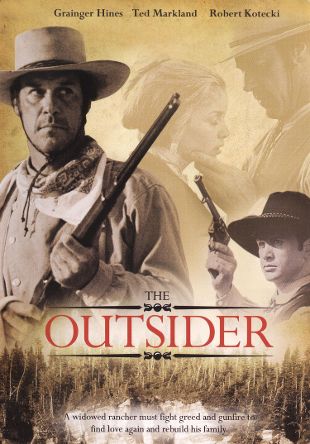 When you think about arranged marriage movies, you probably don't consider Westerns. However, The Outsider is both of those things, and then some. Even though it's a low-budget movie, it's very impactful. It has everything — a bit of history, a bit of crime, and some drama and romance.
The storyline takes place in the late 19th century, during a big Colorado drought. The main storyline revolves around John Gower, a widower and loving father.
One day, John is walking around when he sees a crashed wagon with two bodies nearby — a man and a woman. While the man has passed away, the woman is still alive but badly injured.
John and his only daughter, JD, decide to take care of the woman. When she gains consciousness, they learn that her name is Juliana and that she was the dead man's mail-order bride.
After staying at their home for some time, Julianna bonds with John's daughter, and later with John himself. But, problems arise when John's neighbor, Colonel Howling, and his son try to take John's land. The three of them start fighting, and upon realizing that it was Howling's son who tried to murder Julianna and her husband, John swears that he will get his revenge.
Although the crime aspect of this story is interesting, it carries a very strong underlying message. Love can arise from the strangest of situations, and this mail-order bride movie depicts that perfectly.
Mail Order Bride (1964)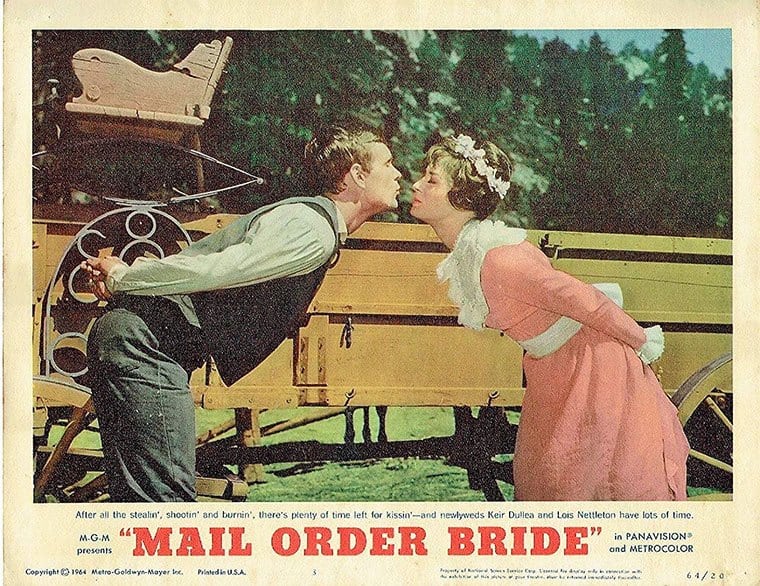 This mail-order wife movie shows arranged marriage in a highly positive manner. Even though it's more than 50 years old, it portrays a very real situation that hasn't changed much since the '60s.
The story begins with Will Lane, an old man who comes to town in order to look after his deceased friend's son, Lee Carey. Lee is a typical young rebel, immature and mindless. As such, Will was instructed not to give Lee the land that his late father left behind until he settles down. And the first step towards settling down is getting married.
Since Will knows that Lee isn't going to look for a bride himself, he begins the search. And soon enough, he stumbles upon a newspaper ad about Annie, a young widow from Kansas, who is looking for a husband.
Will quickly arranges the marriage between the two, even though Lee definitely isn't into the idea at first. Still, when he meets Annie's son and gets to know both of them, he realizes that he truly is a family man after all.
This movie is definitely not a classic love story, but it is a realistic one. Also, it goes to show that everyone can find their perfect match, regardless of their past.
If you want to know more about this period check out this article on the History of Mail Order Brides.
Mail Order Bride (2008)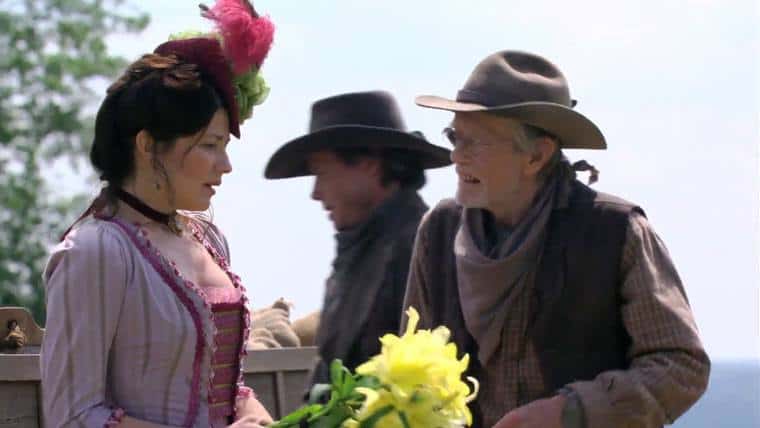 Mail Order Bride is also the name of another great movie with a similar Western theme. Unlike the previous one, which was mostly unknown, this one is a 2008 Hallmark classic. What's more, this mail-order wife movie actually focuses more on the woman and her side of the story.
The main character is Diana McQueen, a famous con-woman who is fed up with her dangerous life. Her biggest concern is definitely her boss, Tom Rourke, an overbearing and bitter old man.
One day, Diana decides to leave Tom and travel far away from her ill-tempered employer. However, to prevent him from going after her, she swaps places with her friend who has recently passed away. Just before she died, she was arranged to be someone's bride. So, Diana steps in for her and manages to escape unnoticed.
Much to her surprise, Beau, the man she is about to marry, is a really kind and loving man. But, after a while, Beau starts to see through her lies. The truth comes out when Tom tracks down Diana and wants to get his revenge. Still, despite this conflict, Beau and Diana stay together. Their love is strong and undying, so nothing will ever destroy it.
It's easy to see why Mail Order Bride is not only one of the best movies about arranged marriage but also one of the best movies, in general. It's full of action, drama, romance, and crime.
Mail Order Wife (2004)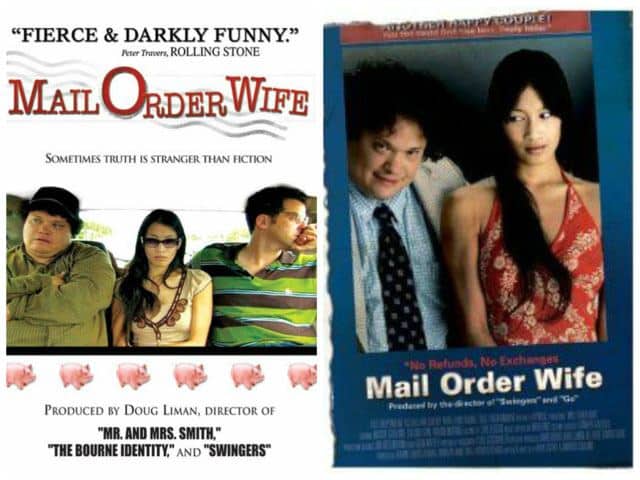 Mail Order Wife is very different from all the other arranged marriage movies on this list. In fact, it may be one of the most authentic movies ever. It's a ruthless political satire that also has traces of a romantic comedy.
The story revolves around Andrew, an NYC filmmaker who gets hired to make a documentary about Adrian, a doorman, and his new East Asian mail-order bride, Lichi. Andrew follows the two around and documents their lives every day. But soon enough, he learns that Adrian is a very obnoxious and angry man. He treats his beautiful new wife as a house slave!
Smitten by her beauty and grace, Andrew can't stand to watch her suffer any longer, so he takes matters into his own hands and starts meddling in their relationship. Neither Adrian nor his wife likes that, which causes him to stop filming. However, after some time, Lichi reaches out to Andrew and leaks his documentary to the public. The two end up sharing an apartment together, and… well, you can already assume what happens next.
Mail Order Wife is the ultimate cautionary tale when it comes to arranged marriage movies. So, everyone who's even remotely interested in this topic should definitely check it out.
Zandy's Bride (1974)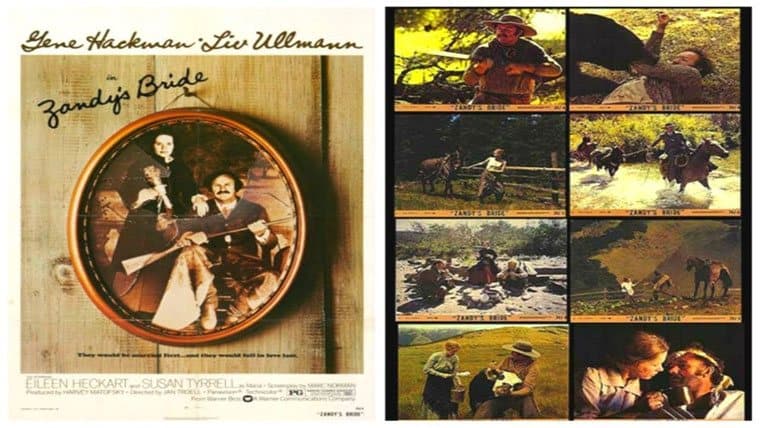 Zandy's Bride follows Zandy, a Californian rancher in search of a bride who'll put an end to his 38-year-old virginity. In typical mail-order bride movie fashion, he's reading a newspaper when he finds an advertisement from Hannah, a woman looking for a husband.
After she arrives and the two meet, Zandy realizes that Hannah is older than she said, not to mention stubborn and rebellious. That comes as a surprise to Zandy, who was expecting a traditional wife, but even he begins to admire her for the work she puts into the household on a daily basis.
Only by going through Hannah's off-topic remarks in the movie do we realize that her attitude is a product of years of mistreatment and servitude. She used to be a house servant, cleaning houses and taking care of people's children. Additionally, Zandy doesn't treat her any better. He just wants his money's worth, and he does not realize how badly he's treating his new wife until the very end.
Zandy's Bride is one of the classic American westerns, as well as one of the most notable arranged marriage movies. Even though critics did not favor it when it was released, this American immigrant story, mixed with beautiful exterior shots, makes the viewer question his opinion on true love.
Westward the Women (1951)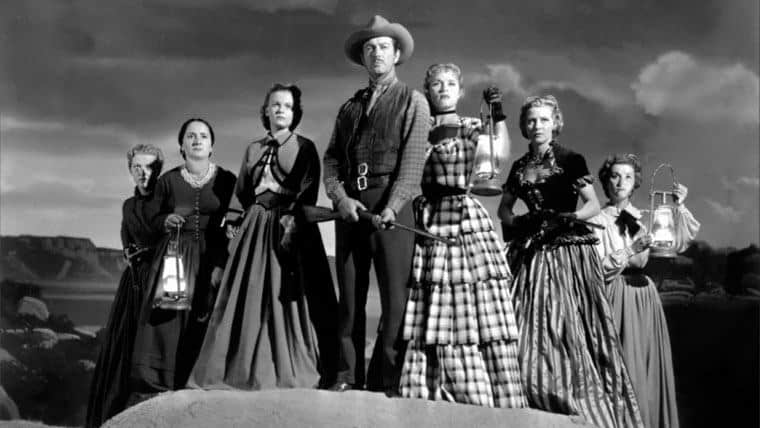 Although it is a mail order bride movie, Westward the Women is also one of the first feminist movies to hit the silver screen. It features strong, assertive women on their journey along the California Trail.
The story begins in Chicago, where trail leader Buck Wyatt and Roy Whitman attempt to gather 140 women willing to settle in Whitman's Valley, California. Unfortunately, they can't accept any women who want to marry in the West. The women also need to be ready for the long and exhausting journey ahead.
Soon after, 140 women, along with Whitman and Wyatt, head out to the West. Along the way, we find out some of the women's backstories, which range from tragic to almost funny.
The women have pictures of their husbands-to-be on display, and each has chosen a suitable man for herself. Later on, the train arrives in St. Joseph, Missouri, where the real journey begins. The group is now accompanied by men who protect the train, so Wyatt has to lay down the rules, which forbid relations between the men and the women. The rules are strict and punishable by death.
After a long and hard journey, the surviving women get to their destination. Nevertheless, they feel very different after their journey. All of them have learned how to take care of themselves, with most of them having to take up arms in order to defend themselves. But we do get to see a happy ending, with even Buck Wyatt finding a wife for himself.
2 Brothers & A Bride (A Foreign Affair) (2004)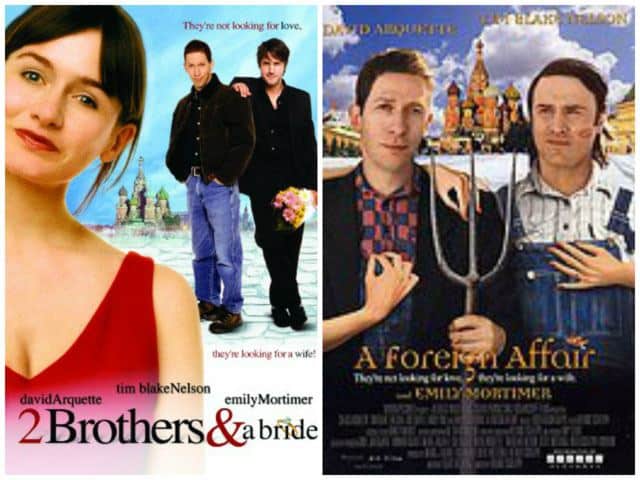 The plot follows two brothers, Josh and Jake, whose mother passes away at the beginning of the movie. They were always very dependent on their mother's help, so losing her is unthinkable to them. Thus, unfamiliar with the real world, the brothers come across a website that arranges marriages in exchange for citizenship.
Josh is a stereotypical bumbling man-child. In contrast, Jake is the serious brother who doesn't want a wife, only a housekeeper. But, for the first time in their lives, they decide to take matters into their own hands. They want to go to Russia in search of wives/housekeepers. Soon after they make that decision, they board a flight to Saint Petersburg, where they will meet their prospective brides.
Even though their deal was to only find a bride for Jake, Josh keeps falling in love with a different woman every night. Also, during their travels, the brothers meet a documentary producer named Angela who is on tour producing a mail-order wife movie. Following the brothers' antics across Saint Petersburg, we get the sense that she finds a romantic interest in Jake's down-to-earth manner. Thus, what starts out as a housekeeper quest turns out to be a voyage of self-discovery…
2 Brothers And A Bride a bride was produced with the assistance of our friends at A Foreign Affair and it gives us an insider's peek at what the process really looked like back in the 1990s. If you want to know more about AFA tours today check out the Best Damn Guide to Romance Tours!
Picture Bride (1995)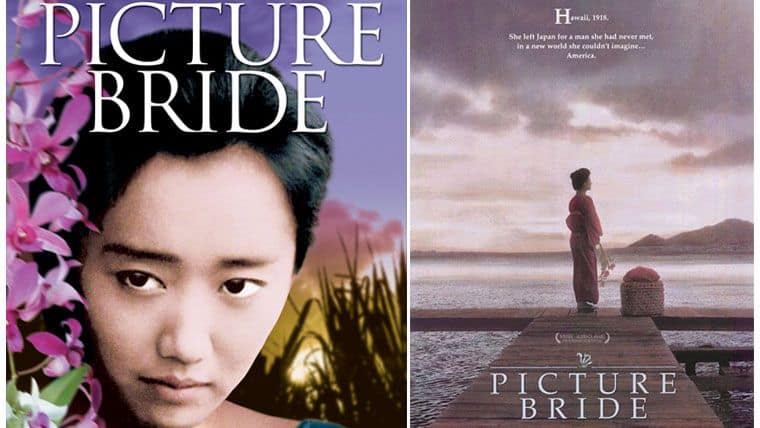 Aside from being one of the most critically acclaimed movies about arranged marriage, Picture Bride is also one of the classic Asian-American movies. It premiered at the 1995 Sundance Festival, where it won the Audience Award. Moreover, Picture Bride was an official choice at the 1994 Cannes Film Festival. It stands out as one of the most popular arranged marriage movies in the world.
The movie takes place in 1918 Hawaii, which was one of the major cane sugar plantations in the US back then. On the plantations, people worked under horrible conditions, and they were mostly Asian immigrants. What's more, even though the workers could get married, the laws forbade mixed-race marriages.
Consequently, there used to be services that arranged marriages between the workers abroad and women in their homeland. After they arranged the marriage, the bride would come over to Hawaii to live with her husband.
But a Japanese city girl called Riyo is the real protagonist of this unforgettable mail-order bride movie. Her aunt arranges for her to be a picture bride after the death of her parents. Soon after, she finds her match, Matsuji. Unfortunately, what seems like a lovely marriage to a handsome husband soon turns out to be a farce. The picture Matsuji submitted was years old, and Riyo's new home is a little more than a shack. Moreover, she has to work in the fields day after day under the sadistic overseer Antone.
Fortunately, Riyo finds a helping hand in Kona, another mail-order bride who came to the island a few years ago. After Kona and her daughter die in a fire, Riyo forces herself to accept her fate. She stands up for herself and the other women on the plantations.
Russian Doll (2001)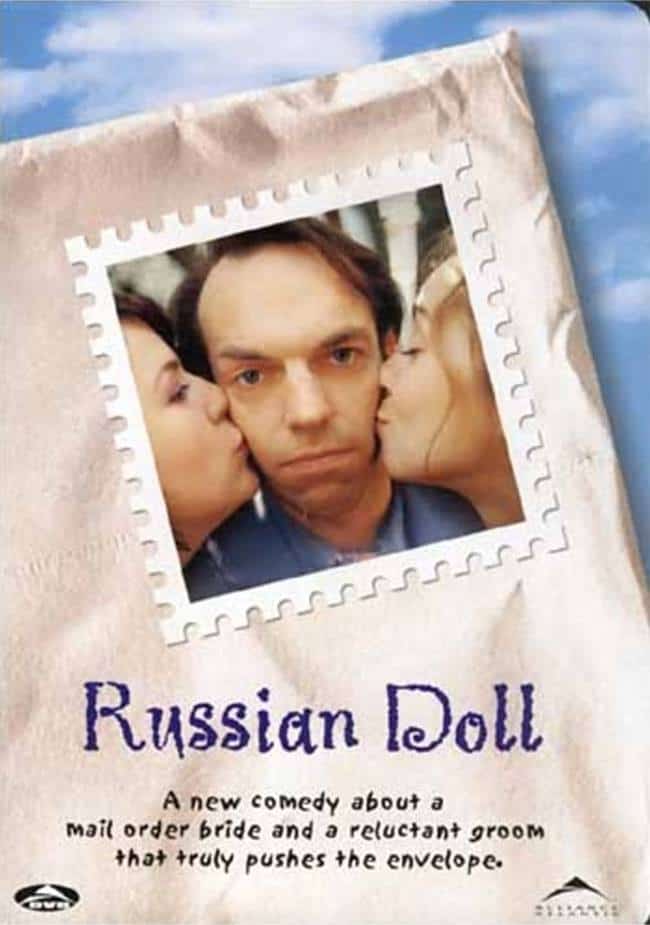 Make sure to buckle your seatbelts before watching Russian Doll, as it is one of the craziest movies about arranged marriage. It combines action, drama, romance, and comedy perfectly. What's more, the plot centers around the funniest love triangle that has ever come up in a mail-order bride movie.
The story of Russian Doll is, strangely, not set in Russia. Actually, it's as far away as it could be — in Sidney, Australia. The 'doll' in question is Katia, and she's going to Australia to meet her future husband. However, when she finally arrives, he suddenly passes away. Desperate, she accidentally meets Ethan and falls in love with him.
Unfortunately, Ethan is married, and Katia has to get married in order to stay in the country. But, in a twist of fate, we're introduced to Harvey, Ethan's best friend and a private investigator. Harvey has recently found out that his wife is cheating on him, and he is freshly divorced. So, the three soon struck a deal — Harvey and Katia will marry so that she can stay in the country, and Ethan will give Harvey the money he needs to jump-start his novelist career. Although reluctant at first, Harvey accepts the deal and marries Katia.
The rest of the movie is your typical mail-order wife movie with a love triangle twist. Harvey and Katia soon find out that there's more to their marriage than sheer convenience. Then, as silly as it may sound, Katia starts cheating on her lover with her husband. But, she has to decide — who does she want to spend the rest of her life with?
Sweet Land (2005)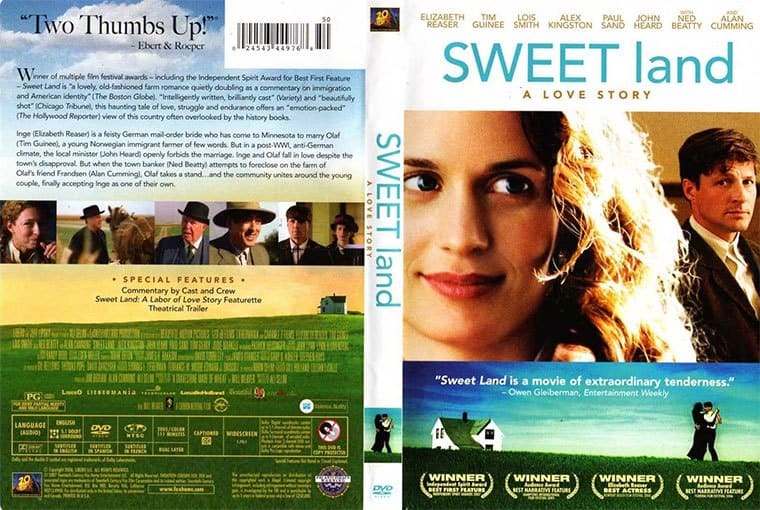 Sweet Land is a period piece that brings us back to the early 20th century. A masterpiece by all means, this mail-order bride movie won nine awards and two additional nominations. The awards include the Independent Spirit Awards for Best First Feature, Best Director, and Best Producer.
This movie certainly takes a step back from classic movies about arranged marriage. Sweet Land follows Inge, a Norwegian immigrant with German papers. She meets an elderly couple in Norway, and they soon make an arrangement for her to marry their son, Olaf, who lives in Minnesota.
Unfortunately, her arrival is not at all what she expected. Due to her German background, no papers, and socialist documents, the townspeople of her new home look down on her. Moreover, they forbid her and Olaf from marrying, so she starts living in his friend's neighbor's home. After the neighbor's home comes near foreclosure, Inge and Olaf take a stand for themselves. Soon after, the community finally accepts her and allows them to marry.
Sweet Land is narrated by an older Inge, who is telling her story to her grandson. It is gripping, and it shows us how even an arranged marriage can result in true love.
Heartland (1979)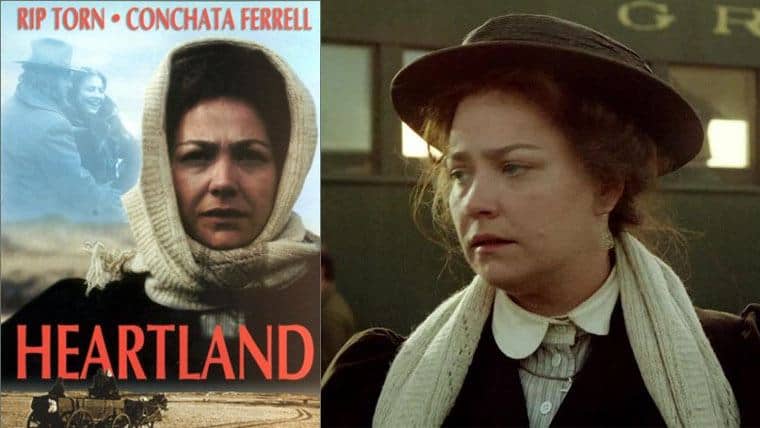 This story is about a widow, Elinore Randall, and her daughter.
When Elinore finds a housekeeping job at a ranch, the two of them move to the Wyoming frontier. Once there, Elinore starts a complicated relationship with the ranch's owner, Clyde Stewart.
Both Clyde and Elinore are mostly silent, but not unkind to each other. However, when Randall decides to start fresh, homesteading by herself nearby, Stewart warns her of the difficulties she'll undoubtedly encounter. Unmoved, Randall decides to go her own way.
After some time, both Randall and Stewart start having some trouble fighting the cruel force of nature by themselves. They start helping each other, and slowly, they finally fall in love. Once married, the true test of their love comes in the form of a harsh winter. The story then continues to explore what it's like for a couple to live in near-total isolation.
Heartland is yet another stunning tale of how danger brings people together in ways they couldn't even imagine. Even though it's not a mail-order bride movie per se, it goes along the same lines of unlikely relationships. In addition, Heartland gives us a more realistic look at the western frontier than most movies depicting that era.
The Harvey Girls (1946)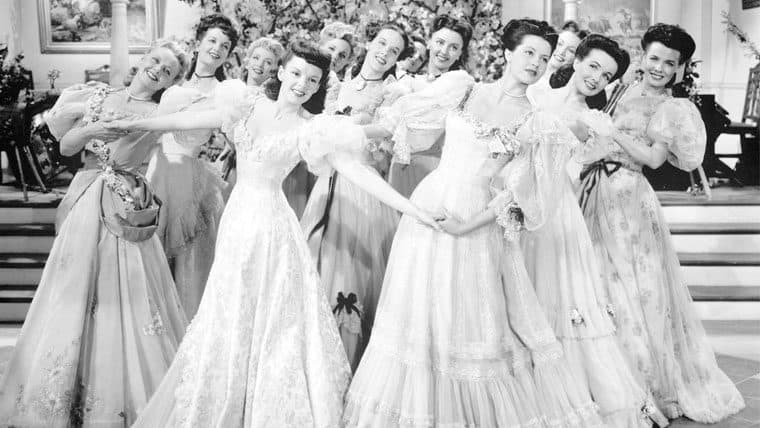 Next up is the oldest mail-order bride movie on the list, The Harvey Girls. It features the legendary actress Judy Garland in the leading role, as well as her co-star from The Wizard Of Oz, Ray Bolger. After receiving an Academy Award for Best Original Song, The Harvey Girls became a musical classic.
The plot follows Garland in the role of Susan Bradley, who is finally going to meet the man she has been writing to regarding a "lonely hearts ad." On her way, she meets a group of waitresses from the Harvey House chain of restaurants called "Harvey Girls."
After they arrive in the town of Sandrock, Arizona, Susan quickly finds out that the man of her dreams is nothing like what he seemed in the letters. Moreover, he seems to dislike her as much as she loathes him.
Susan quickly realizes that the letters were a joke. With the intention of being funny, the owner of a local saloon, Ned Trent, wrote the romantic letters instead. Furious, Susan confronts him, and Trent finds himself charmed but ashamed of his actions.
After taking the issue to court, they manage to close Harvey's restaurants. The girls relocate to a local saloon, and Susan and Trent get married. A true western!
Flower Drum Song (1961)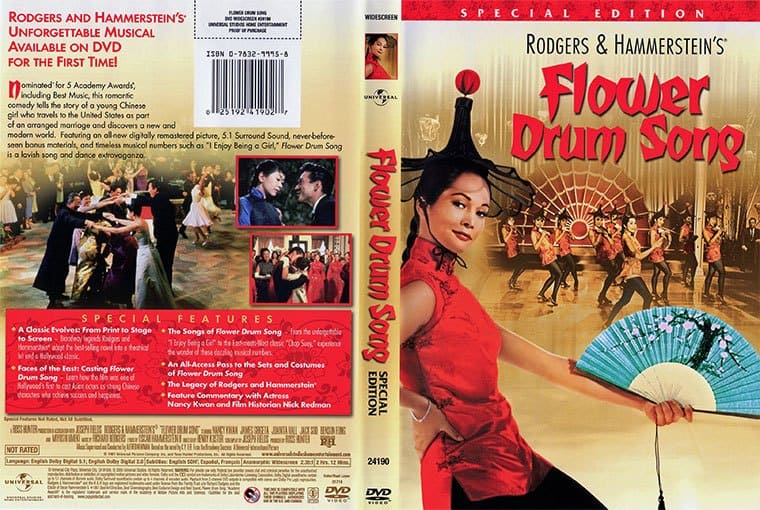 Much like The Harvey Girls, Flower Drum Song is also a musical. This 1961 mail-order wife movie was based on a 1958 Broadway musical and 1957 novel with the same name. It received 5 Academy Award nominations, and many critics still deem it 'culturally significant' to this day.
The story follows Mei Li, a young Chinese woman, who moves to Chinatown, San Francisco as a mail-order wife of a nightclub owner, Sammy Fong. Upon arrival, her new life and American culture fascinate Mei Li. However, she isn't happy about her marriage, as her new husband is in love with one of his singers.
Neither Sammy nor Mei wants to go through with the marriage, so they have to find a way to break the contract. During their search, Mei Li falls in love with Wang Ta, the eldest son of a wealthy woman. In the end, they find a way to break off the marriage. Thus, Mei Li ends up marrying Wang Ta, which then enables Sammy to marry Linda.
This mail-order wife movie shows us the other side of being a promised bride. After all, arranged marriage is not just a way to find a partner — it's also an experience by itself.