This sexy Latina works as a "psychologist" and you can see for yourself that she is well qualified!
Mariah says in her dating profile… "I am a very passionate and cheerful woman who loves nature. I consider myself an honest and understanding person. I like my partner to feel confident with me. I am also loyal in all aspects."
I like passionate and cheerful women. And it is like the daily double if she is also honest and understanding because I generally require a lot of understanding from women. So, I was immediately interested in this woman's profile.
Ok, I admit – her profile pictures might have got my attention too – especially this one!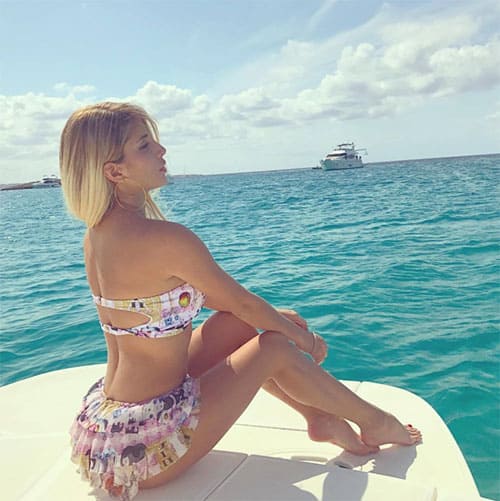 This sexy Peruvian's full profile is over at A Foreign Affair's website, they seem to have the market cornered on hot Peruvian brides over there just lately.
One word of warning, every Peruvian girl I've ever met is an absolute fanatic about futbol (soccer).
Futbol is just something you'll have to learn to live with if you want to get involved with Peruvian girls. Peru's national football team, commonly known as la Blanquirroja (Spanish for "the white-and-red") has had a chequred past rife with coruption, and they haven't participated in a world cup since 1982!
So if you decide that you want to get involved with a Peruvian woman you may want to stear clear of the subject on your first date.
I talked to a couple Peruvian girls during the last World Cup and they tend to get a bit worked up about the subject.
And if you had seen what these Peruvian women were wearing while I talked with them you would have been happy to listen to them talk about the blue line and foul balls and how many wickets their team made.
Fascinating stuff soccer.
Mariah is truly fascinating so check out her dating profile HERE…