What is exactly makes a woman a perfect 10? Every guy has a different attitude, but some of it is simple proximity and if you were close enough to Viktoria here she would be a 10+!
Boom!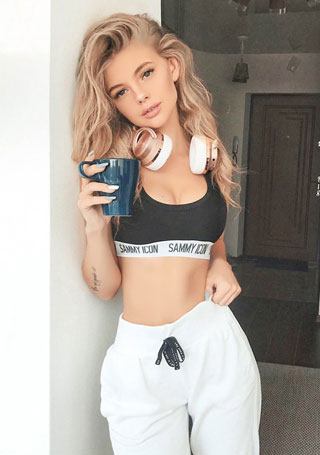 If she wanted you to sit back down and have coffee with her after her morning yoga class you would not say, "No." It is just that simple.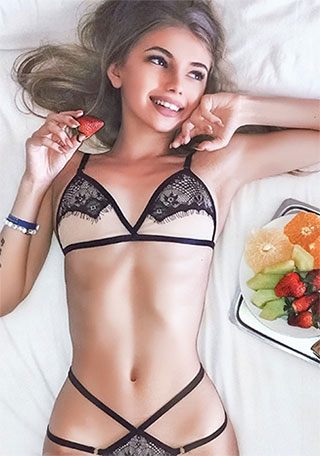 You might think you really dig Asian chicks or you never even look twice at anyone but Latina's, but if you saw Viktoria smiling like that you would look more than twice.
So, if Viktoria is not a perfect 10 for you it is probably because you don't know her well enough. Or it could be because you are on the wrong sort of dating site. At the very least, for most men the simple truth is Viktoria is way to beautiful to ignore.
She might not be your ideal dream girl, but she is a lot hotter than most girls you are going to meet at home. That is a simple fact.
Beyond all of that she seems like a cool girl. We always try to find hot, cool women. It is not a huge challenge really, but sometimes a girl really jumps out. Viktoria is one of those girls.
First, she says that, "I do not like conflicts and scandals," and that is a must. Do you really want to argue with a woman all the time? Of course, not.
Viktoria says she is perfectly normal. She explains that, "I do not have any complexes! I have no bad habits." I can believe that, but of course the question is will she put up with your bad habits?
For most men, that is the critical question.
She says she wants, "I`ll try to find an open-minded man, with whom I will have much in common!" Do you like to go to the gym? She says she goes for two hours three times a week. I believe her about that.
She wants a man who wants her, but she is willing to sacrifice. She writes, "I hope we will spend much time together. I`m ready to follow him everywhere he needs me. So, if you have a pure heart like me, I am always ready to communicate."
Are you ready to communicate? Viktoria hopes so. She says, "Maybe your letter will start something worthwhile, possibly a love story."
Perhaps, but I know for sure she will never fall for you if you never reach out to her. That is a fact.