Let's face it, if you are like most guys you could probably dress better. You probably hang around in old t-shirts and blue jeans and wear gym shorts when you are nowhere near the gym.
You probably could use a personal tailor. Well, what about a personal tailor who happened to be tall, blond, and hot?
Anna-Maria is the real deal.
She is beautiful and she has some real useful skills. Sewing is always cool and it probably means that she is also a complete AAA homemaker in sort of the old school way your grandma was.
A lot of guys think they want a lady with real homemaking skills until they find out that means living with a set of rules about where dirty clothes go, when dinner time is, and washing dishes, but if that's part of what you dig in a lady then Anna-Maria is certainly a catch.
Just don't get irritated when she organizes your sock drawer.
She loves to cook. She says…
Another my passion is cooking. I like to cook sweet cakes and pies most of all, but borsch and vareniki I also cook good. I wish I had someone to share my meals with, because it's such a waste of time to cook for myself.
For those of you interested, vareniki is apparently some sort of pastry that is considered the national dish of Moldova. Here is a picture so you recognize it when Anna-Maria serves it up.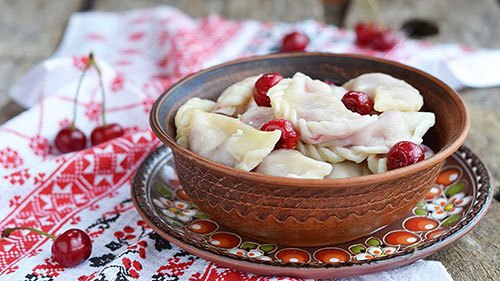 Anna-Maria seems really sweet and she has a lot of cool interests. She says she likes,
…dancing, reading, yoga. In time of leisure I like to read books, to watch TV, to be outdoors having a picnic with my close people, to listen to music, to go to the cinema. I am fond of psychology – it helps me to understand people better.
Maybe, with that interest she will be able to understand you – or at least be able to see your good points.
Anna-Maria seems like a very sweet lady – practically the model of the hot, sweet, and old fashioned Moldovan bride.
And she is HOT! I haven't mentioned that enough. She is easily the hottest student I have ever seen, but she would be hot if she was a model or actress too.