Lindsay has that sexy, slightly geeky look that tells you straight away that she's studious, gentle and knowledgeable. Twenty-nine years old, Lindsay comes from Shanghai in China.
She is a delicate 5 ft 4 in and weighs 108 lb. 'I don't smoke,' she tells us with a slight diffidence, 'and I don't drink. Oh, and I speak fluent English. I know my Mr Right wants to know that.'
He'll also want to know whether you're already married, Lindsay. 'I am divorced. And I don't have any children. Not yet,' she giggles.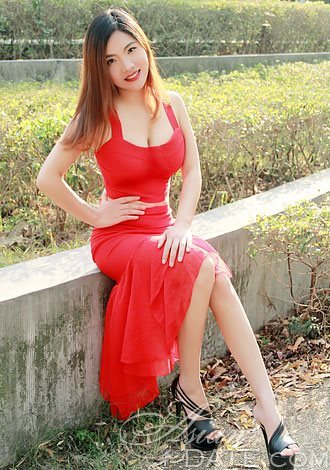 Is there anything else that Mr Right might want to know about you? 'I'm faithful,' she says, and pauses a second, 'romantic, and a bit shy. And I shall be a traditional sort of Chinese wife.
I want to have children, but probably not straight away. I'd like to travel, too.
Mr Right can put his arm around my waist and whisk me away with him and we'll go everywhere together, have adventures and see the world.'
Lindsay studied at university and works as a teacher. Losing her shyness, she starts to talk energetically about herself. 'I love archaeology.
All those films about ancient buildings, vast cities now crumbled into dust.' She stares into the distance for a second. 'I'm optimistic,' she tells us, 'I smile a lot, and I'm always reading.'
She flashes another smile at us. 'My friends tell me that the angels envy me because I smile so much.'
Lindsay slips out of her mauve sweater and into her yellow sun dress, grinning naughtily at the camera as she settles into her chair.
Do you ever think about keeping house for Mr Right? 'He's got to like poached fish, because I can cook poached fish.' Anything else? 'And cookies. I can do cookies, so he'd better like them as well.'