What we have here is the Yang to your Yin, right? So very Chinese and if you really are the Yin then you are looking at a perfect fit.
Yang is a really beautiful young Chinese girl, tall, statuesque you might even say, with a luscious body, long legs, and an innocence about her that is really endearing.
Her English is at beginner level so you will need great patience to open and maintain communication with her.
Be gentle, many Chinese expressions don't translate well into English and conversely many English idioms and words make no sense when translated back into Mandarin.
If you can get over the cultural hurdle with Yang then you can look forward to a life of love, passion and loyalty.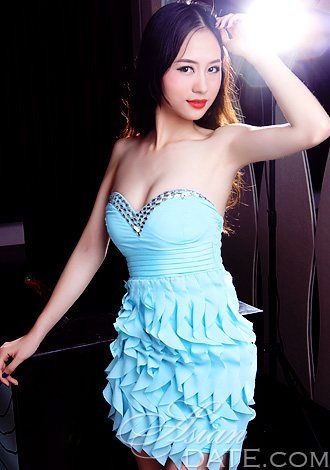 Like many Chinese women, shopping is something Yang loves to do and you will see young and old women hand in hand wandering around the shopping centres.
Yang also loves to watch movies (you better find English ones with Chinese subtitles or Chinese ones with English subtitles) and enjoys BBQ for a meal.
Chinese BBQ is not related to our idea of a BBQ so you better experience a local one to get a good idea.
At age 21 she is already in the workforce, a huge bonus, because finding work in China can be difficult.
However, if you are young and extremely beautiful, like Yang, maybe it's not so hard.
She wants to be a super-model so guys, please hurry and get her before she makes that move because once she gets to being a model in China she is almost unattainable.
Click on her picture and start a conversation, get to know her and let her get to know you. She is sooooo beautiful that you can't let such an opportunity pass you by.