Blonde and beautiful! Really no other way to describe Valentina. She's 37 years old, so not young and impressionable and what's more, is that she has been working since she was 15 years old.
Don't know about you, but without being too critical, do you know many 37-year-olds at home that can match this beauty for looks?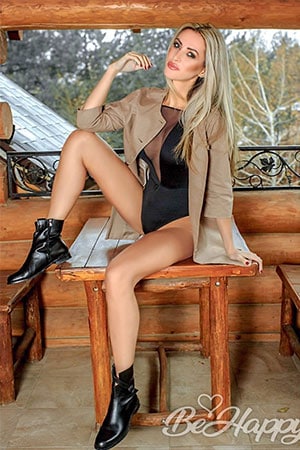 The girls in these eastern European countries really know how to look after themselves.
You will get the opportunity to take a look at Valentina's videos which, to be frank, are a bit corny and contrived. But what really stands out is that…
She speaks pretty good English. That's a huge plus when you are into some meaningful conversation.
She looks good regardless of what she's doing, whether it's walking on a path, playing ball or doing something in the kitchen.
The fact that she bothered to actually post 6 videos means she is really keen to find a loving partner.
There was an interesting aspect to her profile about doing things in moderation, like drinking and, bless her, she said her man has to love her more than he loves vodka.
And there you have it! The age-old problem with eastern European guys has been revealed and it's something a couple of Russian, female friends I know that said the same thing.
Russian guys have a drinking problem and prefer to down vodkas at a bar than kiss a girl! In your wildest dream, or nightmare, can you imagine replacing Valentina with a bottle of vodka!?
This Moldovan beauty comes from a city called Tiraspol, which is about 80kms (50 miles) from the capital Chisinau.
Living is cheap in Moldova and it would be a trip of a lifetime to not only visit the country but to lay eyes on Valentina. Opportunity is knocking. You better open the door!