OK, there's perennial debate about which country has the most beautiful women. Some guys argue Brazil, other say Russia, and Venezuela is the New York Yankees of Miss Universe pageants, but you can't forget China.
China has the more women than any country in the world. That is a simple demographic fact and maybe they have the most stunning women, because they do have a lot of exquisite beauties like Weifang.
She is an elegant beauty!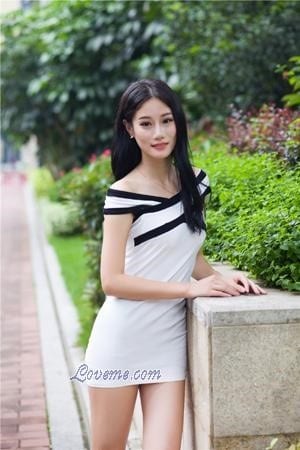 Weifang is a real Chinese Princess, assuming that all Chinese princesses were beautiful?
Why Are There Any Single Chinese Women?
One of the oddest thing about China is that there are twenty million more men than women in China and yet a gorgeous looking young lady like this can still be single. It is bizarre!
Why?
It might mean that when she was in her late teens and early twenties she was more focused on school than dating, because many of the most intelligent and accomplished Chinese women have a very hard time finding a mate, especially after they reach about 23.
They are called, sheng nu and they are China's unwanted women. Click on the link and read the article if you want more information. It is heartbreaking.
Weifang is 30, but she might as well be 100 to most Chinese men, even men in their 40s and 50s. And she is not the only stunning Chinese mail order bride we have on our site!
Follow the link and you will see just how crazy this ancient Chinese tradition is, because the sheng nu maybe be unwanted in China, but they are not going to be unwanted in Los Angeles, London, or Sydney.
These women are incredible.
And Weifang is one of the best. She is obviously talented, intelligent, and beautiful. Perhaps she has an independence streak that scares Chinese men. Are you scared of Weifang?
A Wise Asian Bride
She has probably faced this fact and decided to go after a foreigner.
Enter YOU! She says her English is good and that's a great relief because it would be a real bummer wandering around the cities of China with Weifang AND a translator. That is great news though, because it is hard to find anyone in China with solid English skills.
She is not looking for the perfect man and that's good because one doesn't exist. She explains that,
My dream man is a critical thinker–not a cynic. Not a pessimist–just someone who sees the world through his own lens of knowledge. My perfect man knows full well that he's a work in progress and accepts that he doesn't have an answer for everything. He loves to ask "what if?"
To me this is great sign because it means she is a positive person too, and in the end a positive attitude is the single most important attribute in determining if someone is going to forge a successful long term relationship.
Chinese women love romance, little gifts and thoughtfulness in their lover. Weifang is born in the year of the Tiger and that means both a tiger mom and a tiger lover. It's up to you to make things happen with her.
Age does matter in China so if you're more than 15 years older than her you will have to be something special for her to break with tradition and custom to accept your attentions.
She is university educated as nearly all Chinese are, and works as an accountant so you will have to be clever to do a number on her!
If you're a positive sort of a person and have been looking for a Chinese girlfriend, you could do a lot, lot worse than latching onto Weifang.
Weifang's profile is over at A Foreign Affair. It is a great site. Go check her out!