Belo Horizonte is located in the state of Minas Gerais, and is one the most modern cities in Brazil. It's also the 6th most populous city in the country, with a population of around 5 million people, and is also the state capital.
Located in the south east of the country this modern city is bordered by the Serra do Curral mountain range, and is north of both Sao Paulo and Rio de Janeiro.
Belo Horizonte is an inland city, which means there are no beaches here, but the locals make up for that with the vibrant nightlife on offer.
Dating Belo Horizonte Women
The women of Belo Horizonte (BH) are very similar to women from anywhere else in Brazil in that they have very strong family values, and respect tradition above most other things. Where the women of BH are different is that they're not nearly as materialistic as women from Sao Paulo or Rio de Janeiro, for example.
They're also considered to be the most attractive women anywhere in Brazil, and you'll only need to take a quick look inside any of the upscale clubs to see this is completely true – we're talking an unusually high number of hot girls everywhere.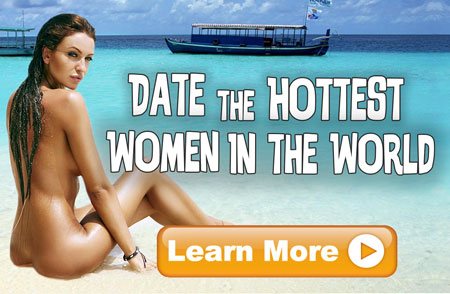 Just take a look at some of the girls from Belo Horizonte that we have in our Brazilian Dating Galleries and I'm sure you will agree that these girls are world-class beauties.
It's also worth mentioning that Brazilian women tend to live with their parents until they get married, so you need to take this into account during your foreign dating adventure. This family-oriented life makes women from this part of the world extremely loyal, affectionate and feminine.
The biggest tip we can give you for dating women in Belo Horizonte – or any other part of Brazil – is to invest some time and money in learning Portuguese.
In fact, you don't even need to spend any cash to learn this interesting language, sites like Duolingo and Livemocha can help you out there too. You don't need to become fluent, but being able to talk to local girls in their native language will give you a major dating advantage over the other gringos.
Girls in Belo Horizonte are expected to spend time on their looks – women here are often judged solely on their appearance, so staying trim and looking great is just part of the daily routine for most women.
In return for the fact that they spend a lot of time in keeping themselves looking amazing you'll be expected to be a gentleman, and this includes opening doors, being polite, and not expecting to get them into bed after your first or second date.
They're as emotional and possessive as any Latina, but they're more than worth the effort.
If you've ever been to a strip club never share this with your Brazilian girlfriend because this is grounds for them to never speak to you again. They despise guys who cheat on their girlfriends, so if you've ever been involved with hookers or strippers keep that to yourself. For the rest of your life.
Seriously!
Be prepared for a certain amount of rejection when girls find out you're not living in BH – they want long term relationships, so don't want to hook up with guys who are just passing through.
That's why using a dating site before you arrive here is a good idea. Breaking the ice and making contact with a few local girls is going to save you a lot of leg work when you're here.
It's not that they won't date gringos, but you're going to have to persuade the best looking women that you're not just a player or a pick up artist. If they think you're a PUA or a player they'll walk away about 2 minutes into your conversation with them.
They've heard it all before from other PUAs, so don't waste your breath, even if you think you have great game.
The Best Places To Meet Women In Belo Horizonte
Now that you've invested some time in learning Portuguese (you're pronouncing it Portu-gesh, hopefully), you'd better spend some extra time learning how to dance, and specifically learn how to dance the salsa.
Dancing is how you flirt in Latin American countries, and the same is true in Belo Horizonte. The lack of beaches means there's a very strong bar and nightclub scene here, and this also means lots of dancing.
Sharing a dance comes before talking to girls here, so if you're dancing with a girl, don't assume you've hit a home run. She'll dance with you for a while, and then simply go back to the group of friends she arrived with.
Bars And Nightclubs in Belo Horizonte
Here are some of the bars we'd suggest visiting if you want to meet single Latinas:

Clube Chalezinho
This place is literally overflowing with beautiful Latinas. There's always a long queue outside, so get here early. Dress to impress if you're going to spend the night here.
Swingers
Probably the most popular club in BH, and for good reason. Bring a wingman with you, if at all possible. A local wingman is an even better idea.
La Cancha
Another great spot for meeting single girls, but not as popular as Swingers.
Arcadium Bar
Lots of salsa-style dancing here, so be prepared to dance unless you want to be ignored for the night.
Bar Tize
Great food, great bottled beers, and even better Latina company. You won't regret spending a few hours here.
Other Opportunities to Meet Women in Belo Horizonte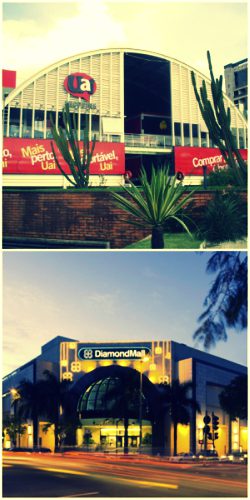 Most guys never look at the basics when it comes to meeting women, and understanding where they stand the best chance of meeting a large number of cute girls – when they're shopping!
In Belo Horizonte there are two large malls you should spend time at: Diamond Mall and Uai Shopping.
Remember that Brazilian women take a huge amount of pride in their appearance, so meeting them when you're out shopping means you can ask for their advice on what shirt or cologne you should buy.
Women here are very friendly, so unless you start acting like a sleaze they'll have no reason to think you're anything other than a guy looking for some help. Now if you've followed our advice and learned Portuguese you can practice your flirting here properly.
Don't go into either of these malls with the intention of scoring a date for the evening. Instead use it as practice for getting to know what local women look and act like, and you can learn what does and doesn't work when you're talking to them.
Best Places To Go On A Date in Belo Horizonte
Belo Horizonte attracted a very business-like crowd for a long time, but it's only now that it's attracting more tourists and backpackers.
Most tourists tend to stick with coastal towns and cities, so the fact that BH is inland puts some people off. That's their loss though, because this is one city that really comes alive at night.
When it comes to where you can go on a date there's any number of historic sites and parks you can visit during the day.
One of the sites which is a "must see" while you're in Belo Horizonte (and a great date idea) is the Instituto Inhotim. It's hard to explain exactly what this place is – part art installation, part botanical garden…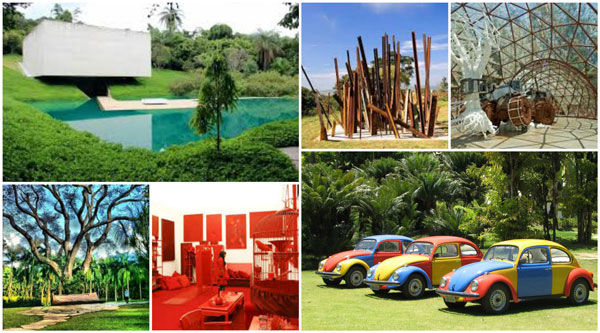 Here is what Lonely Planet has to say about this incredible place:
Instituto Inhotim is an impressive, sprawling complex of gardens dotted with 16 modern art galleries and numerous outdoor sculptures, 50km west of the city, near the town of Brumadinho. Much of the international artwork on display is monumental in size.The gardens, which were opened to the public in October 2006 and are expanding constantly, boast 1600 different species of plants (including 200 types of palm alone), peacocks and lakes with swans. You can wander at will, or attend daily scheduled programs led by guides trained in visual arts and natural science. The on-site restaurant and café are both excellent.
Apart from that your potential dating venues are cinemas, clubs and restaurants.
You can choose between the Cinema Sala Premier for a night of modern movie entertainment, or the Cinema Belas Artes, for more art house movies.
You'll have to base your choice on the personality of your date – if she's a fan of "arty" stuff then the Cinema Belas Artes is the smart choice.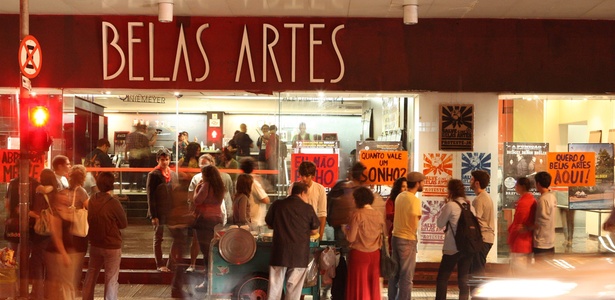 Dining Out
A famous author once wrote, "One cannot think well, love well, sleep well, if one has not dined well", and we'd have to agree. There's a huge difference between eating takeaway food with your date, and sitting down to a meal prepared by culinary experts.
A meal gives you time to get to know your date, and the same for her. You can share your food likes, and dislikes, and giggle over your silly eating habits, that only your friends notice.
Here are the top 3 restaurants worth visiting in Belo Horizonte. There are dozens of others, but if you want to leave your date gobsmacked then bring her to one of these three places:
Glouton

This is the best restaurant in BH, bar none. The French food served here is an exceptional mix of original dishes, with local flavors combined.
If you're looking for a relaxed evening, where you can enjoy the very best food in Belo Horizonte, then Glouton should be at the top of your list.
Taste Vin
Although Glouton is the best restaurant in the city, we have to admit that Taste Vin has a better ambience for a romantic night out. People who dine here tend to dress up a little bit, so bear that in mind.
Taste Vin also serves a range of French cuisine, but the meal most people will boast to all their friends about is the soufflé – you simply have to try it while you're dining here. Vin Taste, as the name suggests, also has the best selection of wines in the city.
Birosca S2
Now here's something a little bit different when it comes to an evening meal. At first glance Birosca S2 might not seem like the type of places you'd want to eat, but the Boho atmosphere, and the informal vibe makes it hugely popular with locals and tourists alike.
The menu might not be as extensive as other restaurants in the city, but the delicious meals more than make up for that. If your BH girlfriend is a little quirky then she'll probably dig this place as much as you do.
Places To Stay in Belo Horizonte
Belo Horizonte is a commercial hub, so many of the hotels here cater for business people more than tourists. In fact, it's one of the very few cities you'll visit in Brazil where you'll see people sitting working on their laptops. Most of them are foreign business people, but it's still a rare sight in Brazil.
Of the many hotels in the area here are some we can recommend:
e.Suites Sion
Rooms here cost about $80 per night, and for that price you get a king size bed, large bathrooms, rooftop jacuzzi and all the other modern amenities you're used to. e.Suites Sion is one of the best hotels in the city, so is worth the extra few dollars per night.
Holiday Inn Belo Horizonte
You can always rely on a Holiday Inn to provide you with a clean, fresh room, and a good night's sleep, and this is true of the Holiday Inn in Belo Horizonte.
Each room is very comfortable, featuring a big screen TV, and high-speed Internet access. You'll love the breakfast served here, and there's also an excellent restaurant for evening dining. Rooms here cost around $60 per night.
Clarion Hotel Lourdes
Rooms here cost roughly $100 per night, but you'll feel as safe and relaxed as is possible when you stay here. The staff are extremely helpful, the rooms are well appointed, there are plenty of dining options in the hotel itself, and an added bonus is the English language TV – this is very rare in Brazil.
Normandy Hotel
Located on Rua dos Tamóios, this 3-star hotel puts you right in the heart of the cultural and business districts of Belo Horizonte. A rooftop pool, fantastic views, air conditioned rooms, free Wi-Fi and an enjoyable restaurant makes a staying here more than worth the $45 per night charged.
Getting Around Belo Horizonte
Taxis provide you with the easiest, and most affordable, way to travel around the city. A typical taxi journey to downtown costs about $2, and for once you can rely on taxi drivers not trying to rip you off.
The official color of BH taxis is white, so that should help you to eliminate any potential taxi scams.
If you're walking around BH please keep your eyes open for motorbikes, they don't always obey 'Stop' signs, and won't slow down for you if you're crossing the street. This rule applies to everyone living in Belo Horizonte, not just tourists.
Money
The currency used in Brazil is the Real (Reais), and this currency is usually available from most major banks in the US and most of Europe. Many of the ATMs in Brazil will accept international credit cards, but not all of them will.
It's always a good idea to have some Reais with you for when you arrive, especially if you plan on arriving during a weekend – it can be very difficult to get your hands on cash during weekends.
General Safety tips
There are no major risks to your personal safety in Belo Horizonte, or at least none that don't exist in almost every other city in the world. When you're going out partying at night leave your laptop, iPod and camera back at the hotel.
Bring your cell phone with you, but don't leave it unattended on a table in a restaurant or bar. The one thing you really do need to watch out for is the bottled water here – sometimes it's labeled as mineral water, but it's actually tap water instead.
If the seal on the bottle is broken then don't drink the water – your stomach will thank you for it. The city can also be ridiculously warm during the summer, so avoid being outdoors between 10am and 3pm, if possible.
How To Get There
If you're already visiting other cities in Brazil then you can always travel to Belo Horizonte by bus, if you want a bit of added adventure.
Buses here are a lot more comfortable than you might expect, with almost all of them offering air conditioning, and seats which recline into sleeper positions. If you're traveling from Sao Paulo or RDJ you can expect to be on a bus for at least 7 hours.
Traveling by bus isn't an option if you're coming from the United States or Europe, so an international flight will be necessary. The city is served by two different airports, although only the Aeroporto Internacional Tancredo Neves caters for international arrivals from Europe, the United States and the Caribbean.
The international airport itself is located about 40km from the city center. Internal connecting flights from other cities in Brazil land at Pampulha (Aeroporto Carlos Drummond de Andrade), which is situated roughly 8km from the heart of BH.
International travelers can get here via direct, or connecting, flights with British Airways, Air Canada, Air France, American Airlines, KLM, Turkish Airlines, Lufthansa, Etihad, Iberia, Emirates, Delta and United Airlines. So no matter where you are in the world you're never more than a flight or two from the beauty of Belo Horizonte.
UK citizens don't require a visa if they're staying in Brazil for less than 90 days, but citizens of most other countries (including the USA) will require a visa to visit the country.
IMPORTANT!! You must obtain this Visa in advance or you will be denied entrance to the Brazil. Visas are NOT available at the airport like in many other countries.