Daow! Is a pretty Thai girl who really wants to be a mail order bride.
She writes, I would like to meet a simple guy who would like to have a Thai wife, sincere, cheerful, good, caring.
Dude, this is your lucky day, because people have been telling you your whole life that you're simple!
Daow speaks intermediate English, has a great serene smile and she certainly does wonders for the plain white tee shirt.
Call me crazy, but there is something about this beautiful Thai bride that reminds me of the Mona Lisa, maybe it's the pose in her bio picture, or the serenity in her beautiful brown eyes. Here's a little comp I threw together. My photoshop skills are a bit rusty – but you get the idea.
Thai Mona Lisa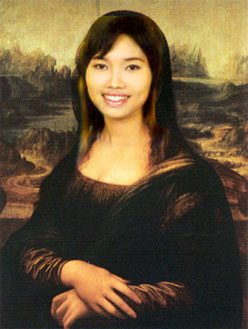 See what I'm talking about?
Okay, so Daow is a little happier than Leonardo's enigmatic model was, but then Daow lives in the Land of Smiles, so I guess that makes sense.
Well, any way you slice it, this petite Thai girl could probably have you wrapped around her little finger in no time.
Daow's dating profile is over at Asian Beauties, which has more Asian women looking for marriage than just about any site on the internet, so they are definately worth checking out.