If I were stuck in a strange and unfamiliar island and this Amazon woman was hunting me down, I would gladly surrender in a heartbeat!
Gabrielle can do whatever she wants with me and I would willingly yield to her every wish and command.
With Gabrielle's statuesque figure, she can wear a trash bag and she would still look really hot. She seems physically perfect, but is her inner beauty up to par?
Well, you be the judge of that. On her profile she explains that, I am a romantic lady, I believe that our life should be full of romance if you want a unique and memorable one.
I am sure meeting Gabrielle would be memorable. But she is not just a good time girl. "She goes on and explains more of what she wants, "If we meet here and make this come true in reality eventually, isn`t it the best of all? I `m not afraid of the distance, I`m afraid of cheating."
So, don't cheat!
She is a model. Modeling is a harder job than people think. It actually requires great people skills to put up with the photographers and designers – especially the designers – and Gabriele seems very intelligent.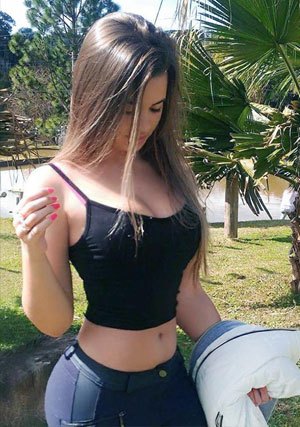 She explains her hobbies and interests by explaining that, "I like different and sometimes opposite things – I like doing exercises to feel the energy and to keep myself in shape, but my second major hobby is reading, I love books too."
This Brazilian babe knows how to enjoy life, what could be more perfect? Maybe a life spent with her?
She seems like she is a blast. Sexy, funny smart. So, what sort of a man does she want? She says that,
"I want to meet a romantic, passionate lover. We`ll go for a candlelight dinner, will go for the beach to watch the sunset, maybe go swimming with a birthday suit, haha. Just to know we`ll have a lot of fun together."
Now, THAT is real fun!
Wow!
She also says she doesn't smoke. I think that part might be a mistake because this woman is clearly smoking hot!
You can check out the rest of Gabrielle's photos and her profile by clicking on her contact button.
For more insights on the awesomeness of Brazilian women, here's Pitbull's homage to the beautiful women of Brazil.