Would you like the opportunity to meet hundreds of hot, single Ukrainian women? Well, if you do the best way to do that is to go on an A Foreign Affair romance tour.
AFA is great about bringing hundreds of women in for the events – parties that the company calls socials. Every guy at the two socials that I have had in the range of twenty to thirty women for every man. There is a very broad range of age, education, and among the women.
This was the second tour social I have attended. I had previously been to one of these amazing parties where guys get the chance to meet hundreds of beautiful women in Odessa. I had a great time at that event as this article full of photos of me and some of the hot Ukrainian babes proves beyond a shadow of doubt.
Every Social is Different
Probably the biggest thing that I learned at this event is that every social is different. As a proud graduate of L.S.U. I am an expert party goer and I have the diploma to prove. I have been to enough parties from Hollywood to Manilla to know that no two parties are exactly the same and I should have realized it before I went to the Kiev social.
The Odessa gathering was held at Arcadia, a beautiful and particularly vibrant beach amusement park. It was July 20 and the weather was almost as gorgeous as the tanned bodies I was everywhere I looked.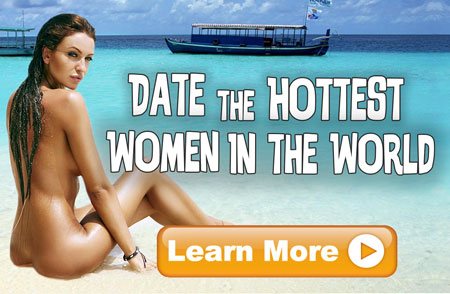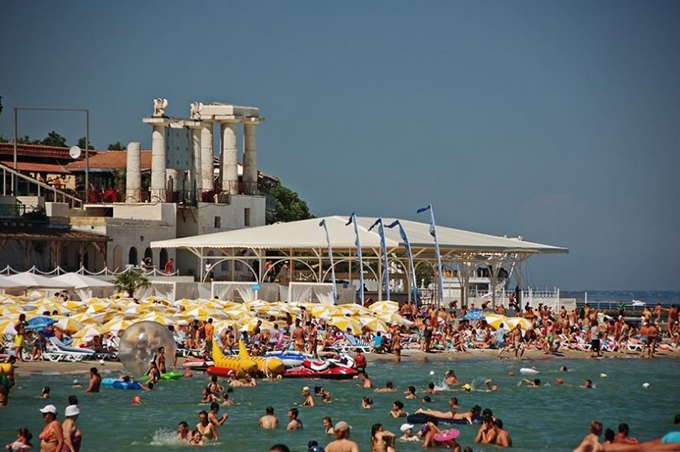 A Foreign Affair's Odessa Tour kicked off in a nice club near the beach.
This gave the event a Beach Boys sort of vibe. But I felt like I was one of the clueless tourists in David Lee Roth's classic video for his version of California Girls, which is full of hot bikini babes.
Yeah if the Beach Boy's had ever visited Odessa they would have ended up singing a different song, because the Ukrainian girls don't take second place to anyone in a bikini contest. They really are amazing, just amazing in terms of simple physical beauty.
I say that as a man who used to run ten miles a day from the Venice Beach, under the Santa Monica Pier, past William Randolph Hearst's beachfront love nest, and all the way to where Sunset Boulevard meets the Pacific Coast Highway. I saw some amazing actresses, models, and fitness girls every day, but for sheer numbers of incredibly, fit, and beautiful girls it could not hold a candle to Arcadia.
And, that even of the shore of the Black Sea was my first event like that, so it was particularly memorable. And it had a very relaxed California vibe. Besides the beautiful girls and most of the guys were very laid back and dressed in sort of classic summer casual style.
European Sophistication
The Kiev social had a very different atmosphere. It felt far more sophisticated and… I suppose European in the classic sense of the term: stylish, elegant, and upscale. Kiev is the capital of Ukraine and a great place to visit.
Part of that was the venue.  The party was held at the Canadian Club in Kiev.  It is a slick, upscale restaurant.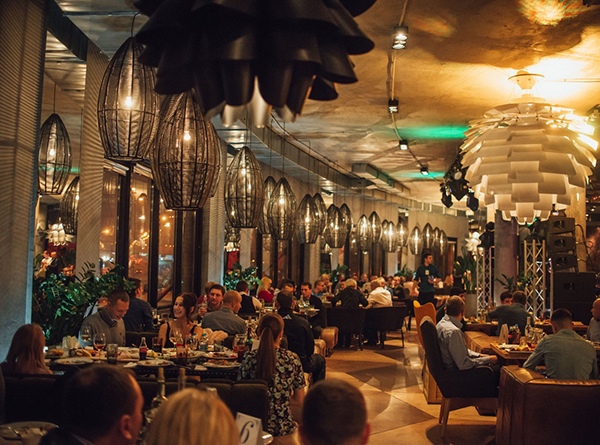 In this photo of the restaurant on a regular night you can see that it is exquisitely decorated and well appointed. There is also bandstand and a dance floor. The bartenders and waitresses did a great job and the drinks were plentiful. I did not try any of the hors d'oeuvres, but they looked tasty.
And perhaps because of the venue the men were dressed up, many in suits and ties, and that added to the tone. Now, I know there are some American men who believe CLEAN bib coveralls are formal wear and there are many Australians who would not put on long pants to meet the queen of England. I believe there is a time and a place to dress up, but I had been traveling for four months and I felt woefully underdressed.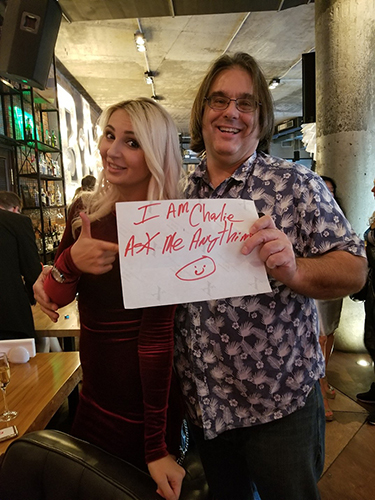 This young lady was sweet, funny, and beautiful. I looked like a total tourist, but my bib coveralls were dirty.
And the women were also dressed a little more fashionably. Both events were held at about the same times, but I guess a higher proportion of the ladies in Kiev came straight from work. And in Eastern Europe work attire is significantly more fashionable than is common in the United States and Canada.
Another difference was that the Kiev social was the start of one of A Foreign Affair's famous romance tours. So, the men were far more nervous, although about eight of the thirty guys were repeat customers who had been on tours before. (A few of the men had been on as many as five to seven tours. That gives you an idea of how the quality of AFA tours.) The guys, who seemed like a really good group, were either total rookies or veterans who knew they needed to get back in form, so it was a little tense.
Whereas at the Odessa social the men were just starting the third week of that tour and had done four or five socials in different cities across the width and breath of Ukraine. By that point, those boys were full on romance tour experts and that probably contributed to their relaxed atmosphere.
So, the vibe was just different from the atmosphere in Odessa. It was not bad just different.
The Women of Kiev
One thing that was the same in Kiev as Odessa – the women. Wow! The ladies were numerous, beautiful, interesting, and very cool. They were really a lot of fun. I can't say enough about the fun of getting to walk into a room of women who are there specifically to meet a man a LOT LIKE YOU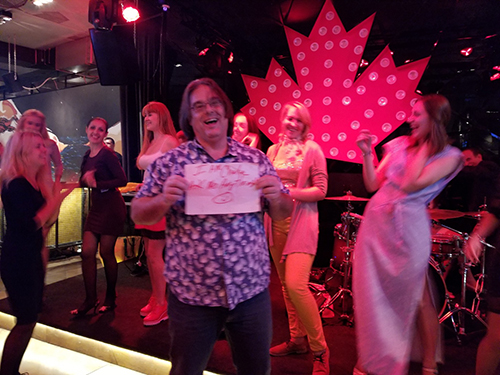 I was about to do an "Ask Me Anything" session on Reddit about mail order brides. I was using the sign as my proof. I was not sure which photo I would use. That is why I had the sign in nearly every photo.
Notice the pretty lady in the long dress on my left? That give an idea of the sartorial standards for the women the fun and you can see we were all having fun. So, Kiev was fun, but a little more sophisticated. Well, except for me with my long hair.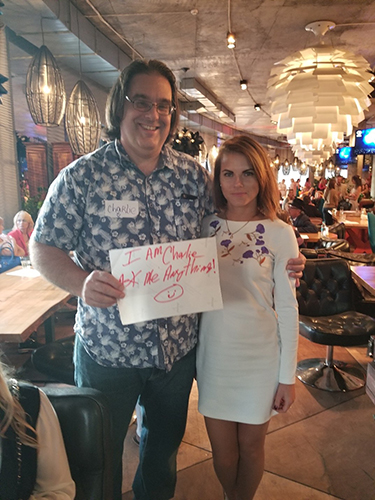 This lady had a Kathy Ireland look that the photo really does not capture. She was a lawyer and very sexy.
So, the Kiev women were simply stunning and I had a great time!
In all seriousness, I am not sure a full-grown adult male can legally have more fun than he can have on one of these AFA tours. Not just because of the women – although they are incredibly important.
It is hard to explain, but these social are out of everyone's comfort zone. Maybe it would be fairly natural for a great politican, a rock star, or one of Hollywood's great leading men, but Ronald Reagan, Elvis, and Paul Newman are not going on these tours.
For normal men from New Orleans, New York, or New South Wales the concept of walking into a room where you are outnumber twenty, thirty or even forty to one by women – often incredibly beautiful women who actually want to meet you is simply strange and… well more than a little challenging.
OK, it is not exactly like trying to climb Everest, no it is far more complicated than that. Why? Because every woman is different and the approach on one woman may not work on another. Everest is simply a very large pile of rocks.
So, I highly endorse A Foreign Affairs romance tours. Check out our review and decide for yourself. I am sure you can have just as much fun down at the VFW hall on Friday night.
Not!
But if that's what you want out of life more power to you. If you want more get up off you butt and do something. Maybe international dating is not the right choice for you but do something!
I certainly had a good time in Kiev.
If you want to know more check out our review of LoveMe.com – the website for an A Foreign Affair. For more information on visiting Kiev check out our guide to dating in Kiev.