Tatiana is a spectacular and sweet blue eyed, blonde lady from Krivoi Rog in eastern Ukraine. 5 ft 7 in and 121 lb, Tatiana poses in a taut white bikini and smiles at us. '
I am optimistic, easy-going, intelligent and cute,' she tells us by way of introduction. 'What's more, I'm an architect and I speak a fair bit of English.
Who says that blondes are silly creations?' Not guilty, we say, shaking our heads.
'I will prove that I am the exception. Hey, do you know the capital of Madagascar?' No. 'Fraid not. 'Search it and google it right now!' she tells us.
Of course. For a woman of your beauty and talent, Tatiana, there's nothing we wouldn't do.
Among her extra photographs, Tatiana even posted a second picture of herself wearing the little white bikini and displaying a spectacular flat stomach.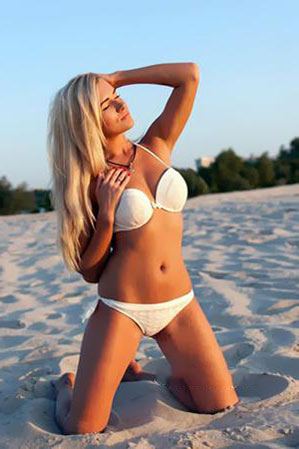 Tatiana has a lot of faith in you. 'They say that marriages are made in heaven. I want to find someone special to fly to heaven of passion and pleasure together. I am sure my destiny is here!'
A bikini queen, Tatiana loves to tease and flirt and tease. 'But I'm not married, and I have no children,' she says, 'so I'm foot-loose and fancy-free and very much available to a loving man.'
What else should men know about you before they propose to you, Tatiana? 'I don't drink and I don't smoke.
If you want to go and visit Tatiana, meet her attractive friends and maybe talk to the many slender, sexy women who live in Krivoi Rog, there are tours you can take.
Have a look at the Krivoi Rog Romance Tour (the name means 'Crooked Horn,' by the way) at http://www.loveme.com/go/52565/tour/krivoy_rog/for the details, and before I forget to tell you, the capital of Madagascar is Antananarivo.
But I'm sure you already knew that.