When you find the woman you are looking to spend your life with, I swear that feeling hits you like a bolt of lightning. Serena just may be the bolt of lightning for one of you.
This twenty two year old brunette from Belo Horizonte has got qualities that any man would kill for.
One requirement right off the bat, her profile at amolatina doesn't particularly say anything about her level of English so you might want to bust out your favorite how to learn a second language course and begin brushing up on your basic Portuguese.
However, like most young women from this area of the world she seems almost wise beyond her years in what she knows about herself.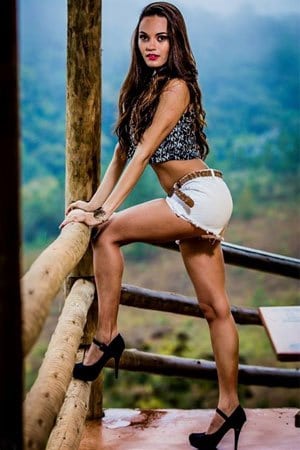 Never mind me, why doesn't she tell you in her own words…
..I am a young woman of independent and safe, strong and brave, but I need a sincere love, a real home to support me because vidanos is sad and lonely at times. I am cheerful, fun and love to make friends, always cherish the truth in any relationship…
Now, I'm not completely fluent in the language and something may have been lost in the translation but I would take that to mean that she does indeed get lonely at times and is just looking for something she has something in common to spend the day with.
Which ties in I believe to what she says she is looking for in a man the quality of somebody that loves life.
Because it's damn near a scientific fact that most feelings of sadness and loneliness can be washed away by being around someone who loves life.
Perhaps it can be you who becomes the companion this woman is looking for and travel through life with her making each other happy.