Yesterday Elena's Models, became the first international dating agency to be rated as an overall Five Stars by the reviewers here at International Love Scout. We make absolutely no attempt to review all of the international dating agencies. We try to review the BEST international dating agencies and our grades are correspondingly high.
However, none of the agencies we review has ever earned Five Stars (we are pretty picky).  Elena's earned the Five Star review by building on their long track record of outstanding customer service and markedly improving their service since our original review.
Elena's has always had the right attitude about the business.  They clearly respect their customers as human beings and extol the virtues of both the women and men that sign up for their service.  They also clearly enjoy that they have been able to help many of their customers find happiness and they have been far and away the industry leader of the anti-scam movement.
However, when we started reviewing agencies here we criticized Elena's for a confusing price structure and for having photos that were too hard to view without becoming a paying member. In the last few weeks Elena's corrected both those problems and after carefully reading through all of their policies again and running several more checks and tests we awarded them the Five Star rating.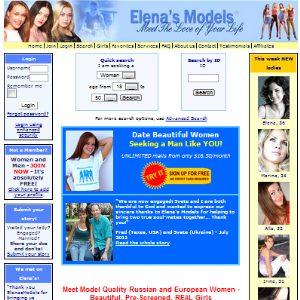 Frankly, they deserve the rating, because, though they are one of the industry leaders, they have not remained static. Instead, they have made significant improvements to an already outstanding service. So, we are happy to award Elena's Models our highest rating and we are happy to encourage you to use their service.
They pay attention to customer service, ferociously defend their clients from scammers, and provide real value for the money. Their terms are simple and straightforward and the women are beautiful.
What more could you want?
Congratulations to Elena's Models! Read Our Elena's Models  Review Visit Elena's Website