Chiang Mai is the perfect place to visit if you want to enjoy a modern Thai city without spending a fortune. Surrounded by majestic mountain scenery this is Thailand's fifth largest city; a great mix of the old with the new.
While it features all of the conveniences you would expect from a modern metropolis it also has many quaint historical touches such as the 300 temples found within the city limits.
When visiting Chiang Mai you will definitely want to take a trip to Doi Suthep a mountain on the outskirts of the city. At the top you will find one of the holiest wats which is a spectacle in itself.
This temple tends to get fairly crowded although the many other temples in city do not attract anywhere near as many people. What makes the trip really worthwhile however is the panoramic view of the city from the mountain top.
If you head further up the mountain you can also visit the traditional hill village of Doi Pui. You may also want to visit Mae Rim valley where you can enjoy orchid and butterfly farms, and elephant camps.

The other great attraction in this city is the night market on Chang Klan road. From seven pm to midnight this area is thronged with all kinds of stalls where you can buy pretty much anything you can imagine. From handcrafted goods to clothes to gems to electronics you will be able to find it at the night markets.
Meeting Women in Chiang Mai
Chiang Mai is the perfect place to meet a nice Thai girl as it doesn't have the same seedy reputation as say Pataya or Bangkok. And with its large expat community the local women are used to meeting and dating foreign men.
When dating Thai women you are going to have to find women who speak English. Trying to conduct a date with a Thai woman with no English is more trouble than it is worth and you will find it difficult to pick up the language quickly in the way that you could with Spanish for example.
Typically Thai women who speak English either work in the entertainment or tourism industry or are university educated. If you visit the area around Chang Mai University you should be able to find plenty of available young women who can speak English.
These women are often eager to practice their English language skills and will be happy to have a conversation with you. From there of course it is a natural progression to an actual date and possibly romance.
There are no shortage of stunning Thai girls in Chiang Mai and many of them would love to date a nice Foreign man like you. Here is a small sample of Chiang Mai girls who are actively looking to date foreign men:
Cell Phone - Your #1 Dating Tool
When picking up women in Chang Mai your biggest friend is going to be your cell phone. Make sure that you either pick up a cheap local one or bring a phone that will work in Thailand.
During the day you can collect phone numbers of girls that you would like to date. The best way to approach them is to ask for directions or tourist advice. It is a good idea to have a follow up question that you can ask them. Once you have engaged them in conversation spend a couple of minutes talking and then ask for their phone number.
Generally she will give it to you as Thai women are friendly and generally intrigued about the possibility of dating a western man.
At the end of the day you should have a few phone numbers and some good options for asking a local woman out on a date. If you are picking up a lot of women use the camera on your cell phone to snap a picture of the women that you have gotten the number from.
If you have collected dozens of phone numbers trying to remember exactly who goes with which phone number can be easier said than done.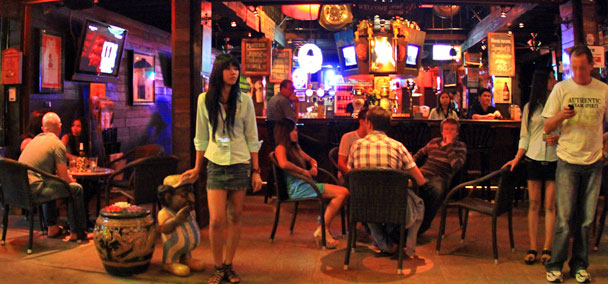 If you are used to Bangkok or Pataya were many women are either working full time or part time in the entertainment business (Bargirls) you will need to learn to adjust your pick up routine a little in Chiang Mai. The women in Chang Mai are, for the most part, not professionals and are just nice, normal girls.
This doesn't mean that they are necessarily difficult to pick up but just that there agenda is going to be different to someone who only sees you as a wallet. This means that you will have to work a little harder to impress but it also means that you have the possibility of a real relationship or at the least of fun companion during your time in this marvellous city.
Nightlife - Bars & Clubs
There are roughly fifty bars in the city that specifically target foreign men with most of them centred around Thapae Gate. If you want paid entertainment then this is a good place to start.
While there are a lot of bars orientated to western males many of these close when tourist season is over and are quite small. The best place to go if you are looking for female entertainment is Foxy Lady Bar.
The girls here are highly attractive and much better than at many of the other bars in the city. Happy hour is from eight to ten during which drinks are 60 Baht making it a good time to visit.
Expat Paradise
If you do enjoy the city and wish to stay longer term you will find that Chang Mai has a large expat community and plenty of resources to make the move easier.
Chiang Mai Resources
Chiang Mai Guide - If you are planning on visiting Chiang Mai this little downloadable PDF is a great way to get familiar with the city. It lists hotels, restaurants and other info that will help you get the most out of your stay.
American Consulate in Chiang Mai - Hopefully you won't get into any trouble while visiting - but if you do, and are an American, this is the place to call.